Thanksgiving Sale
TenkaraBum.com has held a Black Friday / Cyber Monday sale most years, but it has usually been pretty limited. This year I have decided to have a Thanksgiving Sale - giving thanks to everyone who has helped make TenkaraBum.com successful over the years.
From Wednesday, Nov. 24, through Tuesday, November 30, all rods will be 15% off. Tenkara, keiryu, seiryu, tanago - every one. The price shown on the page is before the discount. Click the "Add to cart" button to see the sale price. The sale price will be good only for rods that are in stock while the sale is on.

Tenkara Trip Reports
I should have posted tenkara trip reports all along. These will not be nearly as formal as the rod reviews or the discussions on flies, but will be quick and dirty reports of what I tried - what worked and what didn't.
After just the second report, it has become obvious that this page will be much too long if all reports are published here. I will leave the original one here for now and just post links to more recent trip reports.
Looking at the list, it seems like I haven't been fishing much this year. I have been out, but for most trips there was really nothing much to write about.

Tenkara Trip Reports

December 11, 2020 - The Importance of Being First

November 29, 2020 - Tenkara Fishing with North Country Wets

November 22, 2020 - Back to a Killer Bug!

November 14, 2020 - Pro Square Level Line 360 and 390

September 25, 2020 - Honryu Tenkara, Take Two

September 18, 2020 - Nissin Pro Square Level Line Rod

September 6, 2020 - Tapered Leaders, more rods

August 23, 2020 - Tapered Leaders, Hollow Tipped Rods

January 17-18, 2020 - Yokohama Fishing Show

November 10, 2019 - Longer Line with Shorter Rod

November 3, 2019 - Honryu Tenkara, Take One

October 19, 2019 - Longer Line Tenkara

September 7, 2019 - Hi-vis /Clear Combo Line

August 25, 2019 - Spot Patterns / Hackled vs No-hackle Flies

August 11, 2019 - Keiryu, Spinning and Micro Fishing

July 14, 2019 - Micro Day Became Micro Spoon Day

May 23, 2019 - Guided Trip on the Farmington

May 11, 2019 - Top Float Bluegills

January 6, 2019 - More Thoughts on Line Colors

December 14, 2018 - Fine Mode Nagare, Air Stage Medium

December 2, 2018 - Nylon Lines in Central Park

October 20, 2018 - Tactical Sighter as Tenkara Line / Tenryu Kebari

September 30, 2018 - Different Line Weights / Tenryu Kebari
Midwest Spoon Fest - Spoons at the Midwest Tenkara Fest

April 28,  2018 - You Have to go Exploring

March 22-24, 2018 - Sowbug Roundup Recap / Sculpins

February 28, 2018 - Central Park

January 20, 2018 - Seiryu Rod For Keiryu / Mop Crane Fly Larva

December 3, 2017 - At least it was nearby

October 14, 2017 - The Essence of Tenkara

Oni School 2017

August 13, 2017 - Any Method Species Challenge

Fly Fishing Fair - Spin Fishing in a Fly Fishing State

July 16, 2017 - Just One Good Photo. Please.

June 3-11, 2017 - Maine Vacation

April 22, 2017 - Cortland Mono and Ajing Jigs

December 11, 2016 - Crappies in Central Park

November 5, 2016 - Partridge & Orange (widebody)
October 30, 2016 - TenkaraBum Prototypes

September 25, 2016 - Fly Manipulation

September 17, 2016 - The Limits of Zero Fishing

September 10, 2016 - Egg and Flour Paste Bait / Zero Fishing

August 14, 2016 - A Tale of Two Fish and a Warning
July 24. 2016 - Ultralight Worm Fishing

July 3, 2016 - White Killer Bugger for Micros

June 25, 2016 - Minimal Dace on the Farmington

June 18-19, 2016 - Return to PA Private Club

May 29, 2016 - Simplifying Flies III - Minimal Dace Prototypes
May 21,22-2016 - Tenkara for Stripers

April 29-30, 2016 - PA Private Club

April 1, 2016 - NY Opening Day

March 18, 2016 - Overhand Worm 7, Overhand Egg 0

February 28, 2016 - The Downside of Fishing in Parks

December 12, 2015 - Heavy Clear Tippet as Tenkara Line.

November 7, 2015 - Second trip with TenkaraBum 36

October 25, 2015 - Many, many in Mass.

October 17, 2015 - Fishing the Overhand Worm

Micro Fishing Gear, Don't Leave Home Without It II - October 11, 2015

Micro Fishing Gear, Don't Leave Home Without It - October 4, 2015

September 26, 2015 - Simplifying Flies II
September 6, 2015 - Simplifying Flies
August 23, 2015 - Keiryu on the Farmington

August 9, 2015 - Blue ZPRO, Air Stage Hakubai, Simplified Chenille Worm

June 28, 2015 - Keiryu rods and rigs for bead head Black Killer Bugger

June 21, 2015 - Fish in featureless riffles, Blue ZPRO

January 4, 2015 - Squirmy Wormies with Seiryu Rods

December 27, 2014 - Lantern Fishing

December 26, 2014 - Coach's Green Goddess, small hooks for worm flies

December 21, 2014 - Shorter Worms, Smaller hooks

December 14, 2014 - Pink Chenille Worm with size 32 hook

November 30, 2014 - Nissin Royal Stage Tenkara Rods

November 16, 2014 - Thin Blue Line, Start of Winter Challenge

October 31, 2014 - Hiding Behind Rocks

October 26, 2014 - Why I  Rarely Fish the Catskills

September 28, 2014 - Are Most Catches Failed Spits?

Keiryu Trip September 26, 2014 - Field Master 44, Lots of Fish

Keiryu Trip September 19, 2014 -First Real Keiryu Trip, MANY MANY

September 1, 2014 - Let Them Eat Steak

August 1, 2014 - Suntech Suikei ZPRO, Second Trip

July 25, 2014 - Suntech Suikei ZPRO

July 20, 2014 - Daiwa Tryan Zero, 10X tippet

July 13, 2014 - Soft Rod and Light Keiryu Line for Micros

July 6, 2014 - Advantages of a Keiryu Rig For Bead Head Flies

June 29, 2014 - An Introduction to Micro Fishing

June 22, 2014 - Ten Species Day

April 27, 2014 - Wild Fish (That No One Fishes For)

April 5-6, 2014 - Fly Tying Demo, Vertical Line Fishing

March 20, 2014 - Missouri Micros

March 8, 2014 - Long Rod, Light Line

February 23, 2014 - A Keiryu Rod Surprise

December 28, 2013 - Why I Don't Fish a Cast of 3 Flies

December 24, 2013 - Central Park Panfish

December 1, 2013 - Trout Like Bling!

November 17, 2013 - Kosasa 210, Yarn Bodied Soft Hackles

November 3, 2013 - Fishing a Fly Under an Indicator

October 27, 2013 - One Fish - It Was a Good Day

October 20, 2013 - A Field Master, Bluegills and Upside Down Bucktails

October 6, 2013 - Seiryu Sunday

September 21, 2013 - The Fish Got Away, The Rods Survived

September 15, 2013 - Waxworms and a New Rod

September 8, 2013 - Fishing Under a Tree, Red Spot Fly

September 1, 2013 - Warm Water Stream = Multi Species Day

August 25, 2013 - Two Micro Streams, Red Dishevled Fly

August 11, 2013 - First Black Nose Dace on a Fly

July 21, 2013  - Oikawa III, Minimal Fly, Rock or Fish?

July 14, 2013 - Active vs Passive Bait Fishing

July 7, 2013 - "Micro" Bullhead, Nissin Level Line 320

June 16, 2013 - Big Kebari, Immediate Hits

May 5, 2013 - Long Collapsed Length Revelation

April 28, 2013 - Titanium Line, Nissin Air Stage Honryu

April 21, 2013 - Black, Blue and Bloody

April 14, 2013 - Blue Flies, Size 1.5 Line

April 7, 2013 - Blue Yarn Bodied DRY Flies

March 2, 2013 - Pro Spec, Zerosum

January 13, 2013 - Fishing Up, Fishing Down?

January 6, 2013 - White Killer Bugger

December 25, 2012 - Christmas Crappies, Bluegill on Cue

December 23, 2012 - Nissin SP - Soft Rod, Light Line

December 9, 2012 - Back to Bead Heads

December 1, 2012 - Birth of the Killer Bugger, Field Master, Sekkei M

November 25, 2012
Went to one of the few streams that is still open and relatively easy to get to via public transportation. The weather was in the low 40s with a breeze. When it gets much colder than that I stay home and tie flies.

As usual, I had a number of rods I wanted to fish with. I always have some rod/line combinations I want to test, and often have new rods I am trying to decide whether to carry on tenkarabum.com. (I don't remember the last time I went fishing with only one rod and wasn't evaluating something.)

I ended up catching three fish, had three long distance releases and missed one "bump" that was clearly a fish rather than a rock. All the fish were caught with a Killer Bug variation tied with a yarn I now call Tupps yarn rather than my usual Sand (for Killer Bugs) or Oyster (for Utah Killer Bugs). The bug was tied on a size 12 Daiichi 1560 nymph hook, with small red Ultra-wire for an underbody (also used to tie off the yarn). The Tupps yarn produces a bug that is much pinker than either the Sand or the Oyster (and would make a nice Tupps Indispensable).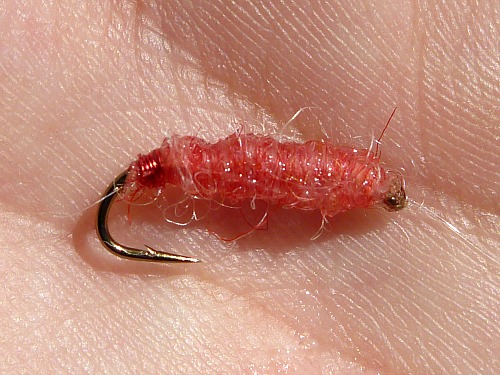 "Tupps" Killer Bug
The first fish was caught on a Nissin 450 ZX 2-way rod that can be fished at a length of either 13'6" or 14'9", with a size 4 Hi-Vis fluorocarbon line. The rod is not available on the site now, but it might be in the future because I really like the rod. At the shorter length the bend characteristics are almost identical to a better known rod of that length that is often used for larger fish, but the Nissin also zooms to a longer length, which the other doesn't.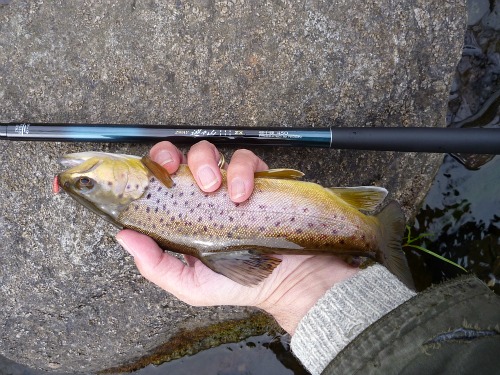 Nissin 2-Way 450 ZX
A little while later I got a pleasant surprise. By far, most of the fish in the stream are stocked, and the state stocks both browns and rainbows. There is some natural reproduction of browns, though, and any brown trout that is less that 9" is streambred. I caught the following fish and then had an LDR of what could have been his twin (probably was, come to think of it). This fish was caught with the Shimano Kozuka 30NT, which it turns out is a nice rod for nymphing, being just a bit stiffer than most tenkara rods. The line was the heavy Hand Tied Bi-Visible line.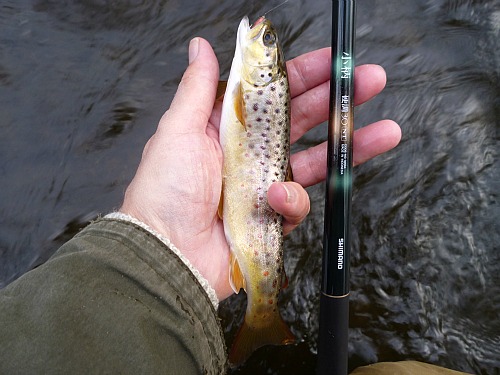 Shimano Kozuka (since discontinued)
The last fish of the day was the best fish, not only was it the largest it also went airborne several times during the fight. (Plus, it came from a lie that almost always yields a fish, so it was almost like reconnecting with an old friend - though I doubt it felt quite the same way about it). It came on a rod I borrowed from Tom Davis at http://tetontenkara.blogspot.com/. The rod is a Daiwa SEKKEI 36M, which is also a great nymphing rod and has the added benefit of zooming, so it can be fished at a length of 3.2 meters (10'6") or 3.6 meters (11'10"). It's just enough stiffer than the Shimano that it might be a special purpose nymphing rod rather than a more all around rod. Nice rod, though, and it does have the advantage of zooming. Thanks Tom! Now I have to decide whether to carry them.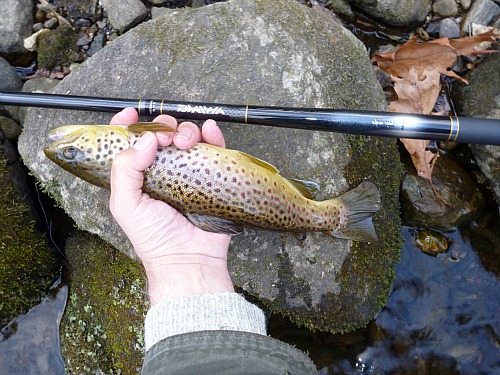 Daiwa Sekkei 36M
After releasing the fish I saw a couple fishermen just above me who were working their way downstream, so they had only very recently fished the water I would have gone to next. Plus I was getting stiff and cold and if I left right then I'd have time for a hot cup of coffee at the little diner next to the train station before the next train came. I decided to call it a day. Not a bad day for late November in these parts.

---
"The bitterness of poor quality remains long after the sweetness of low price is forgotten" - Benjamin Franklin
"Be sure in casting, that your fly fall first into the water, for if the line fall first, it scares or frightens the fish..." -
Col. Robert Venables 1662
As age slows my pace, I will become more like the heron.

---
Warning:
The hooks are sharp.
The coffee's hot.
The fish are slippery when wet.
Beware of the Dogma

---