Trip Report - 9-1-13
I'm falling behind in my trip reports. This is for a week ago last Sunday, which was a pretty amazing day. Rather than going to a cold water stream (for trout) or a warm water pond (for sunfish) I went to a warm water stream. I ended up catching 9 different species of fish in that one creek with one other species in a pond later in the day. Of the 10 species of fish caught that day, four were ones I had never caught before. Of the ten, four were micros, but I think I'll start doing separate Micro Fishing Trip Reports.

The day started off with a bluegill - always an easy one but I didn't catch many bluegills.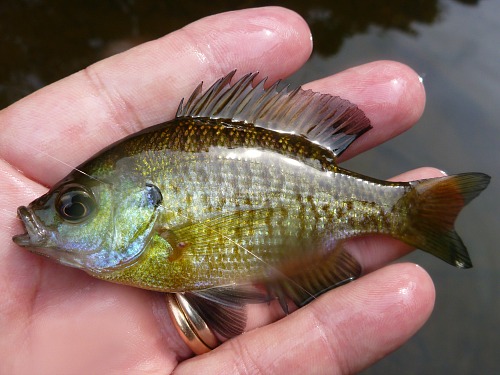 The next fish was a rock bass (and I didn't end up catching that many rock bass, either).  I don't remember what I caught the bluegill on. The rock bass was on a Keeper Kebari.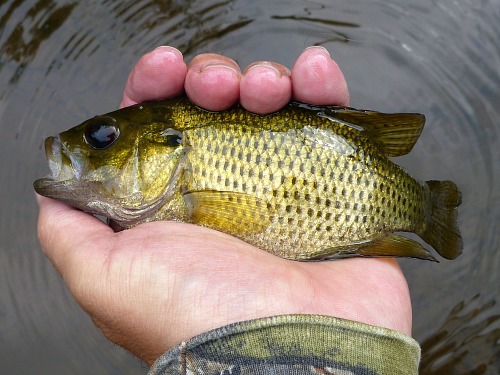 The next fish was my first ever green sunfish. Green sunfish are pretty common in New Jersey streams, but except for one time for only a couple minutes, the only other New Jersey streams I'd fished before were cold water streams for trout. I ended up catching quite a few green sunfish that day, some on Keeper Kebari and some on Killer Bugs.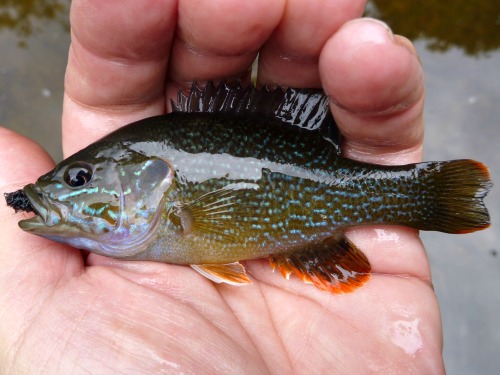 About then, I got another lesson on fish photography (it wasn't the first time, and probably won't be the last). If you definitely want a shot of a particular fish, take at least one while the fish is still safely in the net. Fish are slick and won't hold still for long. The largest fish of the day was a smallmouth bass that did not want to stick around for a photo op. One second he was out of the net and the next second he was out of my hand and the next second he was out of camera range.

I then switched from the Keeper Kebari to another attempt at a messy fly. This one was tied to see how it would look if I didn't strip off all the fuzzy barbs at the base of a partridge feather. It looked pretty bad - bad enough that I'm not even going to show it. I don't think I'll tie any more like that. It was no easier to tie than a more conventional fly, and I didn't find it to be at all attractive.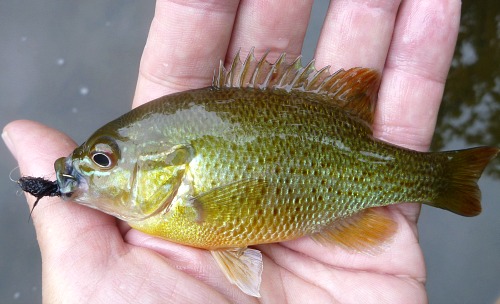 This redbreast sunfish did, though. The redbreast is another very common stream sunfish and I ended up catching a lot of them, too. In real life, this one was even more blue than it shows in the photo.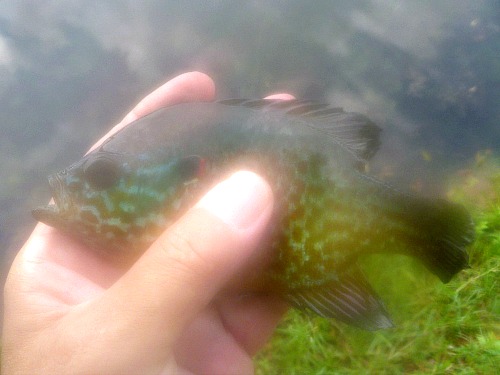 Towards the end of the day, we went to a small pond where I caught a pumpkinseed. My camera lens had fogged, though, so the shot is pretty poor.
The fish weren't large, but they were numerous and hungry - and with the right rods, even fish of this size are an awful lot of fun to catch. It was a "many" day. One of the nicest things about fishing a warm water stream, at least to my mind, is you never know what you are going to catch next. I'm definitely going to do it more often.

I have a separate Micro Fishing Trip Report for the day.
---
TenkaraBum Home > Tenkara Trip Reports > Trip Report 9-1-13
---
"The bitterness of poor quality remains long after the sweetness of low price is forgotten" - Benjamin Franklin
"Be sure in casting, that your fly fall first into the water, for if the line fall first, it scares or frightens the fish..." -
Col. Robert Venables 1662
As age slows my pace, I will become more like the heron.

---
Warning:
The hooks are sharp.
The coffee's hot.
The fish are slippery when wet.
Beware of the Dogma

---