Micro Fishing Floats
Micro fishing floats, to come right down to it, are basically just seriously small bobbers. They are nothing like the red and white plastic bobbers we all used as kids, and the Japanese ones designed for tanago fishing are nothing like the bobbers (er, indicators) we use as adults. They are much more sensitive so they will show the bite of even a very small fish.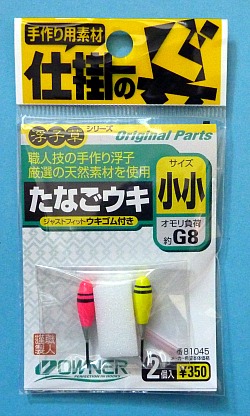 Tanago Floats
The floats used for tanago fishing in Japan are small and thin, with a relatively small stem. From the top of the float to the bottom of the stem is just over an inch. Thread your line through plastic tube and then insert the stem of the float into the tube, locking the line in place.
If you choose to use one of the extremely light tippets shown on the Micro Fishing Line page, I'd recommend putting the float on a stronger line above the light tippet so if you do happen to hook an unexpectedly large fish or get your hook snagged the light tippet will break and you'll lose only the hook, not your float.
You will need just a tiny bit of weight to get the float to sit properly, with just the tip of the float above water. Just one of the size 10 Dinsmore Micro Shot will work nicely.
Owner Tanago Micro Fishing Floats - $6.00 (package of two - random colors)
---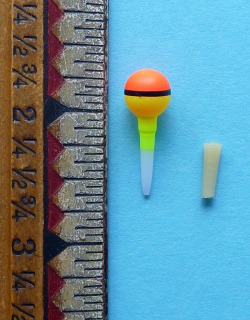 Nakazima Ball Floats

The 3/8" Nakazima Ball Float is a spherical plastic float with a stem and rubber tube to fix the float on the line.  Insert your line through the rubber tube and then trap it with the stem of the float. The rubber tubing has a slight taper, so be sure that the larger diameter is on the top.
These floats are similar in overall design to the Owner Tanago Floats, but their spherical shape makes them less sensitive. The plastic construction makes them much less expensive, though.

The 3/8" size is the one to use for micros.
There are four floats and two rubber tubes per package.
Nakazima 3/8" Ball Floats - $3.00
---
Shipping
Domestic shipping is $4, via USPS First Class Mail (unless ordered with an item that must go via Priority Mail, and which has a higher shipping charge).

The charge for international shipping depends on the destination country, the weight of the package, the overall length of the package and the value of the package.
TenkaraBum Home > Micro Fishing > Micro Fishing Floats
---
"The bitterness of poor quality remains long after the sweetness of low price is forgotten" – Benjamin Franklin
"Study to be quiet." - Izaak Walton 1653

"Be sure in casting, that your fly fall first into the water, for if the line fall first, it scares or frightens the fish..." Col. Robert Venables 1662
As age slows my pace, I will become more like the heron.

---
Warning:
The hooks are sharp.
The coffee's hot.
The fish are slippery when wet.
Beware of the Dogma

---