Hi-Vis Fluorocarbon
Tenkara Level Line
The Hi-Vis fluorocarbon line, particularly the  fluorescent orange, is so bright it almost glows. When I took it out the first time, I was very concerned that it might be so bright that it would scare the fish.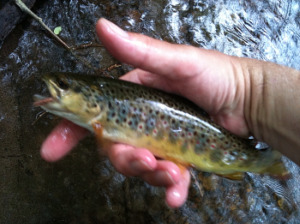 It doesn't. I had one of my best days ever - bringing 33 wild browns to hand, and missing at least that many. I think the reason for the good day was that it was so easy to see even subtle takes.
I'm still a bit slow, and I missed lots of fish, but I think I wouldn't even have seen most of those subtle takes with a less visible line.
Twitches or hesitations that I would have thought were just variations in current speed or my own hand movements often turned out to be fish.
The key to fishing this line, or any tenkara line for that matter, is to keep the line off the water. I can't emphasize that enough. Paul Gaskell and John Pearson of Discover Tenkara emphasize it even more than I do. Their research shows a 700% increase in fish caught just by keeping the colored line off the water AT ALL TIMES - even letting the line fall on the water and then immediately picking it up dramatically hurt the catch rate.
Keeping your line off the water is not just about minimizing drag or not scaring fish. If you are fishing wet flies or nymphs and your line is in the water, you will not be able to see the subtle takes. They are often so subtle that the amount of line movement they generate is truly unnoticeable if the line is in the water.
Of course, by keeping your line off the water I mean the brightly colored tenkara line. Your tippet will be in the water, but it is clear and does not scare the fish. If you have to increase your tippet length a bit in order to keep the hi-vis line off the surface, do so.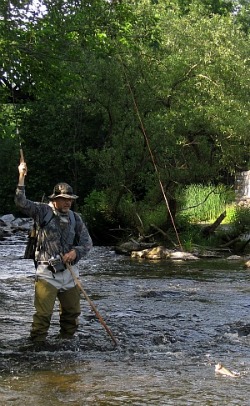 ---
Nissin Oni Line

The Nissin Oni Line is a hi-vis fluorocarbon line was designed in collaboration with Masami Sakakibara, "Tenkara no Oni." It comes in two colors, an extremely bright fluorescent orange and a pink that is considerably more visible than Nissin's previous pink line or Daiwa's pink line. The Nissin Oni Line also comes in 5 sizes, the fairly standard 3, 3.5 and 4 but also in a 2.5, which is just ideal for all of the softer tenkara rods and the seiryu rods, and 4.5, which is ideal for particularly stiff rods and for particularly windy days.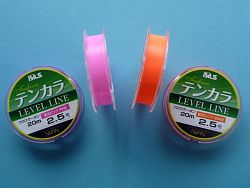 The orange is a slightly different color than the Sunline orange, so it will be easy to tell them apart. If you fish with different line sizes, whether for different rods or different fishing conditions, I would highly recommend standardizing your lines so that all of your size 3 lines are one color, your 3.5 lines another, your size 4 lines another, etc.
With the addition of the two colors of Nissin Oni Line, you can very easily have a different color for every line in your collection. If you have all five line sizes, I would choose the Oni Line for size 4.5 and also for size 2.5, because the difference between sizes 2.5 and 4.5 will be obvious. I no longer carry the size 2.5 or 4.5.

The Nissin Oni lines come on 20 meter spools, which is less line than for the other brands, but the price is lower as well.
The line comes in orange and pink but I carry only the orange.

Nissin Oni Fluorescent Orange Fluorocarbon Line
20 meter spool - $15

---
Orange Size 3
---
Orange Size 3.5
---
Orange Size 4
---
Sunline Buttobi Level Line
Provided for information purposes only.
None in stock. None expected.

When I first started using the Sunline fluorescent orange line it was sold as a salt water fishing line. To my knowledge no one else in or out of Japan was using it as a tenkara line. As far as I know, no one was using any fluorescent orange line for tenkara fishing.
I wrote about how visible it was and how it improved my catch. It wasn't terribly long before Sunline started selling an orange tenkara line.
It is now packaged on 30 meter spools (just under 33 yards) and is available in sizes 3, 3.5, 4, and 4.5.

In general, I prefer the size 3 line, but it does depend on the rod you use, the fly you use and if there is a bit of a breeze. For most 7:3 rods, for particularly wind resistant flies or when fishing in a breeze, size 3.5 or 4 will work better. You might even want to go to a size 4.5 line for stiff rods like the Daiwa Keiryu-X or when fishing heavy nymphs, or as I learned at the Oni School, when fishing on a particularly windy day. I had thought that Oni only fished very light lines, but he fished a size 4.5 line for two out of the three days.
I no longer carry the Sunline Buttobi line. Sunline America now carries it, although they list it based on pound test rather than Japanese line size. Their 12 pound line is size 3, 14 pound is size 3.5, 16 pound is size 4 and 18 pound is size 4.5.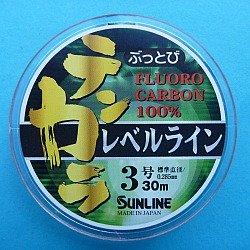 Sunline Tenkara Line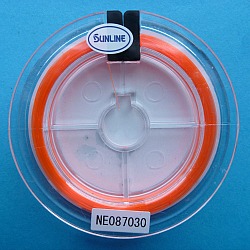 Sunline Back View
---
Yamatoyo Level Line
Provided for information purposes only.
None in stock. None expected.

The Yamatoyo line is a little softer than the Sunline and has a little less memory. Truly, though, I do not see people's obsession with removing the last little bit of coil from a line. The line still casts fine, and that little bit of coil is a wonderfully sensitive strike indicator. Still, some people will prefer this line because of it's lower memory.
Against some backgrounds, this line is more visible than the orange line and against some, the orange line is more visible than this line. I don't think the difference is so great that you have to carry the same line in both colors, but depending on where you usually fish, one might be better than the other.
However, I would highly recommend carrying both Sunline and Yamatoyo - just in different sizes. Lots of tenkara anglers have more than one rod, and even those with only one rod may have more than one line - one for still days and small flies, and a heavier one for breezy days or bulky flies. If you have two different line sizes it makes excellent sense for one size to be orange and the other size to be chartreuse. That way you know the line size in an instant.

The biggest thing the Yamatoyo line has going for it is that it comes on 50 meter spools rather than the 30 meter spools for Sunline or 20 meter spools for the Oni line.
The Yamatoyo line comes in sizes 3, 3.5 and 4.
I no longer carry Yamatoyo line. I have left this description up as a service in case you wish to purchase it from another outlet.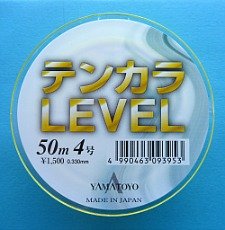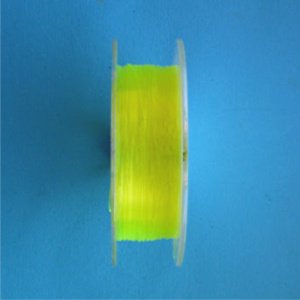 ---
Japanese Line Sizes
Japanese line sizes are given in 号 (pronounced like "go" with the o held a little longer than normal, and written in English as go, goh or gou). The following table gives the equivalent diameters in mm and inches.

号

1.5
2
2.5
3
3.5
4
4.5


mm

.205
.235
.260
.285
.310
.330
.350


inches

.0081
.0093
.0102
.0112
.0122
.0130
.0138

The definitions are exact, but to meet the Japan Fishing Tackle Manufacturers Association (JAFTMA) standard, the line must measure between the next lower and next higher number. Thus, while a size 3 line is supposed to measure exactly .285mm, to meet the standard it only needs to be thicker than .26mm and thinner than .31mm. Thus, not all size 3 line is the same.
Converting Japanese line sizes to pounds breaking strength is pretty straightforward for lines of the diameter of tenkara line. Just multiply the Japanese line size by 4. Thus, size 3 line is about 12 lb test. Size 4 line is about 16 lb test. The actual breaking strength may not be exact, but you can bet it is closer than the stated breaking strength on US line packages.

---
Shipping
Domestic shipping is via USPS Ground Advantage. Rates are $4.00 for packages that weigh up to 4 ounces and $6.00 for packages that weigh over 4 ounces. The charge is added to your order automatically.
Please note: All packages are shipped via USPS. If you have a PO Box, please list ONLY the PO Box in your address, not the PO Box and your street address.
The charge for international shipping depends on the destination country, the weight of the package, the overall length of the package and the value of the package.
International shipments

International purchases may be subject to import duties and taxes. I cannot keep track of all import regulations in all countries written in all languages. Understanding and paying import duties and taxes is the responsibility of the buyer.
TenkaraBum.com no longer ships to the EU, the UK or Russia.

---
TenkaraBum Home > Tenkara Lines > Hi-Vis Fluorocarbon
---
"The bitterness of poor quality remains long after the sweetness of low price is forgotten" - Benjamin Franklin
"Be sure in casting, that your fly fall first into the water, for if the line fall first, it scares or frightens the fish..." -
Col. Robert Venables 1662
As age slows my pace, I will become more like the heron.

---
Warning:
The hooks are sharp.
The coffee's hot.
The fish are slippery when wet.
Beware of the Dogma

---