Hi-Vis Fluorocarbon
Sunline Hi-Vis Fluorocarbon Tenkara Line
The Sunline Hi-Vis fluorocarbon line is fluorescent orange and it is so bright it almost glows. When I took it out the first time, I was very concerned that it might be so bright that it would scare the fish.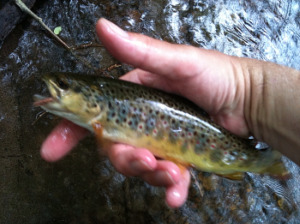 It doesn't. I had one of my best days ever - bringing 33 wild browns to hand, and missing at least that many. I think the reason for the good day was that it was so easy to see even subtle takes.
I'm still a bit slow, and I missed lots of fish, but I think I wouldn't even have seen most of those subtle takes with a less visible line.
Twitches or hesitations that I would have thought were just variations in current speed or my own hand movements often turned out to be fish.
The key to fishing this line, or any tenkara line for that matter, is to keep the line off the water. I can't emphasize that enough.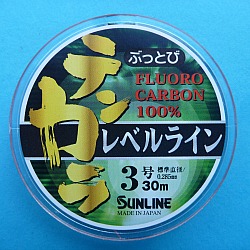 Sunline Tenkara Line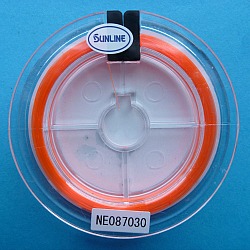 Sunline Back View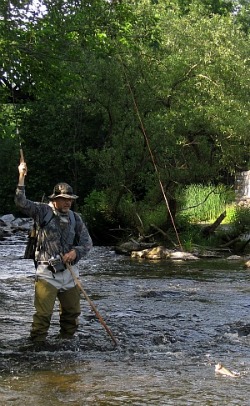 And it's not just about minimizing drag. If you are fishing wet flies or nymphs and your line is in the water, you will not be able to see the subtle takes. They are often so subtle that the amount of line movement they generate is truly unnoticeable if the line is in the water.
When I first started using the Sunline fluorescent orange line it was sold as a salt water fishing line. To my knowledge no one else was using it as a tenkara line. Before too long, Sunline repackaged it and now sells it as a tenkara line.
It is now packaged on 30 meter spools (just under 33 yards) and is available in sizes 3, 3.5, 4, and 4.5.

In general, I prefer the size 3 line, although while fishing in a breeze or with a wind resistant fly the size 3.5 or 4 will work better. You might even want to go to a size 4.5 line for rods like the Daiwa Kiyose SF rods when fishing heavy nymphs.
Yamatoyo Hi-Vis Line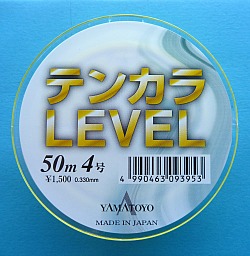 The Yamatoyo line is a little softer than the Sunline and has a little less memory. Truly, though, I do not see people's obsession with removing the last little bit of coil from a line. The line still casts fine, and that little bit of coil is a wonderfully sensitive strike indicator. Still, some people will prefer this line because of it's lower memory.
Against some backgrounds, this line is more visible than the orange line and against some, the orange line is more visible than this line. I don't think the difference is so great that you have to carry the same line in both colors, but depending on where you usually fish, one might be better than the other.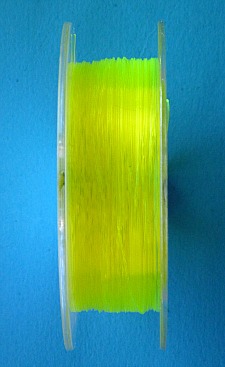 However, I would highly recommend carrying both Sunline and Yamatoyo - just in different sizes. Lots of tenkara anglers have more than one rod, and even those with only one rod may have more than one line - one for still days and small flies, and a heavier one for breezy days or bulky flies. If you have two different line sizes it makes excellent sense for one size to be orange and the other size to be chartreuse. That way you know the line size in an instant.

The biggest thing the Yamatoyo line has going for it is that it comes on 50 meter spools rather than the 30 meter spools.
The Yamatoyo line comes in sizes 3, 3.5 and 4.

Hi-Vis Nissin Oni Line

Nissin has had tenkara line for a long time but they only recently released their Oni Line, designed in collaboration with Masami Sakakibara, "Tenkara no Oni." It comes in two colors, an extremely bright fluorescent orange and a pink that is considerably more visible than Nissin's previous pink line or Daiwa's pink line. The Nissin Oni Line also comes in 4 sizes, the fairly standard 3, 3.5 and 4 but also in a 2.5, which is just ideal for all of the softer tenkara rods and the seiryu rods.
I have waited a long time to be able to offer a size 2.5 line but this one is worth the wait. I think it just may become my favorite line!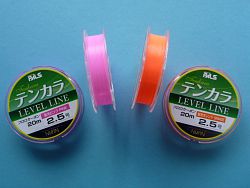 The orange is a slightly different color than the Sunline orange, and if anything it is even brighter, so it will be easy to tell them apart. If you fish with different line sizes, whether for different rods or different fishing conditions, I would highly recommend standardizing your lines so that all of your size 3 lines are one color, your 3.5 lines another and your size 4 lines another.
With the addition of the two new colors of Nissin Oni Line, you can very easily have a different color for every line in your collection. If you also have size 4.5 line, which I carry only in the Sunline, I would choose Sunline for size 4.5 and also for size 3, because the difference between sizes 3 and 4.5 will be obvious, whereas the difference between a 3 and 3.5 is much harder to tell without a micrometer.
The Nissin Oni lines come on 20 meter spools, which is less line than for the other brands, but the price is lower as well at $18.
Instructions for how to rig and attach the level line are now on my Rod Care page.
Lines made in Japan.
Sunline Fluorescent Orange Fluorocarbon Tenkara Line
30 meters - $19.00
Yamatoyo Fluorescent Chartreuse Fluorocarbon Tenkara Line
50 meters - $19.00
Nissin Oni Line
Fluorescent Orange or Pink Fluorocarbon Tenkara Line
20 meters - $18.00

---
---
Shipping
Standard shipping is via USPS First Class mail.
A shipping/handling charge of $4 will be added to all orders.
If you live outside the US, you must add more postage unless the items on this page are mailed with a rod!
TenkaraBum.com does not ship to the European Union or the European Economic Area.

---
Where do you live?


---

USA


Add this amount for shipping.


---

No additional postage required for First Class mail.
(Total charge $4)

---

Canada or Mexico


---

Additional $6 postage required. (Total charge $10)

---

Other Country


---

Additional $10 postage required. (Total charge $14)
---
---
Priority Mail Upgrade - U.S. Only

2-3 day shipping (U.S. only)
First Class should be just as fast for people living east of the Mississippi.
Do Not click if your order includes a rod, wader gaiters, 3x5 Photo Tank or Daiwa Keiryu Damo. They already go via Priority Mail.
Domestic Priority Mail Upgrade - Additional $3
---
---
Payment
Payment is processed by PayPal but you don't need to have a PayPal account. You can use your credit card.
---
Need it faster? Priority Mail is 2-3 day delivery in the US, depending on where you live.

Domestic Priority Mail Upgrade - $3
---
TenkaraBum Home > Tenkara Lines > Hi-Vis Fluorocarbon
---
"The bitterness of poor quality remains long after the sweetness of low price is forgotten" – Benjamin Franklin
"Study to be quiet." - Izaak Walton 1653

"Be sure in casting, that your fly fall first into the water, for if the line fall first, it scares or frightens the fish..." Col. Robert Venables 1662

---
Warning:
The hooks are sharp.
The coffee's hot.
The fish are slippery when wet.
Beware of the Dogma

---