Rod Cases

Rod cases are nice to have, but very few of the Japanese rods come with cases. The Shimano Pack Tenkara comes with a case - but it is heavy enough that a backpacker would want to leave it home.

I had decided against carrying any rod cases until I saw the ones that are frequently featured on the YoshidaKebari blog. At the time, Yoshida san used Shimano Kozuka rods when fishing in the Okutama "swamp," carrying them in plastic cases which looked like a very nice solution. It took a while, but I was finally able to track them down.
Unlike the Shimano case, they are very light weight.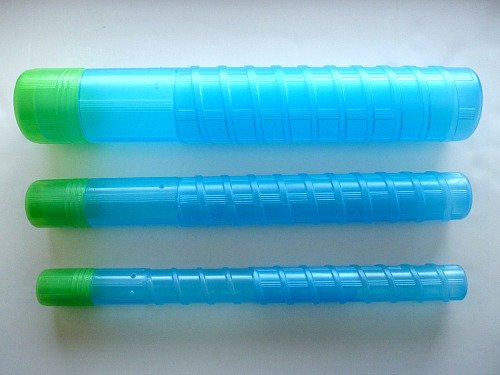 It turns out that they are really pretty nice. They come in two pieces (three, counting the cap). By twisting the two pieces (essentially screwing one into the other), the cases can be adjusted for length.

Small Rod Case
I've chosen to carry four sizes of the cases. The smallest fits rods that collapse to less than 18", including the Daiwa Keiryu-X, Shimotsuke Kiyotaki, Suntech Genryuko, Nissin Pocket Mini, Tenryu TF39TA and Nissin Tanago Gokoro. It does not fit any other tenkara or keiryu rods. The new Nissin Tenkara Mini will not fit in the Small Rod Case, but it doesn't need a case anyway.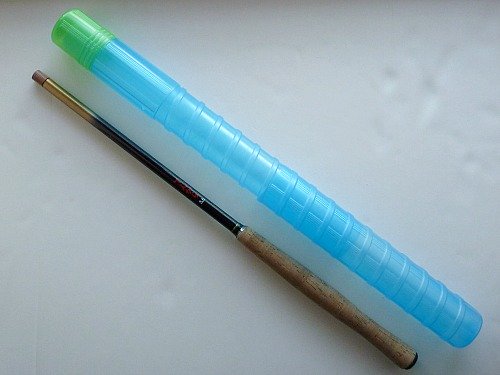 Medium Rod Case
The medium one fits most tenkara, keiryu and seiryu rods and for most rods it will actually will fit two at a time - one grip first and the other tip first. The grip on the Nissin Air Stage Fujiryu Tenkara is just a bit too wide to fit two rods at once.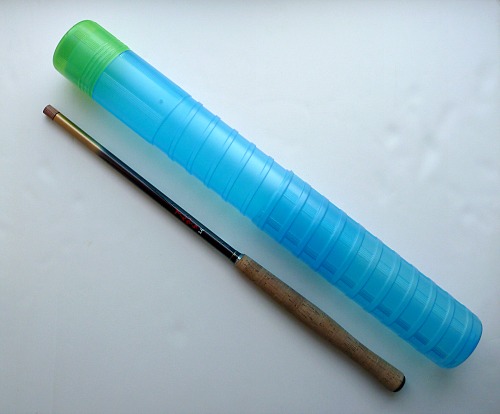 Large Rod Case
The large one might better be called a "guide" model in that it will fit 6 tenkara rods, three tip first and three grip first (for most rods, that is - it won't fit 6 of the Air Stage Fujiryu Tenkara rods).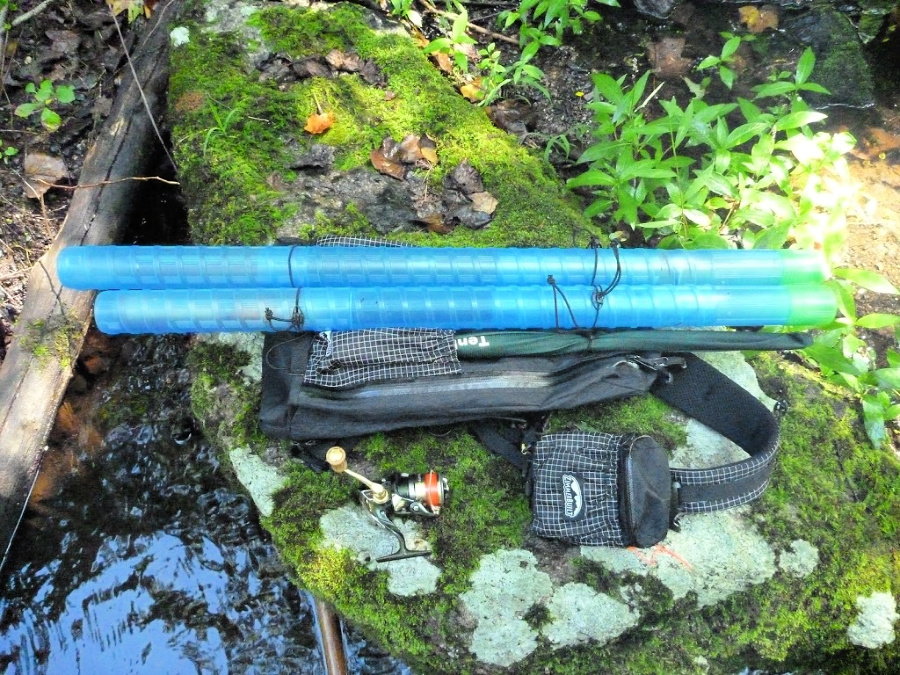 Long Rod Cases and Guide Sling
The long rod case has the same diameter as the medium case, but can extend from 32" to 40". It will thus fit rods whose collapsed length is too long for the medium case: Daiwa Expert L LL36 and LL45M,  Ito, Shimano Keiryu Tenkara 34-38ZL,  and Suntech GMR Special. It weighs 4.2 oz.
The Shimano Honru Tenkara and the Nissin Royal Stage Honryu 390 will not fit into the Long Rod Case. The Nissin Kyogi rods and Suntech Kurenai Long and Field Master Suguru long will not fit.

The Long Rod Case is handy for carrying Tenryu Rayz, Spectra and Alter or the Shimano 2-piece spinning rods also (if their breakdown length is under 40 inches). Most 2-piece Daiwa rods will not fit because the first guide is too tall.

One nice thing about all of the cases is that there are a couple holes in the side a few inches below the cap (visible in the photos of the small case), which allow you to tie a cord loop to the case. With the loop you can tie the case to your backpack or even make a belt loop that would allow you to carry a second rod if you didn't have a backpack or Ebira.
The holes do provide a bit of ventilation, but please, do not put a wet rod in the case and then put it away. It's OK to take a wet rod home in the case, but then take it out, take it apart and allow it to dry thoroughly.

Another nice thing about the cases is that they are much lighter than the hard cases most tenkara anglers are familiar with, so you could take one with you while backpacking for greater rod protection without having to worry nearly as much about the extra weight.
These cases aren't fancy, but they are functional. Thank you Yoshida san.
Please check the collapsed length of the rod for which you are getting the case to make sure it will fit!

---
The Small case has a diameter of 1 1/8" and extends from 12" to 18" and weighs 1.3 ounces.
Please note: THE SMALL CASE WILL NOT FIT ANY TENKARA, KEIRYU OR SEIRYU ROD THAT COLLAPSES TO A LENTH LONGER THAN 18". IT WILL NOT FIT THE NISSIN TENKARA MINI.
Small Rod Case - $8
---
The Medium case has a diameter of 1 1/2" and extends from 16" to just over 24". The case will not fit the Daiwa Expert L LL36 or L LL45M, Nissin Oni Honryu 450 or 395, Shimano 34-38 ZL or the Tenkara USA Ito. It weighs 2.3 ounces.
I have run into a problem with the Medium Rod Case. For some reason, which I have not yet been able to solve, if you try to purchase a Medium Rod Case you may get a message saying it cannot be shipped to your address.
Your address is NOT the problem, although it may be that your address in the checkout form is incomplete. Please make sure all boxes are filled in. If it still doesn't work, there is a simple workaround. Send me an email telling me everything you want to buy and give me your delivery address. I will send an invoice which bypasses the problem. Please use the Contact Us form.

Medium Rod Case - $8
---
The Large case has a diameter of 2 3/8" and extends from 16 1/4" to just over 24" and weighs 5.0 ounces.
Large Rod Case - $12
---
The Long case has a diameter of 1 1/2" and extends from 32" to 40".
Long Rod Case - $12
---
Shipping
Domestic shipping is via USPS First Class Mail (unless ordered with an item that must go via Priority Mail, and which has a higher shipping charge). Rates are $4.00 for packages that weigh under 8 ounces and $6.50 for packages that weigh over 8 ounces. The charge is added to your order automatically.
Please note: All packages are shipped via USPS. If you have a PO Box, please list ONLY the PO Box in your address, not the PO Box and your street address.
The charge for international shipping depends on the destination country, the weight of the package, the overall length of the package and the value of the package.
International shipments

International purchases may be subject to import duties and taxes. I cannot keep track of all import regulations in all countries written in all languages. Understanding and paying import duties and taxes is the responsibility of the buyer.
Russia
TenkaraBum.com no longer ships to Russia.

UK

TenkaraBum.com no longer ships to the UK. The new VAT regulations are too onerous for a one-man shop that rarely ships anything to the UK anyway. I apologize.

---
Priority Mail Upgrade

Priority Mail Upgrade - additional $4
2-3 day delivery anywhere in US.
This $4 upgrade will bring the total shipping charge up to $8, enough to cover Priority Mail postage.
TenkaraBum Home > Tenkara Accessories > Rod Cases
---
"The bitterness of poor quality remains long after the sweetness of low price is forgotten" - Benjamin Franklin
"Be sure in casting, that your fly fall first into the water, for if the line fall first, it scares or frightens the fish..." -
Col. Robert Venables 1662
As age slows my pace, I will become more like the heron.

---
Warning:
The hooks are sharp.
The coffee's hot.
The fish are slippery when wet.
Beware of the Dogma

---