Hi. My name's Chris and I'm a Tenkara Bum.

I didn't want to be a Tenkara Bum when I grew up. It just happened. I love tenkara. It's not that it is a traditional Japanese art, I am not drawn to the exotic. I am, however, drawn to the effective and the efficient. I love the light rod, unencumbered by a reel; the light line, uncaptured by a conflicting current. I love the direct connection you can only get if the fish can't take line.
I grew up in Colorado and learned to fly fish on the St. Vrain River. This was long before it became nationally known. Back then, I'm sure people two counties over never fished it and people two states over never heard of it. It's a small stream, or three actually, the North, the Middle and the South St. Vrain. They are great streams for a tenkara rod but I moved away long before I had become a tenkara bum.
Now I live in New York City. I fish the streams that run between the New York City Reservoirs just north of the city, as well as some streams in Connecticut and New Jersey.  For years I took the subway and commuter trains to go fishing but I mostly rent cars now.

I learned about tenkara by accident. I had seen a photo of a North Country soft hackle fly on the internet and was struck by it's simplicity and it's almost austere beauty. I tried to find out all I could about soft hackle flies and how to fish them. Through reading both early and contemporary accounts, I decided that a rod much longer than my 8' Phillipson Premium was needed to get the most out of them.
I couldn't justify spending hundreds of dollars on a new rod, new reel and new line, so I started looking for alternatives. I found David Webster's book, The Angler and the Loop Rod. He used a long rod, no reel and a horsehair line tied to the rod tip even though reels and silk line had already been in general use for decades. As a professional fisherman, he had to use what worked. If a long rod and no reel worked for him, I thought it would work for me.
In the course of my research on loop rods and the horsehair lines that were used with them, I came across a reference to tenkara. Tenkara rods are similar to loop rods and traditionally they used horsehair lines. Virtually no one fishes with loop rods anymore, but tenkara is still popular in Japan. The information is current and the equipment is modern.
At that point and for quite some time thereafter, no one sold tenkara rods in the US, and I had no idea how to import one from Japan. I spent the better part of 2007 trying different crappie rods, which I figured were as close as I could come to a real tenkara rod. When I tell people not to use a crappie rod because a real tenkara rod is so much better, I speak from experience. I got my first tenkara rod in early 2008.
Finding information about tenkara was hard. Most of it was in Japanese, and the computerized translation just isn't very good. My goal for the TenkaraBum site is to provide the kind of information that I wish had been available when I was just starting out.
I'm afraid my tone at times may come off a bit like "I did this and I did that" but I'm just trying to share my experiences with various techniques (not all of which have come from Japan), with various tenkara lines (not all of which were not made for tenkara), and rods I have found work quite well (not all of which had the word "tenkara" stenciled on them at the factory).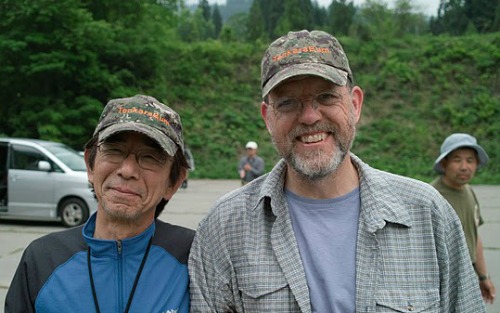 Tenkara Demon and Tenkara Bum in Japan
I have been to Japan. I have fished with and learned from Dr. Hisao Ishigaki and Meijin Masami Sakakibara, the "Tenkara King" and "Tenkara Demon." Their flies are different, their rods are different and their methods are different.
I have also been intimately involved in spreading tenkara in the US. I am the one who told Daniel Galhardo that Dr. Ishigaki was coming to America and suggested he might want to meet him. I am also the one who persuaded him to carry level lines. For years now I have been actively involved in explaining and promoting tenkara on a number of internet forums, and will continue to participate on those that welcome free and open discussion.
TenkaraBum.com is now about six years old and serves tenkara, keiryu, seiryu and micro fishing anglers the world over.
_____________
Chris Stewart
Tenkara Bum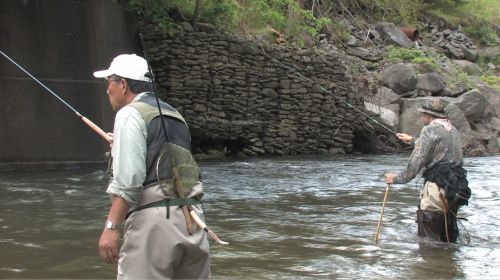 Dr. Ishigaki and Tenkara Bum in the Catskills
---
---
"The bitterness of poor quality remains long after the sweetness of low price is forgotten" - Benjamin Franklin
"Be sure in casting, that your fly fall first into the water, for if the line fall first, it scares or frightens the fish..." -
Col. Robert Venables 1662
As age slows my pace, I will become more like the heron.

---
Warning:
The hooks are sharp.
The coffee's hot.
The fish are slippery when wet.
Beware of the Dogma

---