Some shipments are still delayed. If you are planning a trip, please order well in advance.
---
Kids Tenkara Rod

A Kids Tenkara Rod should be light enough for a kid to handle and have an action that will teach proper casting form.

I've offered kids rods for years, and for years I have been at least mildly dissatisfied with them. Up until now, I've offered rods that were short and inexpensive. Short because a shorter, lighter rod is easier for a small child to handle. Inexpensive because a lot of parents don't want to spend a lot of money on a rod that a kid will soon outgrow.
However, I now think a better approach is to not focus on a "Kids Tenkara Rod" at all, but instead to choose a rod that is light enough for a kid to handle, but one that is long enough and nice enough that a kid isn't going to outgrow it. For that matter, one nice enough that if kid eventually decides that fishing isn't as much fun as baseball or barbie dolls, you'll be quite happy to use the rod yourself.


Nissin Pro Square Tenkara Rod
The Nissin Pro Square rods, which I carried for years, are entry level rods that offer good value for the money. They are not as cheap as the kids tenkara rods I have offered in the past, but they are much better rods.
The Nissin Pro Square 320 6:4 is 10'4" long. If that seems a bit long for a child, consider that the rod is only 1/10 of an ounce heavier than the 9' Tenkara Gen 9' rod that was my most recent choice for a kids rod.
Even younger children, if they use a two-handed grip, won't find the rod to be too heavy. In the first few years after tenkara was introduced to the US, an outdoors program in Oregon taught children tenkara with 13' rods. They taught a two-handed grip and the kids had no problem casting or catching fish.

Brown

Brookie

Rainbow

Big congratulations to Wyatt, who caught this "slam" in one stream on one day!

It was his first trout fishing trip with his tenkara rod. I bet it won't be his last!


Way to go, Wyatt!

And catching fish, which for a kid is what it's all about anyway, is a lot easier with a 320 length rod than it is with a 270 length rod.

The action of the Nissin Pro Square 320 6:4 is also better for teaching the proper timing and casting form, which in the long run is more important. With the longer, softer rod, it is easier to feel the rod load.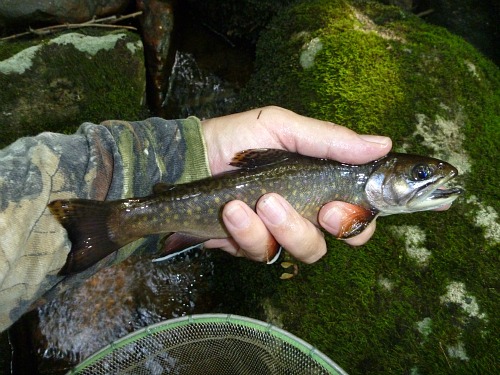 This brookie put a bend in the Pro Square 320.
You'll be tempted to borrow the rod!
The longer, softer rod makes catching fish more fun, too. All in all, the Nissin Pro Square 320 6:4 is just a better rod for teaching a kid tenkara. I should have offered it as a kids tenkara rod from the very beginning.

Kids Tenkara Rod Features

Cork veneer over foam.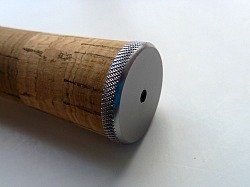 Grip screw cap
The Nissin Pro Square grip is a cork veneer over foam. In the years that I sold the rod, and the years since, no one has reported any problems with the grip. No one has reported any cracking or delamination. If this construction was a problem I would have heard about it by now. It provides a secure non-skid grip and it keeps the cost down.

The grip screw cap is metal and is knurled for easy tightening or removal. It is larger than the grip screw cap on most rods, and it is shiny - which means it is harder to lose! Check it before fishing. Once tightened it shouldn't come loose by itself. However, if it does come loose, it will rattle so it can be tightened before it is lost.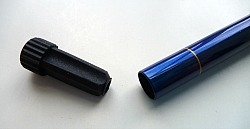 The lillian is glued directly to the rod tip. It is thin enough to pass through the second section.
The tip plug is fluted so that the line can be keep on the rod when the rod is collapsed. I would highly recommend inserting the tip plug as soon as the rod is collapsed. Then and only then wrap the line around a line holder. Doing it that way will prevent unsteady hands from breaking the rod tip. Similarly, unwrap the line from the holder before removing the tip plug.

The rods come with a rod sock. Replacement parts are available.
It may sound a little convoluted, but the fact that the Nissin Pro Square 320 6:4 isn't a "Kids Tenkara Rod" actually makes it a better choice for a kids tenkara rod. It is a good tenkara rod (that is suitable for kids).

Model


Length extended
Length collapsed
Weight (w/o tip plug)
Sections
Pennies
Tippet

Nissin Pro Square 320 6:4


10'4"
22"
1.9 oz
7
10
5X


Nissin Pro Square 320 6:4 - $130
---
---
Line and Tippet
The rods do not come with line and tippet. For the line, I would recommend a size 3.5 level line.

---
| | |
| --- | --- |
| For the tippet, I would recommend Varivas 5X nylon. | |
---
Line Holder
You, and your kid, will need something on which to hold the line when not actually fishing. I would recommend a pair of the Tenkara Line Holders.
You can order the line holders here, but it would be best to read the instructions of exactly how to use them, which are on this page: Tenkara Line Holders.

---
Shipping
Domestic shipping is $10, via USPS Priority Mail (2-3 day delivery)
The international shipping charge is the actual cost to mail the package. Packages no longer than 24" AND valued at less than $400 are shipped via USPS First Class Mail International. Packages longer than 24" OR valued at $400 (or more) are shipped via USPS Priority Mail International.

---
TenkaraBum Home > Rods > Kid's Tenkara Rods

---
"The bitterness of poor quality remains long after the sweetness of low price is forgotten" - Benjamin Franklin
"Be sure in casting, that your fly fall first into the water, for if the line fall first, it scares or frightens the fish..." -
Col. Robert Venables 1662
As age slows my pace, I will become more like the heron.

---
Warning:
The hooks are sharp.
The coffee's hot.
The fish are slippery when wet.
Beware of the Dogma

---