Tenryu Furaibo
---
Vacation
I will be away from June 4 through and including June 11. Packages will not get shipped and emails will not get answered while I am away.

---
The Tenryu Furaibo TF39 and TF39TA are tenkara rods made in Japan by a small company that is not yet well known in the US. They are not the world's least expensive tenkara rods. They may be the very best.
Designed by Experts for Experts
At the International Federation of Fly Fishers International Fair in Livingston, MT I was fortunate enough to spend some time with Miyoshi "Mike" Shiozawa, the Chairman of Tenryu. Mr. Shiozawa was representing the Japan Federation of Fly Fishers, of which he was the President. Although I did manage to fish for about a half hour, the purpose for my trip to Montana was just to meet him.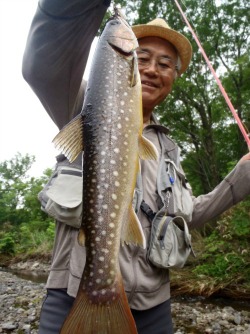 Miyoshi Shiozawa with white spotted char and Tenryu Furaibo TF39.
As you might expect, we talked rods. Mr. Shiozawa has been making rods for a long time. In the Fly Fishing Museum, also located in Livingston, MT, there is a tenkara exhibit. It turns out that the tenkara rod in the exhibit is a rod that Mr. Shiozawa made for Gentatsu Kuwabara over thirty years ago.
Seeing again the rod he had made so many years ago was quite an emotional moment for him. (Gentatsu Kuwabara was one of the best known tenkara anglers, and one who was very particular about his equipment. Even today, Owner still makes a "Kuwabara" tenkara hook that he designed.)
The Tenryu Furaibo TF39 and TF39TA are designed for experts, for people who are just as particular about their equipment as Kuwabara san was. Decades of design and manufacturing experience went into these rods. Both were designed to produce a tight loop cast, and it takes only a flick of the wrist to load the rods. Although they were designed to meet the expectations of very experienced anglers, the design allows even complete beginners to cast the rods easily.
The Best Blanks in Japan

In the fifth episode of Tenkara in Focus, Go Ishii said of Tenryu "Many think that Tenryu makes the best blanks in all of the companies in Japan."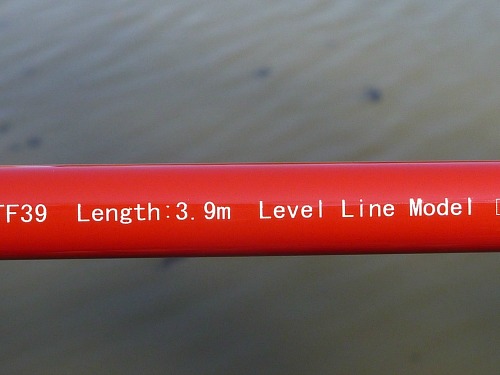 The TF39 and TF39TA were designed for level lines
Both rods were designed to perform well with level lines. When I first fished with a Tenryu Furaibo TF39 a few years ago, I was surprised. Up until then, I had barely heard of the Furaibo TF39, yet it was a nicer casting rod than the Daiwa LL41SF, which was a well known rod and was my favorite level line rod at the time. 

At first, I only used a size 3 line with either the TF39 or the TF39TA. Mr. Shiozawa himself fishes the rods with a size 3.5 line. Misako Ishimura, co-author of the first book on tenkara written in English, prefers a size 4 line, particularly when she uses the rods for her workshops to teach tenkara to beginners and children.

The Tenryu Furaibo TF39 is one of the smoothest casting rods there is. Most tenkara rods are 99% carbon. The Furaibo, though, is 83% carbon and 17% glass. For some time now, there has been a renaissance in fiberglass fly rods. They are just so smooth. Tenkara rods are long enough that a 100% glass rod would be much too heavy. The Tenryu designers and engineers added just enough glass to the mix to produce a wonderfully smooth rod without adding too much weight.
I have come to appreciate Mr. Shiozawa's line choice. With the TF39, casting a size 3.5 line is just effortless. The line is heavy enough to perfectly load the rod (and you can feel it), yet light enough that you can still keep line off the surface. Stop the forward cast with the rod tip high and execute a fly-first cast every time.

Yuzo Sebata, who could fish with any rod he wants, fishes with a Tenryu Furaibo TF39TA, and fishes it with his hand-twisted yellow nylon mono tapered line. Even though it is a heavier line, the TF39TA casts it well.
If you prefer the mid flex action of a traditional tenkara rod over the tip flex action of the TenkaraBum 36 or TenkaraBum 40, you will not find a better rod than the Tenryu Furaibo TF39. (The same goes for the traditional cork grip!)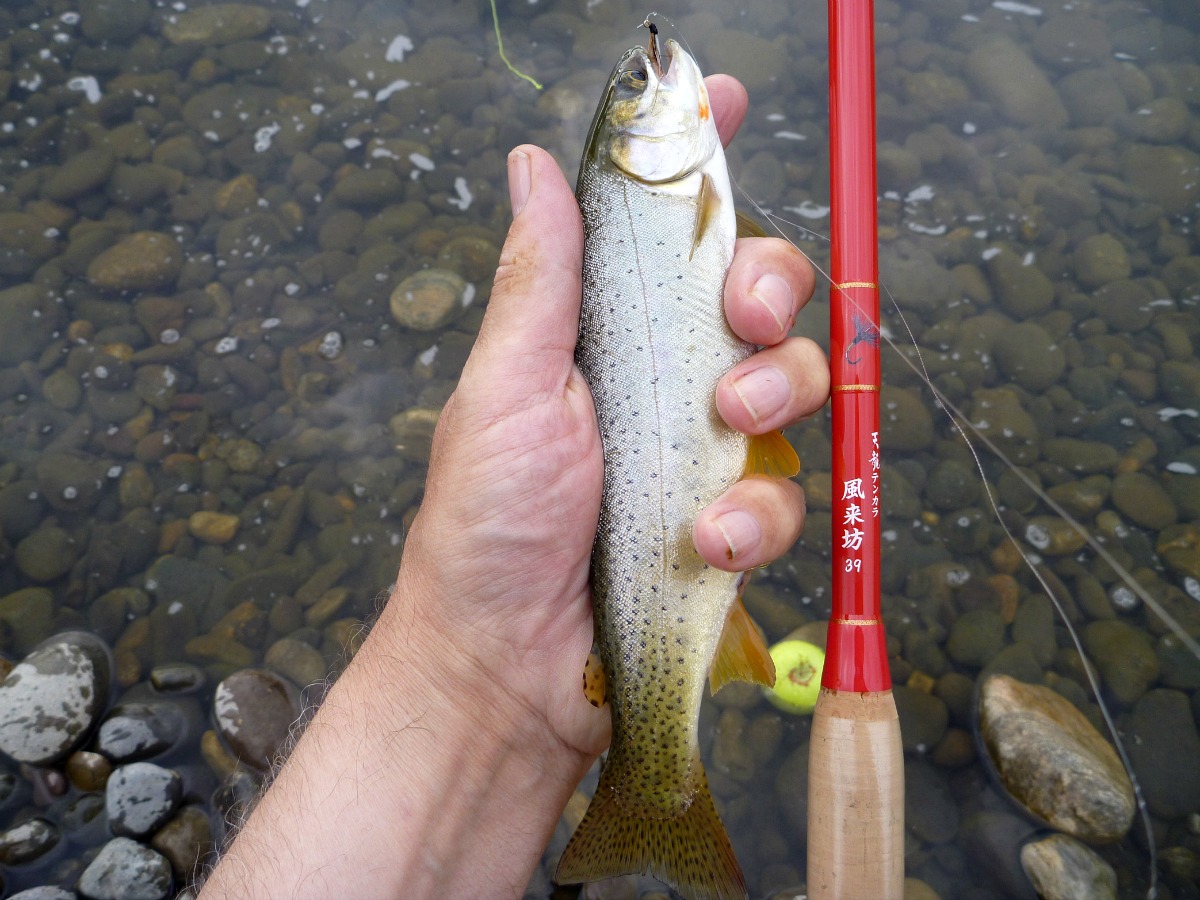 Yellowstone Cutthroat caught on Tenryu Furaibo TF39
A Zoom Rod with no Compromise

Many tenkara anglers believe a "zoom" rod is too much of a compromise, with the rod performing well at only one of the two or three lengths. The Tenryu Furaibo TF39TA was specifically designed to perform equally well at all three lengths. People have asked me why the rod carries a high price. Part of the answer is the exacting design, materials, and manufacturing attention to detail that go into the rod. The result is an exceptional rod, but one which cannot be produced cheaply. You will not find anything like it from any of the Chinese factories that supply rods for the American or European tenkara rod companies.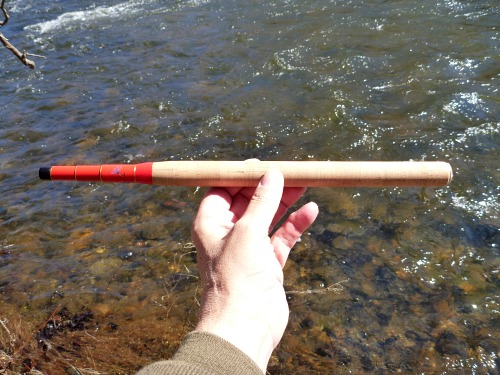 The TF39TA collapses to just 14"
The TF39TA was the first backpack-friendly rod I found that was designed for level lines. It truly is unique. Despite collapsing to a length of only 14 inches (even shorter than the Daiwa Keiryu-X) is not a stiff rod like the Keiryu-X, the Suntech Genryuko or the Sakura Kongo. Nor is it a delicate, thin-walled rod like the Nissin Pocket Mini or Tenkara Mini. It has the action a tenkara angler would expect in a premium tenkara rod with a more standard 22 or 23 inch collapsed length.

The Rod for Fishers who Backpack, not Backpackers who Fish.
It is the only rod on the market truly designed for ardent tenkara anglers who backpack, rather than for the ardent backpacker who may want to fish a bit along the trail and who is willing to accept a relatively stiff or relatively delicate rod just because it fits in the backpack. The Tenryu Furaibo TF39TA is a rod for the tenkara angler who wants a great rod that casts well and fishes well - and also fits in the pack. This is the rod, indeed it is THE rod for all the people who have asked me for a rod for the John Muir Trail, or the Pacific Coast Trail or the Appalachian Trial. It just hasn't been available - until now.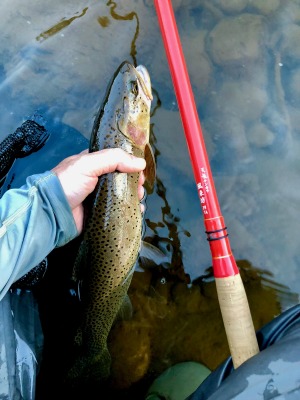 Both rods can handle nice fish, like this cutthroat caught with a TF39TA.
Photo courtesy Chris C
A few years ago I wrote two articles for Backpacking Light on tenkara rods for backpackers. Had the Tenryu Furaibo TF39TA been available back then, it could have been just one very short article.  If you value the fishing as much as the backpacking, this is your rod. Period.
Over the last couple years a number of backpacking tenkara rods have been introduced. Not a one of them is even close to the TF39TA in terms of quality or performance.
All that said, you don't have to be a backpacker to appreciate the Tenryu Furaibo TF9TA. If you fish a variety of waters, from tight overgrown streams to larger, more open streams to rivers and lakes it could be just the rod for you. If you want the quality and attention to detail that you get in a Japanese rod, and you also want a cork grip, it IS just the rod for you. Travel much? The rod will fit in any carry-on.
I asked Chairman Shiozawa how the sales figures compare in the Japanese market, expecting that because of the higher price, many fewer of the TF39TA would be sold. I was surprised to hear that sales are about the same for each rod. In the US, the TF39TA sells better than the TF39. There are quite a few premium tenkara rods. For backpacking rods, though, the TF39TA clearly is on top.
Vagabond? Free Spirit?

Both rods, but the TF39TA in particular, really deserve the name Furaibo. Like so many Japanese words, there is no English word that is an exact translation. The closest is "vagabond" but furaibo also carries a sense of "free spirit" or breaking free of rigid feudal bonds, of wandering "wherever the winds may blow you." Indeed, the first character in the name, 風, means wind. If you are (or would like to be) a wanderer, going where the winds blow free and the rivers run cold, beholden to no one, this is the rod to take with you.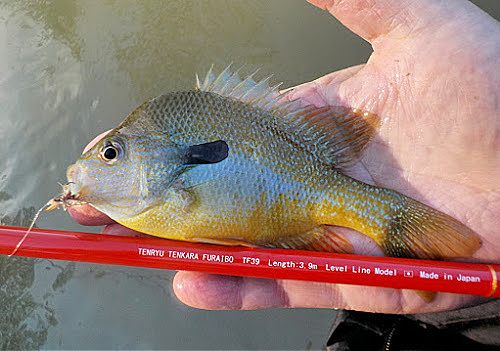 Nice Lepomis Auritis
(Yellow Belly Sunfish in Texas, Red Breast Sunfish in the Northeast).
Don't think the Furaibo is only for trout (even though in Japan they have yet to learn that tenkara rods are lots of fun with sunfish). They have sunfish but don't fish for them with tenkara rods. No one knows why not.

---
Tenryu Furaibo Features

The first thing you will notice about a new Tenryu Furaibo rod when you take it out of the shipping box is that it doesn't come in a plastic display case. Instead, it comes in a bright red nylon padded sheath. Inside is a slim stretchy rod sock.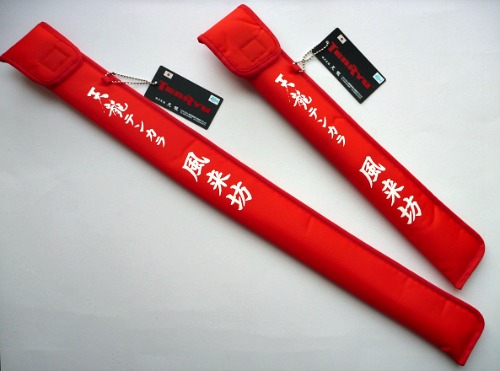 TF39 and TF39TA rod cases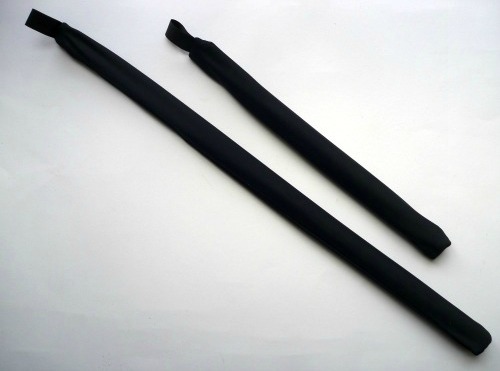 TF39 and TF39TA rod socks
The next thing you'll notice is that the rod is not your basic black. It is red! (Well, maybe red with a very little orange mixed in.) The sections are perfectly smooth, with absolutely none of the little spiral ridges that many rods have. The finish does not look at all like the usual tenkara rod paint job. It looks more like an enamel finish, or maybe even a traditional Japanese Urushi lacquer finish. It really is quite striking.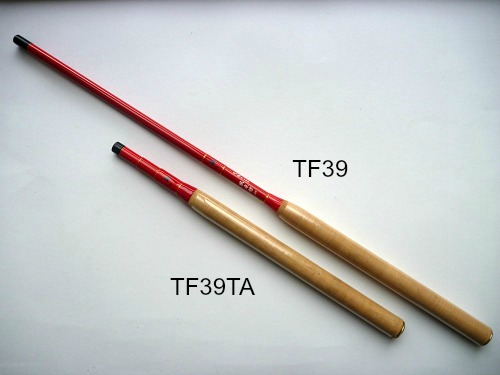 TF39 and TF39TA collapsed
By the way, the Japanese, who have been fishing with very long rods for a very long time, do not believe that a red rod scares fish. For that matter, they don't believe that a glossy rod scares fish, either. If they did, all their rods would have a matte finish rather than just a very few.
The Tenryu Furaibo grips are very good cork and do not have the two "humps" common to many tenkara rod grips.  A cylindrical grip allows you to grip the rod where you want to rather than where a rod designer thinks you'll want to.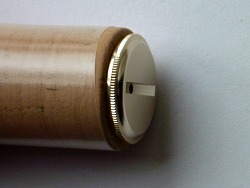 Grip Screw Cap (in rod)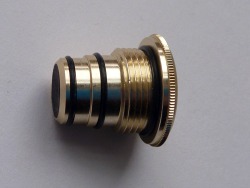 Grip Screw Cap with O rings
The grip screw cap is metal. It is unobtrusive and does not extend far beyond the end of the cork. There is a ventilation hole, although I still recommend fully disassembling the rod between uses to dry out. The cap is knurled and also has a coin slot in case you want to tighten it past hand-tight. The TF39 screw cap does not have an O ring, so using a coin to tighten the cap is a good idea. The grip screw cap for the TF39TA has two rubber O rings to keep the zooming sections snug when the rod is not fully extended.
The zooming sections are held tightly enough that they will not extend when you do not want them to. It will help to twist the zooming section slightly to make sure it is seated over the "O" ring.

One unfortunate aspect of the TF39TA is that the O rings on the Grip Screw Cap can break. If an O ring breaks, it will no longer hold the zooming section in the collapsed position.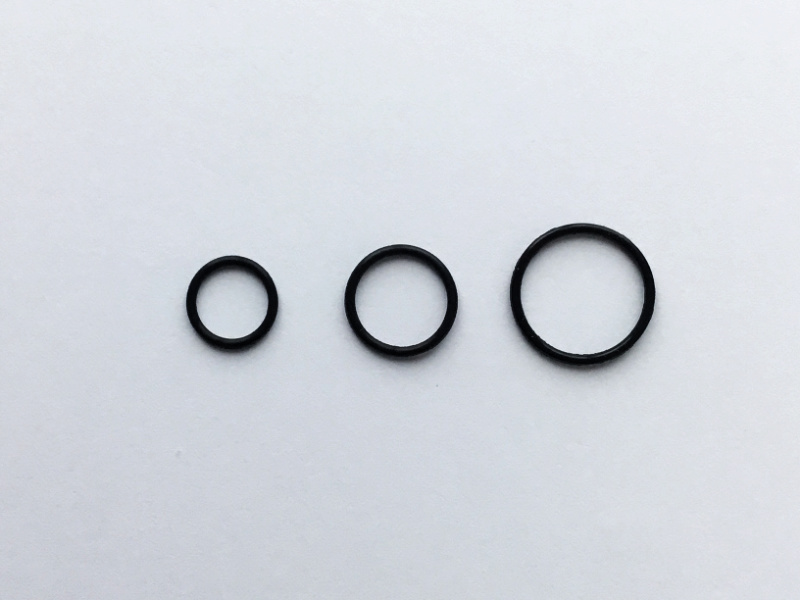 TF39TA O rings
It is not common, and I know of only five instances among all the TF39TA owners in America.
Apparently, it happens only in America. Tenryu told me they had not heard of it before (which is essentially what Suntech said about their lillians pulling off).
In any event, if one of your O rings has broken and you need a replacement let me know.
Thanks to Chris Cameron, I have some replacements and will send a set to anyone who needs one.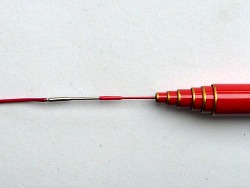 Lillian with swivel attachment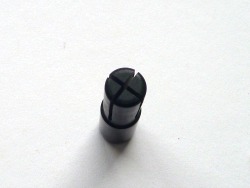 Tip plug with slits
The lillian is attached with a micro swivel that easily passes through the second section for disassembly. The tip plug is hardwood and is slotted for a snug fit. It is not designed for use when the line is still attached. Although the slits are wide enough to accommodate a level line, there is a risk of getting the lillian caught in one of the slits and having the first section come out when you remove the plug. The TF39TA tip plug is considerably shorter, but has the same crossed slits for a good fit.
TF39
Length extended 12'10"
Length collapsed 23.5"
Weight (with cap) 2.6 oz
Weight (without cap) 2.4 oz
Sections 8
Carbon/Glass % 83/17
Pennies 14

TF39TA
Length extended 11', 11'11", 12'8"
Length collapsed 14"
Weight (with cap) 2.8 oz
Weight (without cap) 2.7 oz
Sections 14
Carbon/Glass % 83/17
Pennies 15.5, 16.5, 17

---
TenkaraBum Home > Tenkara Rods > Tenryu Furaibo

---
"The bitterness of poor quality remains long after the sweetness of low price is forgotten" - Benjamin Franklin
"Be sure in casting, that your fly fall first into the water, for if the line fall first, it scares or frightens the fish..." -
Col. Robert Venables 1662
As age slows my pace, I will become more like the heron.

---
Warning:
The hooks are sharp.
The coffee's hot.
The fish are slippery when wet.
Beware of the Dogma

---