Fly Rod Spoons

Fly rod spoons have been out of favor for decades but perhaps it's time to reconsider. They have (and deserve) a place in your fly box.
Before spinning gear became popular in the US, the only effective way to fish small lures was with a fly rod. The baitcasting reels of the day were not capable of casting light weight lures. Fly rod spoons, spinners and plugs were available and effective. They'd be just as effective today if they were available.
When spinning gear became popular in the 50's and 60's, demand for fly rod lures diminished to the point that they are now essentially gone. If you look hard enough you can find some 1/32 oz spoons - but 1/32 oz is a bit heavy to cast comfortably with a fly rod (let alone a tenkara rod). It works, but it jerks.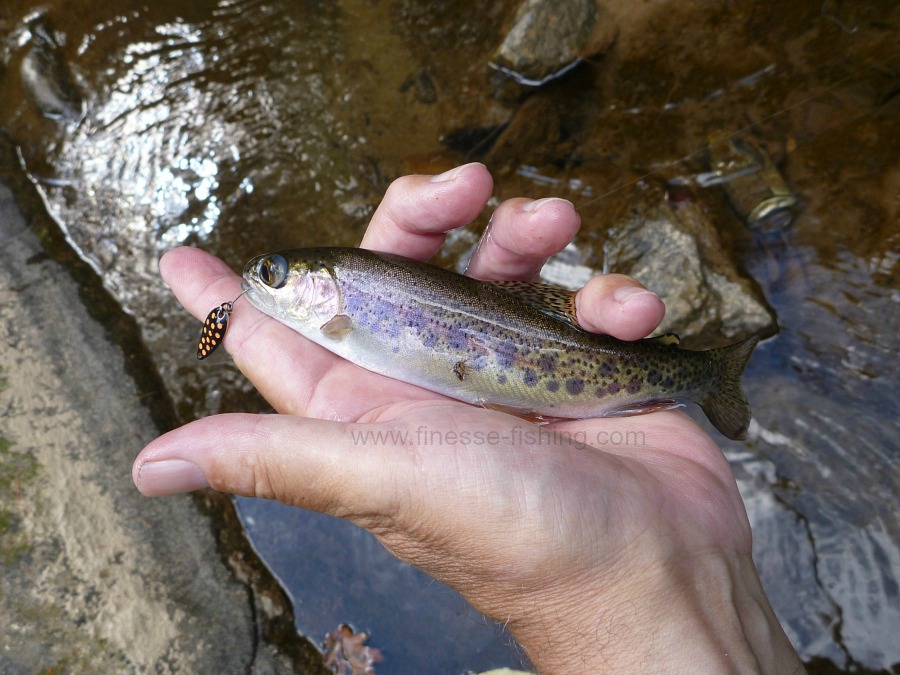 Fly rod spoon and little wild rainbow.
However, much lighter spoons are available in Japan! They are not sold as fly rod spoons, but instead as lures for extra, extra ultralight spinning rods. Extremely light spoons (down to 1/70 oz) and extremely light lines (down to 1.5 lb) are used there to fish in highly pressured, private, stocked, pay-to-fish lakes called "Areas."
The Daiwa Iprimi 56XXUL-S is one of the rods rated for lures down to .4 gram. To see what they could do, I also got in some .4 gram (1/70 oz) spoons. Even with the extra, extra ultralight rod and 2 lb line, they are hard to cast very far.
*Light bulb goes off*
If they're a bit too light for the lightest of the ultralight spinning rods, how about a fly rod? It has been years since I picked up a fly rod, but I have to tell you they cast just fine on a tenkara rod. And truly, if they cast well with a tenkara rod (which they do) they'll cast very well with a fly rod.

Daiwa Presso Vega .4 Gram Spoons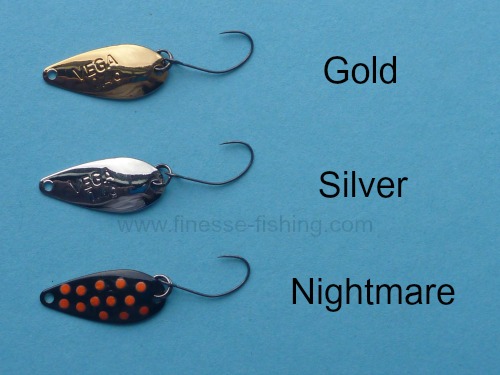 Daiwa Vega .4g spoons come with single barbless hooks.
The Daiwa Vega spoons (actually, Daiwa Presso Vega but I've shortened it for the website) come in nineteen colors. They come in three weights (.8g, .6g and .4g). All are  7/8" long and 3/8" wide. The heavier spoons are stamped from thicker metal.
For the .4g spoons, the "fly rod spoons," I only have a few colors for now, but if demand grows as fast as I think it might, I will bring in other colors.
One of the nicest things about the spoons (aside from being so light you can easily cast them with a fly rod or tenkara rod) is that they come with a single barbless hook. Releasing fish couldn't be easier.

Because the hook is attached to the spoon with a split ring, which allows it to turn in any direction, the fish can't use leverage to dislodge the hook - which can happen with a streamer. Once the fish is hooked, it stays hooked. You won't lose many - even the wriggly little ones.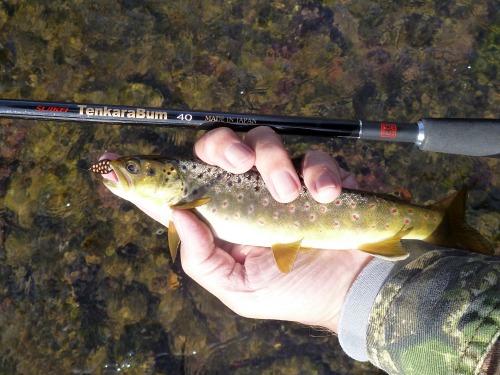 Daiwa Vega .4g Nightmare spoon.
Not too long ago, I read on a spin fishing forum that contrary to popular belief, it is absolutely necessary to set the hook when fishing a spinner. Well, all I can say is that may be necessary when fishing a 1/8 oz spinner with barbed treble hooks, but does not seem to be necessary when fishing one of these little single barbless hook spoons. When fished with a tight line, more often than not the fish hook themselves. The hook is amazingly sharp (which I am confident you will find out for yourself as soon as you pick one up, unless you are extremely careful). It penetrates extremely easily and holds quite well.
Every silver lining has a cloud, though, and that amazingly sharp hook is very light wire. It is intended for fishing in lakes (no current to fight) with ultralight lines (1.5-3#) and ultralight spinning rods and reels with the drag set light to protect the light lines. I have broken one of the hooks as the fish flipped just as I grabbed the hook with my clamps. I  and have had one report of the hook straightening on a big fish. One angler who has been catching a very impressive number of very impressive fish, in current, with a keiryu rod, has reported multiple instances of broken hooks and two instances of the hook coming off the spoon after the fish is in the net. He still loves the spoons but will replace the light wire hooks in the future. I have not had any complaints at all about the replacement Cultiva SBL-35 single barbless hooks (size 8 for the Vega spoons.) If you are getting hooks to replace the Vega hooks, do not get the Presso "Speed Hook," which is the same hook that the Vega spoons already come with.

Realistically, there is a downside to having a single hook rather than a treble hook. There will be times when a fish hits the spoon but misses the hook. Personally, I believe the advantages of a single barbless hook greatly outweigh that disadvantage. Less damage to the fish and a much quicker, easier release top the list. Besides, I still catch a lot of fish with single hook spoons.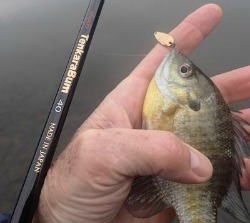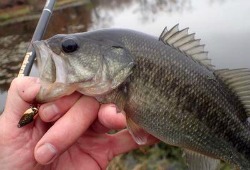 Alan L's bluegill and bass caught with Daiwa Vega .4 gram spoons.
And don't think for a minute that they're only for trout. I saw a thread on a crappie forum lamenting that very small light weight spoons, which used to be available, no longer are.
Well, small fly rod spoons are available again. They are just as effective for bluegills, crappies and even modest bass as they ever were.
Fly Rod Spoons: Better than Streamers

Purists may refuse to fish the Daiwa Vega spoons because they aren't flies. Many will happily fish streamers - even though other purists believe that streamers aren't really flies either! Personally, I'm not a purist. I fish streamers with no qualms whatsoever.

The fly rod spoons are going to replace the streamers in my box, though. They're just more effective.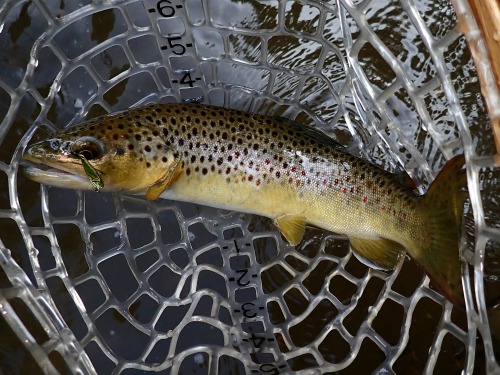 And you thought browns liked streamers. This one nailed a Lemonade Vega .4g spoon. Michael P photo.
Both represent tiny baitfish but there is something about the flash and the wobbling action of a spoon that a streamer just can't match. I have caught fish on a streamer, but I have never seen three or four fish race each other to get to it - which I have seen with the Daiwa Vega spoons.
I haven't seen a fish miss the streamer and keep coming back and slashing at it until it finally catches it and gets hooked. That is not a rare occurrence when fishing with a small spoon. I have fished a pool with a streamer, without getting a hit, and then put on a small spoon and caught multiple fish from that same pool. Truly, a fly rod spoon is more effective than a streamer. Plus, depending on how wind resistant the streamer is, the spoon is even easier to cast!
Give them a try. I don't think you'll be disappointed.
And if you have any doubts at all that a large fish would hit such a small spoon, please look at the photo below. It shows a fish caught with a TenkaraBum 36 and a Daiwa Vega .4g spoon. If you look closely, you can see the spoon that hooked the fish. Please keep in mind that the spoon is very nearly an inch long!
PLEASE NOTE: THE PICTURES BELOW DON'T SHOW HOOKS, BUT THE SPOONS COME WITH A SINGLE BARBLESS HOOK AS SHOWN IN THE PHOTO OF THE THREE SPOONS HIGHER ON THIS PAGE.
---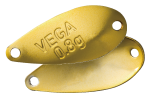 Daiwa Vega .4g
Gold - $6.00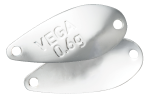 Daiwa Vega .4g
Silver - $6.00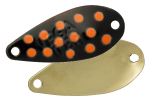 Daiwa Vega .4g
Nightmare - $6.00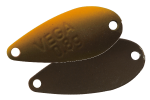 Daiwa Vega .4g
Dark Forest - $6.00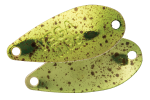 Daiwa Vega .4g
Lemonade - $6.00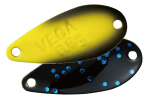 Daiwa Vega .4g
Yellow Dagger - $6.00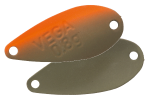 Daiwa Vega .4g
Horizon - $6.00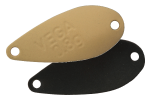 Daiwa Vega .4g
Mocha Black - $6.00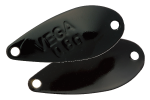 Daiwa Vega .4g
Glossy Black - $6.00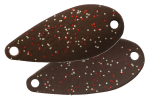 Daiwa Vega .4g
Brown Pellet - $6.00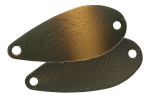 Daiwa Vega .4g
Green Pellet - $6.00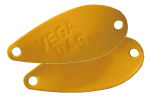 Daiwa Vega .4g
Khaki Brown - $6.00
Daiwa Vega .4g
Area Brown - $6.00

Daiwa Vega .4g
Manhattan - $6.00

Daiwa Vega .4g
White Bug - $6.00
---
 Spoons for Ultralight Spin Fishing
I am continually surprised at the number of tenkara anglers who ask me about getting an ultralight spinning rod - or at least dusting off the one they've had for some time but haven't used much lately.
The .4 gram spoons shown above cast well with a tenkara rod or fly rod, but for an ultralight spinning rod I would suggest a heavier spoon (and I would still recommend a spoon rather than a spinner).  On the Finesse-Fishing site you will find spoons that will cast quite nicely with ultralight spinning gear. For that matter, the heavier spoons on the Finesse-Fishing site will cast quite nicely with ultralight baitcasting gear.

---
Snaps and Swivels
Initially, I tied my tippet directly to the spoons with the same Double Davy knot I use for flies. I am sure a nonslip loop would be better, but I haven't used one.
Since I got in micro swivels and snaps (which until now I only had on the Finesse-Fishing website) I have used either a snap or a swivel and tied the tippet to it. They do allow the spoon to wobble more freely.

Micro Swivel - $4.50 for 4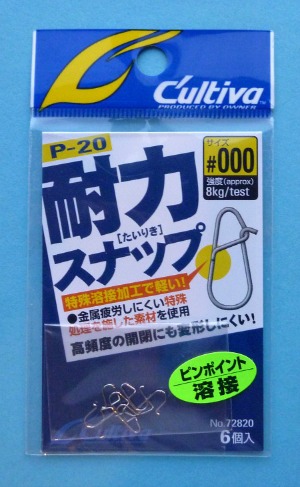 Tairiki Snap - $5 for 6
---
---
Shipping
Standard shipping is via USPS First Class mail.
A shipping/handling charge of $4 will be added to all orders.
If you live outside the US, you must add more postage unless the items on this page are mailed with a rod!
Please note: The buttons below only add the postage, they are not for the product AND the postage. You must click on the product button above also.

TenkaraBum.com does not ship to Norway or any other countries of the European Union or the European Economic Area.

---
Where do you live?


---

USA


Add this amount for shipping.


---

No additional postage required for First Class mail.
(Total charge $4)

---

Canada or Mexico


---

Additional $6 postage required. (Total charge $10)

---

Other Country


---

Additional $10 postage required. (Total charge $14)
---
---
Priority Mail Upgrade - U.S. Only

2-3 day shipping (U.S. only)
First Class should be just as fast for people living east of the Mississippi.
Do Not click if your order includes a rod, wader gaiters, 3x5 Photo Tank or Daiwa Keiryu Damo. They already go via Priority Mail.
Domestic Priority Mail Upgrade - Additional $3
---
---
Payment
Payment is processed by PayPal but you don't need to have a PayPal account. You can use your credit card.
---
TenkaraBum Home > Fly Rod Spoons

---
"The bitterness of poor quality remains long after the sweetness of low price is forgotten" – Benjamin Franklin
"Study to be quiet." - Izaak Walton 1653

"Be sure in casting, that your fly fall first into the water, for if the line fall first, it scares or frightens the fish..." Col. Robert Venables 1662

---
Warning:
The hooks are sharp.
The coffee's hot.
The fish are slippery when wet.
Beware of the Dogma

---