Fly Rod Spoons

Fly rod spoons have been out of favor for decades but perhaps it's time to reconsider. They have (and deserve) a place in your fly box.
Before spinning gear became popular in the US, the only effective way to fish small lures was with a fly rod. The baitcasting reels of the day were not capable of casting light weight lures. Fly rod spoons, spinners and plugs were available and effective. They'd be just as effective today if they were available.
When spinning gear became popular in the 50's and 60's, demand for fly rod lures diminished to the point that they are now essentially gone. If you look hard enough you can find some 1/32 oz spoons - but 1/32 oz is a bit heavy to cast comfortably with a fly rod (let alone a tenkara rod). It works, but it jerks.
Fly rod spoon and little wild rainbow.
However, much lighter spoons are available in Japan! They are not sold as fly rod spoons, but instead as lures for extra, extra ultralight spinning rods. Extremely light spoons (down to 1/70 oz) and extremely light lines (down to 1.5 lb) are used there to fish in highly pressured, private, stocked, pay-to-fish lakes called "Areas."
The Daiwa Iprimi 56XXUL-S was one of the rods rated for lures down to .4 gram. To see what they could do, when I imported the rods I also got in some micro spoons .4 gram (1/70 oz). Even with the extra, extra ultralight rod and 2 lb line, they proved to be hard to cast very far.
*Light bulb goes off*
If they're a bit too light for the lightest of the ultralight spinning rods, how about a fly rod? It had been years since I picked up a fly rod, but I have to tell you they cast just fine on a tenkara rod. And truly, if they cast well with a tenkara rod (which they do) they'll cast very well with a fly rod.

The first really light spoons I found were Daiwa Presso Vega spoons. They were extremely popular with TenkaraBum customers, but Daiwa discontinued them and they are no longer available. I no longer have any in stock.
I then imported some .5g Blinde Flanker spoons from Rodio-craft. The feedback I received for them was excellent, but they, too became impossible to get.

One nice thing about these spoons (aside from being so light you can easily cast them with a fly rod or tenkara rod) is that they come with a single barbless hook. Releasing fish couldn't be easier.

Because the hook is attached to the spoon with a split ring, which allows it to turn in any direction, the fish can't use leverage to dislodge the hook - which can happen with a streamer. Once the fish is hooked, it stays hooked. You won't lose many - even the wriggly little ones.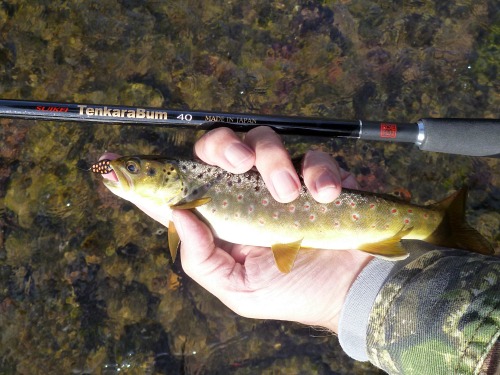 Daiwa Vega .4g Nightmare spoon.
Not too long ago, I read on a spin fishing forum that contrary to popular belief, it is absolutely necessary to set the hook when fishing a spinner. Well, all I can say is that may be necessary when fishing a 1/8 oz spinner with barbed treble hooks, but does not seem to be necessary when fishing one of these little single barbless hook spoons. When fished with a tight line, more often than not the fish hook themselves. The hook is amazingly sharp (which I am confident you will find out for yourself as soon as you pick one up, unless you are extremely careful). It penetrates extremely easily and holds quite well.
Realistically, there is a downside to having a single hook rather than a treble hook. There will be times when a fish hits the spoon but misses the hook. Personally, I believe the advantages of a single barbless hook greatly outweigh that disadvantage. Less damage to the fish and a much quicker, easier release top the list. Besides, I still catch a lot of fish with single hook spoons.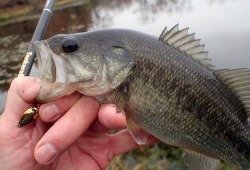 Alan L's bluegill and bass caught with Daiwa Vega .4 gram spoons.
And don't think for a minute that they're only for trout. I saw a thread on a crappie forum lamenting that very small light weight spoons, which used to be available, no longer are.
Well, small fly rod spoons are available again. They are just as effective for bluegills, crappies and even modest bass as they ever were.
Fly Rod Spoons: Better than Streamers

Purists may refuse to fish the fly rod spoons because they aren't flies. Many will happily fish streamers - even though other purists believe that streamers aren't really flies either! Personally, I'm not a purist. I fish streamers with no qualms whatsoever.

The fly rod spoons are going to replace the streamers in my box, though. They're just so much more effective.
And you thought browns liked streamers. This one nailed a Lemonade Vega .4g spoon. Michael P photo.
Both represent tiny bait fish but there is something about the flash and the wobbling action of a spoon that a streamer just can't match. I have caught fish on a streamer, but I have never seen three or four fish race each other to get to it - which I have seen with the Daiwa Vega spoons.
I haven't seen a fish miss the streamer and keep coming back and slashing at it until it finally catches it and gets hooked. That is not a rare occurrence when fishing with a small spoon. I have fished a pool with a streamer, without getting a hit, and then put on a small spoon and caught multiple fish from that same pool. Truly, a fly rod spoon is much more effective than a streamer. Plus, depending on how wind resistant the streamer is, the spoon is even easier to cast!
Give them a try. I don't think you'll be disappointed.
And if you have any doubts at all that a large fish would hit such a small spoon, please look at the photo below. It shows a fish caught with a TenkaraBum 36 and a Daiwa Vega .4g spoon. If you look closely, you can see the spoon that hooked the fish. Please keep in mind that the spoon is very nearly an inch long!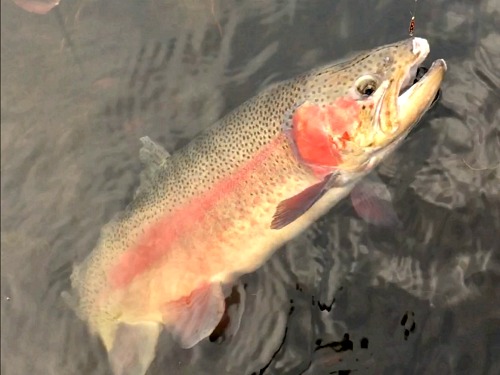 Update 1-13-19
Several months ago an accomplished tenkara angler told me he had never caught a fish with one of the Vega Spoons. I'm sure that's because he doesn't use them, and I'm sure that's because he tried once or twice and then went back to the kebaris or bead head flies he normally fishes. Another angler told me a that he likes them, but he didn't think they got deep enough.
Not long ago, I received a report from Les A, who fishes them a lot and has learned a how to fish them with great results. The following is from Les.
It was a beautiful day here today.  I went down to the Boise River close to home.  It's not the best tailwater, but this time of year there are browns and rainbows present.  I could do no wrong with the fly rod spoons today.  Well, that is once I began fishing the right ones.  The Silver and Gold were too bright for the sunny day and low water.  I fished the Horizon, Nightmare, and Yellow Dagger.  I fished the TenkaraBum 40 and the Fine Power 56.

What a day! (2 hours),  18 fish landed with fly rod spoons, (2 Mountain Whitefish, 9 Browns, and 7 Rainbows.)!   I went out just to test my new net, and I really put it to the test!   Almost all the fish nailed the spoon on the drop.  The key was putting the spoon in the right spot.  All of my fishing was upstream, letting the spoon drift down to me as I raised the rod to keep control of the spoon.

I really think I am reading the water better than ever.  The ability of a long rod to keep the line off the water leads to better accuracy, and more precise manipulation.

Three of the browns I caught were due to great control of the spoon with the Fine Power.  I cast three feet into the riffles and allowed the spoon to flutter down into the pool.  Once it hit the bottom of the pool, I did a wounded minnow retrieve, and saw two fish hit the spoon so fast they looked like torpedoes going through the water locked on their target.
 
Three fish were caught casting back toward the shore with the TenkaraBum 40. I let the spoon flutter by slack holes the size of a coffee table, and the rainbows slammed it!  All the other fish were caught fishing accurately in the seams.

Les A, Idaho

I think the key is to fish upstream, and to fish the spoon slowly enough that it "flutters" and can drift into or beside quiet water, or even settle to the bottom of a pool. If you fish it downstream or across in fast current, the force of the current will not let it drop and will cause it to just spin rather than wobble or flutter.
I would highly recommend using either a very small split ring (size 00) or tying the spoon on with a small nonslip loop knot. Either will allow the spoon to wobble more freely. I would not use a swivel, which adds to the weight, detracts from the overall appearance, and isn't necessary with a fly rod or tenkara a rod anyway, as the line can freely eliminate any line twist as you make your next cast. In any event, if you fish the spoon as slowly as you should, it will wobble but will not spin.

Just as when fishing a fly, be ready for a hit as soon as the spoon hits the water.

In a follow-up comment, Les said it took him a few times to learn how to use the lightness of the spoons to his advantage. He also said that the Tairiki Snaps allow the spoon to flutter more freely and allow him to change spoons more easily. "I won't fish without one."

---
Daiwa Presso Vega Spoons

The Daiwa Presso Vega spoons started my fascination with micro spoons. As mentioned above, when I found that the Daiwa Iprimi 56XXUL-S spinning rod was rated for lures as light as .4 gram (1/70 oz) I ordered some .4g Daiwa Presso Vega spoons along with the rod.
Daiwa has since discontinued the Presso Vega spoons, but they were just under 7/8" long and just under 3/8" wide. They came in three weights .4g, .6g and .8g. The length and width of all the spoons was the same. The heavier spoons were stamped from thicker metal.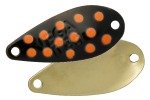 Daiwa Presso Vega - Nghtmare
The Micro Lumion spoons essentially replaced the Presso Vega, although Daiwa dropped the extremely light .4g weight. Unfortunately, they also dropped the Nightmare color, which was a fabulous fish catcher.

---
Rodio-craft .5g Blinde Flanker

Rodio-craft is a small Japanese company that makes spinning rods, spoons and plugs for fishing in Areas. I found their .5g Blinde Flanker be an excellent replacement for the discontinued Daiwa .4g Presso Vega spoons.

The RodioCraft .5g Blinde Flanker spoons are slightly smaller than the .4g Vega spoons. The Blinde Flankers are 20mm long and 8mm wide. The Vega spoons were 23mm long and 9mm wide.
At .5g, they were not too heavy to fish with most fixed line rods, although I would not fish them with a Kurenai or Air Stage Hakubai. (Update: I have fished one with a Kurenai HM33R and it wasn't too heavy. The biggest problem is that you might hook fish much too large for the Kurenai to handle.)

Being both heavier and smaller than the Vega spoons, the Blinde Flanker spoons fish a bit deeper than the Vega spoons, which will be an improvement, particularly in streams.
The Blinde Flanker spoon comes with a single barbless hook.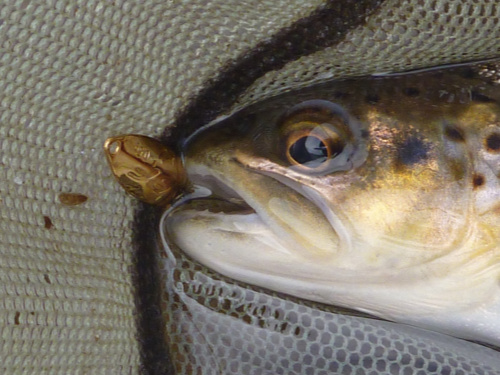 Rodio-craft Blinde Flanker .5g Gold (non-slip loop knot)
---
Daiwa .6g Micro Lumion

The Daiwa Micro Lumion spoons are even smaller than the Presso Vega, at just 3/4" long and 5/16" wide.

At .6g, they are heavier than the lightest Vega spoons, but they are not too heavy to cast with a fly rod or tenkara rod.
They come with a size 8 barbless Daiwa SaqSas hook, which is extremely sharp.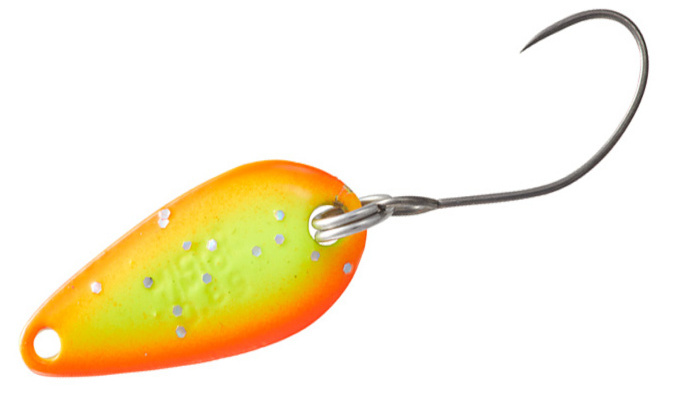 Micro Lumion Orange Mango
Although the hook seems much too large in relation to the spoon body, I can assure you that the fish don't care!

---
Forest .6g Chaser

Forest Chaser .6g spoons are about 5/16" x 13/16".
Action is more rolling than wobbling.
As can be seen from the photo below, the spoons have a subtle ridge down the center line, which is not seen in the other spoons offered by other manufacturers. I can't say if that makes them better or worse. They work. They all work.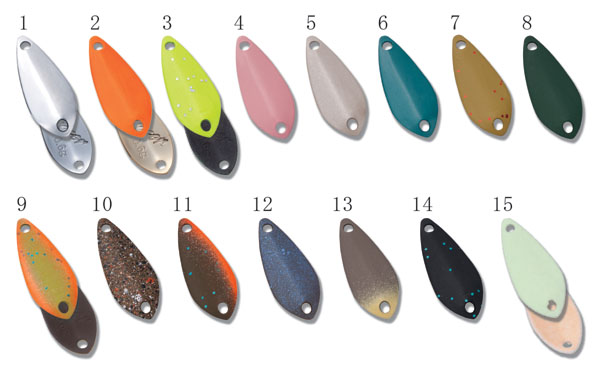 Forest Chaser color choices
The Forest Chaser spoons shown above are representative of the colors of the spoons intended for fishing in Areas. Most do not even attempt to mimic the colors found in the minnows living in Japanese streams (or American streams, for that matter). They move (therefor they are alive). They fit in a trout's mouth (therefor they are food).
---
I no longer carry the fly rod spoons on either the TenkaraBum or Finesse-Fishing sites. I don't know where you can find them. If you do find them, though buy them!

---
 Spoons for Ultralight Spin Fishing
I am continually surprised at the number of tenkara anglers who ask me about getting an ultralight spinning rod - or at least dusting off the one they've had for some time but haven't used much lately.
The .5 gram spoons shown above cast well with a tenkara rod or fly rod, but for an ultralight spinning rod I would suggest a heavier spoon.  For a much larger selection of micro spoons, take a look at the Finesse-Fishing.com site. You will find spoons that will cast quite nicely with ultralight spinning gear. For that matter, the heavier spoons on the Finesse-Fishing site will cast quite nicely with ultralight baitcasting gear.

---
---
TenkaraBum Home > Fly Rod Spoons

---
"The bitterness of poor quality remains long after the sweetness of low price is forgotten" - Benjamin Franklin
"Be sure in casting, that your fly fall first into the water, for if the line fall first, it scares or frightens the fish..." -
Col. Robert Venables 1662
As age slows my pace, I will become more like the heron.

---
Warning:
The hooks are sharp.
The coffee's hot.
The fish are slippery when wet.
Beware of the Dogma

---