Covid-19 Announcement
TenkaraBum.com is located in New York City, which is essentially locked down.
Package pickup has been suspended. My neighborhood post office is closed. I go outside as little as possible because I am in an "at risk" group.
TenkaraBum.com is still open, for now, but I do not know when I will mail packages again.

Most international flights have been cancelled, so there is no ETA for out-of-stock items that come from Japan.
---
Suntech TenkaraBum 33
(LT)
The Suntech TenkaraBum 33 should have been called the TenkaraBum 33 LT.
There's a Joni Mitchel song from 1970 with the lyrics "You don't know what you've got 'til it's gone." With respect to the TenkaraBum 33, I'd change that to say "you don't know what you've got 'til you've had it for a while." The TenkaraBum 33 was initially conceived as a rod that would fish weighted nymphs well and could handle larger fish coming from smaller streams. It does both of those things well, but if I knew then what I know now, I would have given the rod a slightly different name.

I should have taken a page out of Daiwa's playbook, and call the rod the Suntech TenkaraBum 33 LT.  Daiwa's LT designation for tenkara rods means the rod is suited to both level and tapered lines.  Because the TenkaraBum 33 is a firmer rod than the TenkaraBum 36 or the TenkaraBum 44, it would be a much better choice for people who prefer to use tapered lines, most of which are heavier than level lines.
It will do well with any of the tapered lines generally available to tenkara anglers, whether the knotless nylon Fujino lines, the twisted fluorocarbon Nissin PALS SP Pro or the furled lines available from a number of small companies. It will also be a better choice for people who prefer to use a size 3.5 or 4 level line

The Suntech TenkaraBum 33 shares a design philosophy with the TenkaraBum 36 but it is not just the 36 with one less section. It is a different rod constructed on a different blank with a slightly different design goal. The goal for the TenkaraBum 36 was for an all-around rod for how American tenkara anglers fish (with weighted nymphs and with dry flies in addition to the unweighted wets used in Japan).

Smaller Streams
The goal for the Suntech TenkaraBum 33 was a rod for streams that are a bit too small for the TenkaraBum 36 and for fish that are too large (or much too large) for the Suntech Kurenai HM33R. It is a faster rod than the TenkaraBum 36 - more tip flex than the 36 with a firmer midsection.

It is still a very sensitive rod and you will feel every head shake from a 6" brookie (or a 4" creek chub). That said, the rod was designed with  larger fish in mind.

It is always a bit surprising to see Tom Davis catching 13-14" fish in  narrow, overgrown mountain streams. That may be more common in the west, but it is not unheard of elsewhere. I have caught 17" trout in the New York City suburbs in streams for which the TenkaraBum 33 would be the ideal length.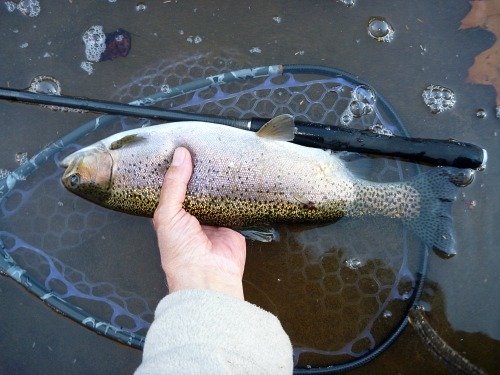 If your small streams hold 17" rainbows, you need a TenkaraBum 33!
This fat 17" rainbow was caught with the Suntech TenkaraBum 33 prototype in a stream where I had to watch my casts so I wouldn't snag branches on the far side. Thinking back, nearly all the larger fish I have taken in smaller streams were holding under a low tree branch. Even with a slingshot cast, a longer rod would be a bit too long.
Pinpoint Casts

Although casting accuracy is always important, the smaller the stream the more important it is. The eddies and seams to which you are casting are smaller, and they are closer to the streamside bushes and branches. A faster rod with a taper that can deliver a slightly heavier line will give you better accuracy - particularly if there is even a hint of a breeze.
I find it interesting that Shimano has just introduced a tip flex rod, which seems to be a sharp divergence from their recent full flex rods. They have recognized that some tenkara anglers prefer a faster rod, which together with a slightly heavier line makes it much easier to achieve pinpoint casts.
Weighted Nymphs
As with the TenkaraBum 36, the Suntech TenkaraBum 33 is a rod for anglers who want to fish nymphs and dries as well as unweighted wet flies. For years I had recommended the Daiwa Kiyose 33SF for nymphing, but it was a bit too stiff for fishing dries and unweighted wets.
The TenkaraBum 33 is stiff enough in the midsection to get good hook sets with even heavy nymphs, but the tip sections are softer than those on the Kiyose or the Keiryu-X 33, which replaced the Kiyose. That makes the TenkaraBum 33 a much better rod than the Keiryu-X 33 for fishing unweighted flies.
Actually, the softer tip sections make the TenkaraBum 33 a better rod than the Keiryu-X for nymphing, too. Over the last couple years I have learned much more about how sensitive trout are to line tension. In a nutshell, when tight line nymphing, you will feel more takes with a stiff rod, but by the time you can react, many of the fish will have spit out the nymph. You'll feel the tap but there's no fish there when you try to set the hook.
With a rod that has softer tip sections, You won't feel as many hits, but you will see the line twitch or stop. Just as you won't feel the hits, the trout won't feel the tension. You will have a better hook-up ratio because you'll know the fish is there before the fish knows you're there.
Using a slightly heavier line will ensure a bit of line sag, which is an excellent strike indicator. You will see the line straighten before you feel a hit - and before the fish feels the tension.
The slightly firmer bend profile actually makes the TenkaraBum 33 a better nymphing rod than the TenkaraBum 36, too. It is a foot shorter, but for close in tight line nymphing, you may be hard pressed to find a better rod. I would urge you to consider the TenkaraBum 33 instead of a stiffer rod like the Daiwa Keiryu-X 33.
The rod was not designed for bass, but it can handle them.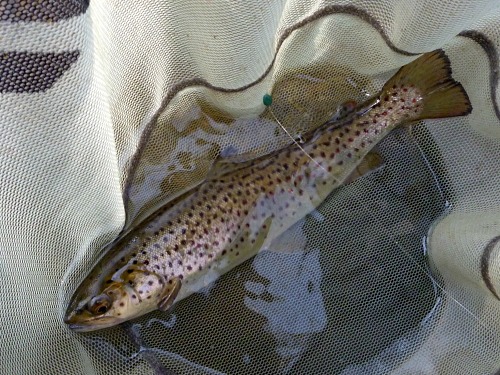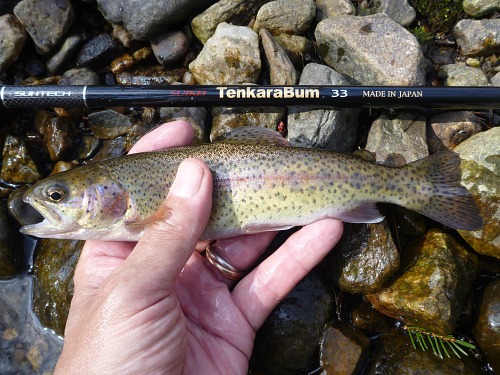 If the water is more than knee deep, with moderately fast current and a broken rather than a glassy surface, fishing deep with a short, tight line can be quite effective. The TenkaraBum 33 is truly excellent for that. The brown above was caught in water that was too deep for hippers and the rainbow was caught in fast water. Both were caught with a TenkaraBum 33 using a line, rod tip to hook, that was more than a foot shorter than the rod and with enough weight to get to the bottom quickly.
Suntech TenkaraBum 33
(TL)
Come to think of it, instead of calling it the TenkaraBum 33 LT, I should have called it the TenkaraBum 33 TL. That would cover two bases: (1) The ability of the rod to work well with a Tapered line or a size 4 Level line, and (2) the ability of the rod to work extremely well as a Tight Line nymphing rod.
The rods have all been painted already, and the package labels have all been printed, but you know, the Suntech TenkaraBum 33 TL would have been a great name.

Suntech TenkaraBum 33 Features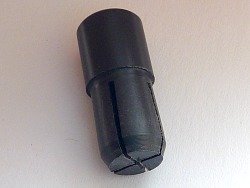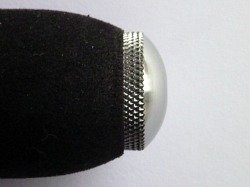 The foam grip, grip screw cap, and tip plug are the same for both the TenkaraBum 33 and the TenkaraBum 36. The blank is different, so neither the tip section nor any of the other sections are interchangeable with the TenkaraBum 36 sections.

The grip is hard EVA foam, which provides an excellent nonskid grip (and is less expensive than cork, allowing the money to go toward a higher quality blank). The grip screw cap is knurled for easy tightening and removal, and rounded for comfort. The tip plug fits quite snugly and will not fall out when you least expect it. Because of the tight fit, do not insert the tip plug when the line is attached. The tip section has Suntech's signature "Lillian Spin" swivel, which does help to reduce line twist and which easily passes through the second section.

Length extended - 10'11"
Length collapsed - 22.5"
Weight without tip plug - 2.3 oz
Grip - Shaped EVA foam
Sections - 7
Tip Diameter - .7mm
Recommended tippet* - 6x-5x
Pennies - 22

*Tenkara rods are used in Japan to catch fish that are rarely larger than 9-10". Japanese anglers do not break rods on 10" fish, so I am convinced that tippet ratings are no more than a rough guide, explaining what anglers generally use with the rod. I do not believe they are meant to state the strength of tippet that will break before the rod does.
---
---
Shipping
Domestic shipping is $10 via USPS Priority Mail (2-3 day delivery).
The charge for international shipping depends on the destination country, the weight of the package, the overall length of the package and the value of the package. Packages under 24" long and under $400 in value will go via USPS First Class International. Packages over 24" or over $400 will go via USPS Priority Mail International. The international shipping charge will be calculated at checkout.
International purchases may be subject to import duties and taxes. I cannot keep track of all import regulations in all countries written in all languages. Understanding and paying import duties and taxes are the responsibility of the buyer.

---
TenkaraBum Home > Tenkara Rods > Suntech TenkaraBum 33

---
"The bitterness of poor quality remains long after the sweetness of low price is forgotten" – Benjamin Franklin
"Be sure in casting, that your fly fall first into the water, for if the line fall first, it scares or frightens the fish..." Col. Robert Venables 1662
As age slows my pace, I will become more like the heron.

---
Warning:
The hooks are sharp.
The coffee's hot.
The fish are slippery when wet.
Beware of the Dogma

---