Suntech TenkaraBum 36
The Suntech TenkaraBum 36 is the first tenkara rod designed by an American tenkara angler in collaboration with a Japanese rod company. It is made in Japan by Suntech and is sold in Japan as well as in the US.
My goal for the TenkaraBum 36 was to create a rod for the way American tenkara anglers fish, which often is very different than the way the Japanese masters fish. Many of my customers specifically ask for a rod that can fish nymphs. A lot of them really want a rod that can do everything - fish dry flies, wets and weighted nymphs but most of them definitely want a rod with which they can fish nymphs.
I wanted the rod to be able to fish a light line, as that is what I consider to be the very essence of tenkara - getting great drifts by keeping as much line as possible off the water's surface.
That's a tricky combination - having sufficient backbone to get good hooksets when fishing weighted nymphs, yet being able to cast a light line. I must say, though, that Suntech has produced a rod that is better than I even dared hope for.
I am happy to report that Tom Davis of Teton Tenkara, in his review of the Suntech TenkaraBum 36, suggests that my design goals have been met: "It casts a light line flawlessly and fishes weighted and unweighted flies without issue."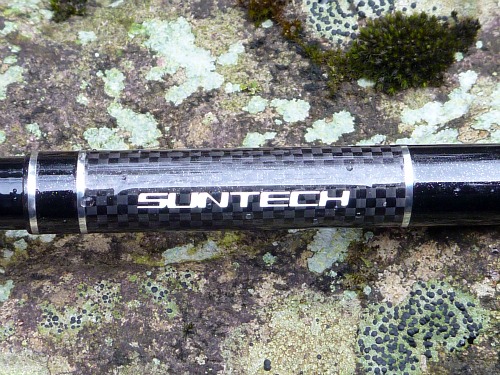 Suntech on carbon weave
For a long time, I wrote that tenkara rods weren't good for fishing nymphs because their tips were too soft. I was wrong. It is the midsection of the rod that needs the stiffness to pull the line through the water and set the hook when fishing nymphs. The Suntech TenkaraBum 36 midsection is just a bit firmer than most tenkara rods.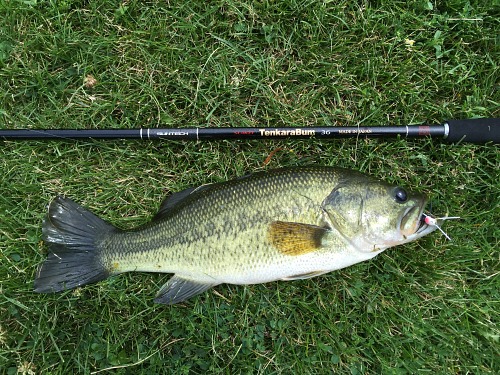 One of Pete L's largemouth bass.
It turns out that the firmer midsection, which allows you to get good hook sets when fishing with weighted nymphs, also allows you to get good hook sets when fishing poppers for bass.
The last few tip sections of a tenkara rod have to be relatively soft to cast a light line. The tip sections of the TenkaraBum 36 are just soft enough to cast a size 2.5 line with ease. The rod has enough backbone that you can fish a furled or floating line if you wish, but personally, I wouldn't go over a size 3.5 with this rod unless you wanted to fish a big bulky fly like a large Muddler Minnow.
It turns out that tip sections just soft enough to cast a light line are also soft enough that even smaller fish are fun to catch! They'll put a bend in the rod and you'll feel every head shake.

Bass eat Muddlers!
The transition between the softer tip sections and firmer midsection is so smooth, though, that casting the rod is a dream. As you start your back cast, you can feel the rod load but you can also feel the power of the midsection. You can feel the transfer of power from the butt to the midsection to the tip sections to the line.
On the forward stroke, once you feel that the rod is pulling the line, it takes just a flick to send the line forward. An abrupt stop with the rod still high will give you some of the tightest loops you've ever achieved with a tenkara rod.
The TenkaraBum 36 has a faster action than many other tenkara rods, which will give you greater line speed and tighter loops. If you enjoy fishing dry flies, you will find they are easier to cast with this rod than with other tenkara rods. The same holds true for bulky flies, like the aforementioned Muddler Minnow - which no one would consider a tenkara fly but which casts surprisingly well with the TenkaraBum 36 and a size 3.5 line.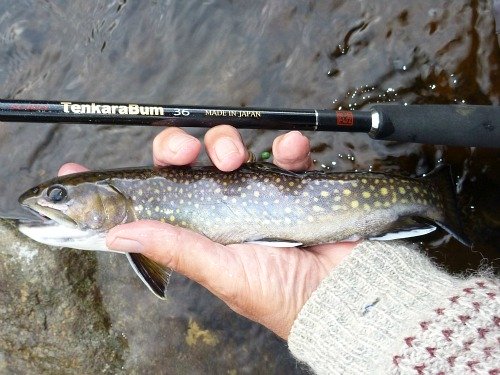 American Brookie or Japanese Iwana? This rod will target both.
I am pretty confident that American anglers will appreciate the rod's ability to get good hooksets, and Japanese anglers will appreciate the rod's ability to cast a light line. And vice-versa, of course. A few Japanese tenkara anglers do fish weighted flies and an increasing number of American tenkara anglers recognize the benifits of fishing with light lines. In his review, Jason Klass of TenkaraTalk wrote "I typically fish either #2.5 or #3 fluorocarbon level lines and this rod throws them perfectly."


Made in Japan
You will be able to tell in an instant that the Suntech TenkaraBum 36 is not like the rods made by the any of the other American tenkara companies. People who have Suntech rods will tell you of the Suntech commitment to quality. Suntech is a small company and to them, quality is paramount. It shows in the Suntech Tenkarabum 36. The fit and finish are excellent.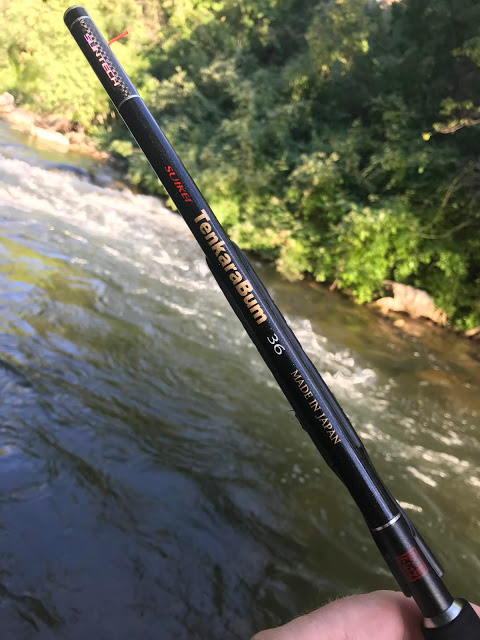 TenkaraBum 36 - Photo courtesy Tom Davis
Tom Davis, who writes the Teton Tenkara blog and who has fished with and reviewed more rods than anyone, recently published a blog post listing his favorite equipment. Guess which rod was at the top of his list. Here's what he had to say about the TenkaraBum 36:
"This is the perfect rod for my casting style, stream type, fly and fish size. It has a low overall weight and a low swing weight. It is perfectly balanced and casts a #2.5 to 3 fluorocarbon level line with conviction, but can lay a fly gently in the surface film too. It has a quick hook set and just the right amount of backbone to fight fish in narrow, fast flowing streams and I lose fewer fish with this rod than any other I use. I can go from fishing a #14 Ishagaki kebari to a #8 tungsten beadhead Prince nymph in a heart beat and this rod could care less. It throws them both perfectly. The only thing I don't care for is the handle shape. The handle length is fine, but it's shape is too aggressive for my hand. No problem though, I just modified the handle shape with a little tennis racket wrap."
The rod and the label on the box both say Suikei Tenkarabum 36. I have previously written that I should have called the "Suikei 39" by its full name: GM Suikei Keiryu Special 39. Suikei is not actually the name of a rod, it is more like a family of rods. In addition to the GM Suikei Keiryu Special 39 and 44, the Suntech Field Master, Fine Power and Grayce are all "suikei" rods. Suikei doesn't translate perfectly into English, but the image it seeks to evoke is "flawless stream." I am honored that Suntech would include the TenkaraBum 36 in the Suikei line and I hope that you will consider it the perfect rod for fishing flawless streams.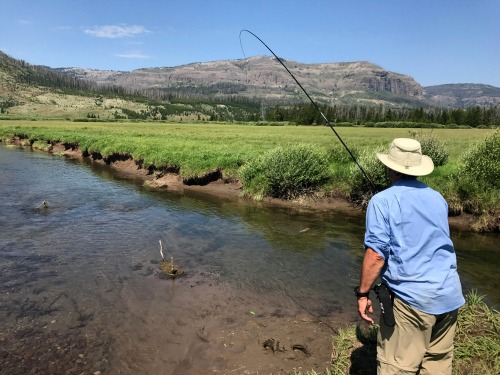 Boy did this rod work fishing dry flies on the upper Yellowstone River. Several 16 - 20 inch feisty cutthroats. - Richard C
---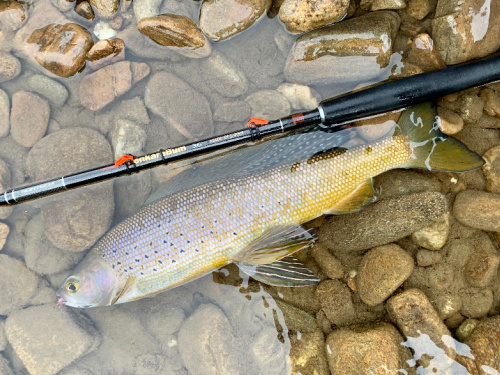 Arctic grayling may be the ideal tenkara species, dethroning even my beloved brook trout! - Jeff D, visiting Alaska
---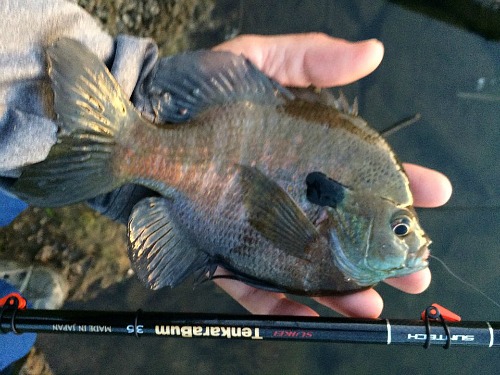 Worthy quarry!
But please don't think they're just for flawless streams. I fully understand that in Japan, "tenkara" is a method of fishing for trout in mountain streams. They would not consider fishing for bluegills in ponds to be tenkara. However, if they tried it, they would realize in an instant how much fun it is to catch a bruiser of a bluegill, like Jeff D's shown above. I don't care if you call it "tenkara" or "fixed line fishing" just do it! It's so much fun it should come with a warning label.

Got smallmouth?
Although a definite part of the design goal was to make a rod that will fish weighted nymphs as well as dries and unweighted wets, I didn't even think about streamers during the design process.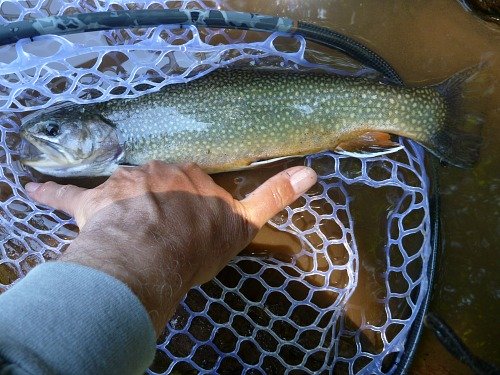 That's a nice brookie!
Since announcing the TenkaraBum Streamer Challenge in May, 2016, I discovered that the TenkaraBum 36 fishes streamers quite nicely. The smallmouth shown above was caught on a Minimal Dace, which is easy to cast with any rod, while the brookie was caught on a size 4 Muddler Minnow with a BB shot 10" in front of the fly, which definitely is not easy to cast with just any rod.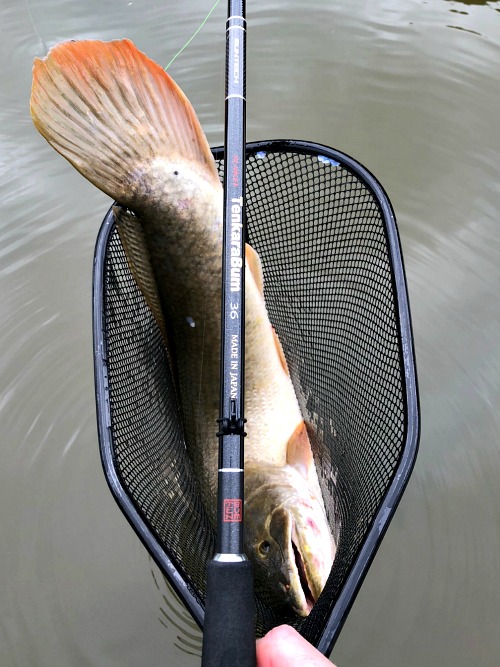 Bowfin!
And if you happen to be fishing with a Black Killer Bugger you just don't know what you might hook. As Jeff R found out, if you happen to hook a bowfin, you'd best be fishing with a rod that can handle it!

---
Suntech TenkaraBum 36 Features

For regular readers of TenkaraBum.com, the fact that the rod has a grip must be a surprise. I have written quite a lot about the seiryu and keiryu rods that do not have grips, and have felt for quite some time that a grip is not necessary.


Shaped hard foam grip
I wanted people to recognize and appreciate what seiryu and keiryu rods offered in the way of performance. For people to experience the benefits that the rods offered, they had to get over the fact that the rods didn't have the grips they were used to.
For a rod as light as the Suntech TenkaraBum 36 (just 2.2 ounces) a grip isn't necessary. It is very nice, though. Plus, the grip is a product of the collaboration with Suntech. They want to sell the rod to Japanese tenkara anglers and for that they wanted a grip. Truth be told, a lot of American tenkara anglers expect tenkara rods to have grips. I am pretty sure it turned out well enough to please American and Japanese anglers alike. 

My initial thought when designing the grip was that it would give the angler two distinct gripping locations. What I found when I actually fished the rod for the first time was that there are four distinct gripping locations and they all feel quite different: 1. choking up so that your forefinger is on the blank and the front part of the grip is under the ball of your hand, 2. holding it with your hand centered on the forward bulge, 3. holding it with your two middle fingers right at the "waist" of the grip, and 4. cradling the very end of the rod in your palm. I'm sure you'll find the one that is most comfortable for you, but if you're like me you'll end up using them all.
The foam itself is hard and not at all squishy. It really does make an excellent grip material. It provides an excellent nonskid surface, and unlike a bare graphite grip, it isn't cold in the winter. Also, since even bad cork is expensive, it is much better for the money to go into a higher quality blank.

"Lillian Spin" connecting lillian to rod
The lillian is attached by the swivel you've come to expect with Suntech rods. It is thin enough to pass through the #2 section so you can fully disassemble the rod to dry between uses. (Very highly recommended.)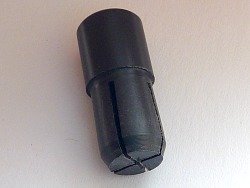 Tip Plug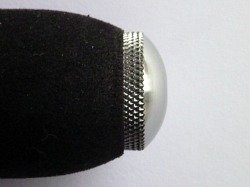 Grip Screw Cap
The tip plug is plastic and fits very snugly. You will not have to worry about it falling out by itself. The slits in the portion that is inserted into the rod are wide enough to accommodate level line so it will be possible to insert the plug with the line still attached, but be careful. You do not want to get the lillian caught in one of the slits. If you squeeze the lillian into one of the slits and then remove the tip plug and pull it to one side, a stuck lillian would pull the rod tip to the side and break it.
The grip screw cap is metal, is rounded for comfort and knurled for easy tightening or removal. There is a hole for ventilation, but do disassemble the rod between uses. There is a rubber bumper on the inside of the cap so the rod is quiet.
The rod comes with a stretchy rod sock. As with most other Japanese rods, there is no hard rod case.
Replacements are available for all the parts. The rod does not have a warranty.
Length extended - 11'11"
Length collapsed - 21.5"
Weight without tip plug - 2.2 oz
Grip - Shaped EVA foam
Sections - 8
Tip Diameter - .65mm
Recommended tippet* - 6x-5x
Pennies - 18.5

I expect to receive some TenkaraBum 36 rods in January. At this point, about half are already spoken for.

To be put on the waiting list, please request the rod using the Back in Stock Notification page.

Rod made in Japan.

---
Never mind the fish. Look at that smile. That's what it's all about!
*Tenkara rods are used in Japan to catch fish that are rarely larger than 9-10". Japanese anglers do not break rods on 10" fish, so I am convinced that tippet ratings are no more than a rough guide, explaining what anglers generally use with the rod. I do not believe they are meant to state the strength of tippet that will break before the rod does.
---
Shipping
Domestic shipping will be $12.00 - $15.00 via USPS Ground Advantage (2-5 day delivery).

Please note: All packages are shipped via USPS. If you have a PO Box, please list ONLY the PO Box in your address, not the PO Box and your street address.
Please do not put anything in the box for "Company" if it isn't absolutely necessary. Not "self", not "none" not "--", nothing. It wastes your time to put it in and it wastes my time to take it back out. Please just leave it blank.

International Shipments

International purchases may be subject to import duties and taxes. I cannot keep track of all import regulations in all countries written in all languages. Understanding and paying import duties and taxes is the responsibility of the buyer.
EU
TenkaraBum.com no longer ships to the EU.


Russia
TenkaraBum.com no longer ships to Russia.


UK

TenkaraBum.com no longer ships to the UK. The new VAT regulations are too onerous for a one-man shop that rarely ships anything to the UK anyway. I apologize. 

TenkaraBum Home > Rods > Suntech TenkaraBum 36

---
"The bitterness of poor quality remains long after the sweetness of low price is forgotten" - Benjamin Franklin
"Be sure in casting, that your fly fall first into the water, for if the line fall first, it scares or frightens the fish..." -
Col. Robert Venables 1662
As age slows my pace, I will become more like the heron.

---
Warning:
The hooks are sharp.
The coffee's hot.
The fish are slippery when wet.
Beware of the Dogma

---