Suntech TenkaraBum 40

The TenkaraBum 40, also known as the TenBum 40 or just TB40, was created in response to people who had (and loved) the TenkaraBum 36 and asked for a longer rod. It has been extremely well received.
This is what Tom Davis says of the TB40 (and I should note that Tom, who writes the Teton Tenkara blog, has fished with and reviewed more tenkara rods than anyone):

As much as I love the TB36, I love the TB40 even more. It too has a low overall weight and a low swing weight. This is very important to me, as most 400 cm rods are too tip heavy for my liking. It has all of the same characteristics of the TB36, but it has a slightly softer action. It is the perfect 400 cm rod for me. If I have enough rod and line clearance, this is the rod I'll fish.

The TenkaraBum 40 is not just the TenkaraBum 36 with one more section. It is built on a different blank, optimized to give performance as close as possible to the TenkaraBum 36 while minimizing any tendency for tip heaviness. The 40 has a slightly longer collapsed length, allowing Suntech to make a longer rod with the same number of sections. That improves the bend profile and also keeps down the weight. The penny measurement is exactly the same as the TenkaraBum 36.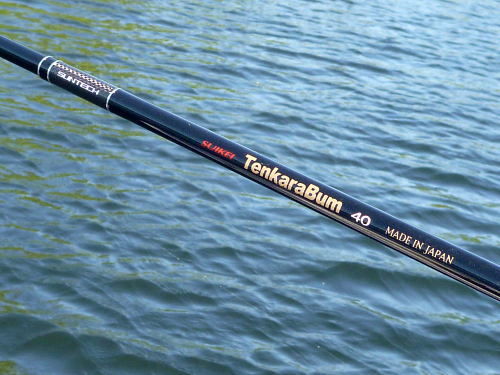 TenkaraBum 40
For the TenkaraBum 40 to have the exact same penny rating as the TenkaraBum 36 is a tribute to the skill of the Suntech engineers. I told them I wanted the rod to feel like the TenkaraBum 36 and then let them go. I don't have years and years of experience working with different tapers, wall thicknesses, resins and prepregs (pre-impregnated carbon cloths). They do. They were able to make a rod that is longer but feels almost the same - exactly what I wanted and what was wanted by the people who shortly after getting a TenkaraBum 36 asked me for a TenkaraBum 40.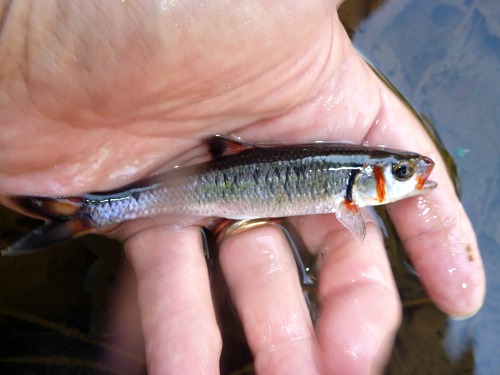 With a TenkaraBum 40 you can feel the fight of a Warpaint Shiner.
The TenkaraBum 40 is just a bit faster than most tenkara rods. The tip sections are a bit softer and the middle sections are a bit firmer. Having slightly softer tip sections yields two benefits: the rod will cast a very light line very easily, and the rod tip will still dance when you have a small fish on the line. You can feel the fight of a warpaint shiner, like the one above caught in North Carolina when I was there for the Tenkara Jam. If you want to fish small flies on a light line, the TenkaraBum 40 is an excellent choice.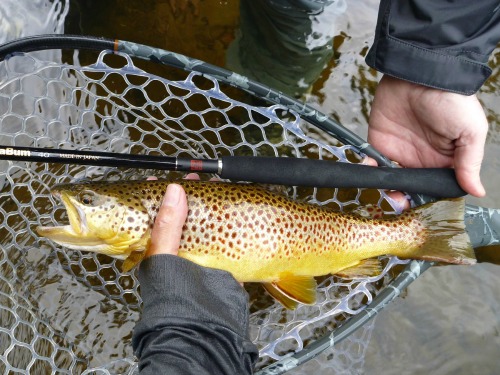 TenkaraBum 40 with brown trout.
Having slightly firmer middle sections also yields two benefits: you can get good hook sets when fishing weighted nymphs and you have a bit more control, making it a bit easier to guide good sized fish out of the current and into quieter water.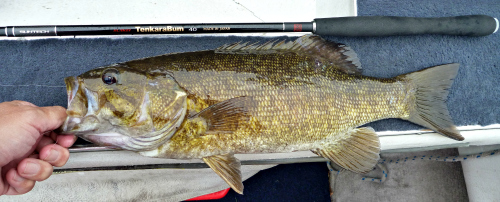 TenkaraBum 40 with 18" smallmouth bass.
The TenkaraBum 40 was not designed with bass in mind, but the firmer midsection gives you the muscle you need to cast larger flies and to tire larger fish.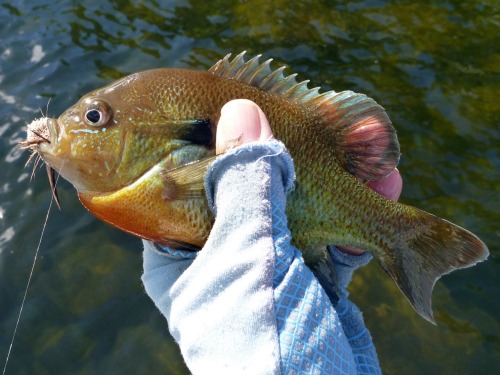 Sunfish are fun!
Of course, if you fish for bass with flies, you will catch sunfish also. With the softer tip sections, the Tenkarabum 40 is not overkill for sunnies. You might even find yourself fishing for sunnies. If the nearest trout stream is three states away, there are few better ways to spend a summer afternoon.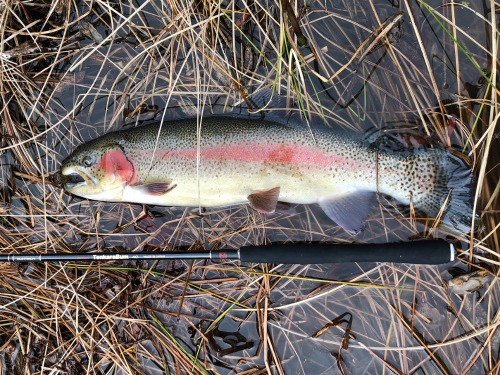 TenkaraBum 40 with 21" rainbow. Jeff R photo.
If you are one of the many tenkara anglers who really like the TenkaraBum 36 but have wished there was longer model, now there is. Even if you have never fished with a TenkaraBum 36, if you've wanted a light weight, very responsive rod of about 13' that is fun with smaller fish and has the ability to handle larger fish, the Suntech TenkaraBum 40 may be just the rod you've been looking for. That is especially true if you want to fish weighted nymphs as well as unweighted wets and dries.
I have now fished the Suntech TenkaraBum 40 with everything from a 2.5 to a 4.5 level line. The size 3 and 3.5 lines are my favorites, with the size 4 being better if there is a bit of a breeze and 4.5 if it is windy.

The 2018 Oni School in Utah was very instructive. I had thought that Tenkara no Oni always fished with very light lines and I did not bring any heavy line to the school. The three days of the school were very windy (with winds the final day gusting to 40 mph). Oni fished a size 4.5 line most of the time, and of course, his casting appeared effortless.
He spends some time fishing with each student. When he was with me I was fishing a relatively soft full flex rod with size 3.5 line. I could not control the line in the wind, even after switching to a 4.5 line that Oni gave me. The soft rod could not generate enough line speed to push through the wind. I then switched to the TenkaraBum 40, and was able to cast effectively. The same firmer midsection that allows you to get good hook sets when fishing heavier flies allows you to get good casts when fishing heavier lines. I had never thought of the rod as a heavy line rod or a wind rod, but it is.
Although I have known for some time that in experienced hands the TenkaraBum 40 can land very nice fish, I hadn't heard a review quite like the one that Alex M just sent in: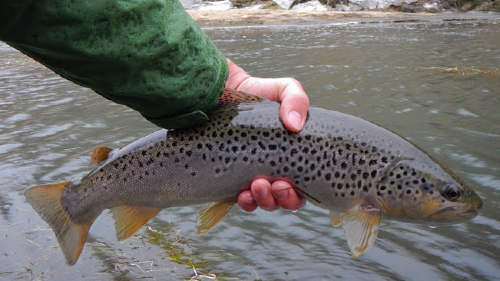 Just one of Alex's browns.
Last week on Thanksgiving day, I had the chance to get out on one of the bigger mountain sections of the (Redacted) River here in Utah. I decided to use the TB40 for some Czech nymphing on 6x tippet. Maybe four casts into the day I hooked and landed a 19.3" brown (my PB)! The rod handled the fish with relative ease, but that fish fought it for quite some time. At that point I was so happy that I thought maybe I'd just call it a day... I decided I'd take a few more casts. The very next cast I landed a beautiful 16.5" cutthroat (another record for me). Again the rod performed perfectly. A few cast later a 15" cutthroat. I then proceeded to a section about a mile up from where I had been, I caught a 17" brown, a 12" cuttie, and another 19" brown!

It was an amazing and humbling day! I have had many rods that I don't think could have handled those fish. Thank you for your awesome input that you gave to the guys at Suntech to make such an awesome rod! I have been loving it!

Alex M, Utah
TenkaraBum 40 and Tactical Nymphing
The Tactical Nymphing that a number of tenkara anglers outside of Japan have been working on, most notably Rob Worthing of the Tenkara Guides, but also Erik Ostrander (also of Tenkara Guides), Jeff Lomino of Riverworks and Chris Hendriks (a tenkara guide in Norway) has basic principles rather than rigid rules. One of those principles is using a rod that can cast modestly weighted nymphs on a light line, yet still have sufficient backbone to yield good hook sets and to maneuver hooked fish into quiet water.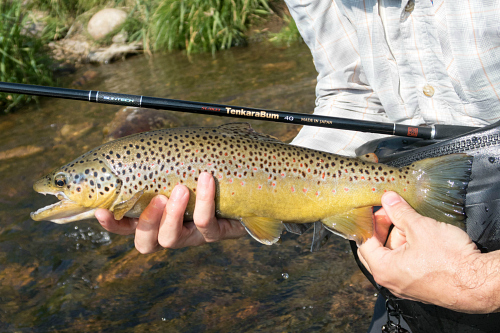 Nice brown trout caught by Rob Worthing while Tactical Nymphing in Utah.
The TenkaraBum 40 is one such rod, and of the various rods that are well suited to Tactical Nymphing, it is the most "all-around" in that it is also very well suited to fishing delicate dries or standard unweighted kebari. More and more people are telling me it is now their "go to" rod.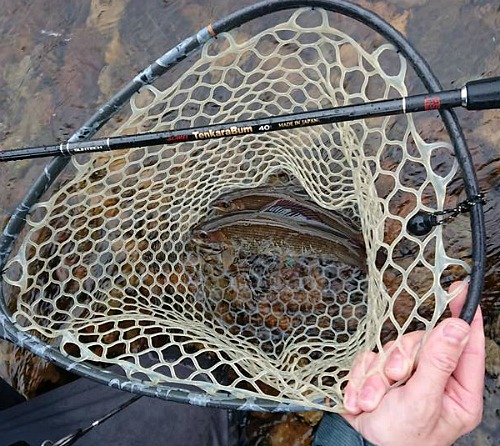 Rob Worthing's Grayling Double.
Tactical Nymphing often involves fishing with a pair of modestly weighted nymphs. The reason for two flies is not to catch two fish at once, although that will happen occasionally. Instead, it allows fishing with two different patterns or at two different depths (or both).  Fishing with two weighted flies requires a rod that has sufficient backbone to handle the weight, but also has the ability to handle the light line and light tippet that is a key element in Tactical Nymphing.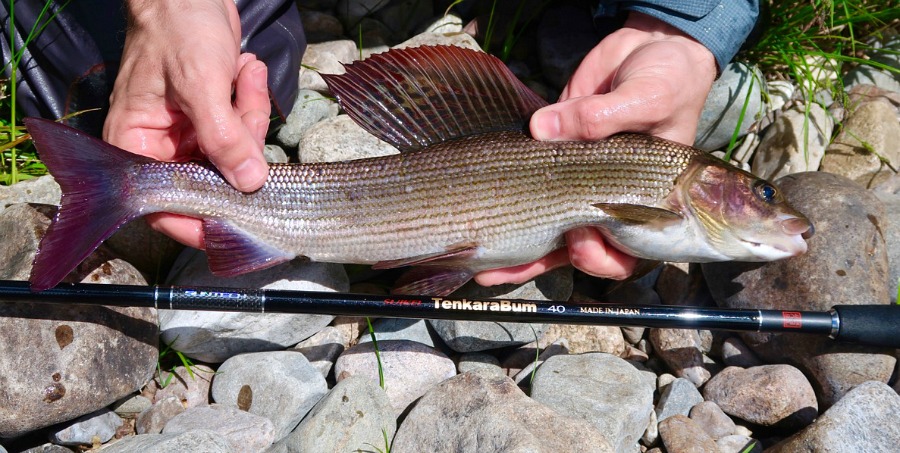 TenkaraBum 40 with 15-16" grayling.
There are tenkara anglers in the US and Japan who will adamantly maintain that tenkara is only for trout and only for mountain streams. Tactical Nymphing does not have such rigid restrictions. It works quite well on big water. It works quite well for grayling. If you switched from a small nymph to a hellgrammite immitation, it would work quite well for smallmouth bass.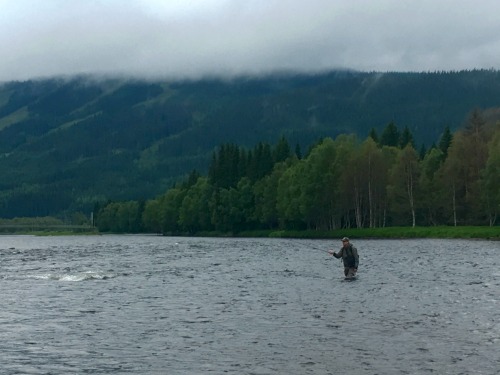 Rob Worthing, Tactical nymphing.
The TenkaraBum 40 is equally at home on a big river as on a mountain stream. I know for a fact it works quite nicely fishing for bass from a boat. Trout, bass, grayling, sunnies, shiners - perhaps you shouldn't call it a tenkara rod. Just call it a TenkaraBum 40. I wouldn't go so far as to say it's in a class by itself, but it is unique.
Suntech TenkaraBum 40 Features


Hard foam grip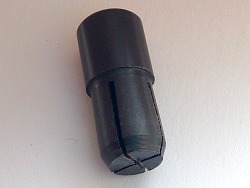 Tip Plug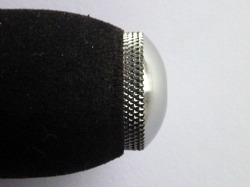 Grip screw cap

Lillianspin swivel connection
Although the Suntech TenkaraBum 40 blank is different than the TenkaraBum 36 blank, the grip, grip screw cap and tip plug are the same for both rods.
The grip is hard EVA foam, which provides an excellent nonskid grip (and is less expensive than cork, allowing the money to go toward a higher quality blank). The grip screw cap is knurled for easy tightening and removal, and rounded for comfort. The tip plug fits quite snugly and will not fall out when you least expect it. Because of the tight fit, do not insert the tip plug when the line is attached. The tip section has Suntech's signature "Lillian Spin" swivel, which does help to reduce line twist and which easily passes through the second section.

Length extended - 13' 1 1/2"
Length collapsed - 23 5/8"
Weight without tip plug - 2.6 oz
Grip - Shaped EVA foam
Sections - 8
Tip Diameter - .65mm
Recommended tippet - 6x-5x
Pennies - 18.5
I expect to receive some TenkaraBum 40 rods in January. At this point, about half are already spoken for.

To be put on the waiting list, please request the rod using the Back in Stock Notification page.

it looks like the price will be about $175.
Rod made in Japan.

---
Shipping
Domestic shipping will be $12.00 - $15.00 via USPS Ground Advantage (2-5 day delivery).

Please note: All packages are shipped via USPS. If you have a PO Box, please list ONLY the PO Box in your address, not the PO Box and your street address.
Please do not put anything in the box for "Company" if it isn't absolutely necessary. Not "self", not "none" not "--", nothing. It wastes your time to put it in and it wastes my time to take it back out. Please just leave it blank.

International Shipments

International purchases may be subject to import duties and taxes. I cannot keep track of all import regulations in all countries written in all languages. Understanding and paying import duties and taxes is the responsibility of the buyer.
EU
TenkaraBum.com no longer ships to the EU.


Russia
TenkaraBum.com no longer ships to Russia.


UK

TenkaraBum.com no longer ships to the UK. The new VAT regulations are too onerous for a one-man shop that rarely ships anything to the UK anyway. I apologize. 

---
TenkaraBum Home > Rods > TenkaraBum 40

---
"The bitterness of poor quality remains long after the sweetness of low price is forgotten" - Benjamin Franklin
"Be sure in casting, that your fly fall first into the water, for if the line fall first, it scares or frightens the fish..." -
Col. Robert Venables 1662
As age slows my pace, I will become more like the heron.

---
Warning:
The hooks are sharp.
The coffee's hot.
The fish are slippery when wet.
Beware of the Dogma

---