Micro Fishing Weights
Micro fishing weights are small to very small split shot or other weights that will get your bait or fly down to where the fish are but aren't too heavy to use with very sensitive floats.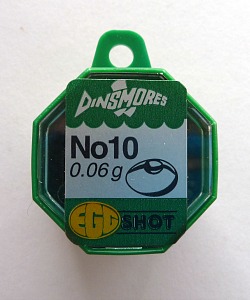 These are single size packs of #10 shot which is the smallest environmentally friendly non-lead shot I've found in the US. The #10 is  just enough weight to make the tanago floats set properly and is also the right size for the Unibobbers.
What I find truly bizarre, though, is that while tin shot is widely hailed as being safe for the environment, each package has a label which says, in capital letters, "WARNING This product contains a chemical known to the state of California to cause cancer and birth defects and other reproductive harm."
So, I guess it's safe for the ducks but for heaven's sake don't apply the shot by biting it. I suppose you should wash your hands after you use it (assuming the water you're fishing in doesn't also cause cancer and birth defects in California.)
Realistically, the same warning should probably be given to people using lead split shot, and lead shot has been used for generations. I do sometimes wonder how we as a species could possibly have survived for four million years without having all those government warnings.
Like anything else, use reasonable caution and you should be fine.

Dinsmore #10 shot - $9.00
The #10 shot are seriously small and I would recommend the Dr. Slick Spring Creek clamps for applying them. The jaws on the Spring Creek clamps taper to quite a point, which is what you'll want to grab and hold the very small shot.

---
---
Shipping
Standard shipping is via USPS First Class mail.
A shipping/handling charge of $4 will be added to all orders.
If you live outside the US, you must add more postage unless the items on this page are mailed with a rod!
Please note: The buttons below only add the postage, they are not for the product AND the postage. You must click on the product button above also.

TenkaraBum.com does not sell to residents of Norway or any other county of the European Union or the European Economic Area.

---
Where do you live?


---

USA


Add this amount for shipping.


---

No additional postage required for First Class mail.
(Total charge $4)

---

Canada or Mexico


---

Additional $6 postage required. (Total charge $10)

---

Other Country


---

Additional $10 postage required. (Total charge $14)
---
---
Priority Mail Upgrade - U.S. Only

2-3 day shipping (U.S. only)
First Class should be just as fast for people living east of the Mississippi.
Do Not click if your order includes a rod, wader gaiters, 3x5 Photo Tank or Daiwa Keiryu Damo. They already go via Priority Mail.
Domestic Priority Mail Upgrade - Additional $3
---
---
Payment
Payment is processed by PayPal but you don't need to have a PayPal account. You can use your credit card.
---
---
TenkaraBum Home > Micro Fishing > Micro Fishing Weights
---
"The bitterness of poor quality remains long after the sweetness of low price is forgotten" – Benjamin Franklin
"Study to be quiet." - Izaak Walton 1653

"Be sure in casting, that your fly fall first into the water, for if the line fall first, it scares or frightens the fish..." Col. Robert Venables 1662
As age slows my pace, I will become more like the heron.

---
Warning:
The hooks are sharp.
The coffee's hot.
The fish are slippery when wet.
Beware of the Dogma

---