Micro Fishing Weights
Dinsmore #10 Shot
Micro fishing weights are small to very small split shot or other weights that will get your bait or fly down to where the fish are but aren't too heavy to use with very sensitive floats.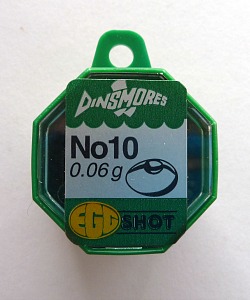 These are single size packs of #10 shot which is the smallest environmentally friendly non-lead shot I've found in the US. The #10 is  just enough weight to make the tanago floats set properly and is also the right size for the Unibobbers.
What I find truly bizarre, though, is that while tin shot is widely hailed as being safe for the environment, each package has a label which says, in capital letters, "WARNING This product contains a chemical known to the state of California to cause cancer and birth defects and other reproductive harm."
So, I guess it's safe for the ducks but for heaven's sake don't apply the shot by biting it. I suppose you should wash your hands after you use it (assuming the water you're fishing in doesn't also cause cancer and birth defects in California.)
Realistically, the same warning should probably be given to people using lead split shot, and lead shot has been used for generations. I do sometimes wonder how we as a species could possibly have survived for four million years without having all those government warnings.
Like anything else, use reasonable caution and you should be fine.

Dinsmore #10 shot - $11.00
---
Shipping
Domestic shipping is via USPS Ground Advantage. Rates are $4.00 for packages that weigh up to 4 ounces and $6.00 for packages that weigh over 4 ounces. The charge is added to your order automatically.
Please note: All packages are shipped via USPS. If you have a PO Box, please list ONLY the PO Box in your address, not the PO Box and your street address.
The charge for international shipping depends on the destination country, the weight of the package, the overall length of the package and the value of the package.
International shipments

International purchases may be subject to import duties and taxes. I cannot keep track of all import regulations in all countries written in all languages. Understanding and paying import duties and taxes is the responsibility of the buyer.
TenkaraBum.com no longer ships to the EU, the UK or Russia.

---
TenkaraBum Home > Micro Fishing > Micro Fishing Weights
---
"The bitterness of poor quality remains long after the sweetness of low price is forgotten" - Benjamin Franklin
"Be sure in casting, that your fly fall first into the water, for if the line fall first, it scares or frightens the fish..." -
Col. Robert Venables 1662
As age slows my pace, I will become more like the heron.

---
Warning:
The hooks are sharp.
The coffee's hot.
The fish are slippery when wet.
Beware of the Dogma

---