Trip Report 4-7-13
Went to one of my favorite streams for the first weekend after the opening of the general NY trout season. I had fished the same stream just before the close of the season last fall but I had not seen it since Hurricane Sandy came through in October. I was surprised to see the number of trees that had fallen across the stream. Having to continually leave the stream to get past the trees certainly made me appreciate the ability of tenkara rods to collapse easily.
After I had fished the first pool and exited the stream to cross the road, who should drive up but fellow tenkara angler Morgan Lyle. We fished together for a while but he was not able to stay for the full day. While he was there, though, he did land what proved to be the best fish of the day.
I wanted to expand the possiblities of the Blue Fly Challenge and tried some blue-dyed silver pheasant for hackle on a wool bodied soft hackle, and also some blue-dyed deer hair for a Wool&Deer Caddis. I was a bit surprised that the blue deer hair was really pretty visible against the color of the water. Also, when treated with a drop of Water Shed the fly floated surprisingly well. I say suprisingly because all fly tyers know that wool absorbs water and gets heavy. What many don't know is that wool also absorbs floatant quite well and then floats quite nicely. Water Shed has to be applied 24 hours before the fishing the fly. I used just a drop of Water Shed to treat it right after tying the fly and found that it worked surprisingly well. I don't know how well it stands up to being slimed from fish, because all the action for the day was under the surface.
I now have the blue-dyed silver pheasant, blue dyed deer hair and blue UNI-Thread on the Fly Tying Materials page, along with some blue Woolly Bugger Marabou. I also have Water Shed for people who use floatant.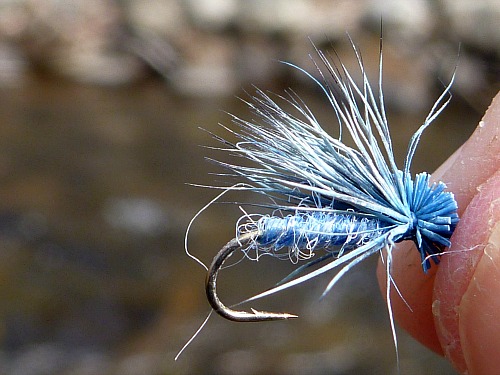 I only managed four fish for the day (three after Morgan had left - maybe he's a jinx). All were on wool bodied soft hackles - two on a "normal" Moorit brown yarn body but two on the Blue Fly yarn body.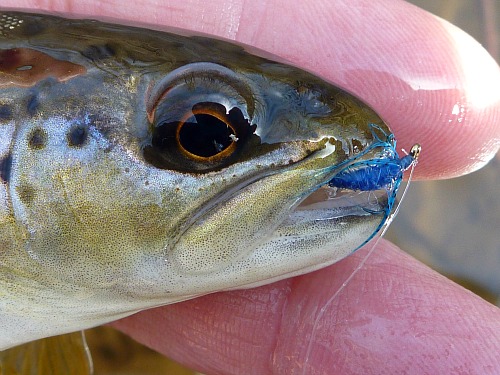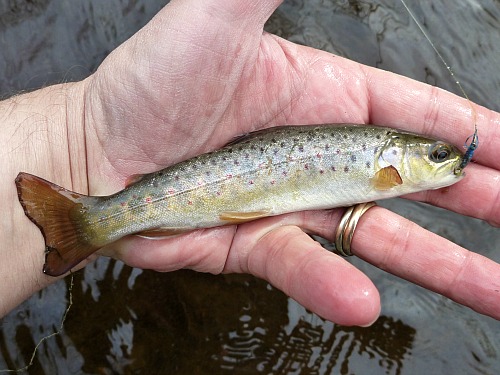 I  probably could have done well with a green body, too. Morgan found this green rock worm (which reminds me - I do have some Green Rock Worm yarn but it's not on the site yet.)

Even though it was only a four fish day, it was still good to get out, link up with Morgan again for a while and play around with some new materials for the Blue Fly Challenge.
The next thing I want to try is some blue bucktail. I have used small bucktails and small beadchain eyed clousers effectively with tenkara rods before, but it's still a bit early for the warm water fishing to turn on here. The blue bucktail will have to wait for another day. 
TenkaraBum Home > TenkaraBum Trip Reports > Trip Report 4-7-13

---
"The bitterness of poor quality remains long after the sweetness of low price is forgotten" - Benjamin Franklin
"Be sure in casting, that your fly fall first into the water, for if the line fall first, it scares or frightens the fish..." -
Col. Robert Venables 1662
"There is a time to go long. There is a time to go short. And there is a time to go fishing." - Jesse Livermore

---
Warning:
The hooks are sharp.
The coffee's hot.
The fish are slippery when wet.
Beware of the Dogma

---