Trip Report - 8-13-17

Coach and I hadn't done a species challenge for quite a while, so when he suggested one I agreed in an instant. Any species challenge has to include micros, and I had a rod that I though should be an interesting micro rod but I hadn't actually caught any micros with it yet.
His suggestion had a twist - it wasn't him against me, it was an all-out, any legal method, how many species could the two of us together catch in a day. When he met me at the train station he had a list with 23 species on it, of which he said he thought we should be able to catch 15 or 16. We failed. We only caught 14.
Of course, the failure was my fault. Had I landed the carp that broke my 4X tippet, we would have had 15.
We started out in the warm water stream that is our "go to" spot for micros but which also has four sunfish species, large and small mouth bass, rock bass, crappies and stocked trout (although not as late as August).
He spent most of the day fishing with a seiryu rod and I spent most of the day fishing with a spinning rod. Most people who fish for micros do not use tanago rods, or even a Suntech Kurenai HM30R. They use spinning rods. Their spinning rods, though, even the ultralight ones, are overkill.
Daiwa makes a couple extra extra ultralight spinning rods, and I thought they would, could, should be a better choice for micro fishing than the average ultralight spinning rod available at Bass Pro Shops or Cabela's. The one I had on Sunday was the Iprimi 56XXUL-S. The S is for solid tip, which is essentially the same type of rod tip found on most tenkara rods. It is very, very sensitive. This is the same rod I wanted to get a shot of with a brookie a few weeks ago. What makes this rod special is that it is much softer, and much more full flex than most ultralight rods.
When I tried to get a good shot with a brookie I failed - lower than ideal light and a brookie that absolutely would not hold still for the necessary 1/30th of a second. Of course, on Sunday I managed to forget my camera altogether, so the few shots I took were with my cell phone.
There is no way I am going to risk dropping my cell phone in the drink, so all my early shots were through a zip-loc bag - the same bag I put the Read Me First warnings in that get sent out to each new rod buyer. It didn't take too long to realize that although a cheap zip-loc bag may prevent a cell phone from getting wet, it does not enhance cell phone photography. Later photo-worthy fish were hauled to dry land for their chance at stardom.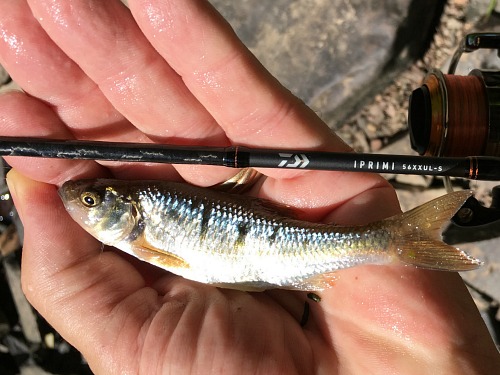 The first shot that actually came out was one I definitely wanted: an honest to goodness micro caught with the Daiwa Iprimi 56XXUL-S. This common shiner put a bend in the rod! I didn't play it long because I was using Gamakatsu Smallest tanago hooks, which are much smaller than necessary for a fish of this size - and a fish of this size is kind of hard to keep on the hook because the hook point is pretty short. With the reel, you can winch it right in, but you can also feel it fight if you let it.
The first few fish, for which the photos were not worth showing, were rock bass, bluegill, a small largemouth bass, and a smaller pumpkinseed. All put a bend in the rod. For people who find fun in catching the generally little sunfish that inhabit just about any town park pond, this rod would be ideal.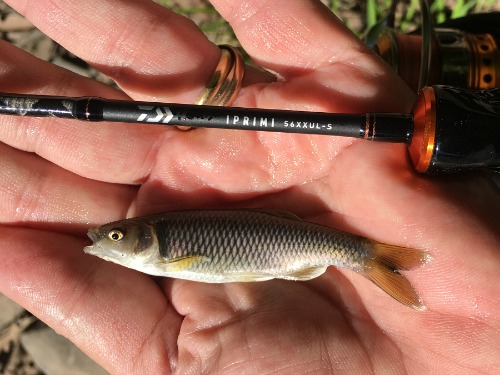 This satinfin shiner was a better match for the hook, but no match for the rod. A Suntech Kurenai will bend a lot more than the Daiwa Iprimi, but for people who want to fish with a spinning rod, the Iprimi is the best micro rod I know of.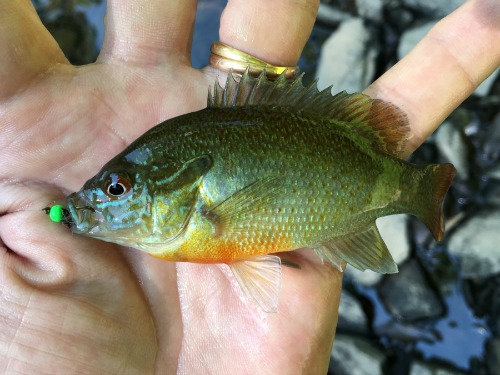 What I find most interesting about this redbreast sunfish was that it was caught with a bead head nymph - that was cast with the Daiwa Iprimi 56XXUL-S. Granted, it was a relatively large bead (5/32" I think) but the Iprimi cast it just fine. Not terribly far to be sure, but as far as you would cast with a 360 length tenkara rod.
Some states have overly restrictive rules, limiting some waters to fly fishing only, and then restricting how that fly has to be delivered to the fish. An argument could be made that a fly is less likely to cause post-release mortality than a lure or a baited hook, but how the fly is delivered has no bearing on the health of the fish or the fishery. In states that for some waters require a fly but do not require a fly rod, fly line and fly reel, the Daiwa Iprimi 56XXUL-S would be a good choice for those who want to fish but don't want to take up fly fishing.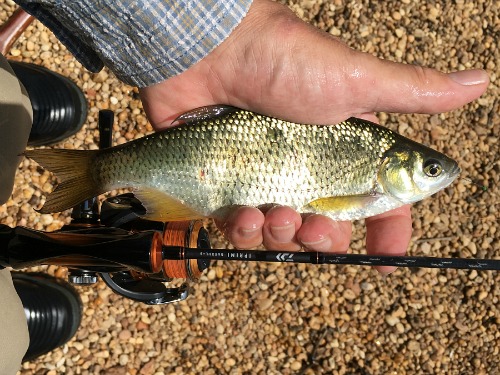 For me, the best fight of the day was put up by this golden shiner, which took a small red wiggler suspended under a Nakazima float in a county park reservoir. Golden shiners fight well, and like creek chubs, are underrated. (I did catch a small creek chub, and coach caught several nice ones).
Actually, I suppose I should say "the best fight of the day that I won." I fought a carp for a while but the carp won when it broke my 4X tippet. When fishing on a tree-lined shore with very limited room to maneuver a long rod, it is impossible to follow ERiK Ostrander's advice to hold the rod all the way over to one side to guide the carp. All the way to either side would have put the rod in the trees.
I was using a Suntech FMX Keiryu extra stiff 53 rod, which has a penny rating up with the carp rods, and with which people have caught carp, but it is a 4X rod and at least on Sunday, 4X was not enough.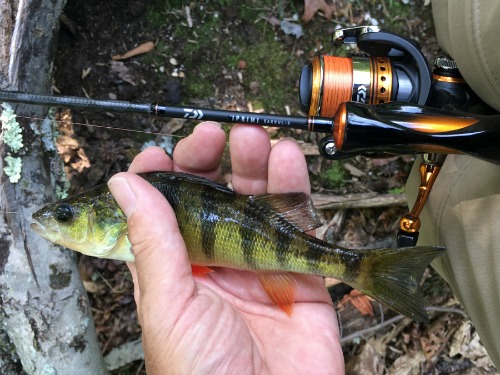 The biggest surprise was this yellow perch from a pond where we didn't think there were yellow perch. One thing I definitely like about warm water fishing is you never know what you are going to catch next.
All in all it was a good day, even though we didn't quite catch as many species as coach had set as our goal for the day. The Daiwa Iprimi 56XXUL-S proved that it does quite nicely with micros, and with modest fish that technically may not be micros but are still abundant and fun to catch.
This was our tally for species caught:
Largemouth Bass
Rock Bass
Bullhead (Coach's catch. Could have been a Yellow or a Brown)
Creek Chub
Black Crappie
White Crappie
Yellow Perch
Common Shiner
Golden Shiner
Satinfin Shiner
Bluegill Sunfish
Green Sunfish
Pumpkinseed Sunfish
Redbreast Sunfish
If you have never done a species challenge, it is a fun way to spend a day. You'll need different fishing methods for different fish, and different locations as well. Of course, it helps to fish in an area that is rich in species diversity.

---
TenkaraBum Home > Trip Reports > Trip Report - 8-13-17

---
"The bitterness of poor quality remains long after the sweetness of low price is forgotten" - Benjamin Franklin
"Be sure in casting, that your fly fall first into the water, for if the line fall first, it scares or frightens the fish..." -
Col. Robert Venables 1662
As age slows my pace, I will become more like the heron.

---
Warning:
The hooks are sharp.
The coffee's hot.
The fish are slippery when wet.
Beware of the Dogma

---