---
Please note: I will be away the first week of June. If you think you might want something then please order soon so I can ship it before I go.
---
Buttons that offer a choice of size, color, etc. show the stocks condition for top choice only! Make your choice to see if the item is in stock.

---
Suntech FMX Keiryu Extra Stiff

The Suntech FMX Keiryu extra stiff rods really are extra stiff. The 4.5 meter rod measures a whopping 67 pennies. It's a trout rod, but 67 pennies is carp rod territory! Unfortunately, I have not yet hooked a fish that would even come close to testing the rod's limits. A smaller fish will put a bend in the rod, just not a very big bend. When you hook a fish in the mid teens, you'll get a nice bend and a nice fight, but you know the rod can handle so much more.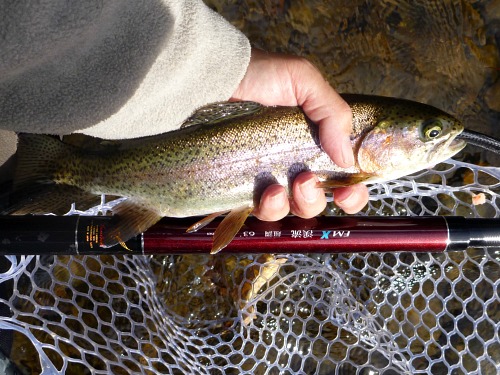 Of the three Suntech FMX Keiryu rods, the ZPRO, the stiff and the extra stiff, this is the one that surprised me. Although it is a seriously stiff rod, I found that it would cast a size 4 fluorocarbon line surprisingly well (better than the Suntech Genryu Sawanobori 45). The overall rod is surprisingly stiff but the upper third of the rod is just soft enough (and has just enough inertia) that it actually casts pretty well. I think the 5.3m rod casts better than the 4.5m, largely do to its greater inertia, which greatly helps load the rod.

Even the 4.5m rod is a two-hander, though, and not because of the weight. The rod is stiff enough and has enough inertia that if you try to cast it one handed you just won't get enough of a wrist flick at the end of the forward cast - unless you you have Popeye's forearms! I find it much easier to cast as a two-handed rod.
Don't discount two-handed casting! I have come to like it quite a lot - certainly for any rod over 4.5m and even for a lot of the 4.5m rods that people complain are tip heavy. With a little practice you can be just as accurate and have just as tight loops. Besides, if you hook a nice fish you'll need two hands anyway!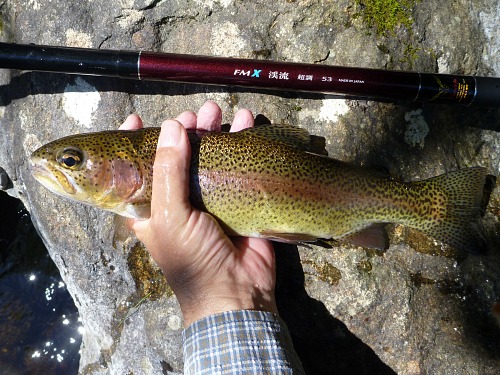 So far, the largest fish I have caught with the Suntech FMX Keiryu extra stiff have been only about 13-14". I would dearly love to get into some big fish with the FMX Keiryu extra stiff 45 or 53 to see how the rods do.
With 4X tippet capability and with a measurement of 67 pennies (for the shorter, less capable one), I think they'd do very well indeed. Although I haven't yet caught any carp with the rod, I recently received a photo from Les C who has. He says the rod has easily handled a dozen carp ranging from 3 to 5 lbs. Online length/weight converters are not always accurate, but one I did find suggested the carp below was a bit over 5 lbs.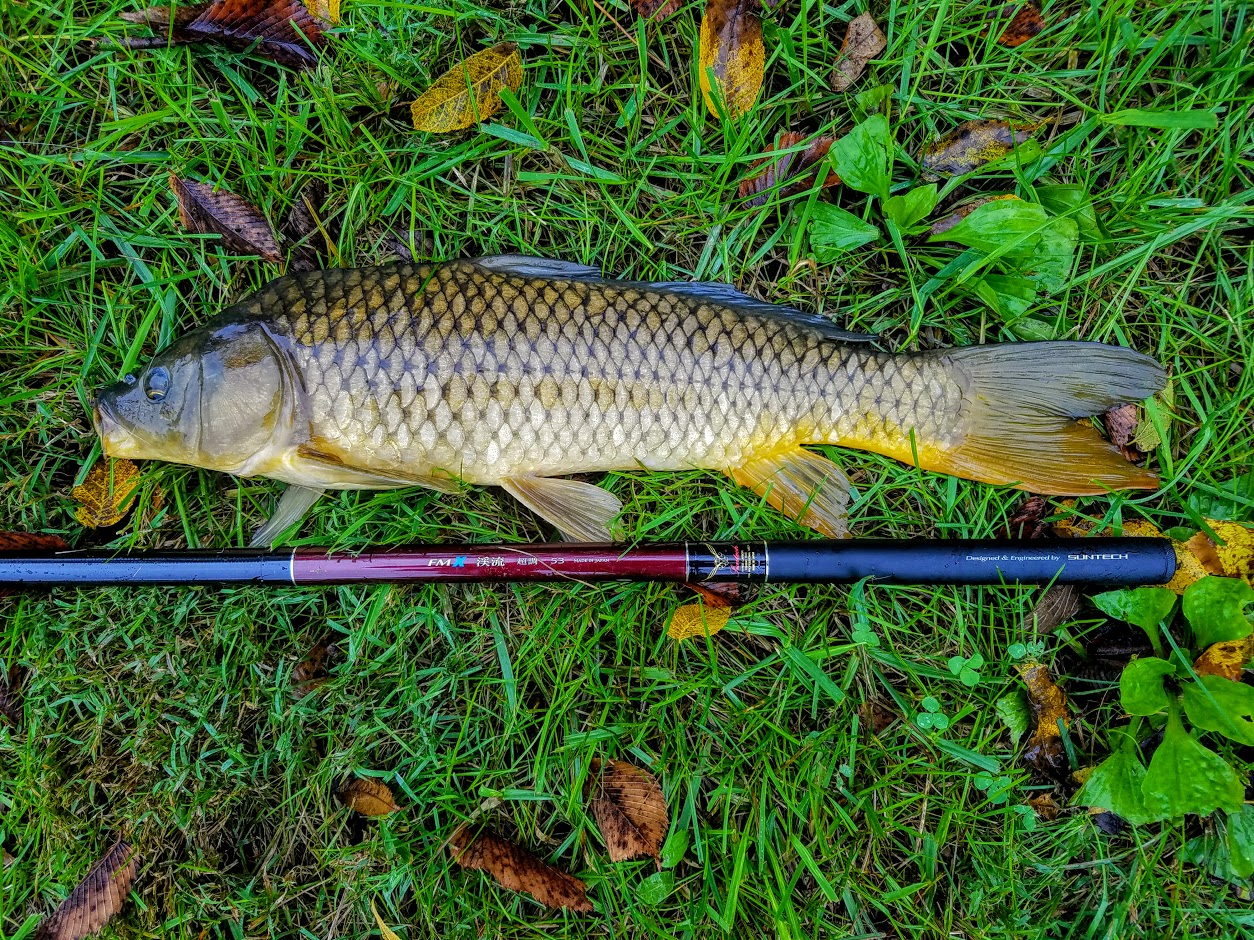 In addition to being what I expect will be an excellent big fish rod, whether for trout, bass, catfish, carp, stripers, steelhead, etc., I think the FMX Keiryu extra stiff will also prove to be a nice Czech nymphing rod. It is an extremely sensitive rod. A soft rod absorbs much of the pull or tap or vibration because it bends so easily. Stiffer rods transmit the slightest tap without absorbing it.
Of course, that stiffness has a downside. Just as you will feel the fish immediately, the fish will feel the tension on the line immediately. That is a concern if you are fishing with bait, but not so much of a concern if you are fishing with a fly. The fish is going to know the fly is fake immediately anyway. If you maintain a tight line and pull your weighted nymph downstream (even if just exactly the same speed as the current) the fish may not be able to spit out the fly before the tightening line causes the hook point to catch. After watching several slow motion videos of fish taking flies, and either spitting them out or getting hooked, I do believe that a lot of the fish that take our flies try to spit out the hook before we even know they took the fly. The ones we catch are the ones on which the hook point caught on the way out.

Being able to react more quickly to a strike is another advantage of fishing with both hands. With your upper hand acting mostly as a pivot point, you only have to move your lower hand a little (pushing forward) to move the rod tip a lot. If you move both hands, pushing your lower hand forward and at the same time pulling your upper hand back, you only have to move each hand a few inches to set the hook.
I really think the new Suntech FMX Keiryu extra stiff will prove to be a nice big fish rod and also a nice Czech nymphing rod.

Suntech FMX Keiryu Extra Stiff Features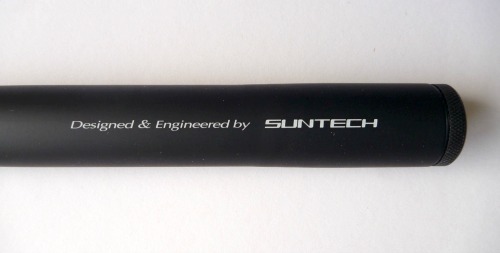 The grip is a widened out section of the blank, to which a smooth but very effective nonskid finish as been applied.

The grip section, above the actual nonskid grip area, has a deep maroon finish with sparkles. The sparkles are not very obvious unless in direct sunlight. The sections above the grip are painted black with just a pair of silver rings around the tip of each section.


The Sunteck FMX Keiryu extra stiff comes with a Fuji rod cap, the KTC-20 for the 4.5m rod and the KTC-25 for the 5.3m rod. The KTC rod caps are designed to be line holders as well. You can wrap your keiryu line around the KTC rod cap and slide it between the end of the plastic barrel and the rubber tip to hold it. I would not do that with a fluorocarbon tenkara line, though, as you will get very tight coils in the line that will be more difficult to stretch out.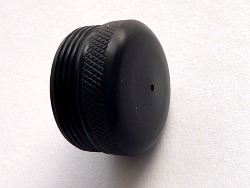 The grip screw cap is plastic. It is knurled for easy tightening and loosening. I comes with a rubber O ring to keep it snug and has a hole for ventilation. I would suggest disassembling the rod between uses to allow all the sections to dry thoroughly. The lillian/swivel assembly easily fits through the second section.

---
Suntech FMX Keiryu Extra Stiff rods are available by special order.

Suntech FMX Keiryu Extra Stiff 45
Length extended – 14' 6"
Length collapsed – 19"
Weight with tip cap – 4.3 oz
Weight without cap – 3.7 oz
Sections - 12
Tip Diameter – 1.0mm
Grip Diameter – 24.8mm
Tippet rating – 7X-4X
% Carbon – 99
Pennies - 67

Suntech FMX Keiryu extra stiff 45 - $240

Suntech FMX Keiryu Extra Stiff 53
Length extended – 16' 11"
Length collapsed – 19"
Weight with tip cap – 5.7oz
Weight without cap – 4.9 oz
Sections - 14
Tip Diameter – 1.0mm
Grip Diameter – 24.8mm
Tippet rating – 7X-4X
% Carbon – 99


Suntech FMX Keiryu extra stiff 53 - $265
Suntech FMX Keiryu Extra Stiff 63
Length extended – 20' 7"
Length collapsed – 19"
Weight with tip cap – 8.2oz
Weight without cap – 7.3 oz
Sections - 17
Tip Diameter – 1.0mm
Grip Diameter – 26.8mm
Tippet rating – 7X-4X
% Carbon – 99

Suntech FMX Keiryu extra stiff 63 - $325
Shipping
Domestic shipping is $10 via USPS Priority Mail (2-3 day delivery).
The charge for international shipping depends on the destination country, the weight of the package, the overall length of the package and the value of the package. Packages under 24" long and under $400 in value will go via USPS First Class International. Packages over 24" or over $400 will go via USPS Priority Mail International.

---
"The bitterness of poor quality remains long after the sweetness of low price is forgotten" – Benjamin Franklin
"Study to be quiet." - Izaak Walton 1653

"Be sure in casting, that your fly fall first into the water, for if the line fall first, it scares or frightens the fish..." Col. Robert Venables 1662
As age slows my pace, I will become more like the heron.

---
Warning:
The hooks are sharp.
The coffee's hot.
The fish are slippery when wet.
Beware of the Dogma

---