Trip Report - 12-28-13
In my previous trip report I described fishing a cast of three flies: a CDC & Elk, a yarn bodied soft hackle and a small bead head nymph. Today's report gives the "on the other hand."
I started the day with a very similar rig - size 3 Hi-Vis fluorocarbon line about 3' shorter than the rod, a tapered "leader" consisting of a foot each of size 2, size 1.5 and size 1 clear fluorocarbon (actually, 2X, 3X and 4X Varivas tippet material), then 18" of 5X and 18" of 6X. My top fly was a CDC & Elk on a 5X dropper, which was tied around the 4X and slid down to butt up against the knot between the foot of 4X and the 18" of 5X. I left the tag end of the 5X-6X knot long and tied on a yarn bodied soft hackle. At the end of the 6X I tied on a small bead head Killer Bug.
This is the reason I don't often go to the trouble of tying tapered leaders and fishing three flies: In the first pool I fished, I got the CDC & Elk AND the soft hackle snagged on a downed tree in water deeper than I wanted to wade out to. I ended up losing all three flies. Losing one fly is bad enough. Losing three at once is more than three times as frustrating. In my first attempt at pesca a mosca Valsesiana a few years ago, I lost four flies at a time TWICE within about 50 yards. I about gave up fishing multiple flies for good that day.
If one of the things that attract you to tenkara is the simplicity, you can't beat the simplicity of just tying a meter of 5X tippet straight to your line and tying a wet fly to the end of the tippet. It doesn't get simpler and it does catch fish.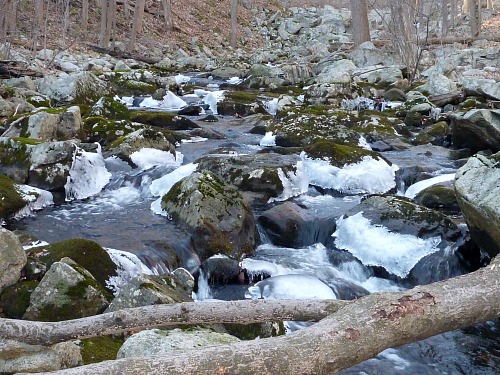 The ice on the rocks makes it look colder than it was.
Today wasn't quite that bad. After losing the three flies I switched to a single fly and picked up a couple fish, went to two flies and caught one more, and then again back to one and caught my final fish of the day. Of course, then Coach and I went to a much smaller stream (above photo) and I proceeded to lose a bunch of flies one at a time (and that gets frustrating, too). The frustration is worse if the only things eating your flies are the trees.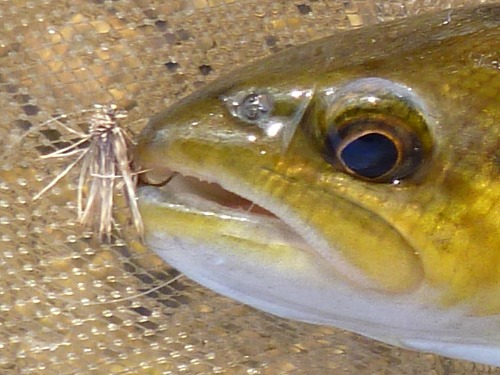 The fish shown above and below proved to be the nicest fish of the day at just under 12 inches. At the time I was fishing with a Nissin Pro Square 6:4 360 and the fish sure made the line sing. For modest fish in the 10-14" range, I must say I do like the Pro Square. Such a smooth casting rod.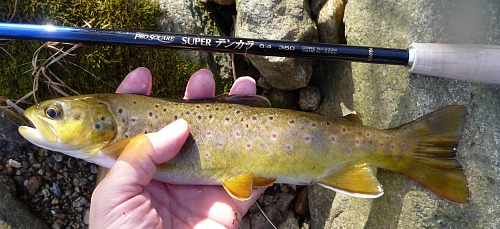 Perhaps the most interesting thing about the day was that despite it being late December, two out of my four fish came on a dry fly. When people think of December dry fly action, I am sure they think about midges. The fish I caught today took a size 14 CDC & Elk - the same dry fly I fish year 'round.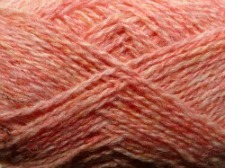 Jamieson's Shetland Spindrift
Color: Sunglow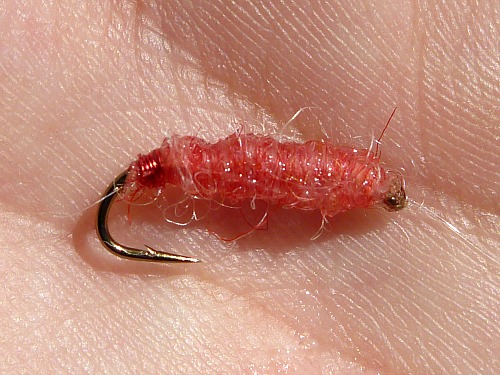 Sunglow Killer Bug
The third fish came near the head of a pool just before the ripples disappeared. I was fishing a size 18 Killer Bug (considerably smaller than the one shown above) tied with Sunglow yarn below a CDC & Elk. When the CDC & Elk slid under the surface, in a spot too deep for the Killer Bug to have hit a rock, it had to be a fish. It wasn't a huge fish (photo upper right corner) but on the delicate Nissin Tsuzumi, which is a 6 penny rod, it was still quite a battle.

I never did a page on the Tsuzumi, but it was a light 330cm rod with a bamboo motif. One of the nicest things about it (aside from they way it made even modest fish a lot of fun) is that it it had a matte finish - just what you'd want on a sunny day on a wild trout stream. Too bad Nissin later discontinued the rod.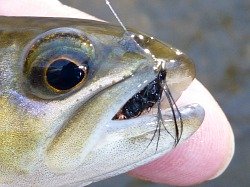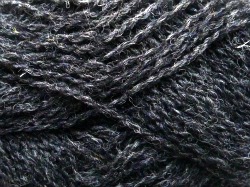 Jamieson's Shetland Spindrift
Color: Oxford
The last fish of the day took a fly that is a cross between a Killer Kebari and a Little Dark Kebari. - basically, a Killer Kebari tied with the Jamieson's Shetland Spindrift's Oxford color yarn and starling hackle. The copper wire underbody should get the fly a bit deeper than a Little Dark Kebari. With the yarn body, which is just a bit shaggy; and the starling hackle, which is extremely mobile, it is a very buggy looking fly.
All in all it wasn't bad day. I got to play with couple nice rods, got to listen to the line sing a bit and didn't even get too cold.

---
TenkaraBum Home > Trip Reports > Trip Report - 12-28-13
---
"The bitterness of poor quality remains long after the sweetness of low price is forgotten" - Benjamin Franklin
"Be sure in casting, that your fly fall first into the water, for if the line fall first, it scares or frightens the fish..." -
Col. Robert Venables 1662
As age slows my pace, I will become more like the heron.

---
Warning:
The hooks are sharp.
The coffee's hot.
The fish are slippery when wet.
Beware of the Dogma

---