CDC & Elk
The CDC & Elk is the only dry fly I tie and fish. It was developed by Hans Weilenmann to be an improvement to Al Troth's elk hair caddis. Although the pattern was designed to be a caddis imitation, Mr. Weilenmann fishes it with great success during mayfly hatches. It is also his standard searching pattern for use when nothing is hatching. I haven't tried it during a heavy mayfly hatch, but I can attest that it is an excellent searching pattern.
The use of a CDC feather instead of the standard brown hackle feather of an elk hair caddis serves a few purposes: CDC naturally floats very well; the soft, waving filaments definitely give an impression of life; and wrapping the CDC produces both the body and the legs of the caddis, making it very simple to tie. Despite the name, it is tied with deer hair rather than elk hair.
Even though the deer hair I use is as close as I could find to the hair that Hans uses, early season mule deer, the hair I have is a bit darker than that shown in the photo below.  For quite some time, I also tied the fly with bleached elk, which I found easier to see in low light conditions. The trout prefer the deer hair version, though.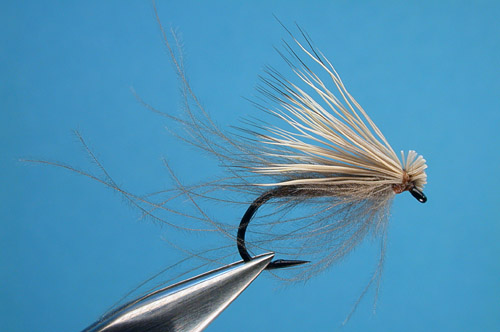 CDC & Elk - Pattern, fly and photograph: Hans Weilenmann
I think it may just be the perfect dry fly for use when tenkara fishing. It really is an excellent caddis imitation, and caddis flies are common in most of our trout streams. What makes it even more valuable to the tenkara angler is that it works so well when there are no insects visible on the water.
Not only does it float well, the delta shape makes it much easier to cast on a light line than some of the other high floating flies like a humpy or a Wulff. Since to me tenkara is all about using the lightest line possible, a fly that is aerodynamic as well as high floating is a major plus.
The long tenkara rod and light line allow an angler to fish the CDC & Elk with just the fly and a bit of tippet on the water. This makes getting a drag-free drift easy even when fishing over tricky currents. Keeping line off the water allows you to fish tiny pockets and bank eddies that are very hard to fish with a shorter rod and heavier line. Further, without line in the water, you can easily cause the fly to skitter and skate like a live caddis.
Even though the deer hair and the CDC are both naturally high floating materials, if the fly is not treated it will eventually sink - especially after having caught more than a few fish. If you do use floatant, apply it to the deer hair only, not the CDC. The floating qualities of the CDC can be refreshed by squeezing the fly with an amadou patch (or your t-shirt) or dusting it with a a desiccant like Frog's Fanny. (Of course, most simplicity-loving tenkara anglers will use their t-shirts.) For anglers who do not wish to use floatant, the CDC & Elk also works quite nicely when fished damp or even wet. More than once I've had violent takes just as some turbulence pulled a well-chewed and fish-slimed fly under the surface.
For many of the flies highlighted on TenkaraBum.com I have provided a step-by-step tying sequence. For the CDC & Elk I have decided instead to provide a link to Hans Weilenmann's "Flytierspage", where he has put together an excellent step by step sequence. After all, it is his pattern. He also has done a couple videos of tying the fly.

Whether you are just starting tenkara fishing or are a seasoned old pro, give the CDC & Elk a try. I think you'll like it as well as I do.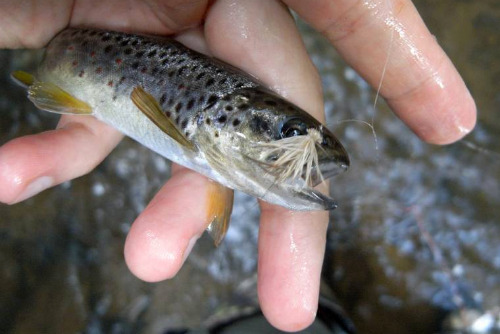 ---
TenkaraBum Home > Tenkara Flies > CDC & Elk
---
"The bitterness of poor quality remains long after the sweetness of low price is forgotten" - Benjamin Franklin
"Be sure in casting, that your fly fall first into the water, for if the line fall first, it scares or frightens the fish..." -
Col. Robert Venables 1662
As age slows my pace, I will become more like the heron.

---
Warning:
The hooks are sharp.
The coffee's hot.
The fish are slippery when wet.
Beware of the Dogma

---