Trip Report - 10-20-13
A cold front, a windy day, a canoe and a tenkara rod is not a recipe for great success. I'm not sure if a cold front has a major effect on fishing for cold water species, but for warm water species like bass and bluegills it seems to be the kiss of death. A windy day and a canoe is not a particularly good combination by themselves, but throw in a cold front and a tenkara rod and you have a recipe, perhaps not for disaster, but for a less than stellar day of fishing.
The day turned out to be a short one. Once around the pond, with the downwind leg being almost a sprint (whether we liked it or not). Still, the day was not a total bust.
I expect to get a long-awaited shipment of Suntech Field Masters on Monday or Tuesday, and wanted to do a little bass and bluegill fishing with mine ahead of time. I already knew that they are nice rods for larger trout than I normally catch, and I was sure they could handle good sized bass, but wanted to see if they're a bit too stiff for bluegills.
I think of the Field Master as being a very versatile trout rod - or at least stream rod. Being a three position zoom rod, it works well for just about any size stream. It is just a bit on the stiff side, though - just a little bit stiffer than an Iwana at the shortest position (24 pennies) and not quite as stiff as a Yamame at full extension (28 pennies). So, is that too stiff to have fun with bluegills? In a word, no.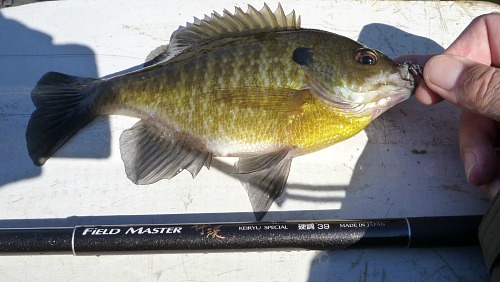 I started off the day with a size 6 Keeper Kebari but managed to get half way around the pond without so much as a tap. Thinking perhaps I wasn't fishing deep enough, I started letting the fly sink quite a bit before starting a slow retrieve, but I just ended up snagging a lot of sticks and logs. I then switched to an upside down bucktail.
I should admit right here that I try a lot of strange things at the vise. A few years ago I discovered that if you tie a slightly overdressed bucktail upside down (with the hook point up) it will swim with the hook point up. You don't need the eyes (or the weight) of a clouser minnow. If you want to fish a bucktail in shallow water, or water with lots of snags, but want a light weight fly that you can easily cast with a tenkara rod, try tying a few upside down bucktails. If the pattern calls for a throat, leave it out. You want all the dressing on the side that will be the top when it's in the water. (I later learned that a bucktail, streamer or deceiver tied on a wide gap offset worm hook is even more weedless and snag-free, but I didn't happen to have any of those with me today.)

The upside down bucktail did the trick, both with the bluegill in the photo above and the bass in the photo below. Granted, that's not much of a bass, but it wasn't much of a day and a small bass is better than no bass at all.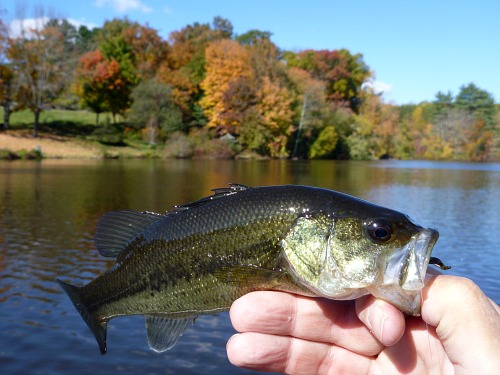 After a couple fish on the upside down bucktail, I switched to a variation of the Keeper Kebari that had worked early this summer in Maine for smallies but didn't work early this fall for snapper blues on Long Island - one with a body of white yarn and a hackle of the marabou-like feather you'll find on the lower flank of a partridge skin.
It was my turn to paddle (when there's a breeze, my friend and I trade off - one paddles and the other fishes). I had the rod extended out over the gunwale as I was easing the canoe along while my friend was working the shoreline. I'd never trolled with a tenkara rod before, but it wasn't long before I felt a tap and then the rod bent back with what proved to be my last fish of the day.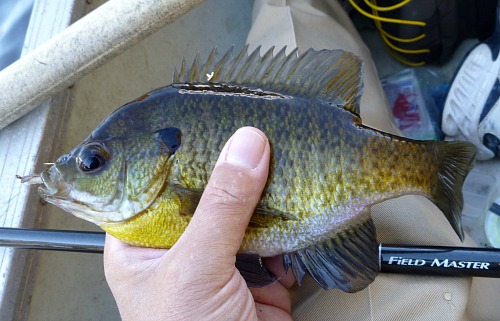 It wasn't a great day of fishing, but I did satisfy my curiosity with respect to the Field Master and bluegills. As a "bluegill rod" it would not be my first choice, but as an "all around" rod it very definitely would be. Three position zoom for different stream sizes, stiff enough to fish weighted nymphs in a bit of current yet not too stiff to fish unweighted wet flies or to have fun with the bluegills in the local ponds. I don't think you'll find that combination in any other rod.
---
TenkaraBum Home > Trip Reports > Trip Report - 10-20-13
---
"The bitterness of poor quality remains long after the sweetness of low price is forgotten" - Benjamin Franklin
"Be sure in casting, that your fly fall first into the water, for if the line fall first, it scares or frightens the fish..." -
Col. Robert Venables 1662
As age slows my pace, I will become more like the heron.

---
Warning:
The hooks are sharp.
The coffee's hot.
The fish are slippery when wet.
Beware of the Dogma

---