Suntech Field Master

The Suntech Field Master 39 was the first 3-position zoom rod sold in the US. When I first ordered the Field Master 39 (back in 2012) I had been looking for a rod that had all the sensitivity and feel you get from a rod that doesn't have a cork grip, but also had bend characteristics that placed it squarely in the middle of the "tenkara rod" range. The Field Master 39 did that, and did that at three different lengths! I couldn't have asked for more.

There is a big difference between what I knew then and what I know now. Other than the few Daiwa tenkara rods I also imported that year, all of the tenkara rods available in the US in 2012 were sourced in China. The Chinese had no history of tenkara fishing. They made rods for bait fishing. The earliest tenkara rods in the US had actions that put them squarely in the middle of the keiryu rod range, so in retrospect, it was no surprise that the Suntech Field Master, which is a keiryu rod, had an action squarely in the middle of the "tenkara" rods that were available here at the time.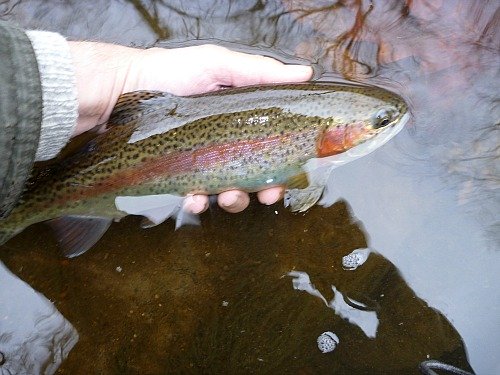 Not bad for the first fish on a new rod!
I would bet that all of the people who purchased Field Masters in the early years used them exclusively for tenkara fishing rather than keiryu fishing, though. Of course, many if not most also fished bead head flies, which the Field Master does quite well.
It fishes bead heads well because fishing bead heads, particularly heavy bead heads, is really pretty similar to keiryu fishing. And although the Field Masters do quite well with a size 4 tenkara line, they really are better at keiryu fishing than they are at tenkara fishing. However, they are still better at fishing bead head nymphs than the average tenkara rod.
Andrew K's rainbow. You can tell why he loves the Field Master.
Robert J's Field Master 53 rainbow.
I've only fished a Field Master 53 a few times, but if you are looking for a two-handed rod for either flies or bait, the Field Master 53 is a fine choice. It has the same fit and finish as the shorter Field Masters (as all the Suntech rods for that matter).
There seems to be a general consensus that zoom rods are more pleasant to fish at their shorter lengths rather than fully extended. When it comes to two handed rods, though, I think the opposite is true. I believe the Suntech Field Master 53 is nicer at full extension. I also believe it is much nicer fished as a two-haned rod.

Rods don't feel tip heavy when casting two handed, and the extra length provides substantially more inertia, making the rod slower and giving you a lot of tactile feedback. Whereas I fished the Field Master 39 and 44 at all three lengths, I have fished the 53 at full extension most of the time.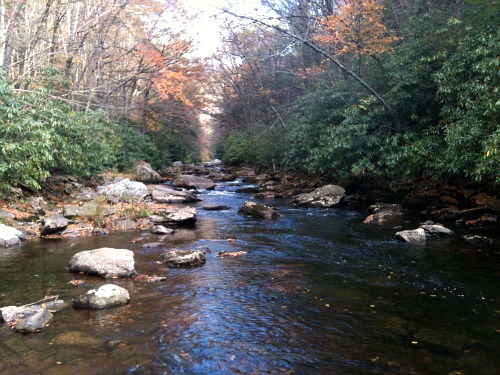 Not always, though. The last time I fished the Field Master 53 was on a fairly small stream that didn't have much in the way of overhead canopy. I fairly frequently switched between the shortest setting, 4.5m, and the longest, 5.3m, depending on the stream width and cover. At 4.5m I fished the rod as a one hander and at 5.3m as a two-handed rod.
I know a lot of tenkara anglers would fish the above stream with a 360 or even 320 rod. There is room for a 450, though, and the drifts will be much better. Where the stream opens up even a little, the full 530 length will give you better drifts than you can get with a 450, let alone a 360.

For a stream like the one shown above, the Suntech Field Master 53 would be ideal. The stream is wide enough that you would certainly appreciate the length, but it is not so wide that you'd need a 63 rather than a 53. There is little in the way of overhead branches so casting and landing fish would not be a problem.
Despite being a big, beefy rod, the Field Master 53 can protect a light tippet. The above rainbow was caught on a size 30 hook and 8X tippet.

In general, I would recommend light tippets - lighter tippets than most rod manufacturers recommend and lighter tippets than most anglers fish. Most tenkara anglers fish 5X tippets. I truly believe you will catch more fish with 6X than you will with 5X. I only know of one time when I lost fish to tippet breaks with 6X and then landed a similar size fish with 5X. Most of the fish most tenkara anglers hook will not break 6X tippet!

Nice rod for bass!
Suntech Field Master Details
Like all Suntech rods, the Field Master is made in Japan - and it shows. The "fit and finish" are excellent. The finish is a metallic gray on the grip and zooming sections, and on the accents at the tip end of the black painted smaller sections. The Field Master II grip is smooth to the touch, yet it is still an effective non-skid grip. Because your fingertips are right on the blank itself, it provides unmatched sensitivity so you can feel what's going on with your line and your fly. When keiryu fishing, I would urge you to use yarn markers, which are even more sensitive than your fingertips in detecting strikes.

After you have fished with corkless grips for a while, you will realize that cork grips on tenkara rods must have been copied from Western fly rods where you have yards of fly line laying on the water and lots of slack in your line -  and thus no need for sensitivity.  After fishing a light, tight line for a while, staying in contact with your fly, you will not feel any need for cork grips.
The Field Master grip screw is made of a plastic material, is beveled for comfort is knurled to provide a positive grip. The grip screw also holds the rear ends of the zooming sections when the rod is not fully zoomed. The plugs and O rings hold the sections securely, with no hint of rattling.
The fit is pretty snug, and I find it helpful to twist the sections as you are seating them. They almost snap into place. Be sure to twist them to the right (clockwise if you were looking directly at the grip screw cap). If you twist them to the left, it may loosen the grip screw cap, increasing the chance for it to get lost. Be sure to check the grip screw cap to see that it is tightly screwed in each time you extend the rod.
The Field Master 53 comes with a Fuji KTC-16 instead of the more common tip plug. The band is tight enough that it definitely is not going to come off unexpectedly.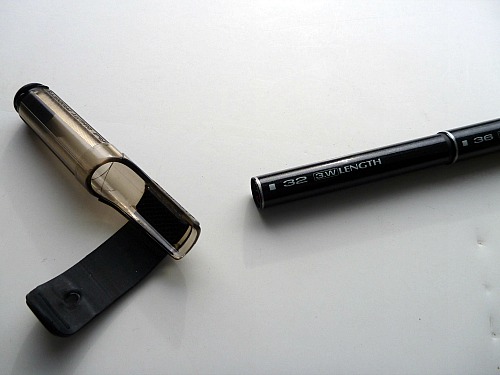 The lillian is held on with the same swivel mechanism used in other Suntech rods. It is very small and unobtrusive but it does lessen line twist. It is thin enough to go through the #2 section so the rod can be fully disassembled for drying between uses.

Field Master II 53

Length extended: 14'11", 16'2" 17'4"
Length collapsed (with tip cap): 21"4
Weight: (with tip cap) 4.7 oz (without tip cap): 4.3 oz
Sections: 12
Recommended Tippet: 7X - 6X
Pennies: 4.5m: 33; 4.9m: 33; 5.3m 33
---
Shipping
Domestic shipping is via USPS Priority Mail (2-3 day delivery). Rates will vary with package weight. For most rods, the rate will be $14.50. Light rods (Suntech Kurenai for example) will be $12.50. Please note that other items in the order, such as a line, line holders, etc will raise the package weight.  Multiple rods will be either $14.50 or $16.50, depending on package weight.

Please note: All packages are shipped via USPS. If you have a PO Box, please list ONLY the PO Box in your address, not the PO Box and your street address.
If you live in an apartment, please put the apartment number in the same box as the street address (as in 123 Main St. Apt 45).
Please do not put anything in the box for "Company" if it isn't absolutely necessary. Not "self", not "none" not "--". It wastes your time to put it in and it wastes my time to take it back out. Please just leave it blank.

International Shipments

International purchases may be subject to import duties and taxes. I cannot keep track of all import regulations in all countries written in all languages. Understanding and paying import duties and taxes is the responsibility of the buyer.
Russia
TenkaraBum.com no longer ships to Russia.

UK

TenkaraBum.com no longer ships to the UK. The new VAT regulations are too onerous for a one-man shop that rarely ships anything to the UK anyway. I apologize.

New Zealand

The US Postal Service has suspended all shipments to New Zealand.

---
TenkaraBum Home > Tenkara Rods > Suntech Field Master
---
"The bitterness of poor quality remains long after the sweetness of low price is forgotten" - Benjamin Franklin
"Be sure in casting, that your fly fall first into the water, for if the line fall first, it scares or frightens the fish..." -
Col. Robert Venables 1662
"There is a time to go long. There is a time to go short. And there is a time to go fishing." - Jesse Livermore

---
Warning:
The hooks are sharp.
The coffee's hot.
The fish are slippery when wet.
Beware of the Dogma

---