Trip Report 8-14-16

A Tale of Two Fish and a Warning

Sunday of last week was a day on the Farmington with Adam K. My goal for the day was two fish. Perhaps it would be more accurate to write "at least two fish" but I had two specific fish In mind. I wanted to catch a trout of about 15-16" for a page on a new rod I recently imported from Japan. The rods are in stock but the page isn't written.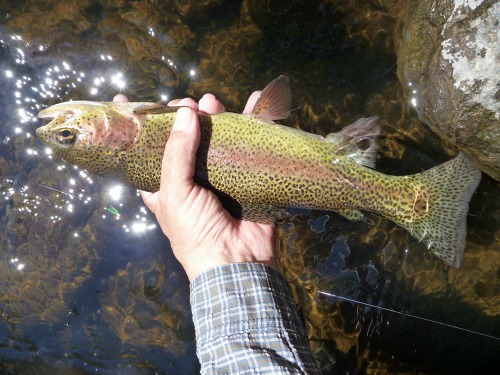 Wanting to have a photo of a nice fish to illustrate a rod's capabilities may be silly, and it definitely delays articles. I'm sure all my readers know that any rod shown can catch fish, but I like to have a photo nonetheless. That fish I was able to catch, almost. My best fish of the day didn't quite hit 14", but that will have to be good enough for now.
The other fish I wanted was an Atlantic Salmon parr, caught on a streamer, to enter in the current TenkaraBum Streamer Challenge. That goal remains unmet. Salmon parr have smaller mouths than trout of the same size, so they might not be minnow eaters to the extent that trout are. (Hey, I'm a fisherman, I need some excuse!)
After catching a fish that will have to do for the new rods, I switched to a Nissin Pocket Mini 450, which I might import but might not. It's not a bad rod, but at that length it no longer has the ultra light weight that I like so much in the 270 and 360. There are other rods of that length I like a lot better (the TenkaraBum Traveler 44 comes to mind).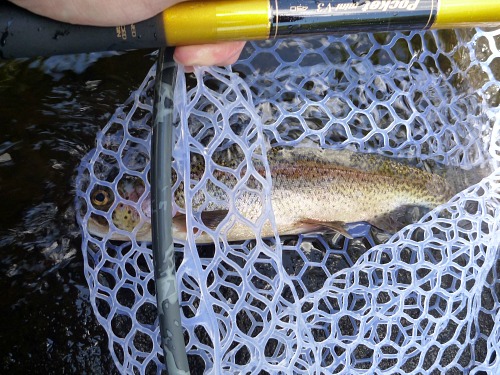 With the Pocket Mini, I did manage to catch a couple brook trout and a rainbow on my Minimal Dace, but no salmon parr. As I had noticed previously when fishing the Minimal Dace, the hits weren't subtle. I was actually a bit surprised at how small the first brookie was based on how hard he hit the dace. The rainbow wasn't really big, but it was big enough and wiggly enough to make it just this side of impossible to get a photo of the fish and the rod together.
After quite a while with no salmon parr, I switched to a longer, softer rod to continue my experiments with Ultralight Worm Fishing. For this, I used a Suntech FMX Keiryu ZPRO 53, a size 2.5 level line, 8X tippet, a single #10 split shot and a Gamakatsu Kawamushi hook.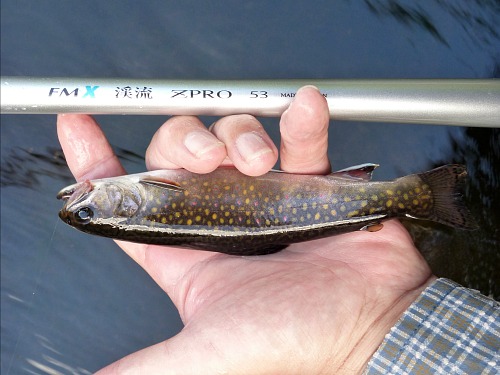 The guy fishing a little ways downstream from me must have thought I had found the Holy Grail or something because I caught one after another after another. All were fairly small, but most were taken from relatively shallow and nearly featureless water that I would bet most fly fishers would walk right past. And sure enough, there were a couple salmon parr in the mix. I didn't even take their pictures. They didn't come on a streamer so they wouldn't count for the Challenge.  

If you are just fishing for the fun of it rather than for a contest, which I am sure is why most people fish, the Ultralight Worm Fishing technique is worth a try. If you just can't imagine fishing with worms, by all means try it with an Overhand Worm and a small split shot. Chenille doesn't have the same density as a red wiggler, and although I have caught fish on the Overhand Worm without using any split shot at all, I do think at least one #10 shot will increase your catch.
Now for those of you who can't even imagine fishing with an Overhand Worm, and I know you're out there, you could always just use a Kebari, but isn't that what you're doing now? Expand your boundaries!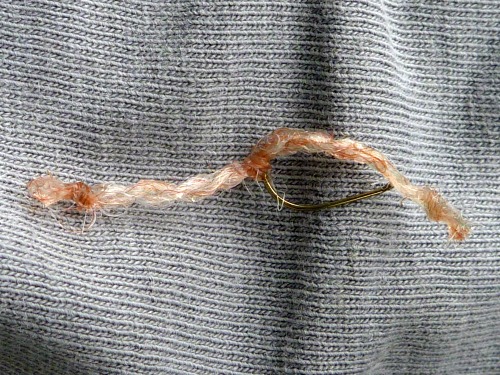 In the interest of expanding boundaries and trying new things, the previous week I tried a variation of the Overhand Worm that Carlos Blatt uses in Brazil to catch Peacock Bass. He uses yarn for the worm instead of chenille. I used a couple inches of the yarn I use for Frank Sawyer's Killer Bug, overhand knotted around the hook, but also with overhand knots at each end to keep the yarn from unraveling. I thought perhaps the yarn fibers would get caught on those funny teeth that trout have on their tongues, making the yarn worm very hard to spit out.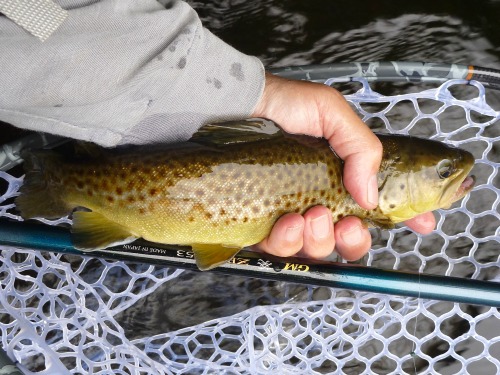 It turns out I did catch one fish on the yarn worm, but it took just a few feet upstream from me and I saw the take. I tightened the line before it could even think of spitting out the worm. I'll probably try the yarn Overhand Worm again, but I must say the chenille variety is much simpler to tie and does catch fish.
Of course, a real worm is just about as simple and probably catches even more fish.

---
Warning!
---
Reading so often that one of the attractions of tenkara is the simplicity, and knowing that many (if not most) fly fishermen do not wish to fish with worms, I feel compelled to issue this Slippery Slope Warning: Beware Simplicity, at least with respect to flies. Do not start tying simple flies!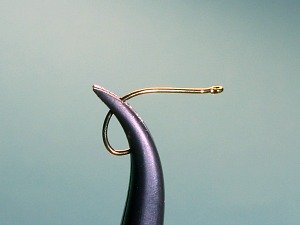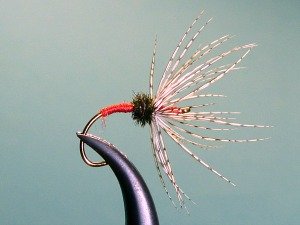 If you start tying simple flies, you will discover that you can tie a fly without using a vise.
---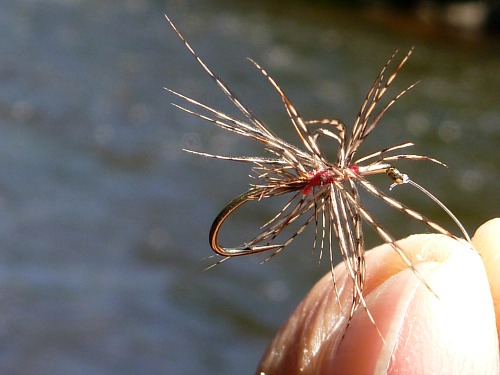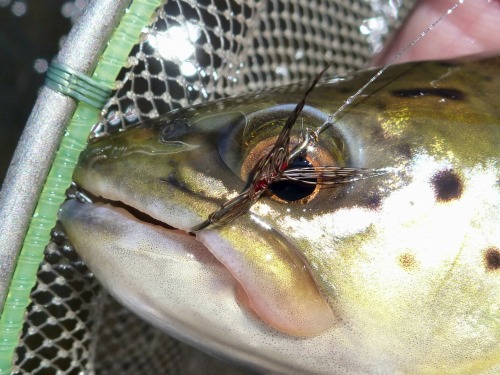 If you start tying flies without a vise, you will soon realize that flies do not have to be well or neatly tied to catch fish. Just about any feather or fur you can wrap around a hook and secure with a couple turns of thread will catch fish.
---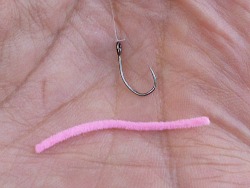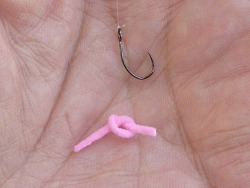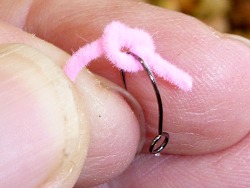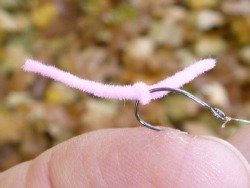 From there it is really a very small step to tying the Overhand Worm. I mean, if neatness doesn't count, why mess around with fur and feathers in the first place?

---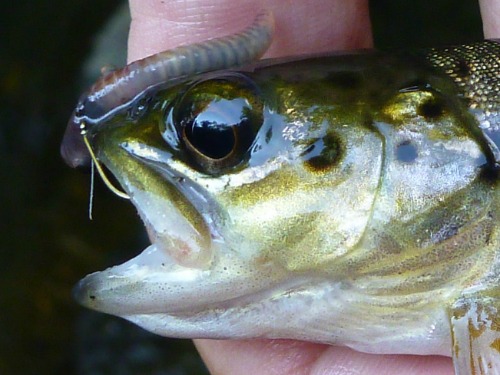 And from there, from there my friends, it is barely a baby step from the Overhand Worm to a real worm.
---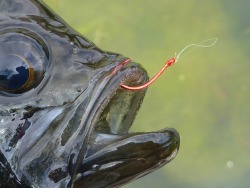 Black Crappie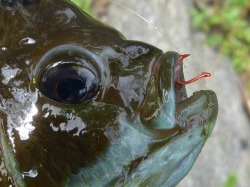 Bluegill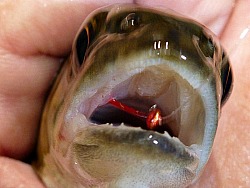 Brown Trout
It started with just one simple fly, and then a simpler fly, and then a messy fly. I realized that fish really are pea brains - and that you can catch fish with a fly so simple it isn't even a fly. Catch fish on a bare hook? Kite was right!

That's why, after fly fishing for 50 years, I became a worm fisherman. The emperor has no clothes and the fish just don't care.

---
So, I beseech you, if you do not want to find yourself a worm fisherman like me, you must never tie simple flies (sorry, Morgan).
Tie only full dress salmon flies!
If you don't fish for salmon or if you feel the need to work up to that rarefied level gradually, resolve to tie the full complement of the flies in Ray Bergman's Trout (all 483 of them). They are beautiful flies but most of them are not simple (which is why I don't have any photos). They will, however, keep you on the straight and narrow. And they will catch fish, too, which will keep you motivated. And there's almost 500 of them. That should keep you busy for a while!

Tenkara flies are too simple, entirely too simple. It's a slippery slope.
You have been warned.
You probably think I'm kidding.

---
TenkaraBum Home > Trip Reports > Trip Report 8-14-16

---
"The bitterness of poor quality remains long after the sweetness of low price is forgotten" - Benjamin Franklin
"Be sure in casting, that your fly fall first into the water, for if the line fall first, it scares or frightens the fish..." -
Col. Robert Venables 1662
As age slows my pace, I will become more like the heron.

---
Warning:
The hooks are sharp.
The coffee's hot.
The fish are slippery when wet.
Beware of the Dogma

---