TenkaraBum Traveler

The TenkaraBum Traveler isn't what most people think of when they think of a travel rod. Most think a travel rod is one that packs down to a very short length - something that is extremely easy to pack and fits about anywhere. Rods that pack down to very short lengths are either very stiff (Daiwa Keiryu-X), very delicate (Nissin Pocket Mini) or very expensive (Tenryu TF39TA).
I don't think that's what you really want in a travel rod. My idea of a travel rod is one that is easy enough to pack - for example, fitting into a carry-on bag - but that is so versatile you could use it anywhere. You can pack one rod instead of three.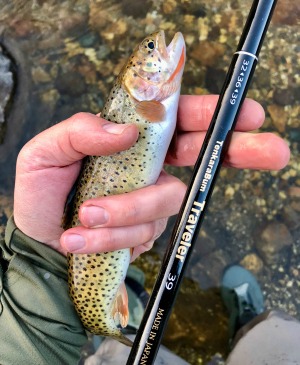 TenkaraBum Traveler 39 (Chris C photo)
There have been three-position zoom rods in the US for years now, starting with the Suntech Field Master. The best one (or rather, the best that wasn't really quite expensive) was the Suntech GM Suikei Keiryu Special.
I have a special feeling for the Keiryu Special. It had already been discontinued when I first learned of it and I was able to import just a handful of them - what turned out to be the very last ones available. I loved the rod, though, as did the few people who were able to buy one.
Luckily, I was able to persuade Suntech to bring it back - and to give me exclusive rights to it. The Keiryu Special sold well and now has a legion of fans, including Tom Davis of Teton Tenkara, who once wrote that it was his favorite travel rod.
That set off a light bulb!
It truly was a wonderful travel rod - not for its collapsed length but for its versatility. With one rod you could fish about anywhere, from overgrown brookie streams in the Appalachians to the Madison River in Montana.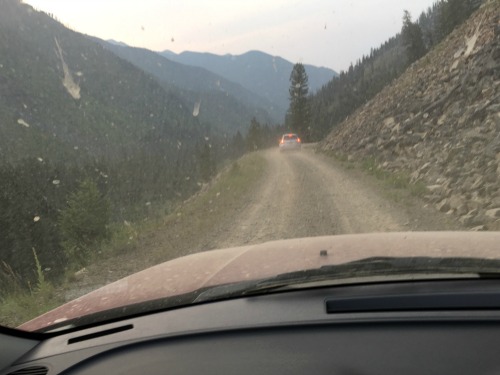 If this is what you see when you go fishing, steep hillside to the right, sharp drop-off to the left, one lane dirt road with trucks coming the other way, but wild cutthroats in the valley below, TenkaraBum Traveler is your rod!
The TenkaraBum Traveler series of rods are renamed, rebranded, repainted GM Suikei Keiryu Specials. The rod was too good to change but that name was too much of a mouthful! The new paint matches the graphic design of the TenkaraBum 33, 36 and 40 - solidifying the links between the all of the rods.
And like the TenkaraBum tenkara rods, the Traveler series will be great rods for wets, dries, weighted nymphs and even ultralight worm fishing.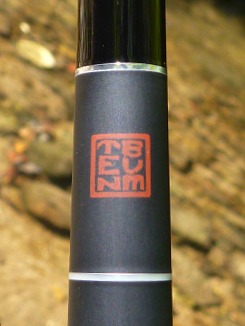 The Traveler rods have the same accents between sections and have the same TENBUM logo as the TenkaraBum tenkara rods.

There are differences, of course. The TenkaraBum 33, 36 and 40 have a hard EVA foam "tenkara" grip. The Traveler rods have a smooth nonskid "keiryu" grip, which is just a wider section of the blank itself. It is smaller in diameter, but it provides unmatched sensitivity.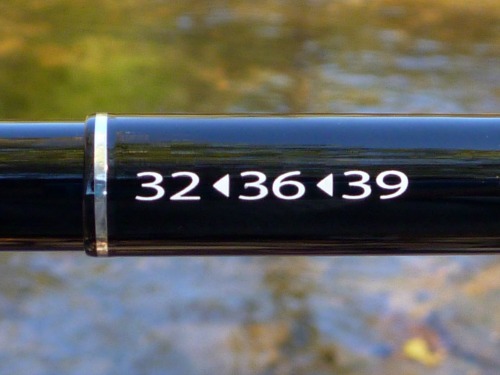 Like the GM Suikei Keiryu Special 39 and 44, the TenkaraBum Traveler 39 and 44 rods are three position zoom rods, with the 39 giving you the option to fish it at 3.2, 3.6 or 3.9 meter lengths. The  44 can be fished at 3.6, 4.0 and 4.4 meter lengths.
The zooming sections are held very securely when retracted. When either extending or collapsing the zooming sections, it will help immensely to twist them to either fully seat them or to unseat them. The butt ends of the zooming sections slide over O rings on the grip screw cap, and the twist helps to get them on or off the O rings. If the zooming section feels a bit loose when collapsed, it is not fully seated on the O ring.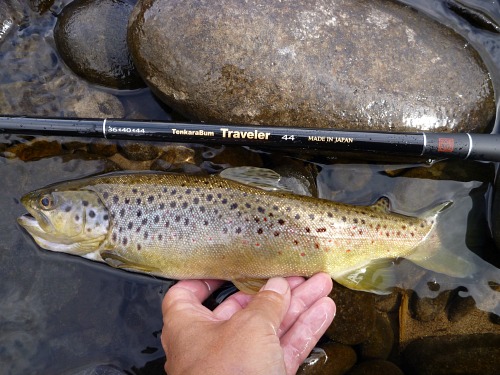 TenkaraBum Traveler 39

Length - 10'6", 11'9", 12'11"
Length (collapsed) - 21 1/8"
Weight (with Fuji cap) - 2.4 oz
Weight (without Fuji cap) - 2.1 oz
Sections - 9
Tip Diameter - .6mm
Butt Diameter - 19.5 mm
Tippet* - 9X - 6X
Pennies 17, 18.5, 19

Discontinued. Unavailable.
TenkaraBum Traveler 44

Length - 11'11", 13'3", 14'5"
Length (collapsed) - 21 1/8"
Weight (with Fuji cap) - 2.9 oz
Weight (without Fuji cap) - 2.6 oz
Sections - 10
Tip Diameter - .6mm
Butt Diameter - 21.5 mm
Tippet* - 9X - 6X
Pennies 18, 19, 20

Discontinued. Unavailable.

---
And if your travels take you to streams that are too narrow for even the shortest (10'6") length of the Traveler 39, please consider the TenkaraBum Traveler 27 - designed specifically to be a small-stream rod.

---
TenkaraBum Home > Rods > TenkaraBum Traveler

---
"The bitterness of poor quality remains long after the sweetness of low price is forgotten" - Benjamin Franklin
"Be sure in casting, that your fly fall first into the water, for if the line fall first, it scares or frightens the fish..." -
Col. Robert Venables 1662
As age slows my pace, I will become more like the heron.

---
Warning:
The hooks are sharp.
The coffee's hot.
The fish are slippery when wet.
Beware of the Dogma

---