Suntech FMX Keiryu ZPRO

The Suntech FMX Keiryu ZPRO is the softest of Suntech's three FMX Keiryu rods. In addition to the ZPRO, the rods come in stiff and extra stiff versions. The FMX Keiryu ZPRO is soft enough to protect tippets as light as 10X. That said, the rod is also rated for 6X tippets and has enough muscle to handle nice fish.
Suntech rods are known for being very high quality. Most also tend to be a bit more tip flex than many other rods out there. The Keiryu ZPRO is the high quality people have come to expect from Suntech, but it is not a tip flex rod!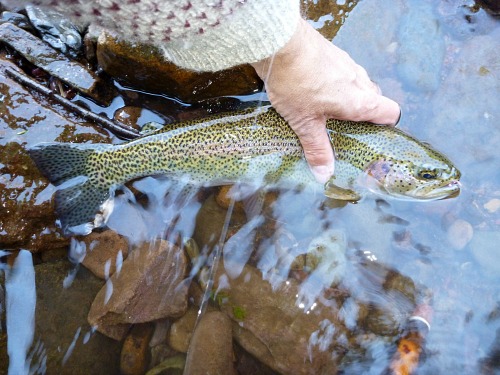 Soft Rods Protect Light Tippets

I really like the slow, smooth cast of a long, soft rod. It may surprise people, but a long, soft rod is really quite effective at tiring a good sized fish, while at the same time protecting light tippets. So far, I have caught several 16-17" fish with a 7X tippet without any problem. I've also had a couple break off with 8X, though, so there are limits. I don't know how big the fish were - I never saw either one and the breaks came very quickly.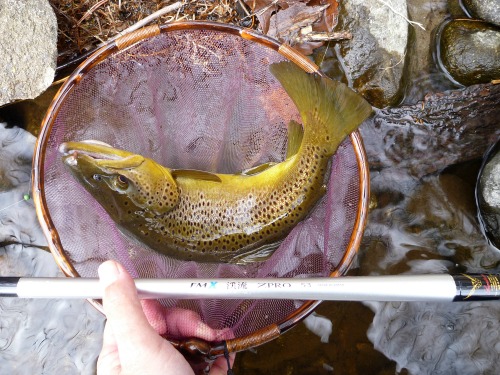 17 incher on 7X
Lest anyone think that with the light tippet you have to play a fish to death, that is just not the case. The 7X tippet is plenty strong enough to put pressure on the fish and land it quickly. The soft rod just provides sufficient cushion that there are no quick jerks to break the tippet. With 8X, a large fish will break the tippet on its first run, so it will get almost no stress at all. If you can stop the first run there is no reason to go easy on it. Although the rod is rated for 10X tippet, I would use 10X only when I didn't expect to catch anything over about 7" anyway.

The Suntech FMX Keiryu ZPRO will cast a size 3 tenkara line nicely, with either an unweighted fly or a lightly weighted nymph. It also does very nicely with a single BB shot and very light keiryu line - or a tungsten bead head nymph and a light keiryu line. Even though the rod is very soft, it is long enough that when you raise the rod to set the hook you move enough line to get a good hook set, even when fishing with a BB shot several feet deep.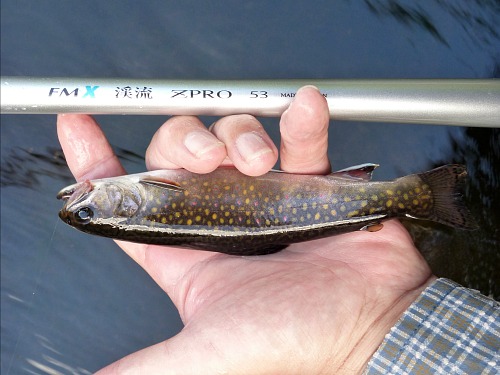 The 7 inchers are fun, too
Suntech FMX Keiryu ZPRO and Worm Fishing

I found out that it also does quite nicely for ultralight worm fishing. Basically, ultralight worm fishing uses a soft rod, a very light tenkara line, a very light tippet, a small hook and a red wiggler. Use no split shot in a shallow stream and no more than a pair of #10 shot for knee deep water. With a soft rod and a smooth cast, you can cast the unweighted worm quite nicely and it won't come off the hook.

I shouldn't say I "discovered" the technique. People have been fishing worms with fly rods for about as long a there have been fly rods. Several of the classic 19th century fly fishing books covered worm fishing as well as fly fishing, including The Practical Angler, wherein WC Stewart in 1857 wrote "Fishing with a worm is not usually held in such high estimation as it deserves; a circumstance entirely owing to its being but imperfectly understood."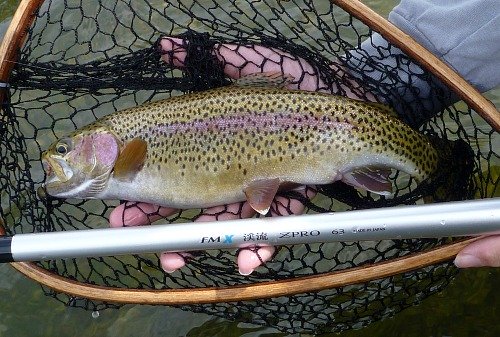 Stewart also maintains that "The rod should be at least four feet longer than that used for fly. A double-handed rod should be used on all occasions, and in all waters, whether large or small." Four feet longer than a tenkara rod pretty much gives you a 5.3m rod!

He also argues strongly against the use of split shot. It think it is pretty clear that I did not discover ultralight worm fishing. Reinvented the wheel perhaps, but WC was there a good 160 years ahead of me!
HC Cutcliffe is known primarily for his stiff-hackled wet flies, which he fished in small, rapid streams with a 12 to 14 foot rod (sounds a lot like tenkara, doesn't it). In his The Art Of Trout Fishing on Rapid Streams published in 1863, he stated that he usually started fishing with a worm, switching to flies only when and if the worm stopped working. He also wrote "I could not consider any man a perfect disciple of our art, if he were not a good worm fisherman." Cutcliffe recommended no split shot when the water is low and two to four small shot if the water is high and very rapid.

In any event, on my first try with the Suntech FMX Keiryu ZPRO I ended up catching several small brookies and salmon parr, and a slightly larger rainbow using the technique. That is one other benefit of a long soft rod. Even though it can tame much larger fish, very modest fish still put a good bend in it and are a lot of fun to catch.
And for those anglers who wouldn't even think of fishing with a real worm, the technique also works nicely with a Pink Chenille Worm or an Overhand Worm. The chenille worm will not sink as fast as a real worm, so you may wish to use a single #10 shot (at minimum), although I have caught a number of fish without shot.
The rod also does very nicely with a Killer Bug or a kebari. It has the length to keep a lot of line off the water, it is soft enough to fish a light line, it is light enough to fish with all day without getting tired, and every single fish will put a smile on your face.
I have not yet fished it with Charles Cotton's horsehair line, but it is the length rod he fished, and I think it would do well protecting his "two hairs next to the hook." I am pretty sure any of his flies would do very well with the rod. Something to look forward to!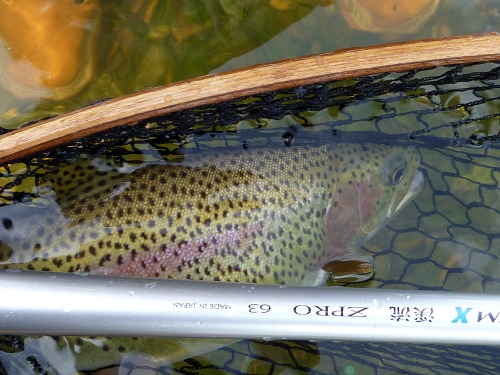 Suntech FMX Keiryu ZPRO Stats

---



Length extended
Length collapsed
Weight with tip cap
Weight without cap
Sections
Tip Diameter
Grip Diameter
Tippet rating
% Carbon
Pennies
FMX Keiryu
ZPRO 53

17' 6"
22.75"
3.4 oz
3.0 oz
11
.65mm
21.8mm
10X - 6X
99%
16

FMX Keiryu
ZPRO 63

20' 8"
22.75"
4.7 oz
4.2 oz
13
.65mm
22.9mm
10X - 6X
99%
Too long to measure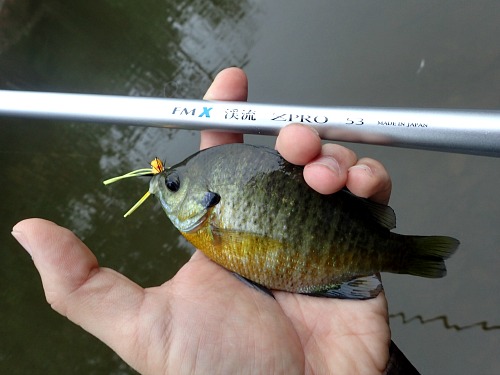 And as Robert D can tell you, they're a lot of fun for bluegills! He did suggest, though, that the rod casts a kebari a lot better than a popper.

---
Shipping
Domestic shipping is between $10 and $15, depending on package weight and destination, via USPS Ground Advantage (2-5 day delivery).

Please note: All packages are shipped via USPS. If you have a PO Box, please list ONLY the PO Box in your address, not the PO Box and your street address.
If you live in an apartment, please put the apartment number in the same box as the street address (as in 123 Main St. Apt 45).
Please do not put anything in the box for "Company" if it isn't absolutely necessary. Not "self", not "none" not "--". It wastes your time to put it in and it wastes my time to take it back out. Please just leave it blank.

International Shipments

International purchases may be subject to import duties and taxes. I cannot keep track of all import regulations in all countries written in all languages. Understanding and paying import duties and taxes is the responsibility of the buyer.
EU
TenkaraBum.com no longer ships to the EU.

Russia
TenkaraBum.com no longer ships to Russia.

UK

TenkaraBum.com no longer ships to the UK. The new VAT regulations are too onerous for a one-man shop that rarely ships anything to the UK anyway. I apologize. 

TenkaraBum Home > Rods > Suntech Keiryu ZPRO

---
"The bitterness of poor quality remains long after the sweetness of low price is forgotten" - Benjamin Franklin
"Be sure in casting, that your fly fall first into the water, for if the line fall first, it scares or frightens the fish..." -
Col. Robert Venables 1662
As age slows my pace, I will become more like the heron.

---
Warning:
The hooks are sharp.
The coffee's hot.
The fish are slippery when wet.
Beware of the Dogma

---