Trip Report - 4-28-18
You have to go exploring. If you don't, you'll end up fishing in the same places all the time. That may not be exactly boring, but it is more interesting to find new places to fish - even if they don't always yield "many" days.

A couple weeks ago, the guy I go to Maine with on my smallmouth bass fishing vacations gave me a tour of some of the nearby streams that he knows but which I had never fished. He used to be a rural mail carrier, and knows all the little streams all over the area - some of which you wouldn't even notice - but unfortunately most of which are entirely on private land.
The streams were decidedly suburban.
I went to three of them on Saturday. All three are distinctly suburban streams, and you are always fishing within the sight of houses. All three have very short sections that are on public land. I know that two of them get stocked - but that didn't help me any on Saturday.
I hadn't fished the Suntech GMR Special 36NP for a while, certainly not since writing the Ultralight Worm Fishing page and the Seiryu Rods for Keiryu Fishing page. I was pretty sure the rod would work well for keiryu fishing because the soft tip would let the fish take enough line to make the markers dip without feeling much tension from the rod tip. At just under 12', the rod is plenty long enough for tenkara fishing, which I'm sure is how must buyers have used it, but is suitable for keiryu fishing only on pretty small streams. Two of the streams I fished Saturday were small enough though, so I definitely wanted to give it a go.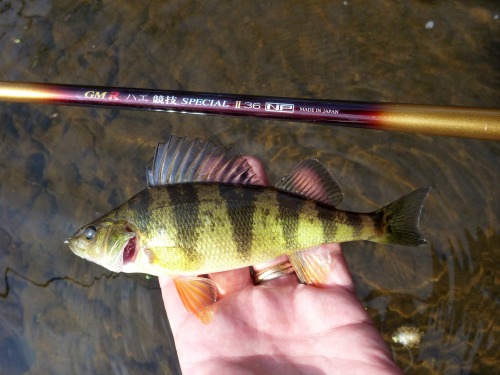 My explorations yielded only this yellow perch.
With only one fish, I can't definitively say the test was a success. The perch hit as I was lifting up to make a new cast so I felt the take in addition to seeing it.

I wasn't sure if the firm midsection was too firm for Ultralight Worm Fishing  but I needn't have worried. It worked fine and I never ripped the worm off the hook when making a cast. Although I didn't catch any fish, the primary question was with respect to casting rather than tip flex and strike detection. In Ultralight Worm Fishing, the slight sag in the tenkara line provides sufficient slack for the fish to hit without feeling tension. The straightening of the line gives positive indication of a either a strike or a rock, but an unweighted worm rarely gets caught on rocks. Unfortunately, on Saturday the line sag rarely disappeared, and never because of a fish.

Nightmare Kebari - inspired by the Daiwa Vega Nightmare spoon.
On the second of the three streams, I tested a new fly, a Nightmare Kebari. The orange and black pattern was inspired by the Daiwa Vega Nightmare spoons (black with orange dots), which have been extremely effective. I had wondered if the pulsing of a kebari would act like the wobbling of a spoon and cause fish to chase it and attack it repeatedly until they got hooked. Uh, not on Saturday. I can't say if they would have chased a Nightmare spoon because even though I brought a spinning rod I forgot my reel (#problemstenkaraanglersdonthave).
I was reluctantly forced to conclude that pulsing a kebari is really a lot more like pulsing a Minimal Dace bucktail or stripping a streamer. I have seen fish hit a kebari or a Minimal Dace, but I have never seen four fish chase one, or seen one follow all it all the way to my feet, or seen one slash at it repeatedly until it got hooked - all of which I have seen when fishing spoons. I guess there is something about the action and/or flash of a spoon that a pulsed kebari cannot mimic. Pulsing a kebari might draw reaction strikes, but the reaction is pretty clearly muted compared to the reaction seen when fishing a spoon.
I'm sure I will fish the Nightmare Kebari again - although I'm not sure I will tie more of them. That depends on how well they do before I lose them to snags.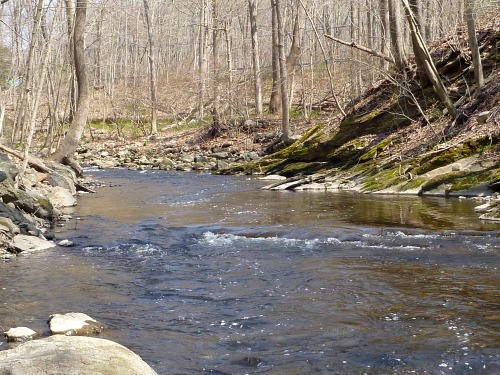 A pretty stream with only a short, poorly marked section on public land.
The third stream is pretty. There is a small section on public land, but the only indication is a small sign set a ways in from the boundary. I'd bet most people who drive past have no idea that it isn't private. That said, I doubt I'll go back. There was a pretty good caddis hatch when I was there, but I did not see one rise the whole time. I saw what may have been a fish once. I didn't get a single hit. It is a relatively short stretch of stream, and to get there I'd have to drive right past a stream that has almost always yielded multiple fish. I have always wondered about all the water we drive past to get to the places we fish. Next time I'll stop instead of driving past.
After being almost skunked on my explorations, I decided to go to a stream that usually produces for me. The water was a bit high, which allowed me to fish a bit closer than I normally do there, and which provided a great test-bed for the TenkaraBum 33. Since introducing the TenkaraBum 33 and TenkaraBum 40, I have fished with the 40 a lot more than the 33.
I have added a bit to my page on the TenkaraBum 33, including a brief section on what I now think I should have named the rod instead of the TenkaraBum 33. Over the last year or two, I have changed my views on what makes a good nymphing rod. Initially, I had thought a stiffer rod, like the Daiwa Kiyose 33SF, since replaced by the Daiwa Keiryu-X 33, was an ideal nymphing rod because it is so effective at getting hook sets when fishing deep or fast water with heavy nymphs. Now, I think it may be too stiff, and that fish react to tension on the line (caused by a stiff rod tip) much more than I had previously believed.
Fast water rainbow.
The TenkaraBum 33 has a stiffer midsection than most tenkara rods, but a softer tip than the Keiryu-X 33. I think that makes it a better nymphing rod than the Keiryu-X rods. On Saturday, it performed flawlessly. The water was higher and faster than normal. Since the water was deeper, slightly off color and the surface was broken, I could fish close in. That allowed a good test for fishing with a short, tight line.
I fished with a keiryu line consisting of some TenkaraBum Tactical Nymphing Sighter .008 as a tenjo line, 5X tippet for the main line and 6X tippet for the lowest section. The Tactical Nymphing Sighter .008 is the same diameter as the Suntech Tenjo 1.5 line. The background was always trees rather than sky, so the Tactical Nymphing Sighter was extremely visible. Since the line was so short, from rod tip to hook only just past the top of the grip section, I used only two yarn markers. A Dinsmore BB shot got down to where the fish were and provided the weight necessary to cast.

With the TenkaraBum 33, which is a short rod compared to keiryu rods, it was easy to keep the lowest marker just an inch or so above the surface. There was no mistaking the takes. There was no problem with hook sets.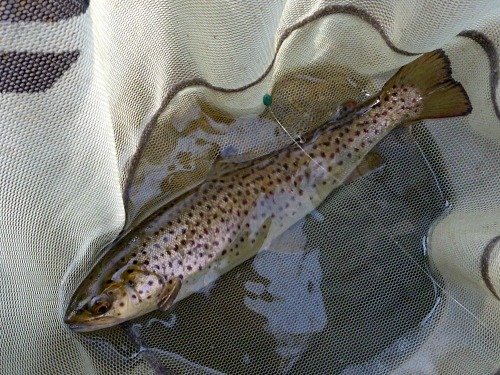 Deep water brown.
Had the water been shallower I would have had to fish further away, in which case a longer line consisting of a size 4 tenkara line or a 3.3 meter Nissin PALS line or a 3.3 meter Fujino Soft or White tapered line, plus 3.5-4' of tippet (and less weight) would have worked well. This brown was caught in water deep enough that the only way to fish it effectively was with substantial weight and with the tippet essentially straight down rather than angled out. If you are fishing deep you will do better with a keiryu line than with a tenkara line.
If you fish streams that are too narrow for the TenkaraBum 36 or 40, or are deep enough that you can fish close, and if you want to fish weighted nymphs, I'd say the TenkaraBum 33 has proven itself.

---
TenkaraBum Home > Trip Reports > Trip Report  4-28-18

---
"The bitterness of poor quality remains long after the sweetness of low price is forgotten" - Benjamin Franklin
"Be sure in casting, that your fly fall first into the water, for if the line fall first, it scares or frightens the fish..." -
Col. Robert Venables 1662
As age slows my pace, I will become more like the heron.

---
Warning:
The hooks are sharp.
The coffee's hot.
The fish are slippery when wet.
Beware of the Dogma

---