Fujino Tapered Lines

Fujino Tapered Lines: Tenkara Midi, Midi Soft, Soft Tenkara and White Tenkara lines are hi-vis tapered nylon lines produced by Fujino in Japan. They cast nicely and settle to the water softly. Fujino also makes Soft Tenkara Long Type lines for those who fish honryu tenkara, or for those who fish with a shorter line but use a long line for casting practice.

Conceptually, the Fujino tapered lines are similar to the knotless tapered nylon leaders that fly fishermen have used for decades. There are a few significant differences, though. The most obvious is the color. The Midi and Midi Soft are fluorescent green. The Soft Tenkara is fluorescent orange and the White Tenkara is a milky white. They are produced in lengths ranging from 3 to 5 meters and they are formulated to turn over well when cast with a tenkara rod.

Tenkara Midi
The fluorescent green Midi line, which was the first line in the series, tapers from Japanese line size 10 down to size 3. The three "Soft" lines, which include the fluorescent orange "Soft Tenkara," the milky white "White Tenkara" and the fluorescent green "Midi Soft" all taper from size 8 down to size 3.

I've written a lot about nylon's big disadvantage, which is it's low density relative to fluorocarbon. It's big advantage, though, is that it takes dye really well so you can get bright colors. The Tenkara Midi, Soft Tenkara and Midi Soft lines are BRIGHT. I mean they are REALLY BRIGHT. They just pop.
I have to say that the green Midi can get lost against a green background, as indicated in the top part of the photo to the left. Against the water, though, it is extremely visible. That is perhaps the biggest advantage to fluorescent orange lines. They are incredibly bright and don't blend into any background.
For anglers who are concerned that the brightly colored lines will scare the fish, Fujino has introduced the White Tenkara line. The line is a milky white translucent line that is certainly visible enough except when looking directly into glare. It should be extremely stealthy, because it will be very hard for a fish to see the translucent white line against the sky - even on a clear day but especially on an overcast day.

While brighter color is a definite advantage that nylon has over fluorocarbon, its lower density is a definite disadvantage. Nylon just doesn't cast as well as fluorocarbon if you have to cast into any breeze at all. The taper that is built into the Fujino lines definitely helps their casting qualities.
The lower density actually does have redeeming features, though. The lighter weight of nylon makes it easier to hold off the water than fluorocarbon. Some of the tenkara anglers moving to longer lines are using the 4.5m Midi line and 5m Soft line with their 3.6 and 4m rods, respectively.

Despite being tapered lines, I found them to cast better with softer rods than with the stiffer "LT" rods. For most tenkara rods they will be fine, though.

Tight loop with Fujino's White Tenkara line.
When I took the White Tenkara line out for the first time I decided I really liked it. It had been a while since I had fished with either the Midi or the Soft lines, and I was actually a bit surprised at how well the Fujino White Tenkara line casts. Although it is not nearly as bright as sthe Midi or Soft lines, it is definitely visible enough. I didn't fish it in late evening or deep shade, when the bright orange Soft Tenkara would be a better choice. The White line is a lot more stealthy, though. With the sky as a background, the White line should be almost invisible to the fish.

The lines come pretty much just like a knotless tapered leader. The tippet end of the line is just a plain end, and the first thing I would do is tie a figure 8 knot in the end of it so that the tippet can be attached the same way it is attached to a level line.
Tenkara Midi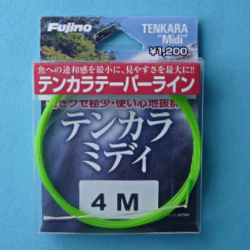 Fujino Tenkara Midi 3.5m
(fluorescent green) - $15.50
---
Fujino Tenkara Midi 4m
(fluorescent green) - $15.50
---
Fujino Tenkara Midi 4.5m
(fluorescent green) - $15.50
---
Tenkara Soft
Fujino Tenkara Soft 3.3m
(fluorescent orange) - $15.50
---
Fujino Tenkara Soft 3.6m
(fluorescent orange) - $15.50
---
Fujino Tenkara Soft 4m
(fluorescent orange) - $15.50
---
Fujino Tenkara Soft 5m
(fluorescent orange) - $15.50
---
White Tenkara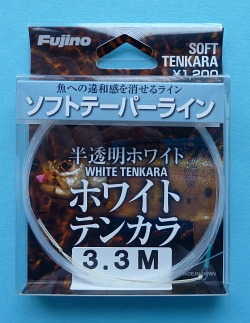 Fujino White 3.0m - $15.50
---
Fujino White 3.3m - $15.50
---
Fujino White 3.6m - $15.50
---
Fujino White 4.0m - $15.50
---
Shipping
Domestic shipping is $4, via USPS First Class Mail (unless ordered with an item that must go via Priority Mail, and which has a higher shipping charge). The charge is added to your order automatically.
Please note: All packages are shipped via USPS. If you have a PO Box, please list ONLY the PO Box in your address, not the PO Box and your street address.
The charge for international shipping depends on the destination country, the weight of the package, the overall length of the package and the value of the package.
Import Duties and Taxes

International purchases may be subject to import duties and taxes. I cannot keep track of all import regulations in all countries written in all languages. Understanding and paying import duties and taxes is the responsibility of the buyer.
TenkaraBum Home > Tenkara Lines > Tenkara Midi
---
"The bitterness of poor quality remains long after the sweetness of low price is forgotten" - Benjamin Franklin
"Be sure in casting, that your fly fall first into the water, for if the line fall first, it scares or frightens the fish..." -
Col. Robert Venables 1662
As age slows my pace, I will become more like the heron.

---
Warning:
The hooks are sharp.
The coffee's hot.
The fish are slippery when wet.
Beware of the Dogma

---