Nissin PALS Orange

The Nissin PALS Orange tenkara line is similar to the Nissin PALS SP Pro twisted fluorocarbon line. It is a tapered, twisted multifilament line, but instead of clear fluorocarbon it is made from very hi-vis orange nylon. It doesn't have the density of fluorocarbon, but it has all the other advantages of a tapered twisted multifilament line.
And, like the SP Pro line, this is a Fujiryu (Fuji style) Tenkara line, made by tenkara master Hiromichi Fuji.

Because of the taper (and the weight relative to level line) it casts very nicely. Because it is nylon, it weighs less and thus sags less than the fluorocarbon SP Pro. Because it is nylon, there is minimal water absorption so it doesn't get heavier as you fish, unlike a line made from thread.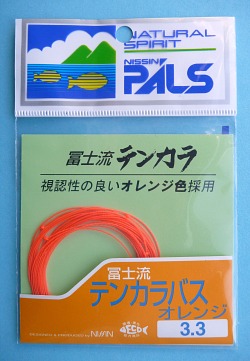 The Nissin PALS Orange nylon line shares the major advantage of the Fujino Midi and Soft tapered nylon tenkara lines: it is extremely visible.
Relative to the Fujino lines it has one big advantage and one big disadvantage. The advantage is that it is extremely easy to stretch out any residual coil memory for a perfectly straight, limp line. The disadvantage is that it will rebound and tangle when you have to break off a snag. It isn't hard to untangle it, but you have to do it.

The first lines I ever used with a fixed line rod were furled. I soon switched to level lines and have preferred them ever since. That said, I know that many people prefer furled lines.

The main reason I like level lines is that they are lighter and thus easier to hold off the water's surface. There is a trick that allows you to keep the Nissin PALS Orange nylon tenkara line off the surface, though. All you need to do is adopt my "long rod, short line" approach to tenkara. When fished with a 3.6m rod, the 3.3m line was quite easy to hold off the surface. With a 3.9m rod, the 3.6m line would be as well.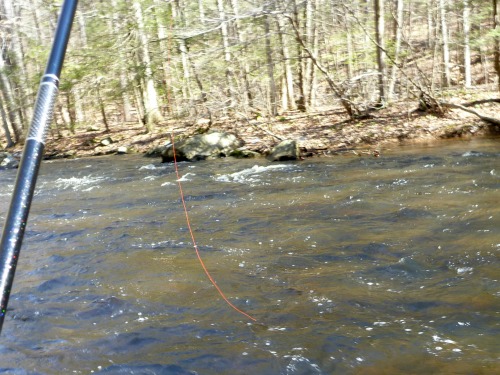 To date, I have fished the line only with the Suntech TenkaraBum 36, which seems to cast any line well. I do think the line will cast well with a wider range of rods than the Fujino lines, though, which do better with softer rods. Still, for stiffer rods like the Daiwa Kiyose or Suntech Genryuko, the Nissin PALS SP Pro would be a better choice.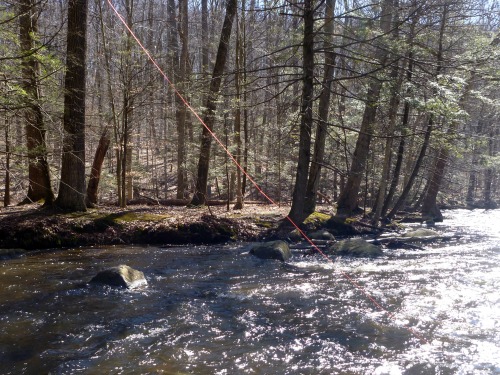 One of the biggest problems with most hi-vis lines is that they become very hard to see when looking directly into glare. The Nissin PALS Orange line is thick enough (and ORANGE enough) that even if you cannot see it right at the water's surface, you can easily see it higher up.
Twitches and hesitations are not quite as visible higher up the line, but you will still be able to see some strikes than you would not have been able to see with a thinner, less vibrant fluorocarbon line.
That goes for fishing late in the evening as well, after the sun has dipped below the hills. In low light conditions, even the brightest fluorocarbon lines become harder to see. The much thicker multifilament construction and much brighter color make the Nissin PALS Orange nylon line quite visible long after a thinner level line disappears. Thus, even tenkara anglers who prefer a level fluorocarbon will find times when this line is a better choice.
Nissin PALS Fuji Style Orange Nylon - $20.50
---
---
Shipping
Standard shipping is via USPS First Class mail.
A shipping/handling charge of $4 will be added to all orders.
If you live outside the US, you must add more postage unless the items on this page are mailed with a rod!
Please note: The buttons below only add the postage, they are not for the product AND the postage. You must click on the product button above also.

TenkaraBum.com does not sell to residents of Norway or any other county of the European Union or the European Economic Area.

---
Where do you live?


---

USA


Add this amount for shipping.


---

No additional postage required for First Class mail.
(Total charge $4)

---

Canada or Mexico


---

Additional $6 postage required. (Total charge $10)

---

Other Country


---

Additional $10 postage required. (Total charge $14)
---
---
Priority Mail Upgrade - U.S. Only

2-3 day shipping (U.S. only)
First Class should be just as fast for people living east of the Mississippi.
Do Not click if your order includes a rod, wader gaiters, 3x5 Photo Tank or Daiwa Keiryu Damo. They already go via Priority Mail.
Domestic Priority Mail Upgrade - Additional $4
---
---
Payment
Payment is processed by PayPal but you don't need to have a PayPal account. You can use your credit card.
---
TenkaraBum Home > Tenkara Lines > Nissin PALS Orange

---
"The bitterness of poor quality remains long after the sweetness of low price is forgotten" – Benjamin Franklin
"Study to be quiet." - Izaak Walton 1653

"Be sure in casting, that your fly fall first into the water, for if the line fall first, it scares or frightens the fish..." Col. Robert Venables 1662
As age slows my pace, I will become more like the heron.

---
Warning:
The hooks are sharp.
The coffee's hot.
The fish are slippery when wet.
Beware of the Dogma

---