Nissin PALS SP Pro
Nissin PALS SP Pro lines are tapered twisted fluorocarbon tenkara lines. The density and the taper work together to give pinpoint casts even in a bit of a breeze.
I'm sure by now everyone knows that I'm a level line guy and have not been a big fan of furled lines. Level lines are easier to hold off the surface, which to me is the essence of tenkara.
However, different people view tenkara differently and value different aspects of this gentle sport.

I find it interesting that as more American tenkara anglers visit Japan and are exposed to more Japanese tenkara anglers, the narrative has gradually changed from "this is tenkara" to "find your own tenkara."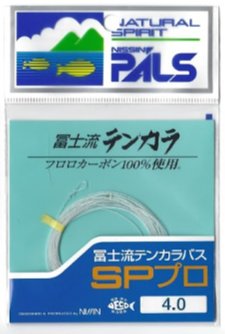 A lot of people here, finding their own tenkara, find they like furled lines. They cast extremely easily. They even cast pretty easily into a breeze. They seem to be a little more accurate, particularly when used with the stiffer rods, where you can put a bit more punch into your cast.
The twisted fluorocarbon lines will work very well with the Daiwa Expert LT rods, the Suntech Genryuko or Sawanobori Cho Kotsugi or the Nissin Air Stage Fujiryu 6:4 rods. With a longer tippet or level fluorocarbon extension, the Nissin PALS SP Pro 4.5m line will do quite nicely with the Nissin Flying Dragon carp rods.
The shorter ones will do nicely with the Daiwa Keiryu-X rods.
To use the PALS SP Pro line you need to have a knot in the end of your lillian. The line has a unique attachment method. 1. There is a small loop with a red thread tied around it. 2. Insert the lillian through the small loop, between the red thread and the end of the loop. 3. Slide the red thread so that it is tight against the lillian. 4. Slide the loop down to the knot in your lillian. The connection is very secure. Make sure you do not bend the rod tip to the side when you are attaching or removing the line.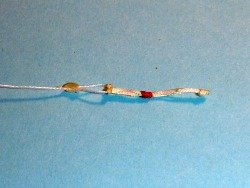 1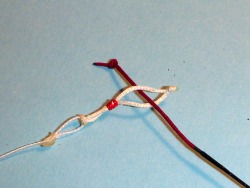 2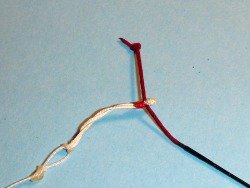 3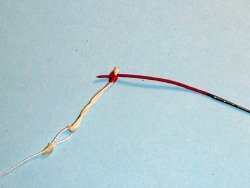 4
---
None in stock. None expected.

TenkaraBum Home > Tenkara Lines > Nissin PALS SP Pro

---
"The bitterness of poor quality remains long after the sweetness of low price is forgotten" - Benjamin Franklin
"Be sure in casting, that your fly fall first into the water, for if the line fall first, it scares or frightens the fish..." -
Col. Robert Venables 1662
As age slows my pace, I will become more like the heron.

---
Warning:
The hooks are sharp.
The coffee's hot.
The fish are slippery when wet.
Beware of the Dogma

---