Dinsmores Split Shot
Split shot is needed for keiryu fishing. I've chosen to carry Dinsmores Split Shot because it is available in the sizes that are appropriate for keiryu fishing, is available in tin rather than lead,  and it comes in convenient dispensers.
In tenkara fishing, anglers cast the weight of the line and the nearly weightless fly goes along for the ride. In keiryu fishing, anglers cast the weight of the split shot (and to a lesser extent, the weight of the bait) and the nearly weightless line goes along for the ride. The weight also takes the bait down to drift along the bottom, where larger fish are more likely to feed.

In the US, I suspect that many anglers using keiryu rods will fish with flies rather than bait, but if they want to use the light lines that are used in keiryu fishing, they will have to use weighted flies or split shot. For that matter, even anglers who fish with a tenkara rod and line or a fly rod and line, if they want to get the fly down near the bottom reliably, they'll have to use weight (not all pools are plunge pools). If you tie your own flies, it is easy to add weight. If you don't you may need a package or two of Dinsmores split shot.

---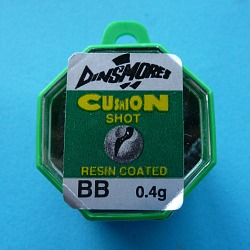 Although you will probably want to match the amount of weight used to both current and depth, one BB shot is a good place to start. It will provide sufficient weight to cast the light line used in keiryu fishing.
Dinsmores Split Shot (BB) - $10.00
---
For shallow water or slow currents, a single size 6 shot may be sufficient to get your bait or fly down. Using a single size 6 shot is a bit stealthier, and a pair of size 6 shot, several inches apart, are less likely to get stuck between rocks than a single BB shot.
Dinsmores Split Shot (#6) - $10.00
---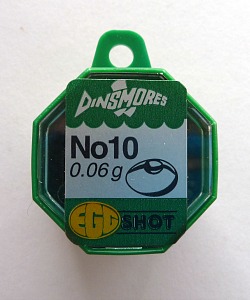 Dinsmores #10 shot is ideal for micro fishing, where you want a little weight to get the bait down, but you don't need much. I've also found that a single #10 shot may be enough when fishing with an Overhand Worm in a shallow stream. If fishing with a real worm and a tenkara or seiryu rod, as I wrote about in Ultralight Worm Fishing, a couple #10 shot, maybe 6" and 10" above the hook may be sufficient to get your worm down in knee deep water, and still let it drift quite naturally.
Dinsmores Split Shot (#10) - $11.00
---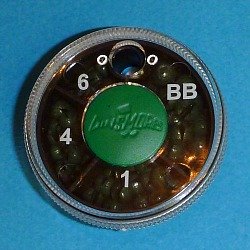 The Dinsmores Split Shot D4A Four Pack contains four different sizes of shot so you can match the weight to the current and depth. Each pack has environmentally-friendly lead-free shot in  6, 4, 1, BB sizes.

The four sizes will cover you for keiryu fishing. When using a light keiryu line, size 6 is about right for shallow streams, up to BB for deep water. For very heavy current, two BB shot will get the hook down to the strike zone.
Dinsmores Split Shot D4A Four Pack - $10.00
---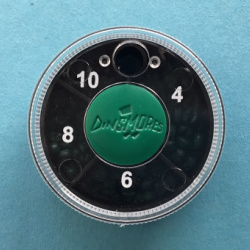 The Dinsmores Split Shot D4B Four Pack would be a better choice for micro fishing or Ultralight Worm Fishing. The D4B pack pack has lead-free shot in  10, 8, 6, and 4 sizes.

Dinsmores Split Shot D4B Four Pack - $10.00
---
Shipping
Domestic shipping is via USPS First Class Mail (unless ordered with an item that must go via Priority Mail, and which has a higher shipping charge). Rates are $4.00 for packages that weigh under 8 ounces and $6.50 for packages that weigh over 8 ounces. The charge is added to your order automatically.
Please note: All packages are shipped via USPS. If you have a PO Box, please list ONLY the PO Box in your address, not the PO Box and your street address.
The charge for international shipping depends on the destination country, the weight of the package, the overall length of the package and the value of the package.
International shipments

International purchases may be subject to import duties and taxes. I cannot keep track of all import regulations in all countries written in all languages. Understanding and paying import duties and taxes is the responsibility of the buyer.
Russia
TenkaraBum.com no longer ships to Russia.

UK

TenkaraBum.com no longer ships to the UK. The new VAT regulations are too onerous for a one-man shop that rarely ships anything to the UK anyway. I apologize.

TenkaraBum Home > Keiryu Accessories > Split Shot

---
"The bitterness of poor quality remains long after the sweetness of low price is forgotten" - Benjamin Franklin
"Be sure in casting, that your fly fall first into the water, for if the line fall first, it scares or frightens the fish..." -
Col. Robert Venables 1662
As age slows my pace, I will become more like the heron.

---
Warning:
The hooks are sharp.
The coffee's hot.
The fish are slippery when wet.
Beware of the Dogma

---