Tenkarabum Store - Fly Boxes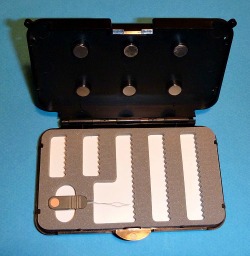 C & F Chest Patch Threader
The C & F Chest Patch Threader (CFA-50/THR) holds your flies securely in foam slits. Lots of fly boxes do that. What others don't do, though, is provide sufficient ventilation for the flies to dry properly. The C and F Chest Patch Threader has open ends, allowing flow-through ventilation. You can clip it to a D ring on your vest or use the pin on the back to attach it directly to your shirt or sling. The included Midge sized threader is a big help for any fly (other than those tied on Wide Eyed™ Hooks!).

C & F Chest Patch Threader - $38.50
---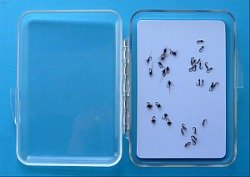 Magnetic Midge Box
The problem with midge flies is that they are so darn SMALL! Us fat fingered folks have a hard time getting one out of fly boxes that have the slit foam, and a very hard time getting just one out of fly boxes that have compartments. This box solves that problem. There is one large compartment and your flies are held in place by a powerful magnet. You can spread them out so that it is easy to pick up just one at a time. With the bright white background, you can even see the little buggers. The box measures 4 3/8" by 3 3/8" by 3/4" so it fits in your pocket easily. It will hold more midges than you need. (Flies not included.)
Magnetic Midge Box - $7.00
---
Minimalist Fly Box (flies not included)
The minimalist fly box measures about 2 1/4" x 3 3/8" x 7/8" and will hold three dozen tenkara flies. Easily fits in your pocket and has a loop for a lanyard. Weighs .7 ounce. More info...
Minimalist Fly Box - $2.00
---
Shipping
Domestic shipping is $4, via USPS First Class Mail (unless ordered with an item that must go via Priority Mail, and which has a higher shipping charge). The charge is added to your order automatically.
Please note: All packages are shipped via USPS. If you have a PO Box, please list ONLY the PO Box in your address, not the PO Box and your street address.
The charge for international shipping depends on the destination country, the weight of the package, the overall length of the package and the value of the package.
Import Duties and Taxes

International purchases may be subject to import duties and taxes. I cannot keep track of all import regulations in all countries written in all languages. Understanding and paying import duties and taxes is the responsibility of the buyer.
---
TenkaraBum Home > TenkaraBum Store > TenkaraBum Store - Fly Boxes

---
"The bitterness of poor quality remains long after the sweetness of low price is forgotten" - Benjamin Franklin
"Be sure in casting, that your fly fall first into the water, for if the line fall first, it scares or frightens the fish..." -
Col. Robert Venables 1662
As age slows my pace, I will become more like the heron.

---
Warning:
The hooks are sharp.
The coffee's hot.
The fish are slippery when wet.
Beware of the Dogma

---