Trip Report April 5-6

On April 5 I participated in a fly tying demo at the Catskill Fly Fishing Center and Museum, followed by a little fishing and camaraderie that evening and more fishing the next day.

A fly tying demo is an opportunity to teach and an even better opportunity to learn. If you ever get the chance to participate on one by all means do it. This demo was not quite as well attended as I had anticipated, but that left lots of time to show some techniques to fellow tiers.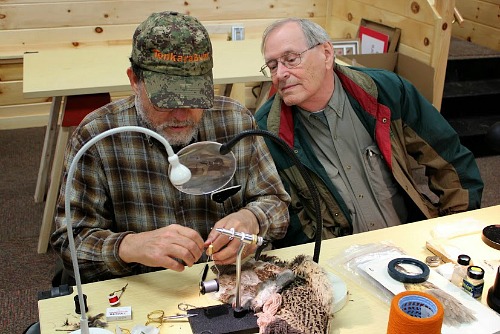 Photo copyright Ray Tucker

There aren't many things I can show Bill Shuck that he doesn't already know, but preparing a feather so it automatically gives you an ideal Sakasa Kebari slant is one.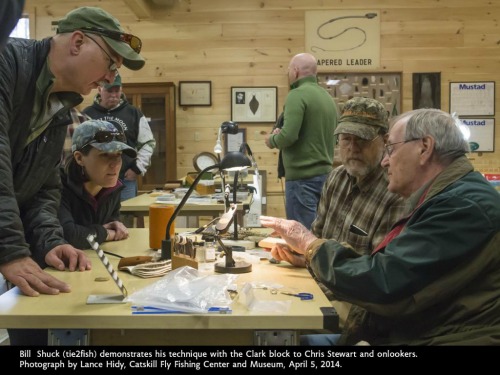 Photo copyright Lance Hidy

Bill then showed a few of us how he uses a Clark block to prepare the the spun fur and silk bodies that are the key feature of Flymphs, a type of fly that represents the stage between a fly and a nymph. The term "flymph" was coined by Vernon S. "Pete" Hidy (Lance's father) in the early 60's and was popularized in the 1971 Art of Tying the Wet Fly and Fishing the Flymph by Jim Leisenring and Vernon S. Hidy.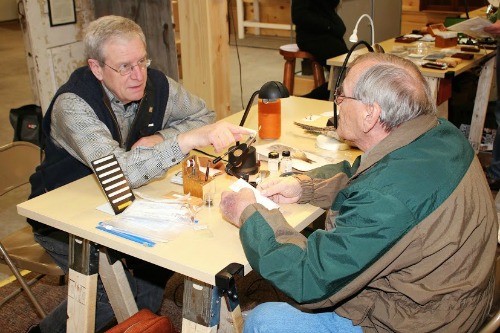 Lance Hidy and Bill Shuck discussing the finer points of Flymphs.
Photo Copyright Ray Tucker

After the tying demo on Saturday, a few of us hit the Willowemoc for a little while. We would have fished longer but it was cold - about as cold as I've ever experienced while fishing. Fishing was not stellar - in fact three anglers only managed to put one fish in a net (Ray Tucker on a Christmas present tenkara rod).
The following morning we hit one of the other streams in the area (and it was even colder - twenty eight degrees). Luckily, the water was much shallower, so only my feet got cold, not my whole legs. Of course, if you kneel in the water to lower your profile, your legs get cold anyway.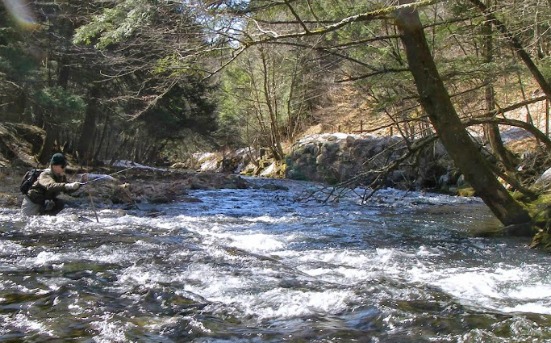 Photo copyright Ray Tucker

I found another use for my wading staff after fishing that little hole under the tree. After a winter of inactivity, and after kneeling in the frigid water for more than a little while, without the staff I might not have been able to get back up.
As shown in the photo above, for part of its length the stream runs right along a road and there is a high bank - in some spots even a retaining wall. One spot with just such a retaining wall proved to be the most productive of the day, with both Ray and I taking fish there. What was unique about that spot was that it was on the outside of a bend, so water piled up against the wall, and also over the years had deepened the channel right beside the wall. The opposite bank was protected by low tree limbs extending out over the water. The combination of fast, deep water and low branches made the spot very difficult to fish. If a spot is hard to fish, it probably doesn't get fished much and very probably holds nice fish.

Ray figured out the secret, which was essentially suspending a heavy nymph straight down from the rod tip and walking along the high bank to keep the line vertical (and thus perfectly drag free). He hooked a very nice fish that way, which I had to net for him because he couldn't get down to the water and the fish was much too large to pull up to his level.
After we rested the run a bit I took a turn and also hooked a nice fish (not as nice as Ray's though). Ray had to net it for me.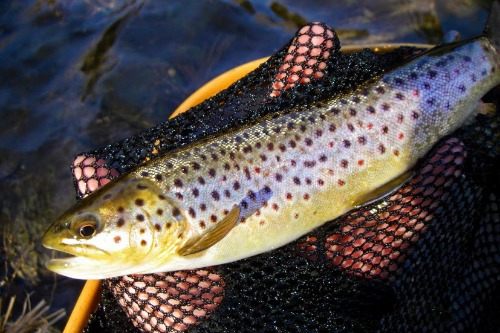 Photo copyright Ray Tucker

This style of fishing is the ultimate in stealth. There is no way the fish, tight against the wall, could see us. Where we were walking, we couldn't see the water - even along the other bank. I walked just fast enough to keep the line perfectly vertical, and struck when the rod tip dipped. It worked like a charm.
That vertical line, not at all subject to current differentials, is what I have been driving at with respect to using a very long keiryu rod with a short line rather than a shorter tenkara rod and longer line. I haven't done it enough to say without doubt that it is a more productive approach, but it certainly seems like it should be.

---
TenkaraBum Home > Trip Reports > Trip Report April 5-6

---
"The bitterness of poor quality remains long after the sweetness of low price is forgotten" - Benjamin Franklin
"Be sure in casting, that your fly fall first into the water, for if the line fall first, it scares or frightens the fish..." -
Col. Robert Venables 1662
As age slows my pace, I will become more like the heron.

---
Warning:
The hooks are sharp.
The coffee's hot.
The fish are slippery when wet.
Beware of the Dogma

---