Trip Report 10-25-15
Many, many in Mass.

It wasn't one many, many day, it was a many day followed by another many day. Put together, it was one very nice weekend.
Three good friends who often fish together asked me to come fish with them on the East Branch of the Westfield and on the Swift River in Massachusetts last weekend. I had not met them before and I had not fished either of the rivers, so the whole weekend was a new experience.
I had planned to fish with tiny flies, as the Swift River in particular is known for the small stuff (it's the flies that are small, the fish are large). Also, one of my three hosts, Ken Elmer, is a master at it. (As an aside, I am often asked if I guide or if I know any guides in the New York / New England region. I don't guide but Ken does. He knows the rivers like the back of his hand, and guides tenkara as well as Western fly fishing. His website is Millers, Swift and EB Fly Fishing Forum.)
I have to confess that although I did fish some size 26 flies for a while, nearly all the fish I caught all weekend were on the Overhand Worm. I have been playing around with different hooks for the fly, and found one that I really like. The Wide-Eyed Hooks™ have an unusual bend, but the shape keeps the chenille away from the hook point and keeps the bend open. I seemed to hook more and miss fewer fish than with other hooks.

My largest trout to date.
I also managed to catch the largest trout I've caught to date while fixed line fishing (hybrid of tenkara and keiryu using a Suntech Blue ZPRO 68 keiryu rod, a size 3 tenkara line, a BB shot and an Overhand Worm). At a measured 19.5", it gets a new notch cut in the wading staff.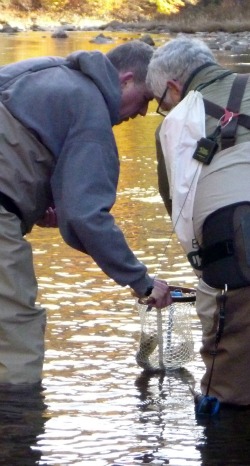 Nice fish!
Not long after that, Brad caught one that was about the same size.
Most of the fish we caught were not as large as those two. I would guess most were 10 to 12 inches. I saw one fish that was larger than the one I caught, and Brad hooked a fish on the Swift the next day that was much larger but it was gone after one pretty spectacular leap.
Actually, most of the fish we caught were in two spots on the outside of one bend. I suppose a combination of depth and current made those two spots ideal, but to my untrained eye they didn't look much more "fishy" than any of a hundred other places on the stream that looked like they'd hold fish.
The way I generally fish is to cast to just about every likely looking place (and some that don't look so likely). If I catch a fish it's worth a second cast to the same spot. If I catch another it's worth yet another cast. After the third or fourth fish out of essentially the same hole it registers that something I don't see or don't understand makes that a prime spot.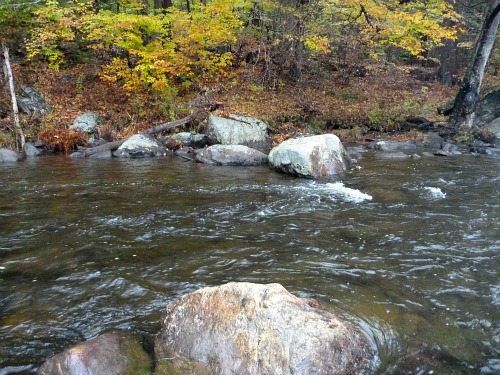 Yes, it looks good, but THAT good?
For the life of me, I don't know what is so special about the lie in the above photo. Just downstream of the whitewater is an area not much larger than a bathtub from which I caught seven fish and missed a few others.
About then, George came by, so I handed him my Suikei 44, rigged up with an Overhand Worm (which he had not yet tried), told him where I'd been catching fish, and told him the takes were extremely subtle. I think he caught a fish on his first cast and another a couple casts later. That was nine fish from one spot that truly was not much bigger than a bathtub. I would not have been at all surprised to take one fish there, or maybe even two, but nine?
Another thing that surprised me at least a little was that all the fish I caught in that stretch of river were caught fishing the Overhand Worm without split shot. Up until then I had always fished it with added weight, even if only a #10 shot (which is small enough for micro fishing).  Without weight, the Overhand Worm won't get as deep, but it may tumble along more naturally, which the fish might like better. I will tell you this: what I like better about fishing it unweighted is not getting snagged in the rocks!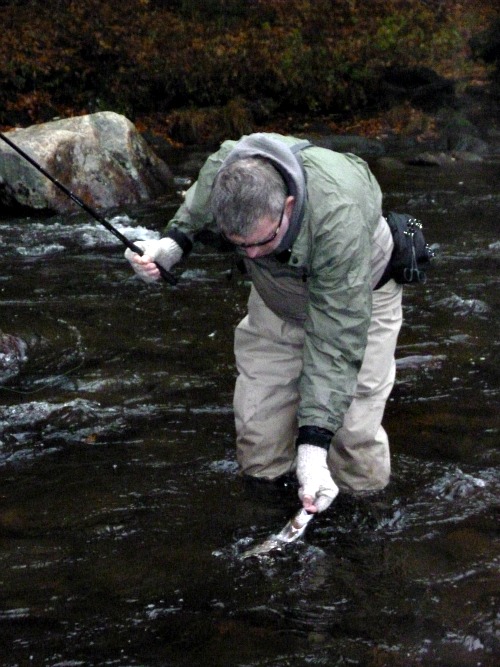 George with one of the nine.
Building on a comment Ken had made on his blog, happening on a pod of stocked fish does not make one a master, but I'll tell ya, it was fun while it lasted. There's a lesson to take away from it as well. Don't assume the one fish you've caught in a spot was the only one there.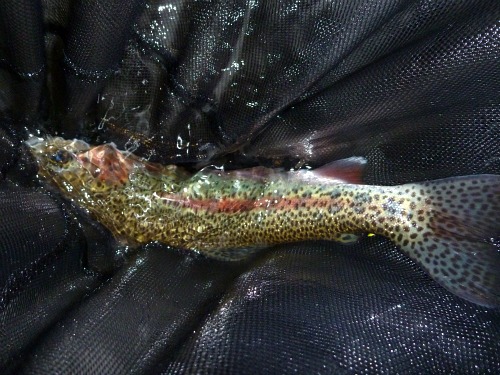 One of many for the weekend.
Of the two streams, the East Branch of the Westfield and the Swift, I'd have to say I liked the East Branch better. It has a lot more structure - rocks, riffles, bank eddies, pools - although I confess I only saw a small portion of the Swift. Plus of course, I caught lots of fish in the East Branch and only one in the Swift.
All in all, it was a great weekend. Meeting new friends and fishing new water is not at all bad. Doing it on an autumn weekend in New England is wonderful.

Brad on the East Branch in October.
---
TenkaraBum Home > Trip Reports > Trip Report 10-25-15

---
"The bitterness of poor quality remains long after the sweetness of low price is forgotten" - Benjamin Franklin
"Be sure in casting, that your fly fall first into the water, for if the line fall first, it scares or frightens the fish..." -
Col. Robert Venables 1662
As age slows my pace, I will become more like the heron.

---
Warning:
The hooks are sharp.
The coffee's hot.
The fish are slippery when wet.
Beware of the Dogma

---