Trip Report - 4-1-16
For New York to open its trout season on April 1 could be taken as the state's idea of an April Fools joke. Snow is in the forecast more often than you would expect.
I usually try to go fishing on Sundays. The Post Office is open on Saturdays so I can still mail packages. For opening weekend, though, the weather forecast suggested that Friday the 1st would be a much nicer day than either Saturday or Sunday. I decided to play hooky on Friday and go fishing on Opening Day for the first time in years.
My first stop was a stream in the NYC water supply system that I fish fairly frequently (and have written about frequently without ever naming). There's only a short stretch of stream between two reservoirs, and in that stretch, there are only two spots that I really like to fish. I don't want to cause any additional fishing pressure on those two spots.
When I arrived, there was one car there before me. I figured I had a chance that there was only one other person there already, and he might prefer a different spot on the stream. My hopes were up.
Ever since I had gotten the TenkaraBum 36 last winter, I had wanted to try it for small stream keiryu fishing. It does have a slightly firmer midsection than most tenkara rods, and it does very well with bead head nymphs or split shot. I have written that some keiryu rods dual purpose rods that work quite nicely for tenkara fishing. I wanted to see if in this case the reverse was also true.

When Dr. Ishigaki was in the Catskills in 2009, he said he liked tenkara because it is simple. Everyone's assumption is that tenkara is simple compared to western fly fishing. However, there is a very good chance that he meant tenkara was simple compared to keiryu fishing!
As usual, I had not fully rigged my keiryu line the night before, so I was rigging up in the parking lot. As I was doing so, a pickup truck rolled up, a couple guys jump out, pull spinning rods out of the truck bed and head towards the stream. A fully rigged tenkara angler could not have been any faster.
By the time I actually got to the stream, there were four guys fishing the one pool that is my favorite spot. Four! Even if I'd been rude, there just wasn't room for a fifth guy! I went directly to my second favorite spot.
When I got there, not only was there no one there, there were no footprints! I was the first one there.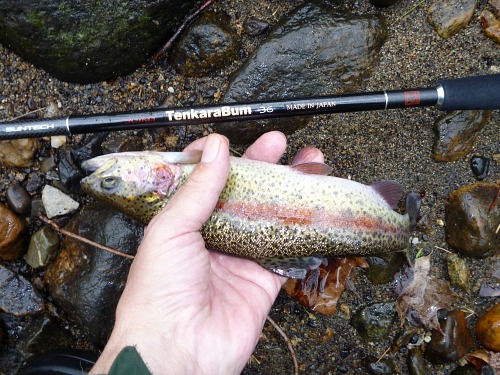 I didn't catch a fish on my first cast, but it certainly didn't take long. After two fish, I can say that the TenkaraBum 36 will work pretty well for keiryu fishing on a small stream, but the stream really does have to be pretty small. It works much better, and is much more versatile as a tenkara rod. The TenkaraBum 36 has the necessary backbone to get good hooksets but at 12' it really is a bit short for keiryu fishing unless the stream is tiny.
After a couple fish I switched to the Suntech GM Suikei Keiryu Special 44, which makes a much nicer small stream keiryu rod, and it did not take long at all to pick up a third fish. That was it for that spot and for that stream.

There is a stream, though, that I thought probably would not have that degree of fishing pressure. The fishing equivalent of taking the road less traveled by paid off. When I got to the stream there was no one there. I fished there the rest of opening day and did not see a soul.
I did catch some fish, though!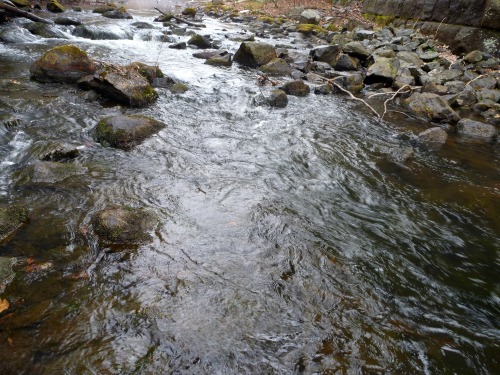 Sometimes you see a spot and you just know there has to be a fish there. If there are even fish in the stream, you are probably right - although whether you can actually catch it is another matter entirely.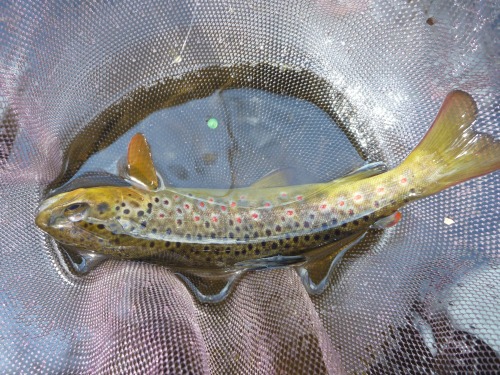 With a natural drift and a natural bait, which is the essence of keiryu fishing, you probably can!
After an inauspicious start, it turned out to be a very nice day. My first thought was that it wasn't a "many" day, but on second thought, it was more than a few, so it had to have been many!

The biggest fish of the day wasn't all that big, but on a Suntech Suikei ZPRO 54 it doesn't have to be.
The Suikei ZPRO has been replaced by the FM-X Keiryu ZPRO. The replacement is also very light and very sensitive, and is rated for 6X as opposed to 8X for the Suikei ZPRO, but it doesn't zoom.
If you like the idea of a long rod for modest fish, view the 8X tippet limitation as a positive rather than a negative, and want a rod that is adjustable from about 15' to about 17.5', I have the rod for you. I should say the ONE rod for you because that is all I have in stock and I will not be able to get more.

---
TenkaraBum Home > Trip Reports > Trip Report 4-1-2016

---
"The bitterness of poor quality remains long after the sweetness of low price is forgotten" - Benjamin Franklin
"Be sure in casting, that your fly fall first into the water, for if the line fall first, it scares or frightens the fish..." -
Col. Robert Venables 1662
As age slows my pace, I will become more like the heron.

---
Warning:
The hooks are sharp.
The coffee's hot.
The fish are slippery when wet.
Beware of the Dogma

---