Suntech Suikei ZPRO

The Suntech Suikei ZPRO has been discontinued. Please consider the Suntech FMX ZPRO or the Suntech PRO SPEC 54 RC, which is almost exactly like the Suikei ZPRO 54.

The Suntech Suikei ZPRO 54 is a Japanese keiryu rod designed for use with extremely light lines. It is just a wonderful rod for modest fish in big (and not so big) water. Although the 54 is a 17'5" rod at full extension, it weighs less than 3 ounces. That's less than some of the better known 12' rods. In addition to the 17'5" length, it can also be fished at 14'10" and 16'3". At the shortest length you can easily cast it one handed. At the longer two lengths it is an unbelievably light two handed rod.

US anglers are not used to rods that long. However, if there is not an overhead canopy of tree limbs where you fish you can probably use a longer rod than you do now. Because you'd get better drifts you'd probably catch more fish.
I had initially called the rod the Suntech ZPRO 54, but then Suntech introduced the Aoi ZPRO rods. Then Suntech introduced the FMX Keiryu ZPRO. To keep things clear, I think I should call them all by their complete names. Suikei doesn't translate perfectly into English, but gives the impression of a "perfect stream."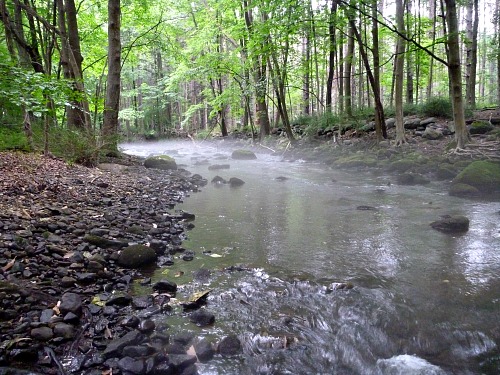 Small stream at low water level
Shortly after I got the Suntech Suikei ZPRO 54 I wanted to try it as a long rod - short line tenkara rod. Pairing the rod at the 14'10" length with a 12' size 3 tenkara line and 3' of 8X tippet, I fished one of the streams on which I had first experimented with the long rod - short line technique.
It worked out very nicely indeed. The stream is relatively narrow - I've fished it successfully with a 9' rod - but it has very little in the way of overhead canopy. Using a 15' rod was not a problem at all (and casting the rod one handed was no problem, either.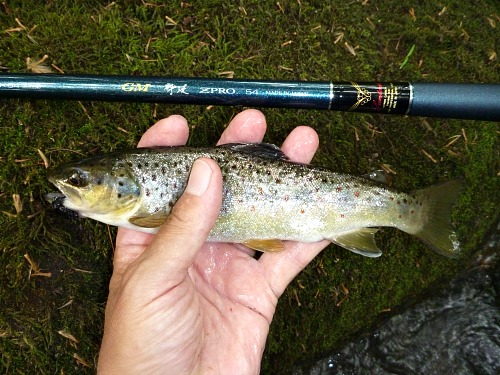 Perfect size fish for 8X tippet
With a line that is short in relation to the rod, it is very easy to pick your spots and keep all your line off the water. With the end of the your hi-vis tenkara line just barely above the water's surface, you have a point of reference to watch for any hesitations or twitches. It makes an extremely sensitive indicator and registers strikes very easily. The difference in sensitivity between having the end of the line above the water and having it in the water has to be seen to be believed.
That can only be done with a line that is short in relation to the rod. To get that sensitivity further away, you need a longer rod.

Fished with a line that is a more traditional length - roughly the length of the rod, the Suntech Suikei ZPRO 54 at it's fully extended 17'5" length makes a very effective big water rod. I have read a few comments touting the 14.5' Ito with a 20' line. However, you will get much better drifts with a rod that is 3' longer and a line that is 3' shorter! Plus, of course, the ZPRO is more than an ounce lighter and when cast and fished with two hands, there is no sense of tip heaviness. Did I say this is a wonderful rod?

Zero Fishing

Let's get one thing straight, right from the get go. Zero Fishing does not mean No Fishing!
The Suntech Suikei ZPRO 54 is one of the Japanese keiryu rods designed specifically for fishing with extremely light lines (Zero Fishing). The rods are rated for lines ranging from Japanese line size .3 down to .1 - which are equivalent to Varivas 8X tippet down to even thinner than Varivas 10X tippet.
Although I had initially thought that the "Zero" fishing concept was to have zero tension on the line it is actually much more than that. Fish will in fact spit out a baited hook if they feel tension on the line. (I have proven that myself when fishing with a particularly stiff rod.) The Zero fishing concept, though, is to add as little as possible to a natural nymph, or egg or worm drifting with the current. The hooks are small and weigh almost nothing. The line is as thin as possible to produce the most natural drift. It is the same concept as fly fishermen going to lighter and lighter tippets when midge fishing to avoid drag from micro currents.

Although the Suikei ZPRO is Suntech's entry into the Zero Fishing keiryu niche, it turns out that the Suntech Suikei ZPRO 54 is also really quite good at casting a light tenkara line.
The first time I took out the 54, I started the day with a keiryu rig: a line consisting of about 16' of 7X tippet material, to which I added about a foot and a half of 10X. I was using a size 12 Killer Bugger tied with a 1/8" tungsten bead (in place of the live nymph and split shot that would have been used in Japan), the rod cast very easily. Later in the day I was casting size 12 Killer Buggers without bead heads. The wet wool provides just enough weight to cast using 7X tippet as the line!

It struck me that the rod felt a lot like a tenkara rod. I put on a size 3 line and it cast very nicely. The 3 actually felt a little heavier than necessary, particularly at full extension, so I tried a size 2 line. It cast beautifully. Never one to stop halfway, I put on 17.5' of size 1.5 line and was blown away by how well it cast. I am redoubling my efforts to find lighter hi-vis line that can be used as tenkara line. If you have any interest in fishing "far and fine," as Charles Cotton put it, the Suntech Suikei ZPRO is the best rod I've found to do just that.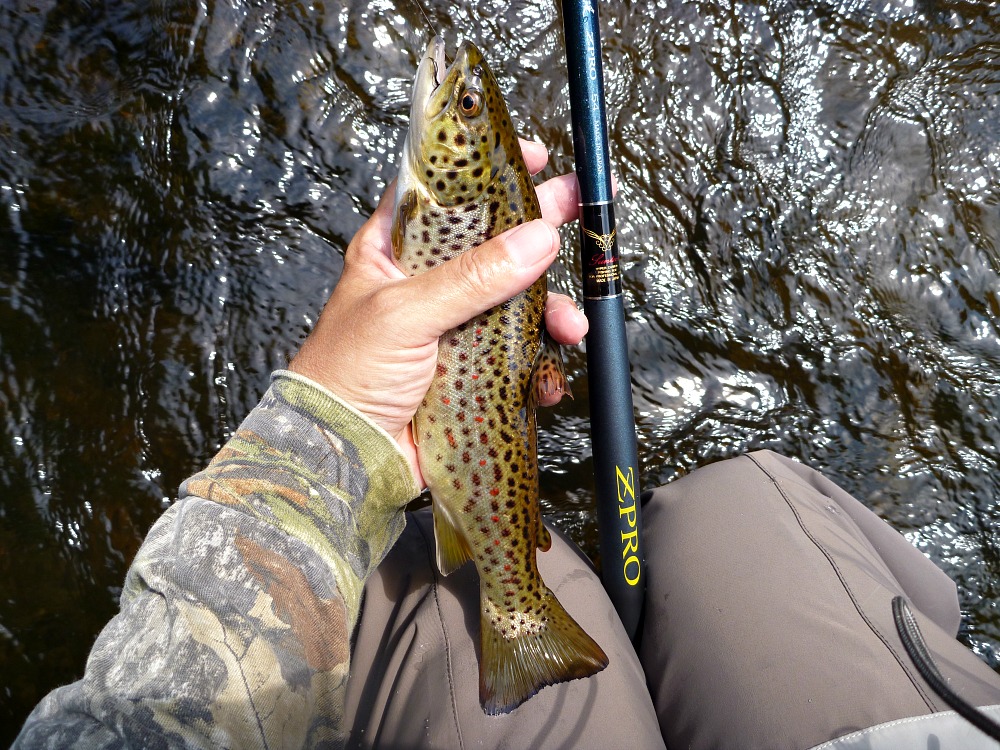 One of the larger fish caught with the ZPRO
The largest fish I've caught to date with a Suikei ZPRO rod was maybe a foot long. The rod is soft enough that you can't put a lot of pressure on the fish, but it is still quite effective and will subdue fish in less time than you'd expect for such light tippet.
Needless to say, it is also soft enough that it would not be my choice for heavy nymphs in deep, fast current! The rod is a great choice for unweighted wets fished closer to the surface, for smaller nymphs and for a soft fly like the pink chenille worm tied with small hooks. With no hard bead or large hook to instantly tell the fish it's a fake, they seem to hold onto it longer. Just what you'd want for a Zero Tension rod.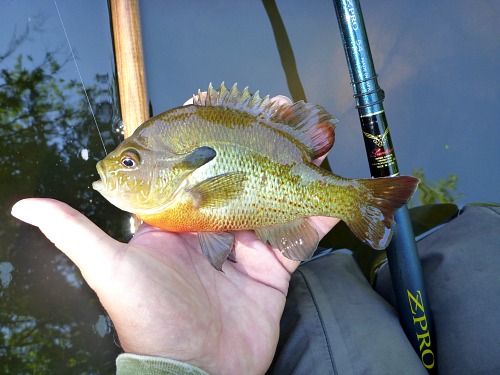 It's a great panfish rod
The Suntech Suikei ZPRO 54 is also a great panfish rod. If you have a stream with good sized sunfish (without overhead tree limbs) you will absolutely love this rod. It has all the reach you'd want for fishing in ponds as well. My largest bass on the rod I estimated at maybe 11" and Coach thought it would go 12-13". Where I was fishing, I had to lift the fish by pulling up on the line and when I did my 7X tippet broke so we'll never know who was right.
Although the rod has extremely soft tip sections, there is enough backbone in the midsection to handle 12" fish without a problem. If there isn't heavy current, the recommended 8X tippet is plenty strong enough.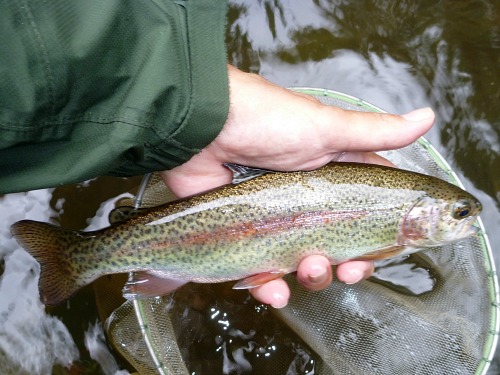 8X tippet really is strong enough for 12" fish
If you are using a short line, it is easy to make pendulum casts with one hand. I do find it better to hold the rod with two hands after the cast is made, though - not because the rod is too tip heavy for one hand but because it is easier to hold the rod steady with two.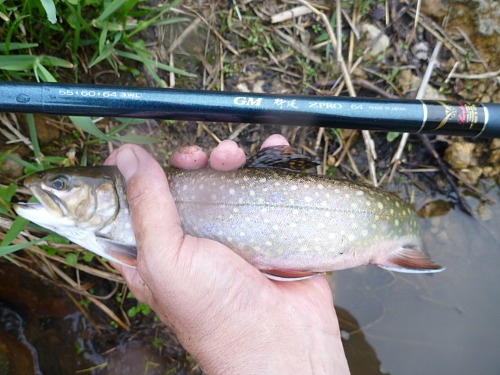 The ZPRO is an excellent brookie rod
Steady hands are critical! If you try to hold a 17+ foot rod with one hand, you probably will be unable to hold it steady enough. The twitch or dip the markers make when a fish hits the bait or fly is often smaller than the random wiggles caused by a less than rock-steady hold on the rod. And it's not that the rod is too heavy to hold steady. It is too long. The length magnifies the smallest movement or shake.

With the lighter line compared to standard keiryu rods, which are often rated for lines of 6X or 5X, I really do think you will hook more fish. The lighter lines are less noticeable to the fish and allow the bait or fly to have a much more natural drift.
Suntech Suikei ZPRO Features

When I first took the Suikei ZPRO 54 out of the case, I was immediately reminded of the Suntech Field Master. Aside from the ZPRO being blue and the Field Master gray (and a bit shorter when collapsed), they look very similar, with the same excellent fit and finish.

On extending the rod, though, all comparisons (with any rod) fell away. I was very surprised at how light the rod is. The rod weighs 2.8 ounces.  The long rod most people in the US are familiar with is the Ito, which weighs 4.1 ounces. The Suikei ZPRO 54 weighs 1.3 ounces less than the Ito, but it is a 17.5 foot rod!
What was by far the most surprising thing about the rod is that I could cast it one handed at full extension! To be sure, it was a little more pleasant to cast two handed, but there were many times I found myself casting with one hand rather than two. I use my free hand for my wading staff and sometimes it's just easier to cast one handed - even at 17.5'.  At the shortest length, 14'10", the rod felt far too light to cast two handed.


ZPRO grip
As with all the keiryu rods I've seen, the grip on the Suntech Suikei ZPRO is just a widened out section of the blank itself. The grip is smooth, but it has an effective non-skid coating. The diameter is large enough to be comfortable when casting the rod with either one hand or two.

| | |
| --- | --- |
| KTC-12 Rod Cap | ZPRO grip screw cap |
The rod comes with Fuji KTC-12 rod cap, which is more secure and harder to lose than a standard rod plug. The Grip screw cap is plastic. It is beveled for comfort and knurled for easy removal. The two O rings engage the two zooming sections, holding them firmly when they are not extended. The fit is very snug, and I find it helpful to twist the sections as you are seating them. Be sure to twist them to the right (clockwise if you were looking directly at the grip screw cap). If you twist them to the left, it may loosen the grip screw plug, increasing the chance for it to get lost. Be sure to check the grip screw cap to see that it is tightly screwed in each time you extend the rod.
The zooming sections have a band of material that fits the end of the next larger section snugly, keeping them from rattling when not extended.


The rod can be fished at three lengths
The finish is blue metal flake on the grip and the two zooming sections. The smaller sections are painted black with silver bands at the ends of the next four sections.


Lillian and swivel attachment
The lillian is attached with an extremely thin swivel, which easily passes through the second section. The grip screw cap does not have a ventilation hole. Disassembly between uses is highly recommended in any event.
The rod comes with a stretchy knit rod sock.

Suntech Suikei ZPRO 54
Length Extended: 14'10", 16'3", 17'5"
Length Collapsed: 23"
Weight 3.1 oz with Fuji Rod Cap, 2.8 oz without the cap
Tip Diameter .55 mm
Butt Diameter 21.5 mm
Pennies: 12 at 14'10"
Sections 11
Tippet range 10X - 8X


EZ Keepers will fit on the rod. The rod will fit in the Medium Rod Case.
All in all, I absolutely love these rods. For years now, I have recommended fishing with the longest rod you can get away with and the lightest line you can get away with. I have not found a rod that fits both those recommendations better than the Suntech Suikei ZPRO.
TenkaraBum Home > Tenkara Rods > Suntech ZPRO

---
"The bitterness of poor quality remains long after the sweetness of low price is forgotten" - Benjamin Franklin
"Be sure in casting, that your fly fall first into the water, for if the line fall first, it scares or frightens the fish..." -
Col. Robert Venables 1662
"There is a time to go long. There is a time to go short. And there is a time to go fishing." - Jesse Livermore

---
Warning:
The hooks are sharp.
The coffee's hot.
The fish are slippery when wet.
Beware of the Dogma

---