Tenkara Tippet
Tenkara tippet is a bit of a misnomer, I guess, as you don't need special tippet for tenkara. You do need tippet, though, even though it never seems to get included in the rod, line and fly "necessities." Although different anglers use different lengths of tippet, I generally use between 3 and 4 feet of tippet. Traditional tenkara wet flies will turn over just fine even if you tie the tippet directly to the line. You don't have to worry about the step from the relatively thick line to the relatively thin tippet being too great.
In general, I recommend 5X tippet for most tenkara rods. Nissin recommends tippets ranging from 5X to 3.6X for most of their tenkara rods. The Fujino Tippet below comes in 3.6X (Japanese line size 1.2). for most fish I don't think you need to go that strong, and the stronger the tippet the greater the chance that either a snag or a larger than expected fish can break your rod. Most Japanese anglers never hook a fish that could break their rod, many American anglers do. Most of the rods do not have warranties, so use your own discretion (personally, I would stick to 5X).
For some of the lighter rods offered here, for example the Suntech Kurenai, Nissin Air Stage Hakubai and Nissin Pocket Mini, even 6X is too strong. Please heed the manufacturers' recommendations

The reason for light tippet is that without a reel, you cannot let fish run against a drag system. In tenkara the line is tied firmly to the rod tip, and as a fish tries to run it meets gradually increasing resistance as the rod bends into its stiffer middle and butt sections. If the fish is strong enough, though, eventually something is going to break. You don't want it to be the rod. In tenkara, tippet is the weak link that has to be built into the system. Tenkara rods are very supple, and are very good at protecting light tippets. Light tippets are very good at protecting tenkara rods.
---
Varivas Super Tippet Master Spec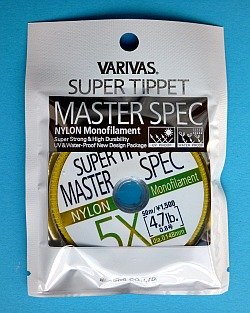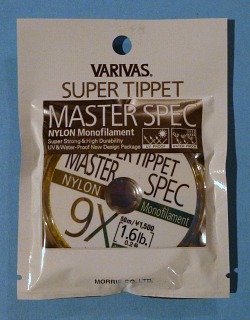 Varivas Super Tippet Master Spec is a premium quality tippet material at a premium price. The spools hold 50 meters (compared to 25 or 30 for most other brands). Varivas Super Tippet Master Spec spools are color coded, and have color coded retainers to make it easier to get the right one if you have several on a post.
For carp and rough fish anglers using the Nissin carp rods, 3X nylon is now in the shop. I would not use it with any of the keiryu rods.

For the microfishermen and keiryu anglers interested in pursuing the Zero concept in fishing, the nylon Varivas also comes in 9X tippet, with 1.6# breaking strength. Several Suntech rods are designed for tippet as light as 9X, including the popular GM Suikei Keiryu Special.
Nylon - $14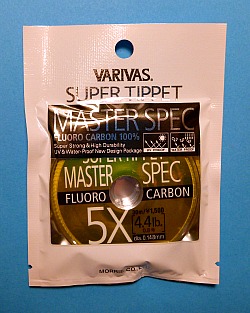 Varivas Master Spec is also available in fluorocarbon. Although I generally use nylon tippets, many anglers prefer fluorocarbon for their tenkara tippets when fishing wet flies and nymphs. Fluorocarbon's greater density does make it sink better than nylon, and the refractive index is much closer to that of water so fluorocarbon is less visible. The Varivas Master Spec fluorocarbon tippet has 30 meters on the  spool.
Fluorocarbon - $14
---
Fujino Tenkara Tippet

When I first wrote this page, the "Tenkara Tippet" title was a bit tongue in cheek. Who'd ever heard of a specific tippet for tenkara? Well, it does exist.
Fujino, which might actually produce most of the tippet made in Japan, does in fact make a "Tenkara Tippet." In addition to what we in the US consider standard tippet sizes, they also make it in a Japanese size 1.2 (equivalent to 3.6X), which is the maximum size recommended by Nissin for most of its tenkara rods; and also in a Japanese size .5 (6.5X), which is the maximum size recommended for most seiryu rods like the Suntech Kurenai, plus the Nissin Pocket Mini and the 450ZX soft.

The Fujino Tenkara Tippet is available in Nylon or Fluorocarbon on 30m spools. The packages do not indicate the breaking strength.

Fujino Tenkara Tippet (Nylon) - $11
Fujino Tenkara Tippet (Fluorocarbon) - $13
Fluorocarbon size 1.2 out of stock

---
Carp Tippets - Clear Tenkara Line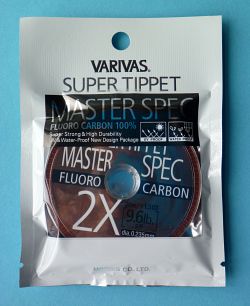 Varivas Master Spec Fluorocarbon tippets for carp fishing or as clear tenkara line for use with keiryu markers.
Japanese line size 4 = -2X
Japanese line size 3 = 0X
Japanese line size 2.5 = 1X
Japanese line size 2 = 2X

-2X, 0X - 25m spools
1X, 2X, 3X - 30m spools
Varivas Master Spec Fluorocarbon $14
---
---
Shipping
Standard shipping is via USPS First Class mail.
A shipping/handling charge of $4 will be added to all orders.
If you live outside the US, you must add more postage unless the items on this page are mailed with a rod!
Please note: The buttons below only add the postage, they are not for the product AND the postage. You must click on the product button above also.

TenkaraBum.com does not sell to residents of Norway or any other county of the European Union or the European Economic Area.

---
Where do you live?


---

USA


Add this amount for shipping.


---

No additional postage required for First Class mail.
(Total charge $4)

---

Canada or Mexico


---

Additional $6 postage required. (Total charge $10)

---

Other Country


---

Additional $10 postage required. (Total charge $14)
---
---
Priority Mail Upgrade - U.S. Only

2-3 day shipping (U.S. only)
First Class should be just as fast for people living east of the Mississippi.
Do Not click if your order includes a rod, wader gaiters, 3x5 Photo Tank or Daiwa Keiryu Damo. They already go via Priority Mail.
Domestic Priority Mail Upgrade - Additional $4
---
---
Payment
Payment is processed by PayPal but you don't need to have a PayPal account. You can use your credit card.
---
TenkaraBum Home > Tenkara Lines > Tenkara Tippet


---
"The bitterness of poor quality remains long after the sweetness of low price is forgotten" – Benjamin Franklin
"Study to be quiet." - Izaak Walton 1653

"Be sure in casting, that your fly fall first into the water, for if the line fall first, it scares or frightens the fish..." Col. Robert Venables 1662
As age slows my pace, I will become more like the heron.

---
Warning:
The hooks are sharp.
The coffee's hot.
The fish are slippery when wet.
Beware of the Dogma

---