Tenkara Hooks

Many tenkara anglers in Japan tie their kebari on eyeless hooks. Their first step is to tie on an eye formed with a simple loop of silk cord or heavy fishing line. Samisen strings were once used, but either silk bead cord or a bit of tenkara line will do nicely.
I no longer carry eyeless hooks.

---
---
Eyed Hooks
For keiryu fishing I have pretty much settled on the Varivas 2300 Ultra Midge size 20. There are three things I like about the hook: 1. it has an eye, which makes it easier (for me) to tie it on the line, 2. it has a barb, which makes it easier to keep the worm on the hook, and 3, it is a very small hook and I think the fish don't even notice it until it is too late.
Red Wigglers are small worms, and I truly believe that is a major advantage over night crawlers. Trout are used to eating small things, and there is a much better chance that a trout, even a pretty small trout, can get the whole worm into its mouth if it is a small worm. If it gets the whole worm in its mouth, you can be sure it also has the hook in its mouth.
I hook the worm just once, crosswise, which allows each end to wiggle enticingly as it drifts down the stream.
Varivas 2300 Ultra Midge hooks, size 20
Box of 30 hooks - $7.50

---
Wide-Eyed Hooks™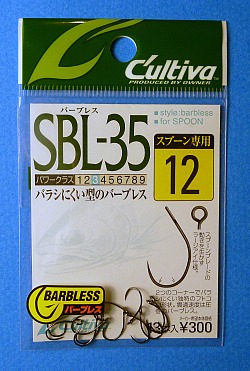 Wide-Eyed Hooks™ are for anglers who've gotten to the point where it is a bit difficult to thread the tippet through the hook eye. If you've ever wondered why they don't just make the eye bigger, boy do I have hooks for you. The eyes on these hooks are huge!
If you'd like to have the benefits of a larger hook eye without having to tie a loop eye on an eyeless hook, these hooks are for you.

I had a box of 20 packages with me at a recent Sowbug Roundup, which is a fly tying demo that brings tyers from around the world. The tyers on both sides of me bought some of the hooks, and before the Roundup was over I had sold every last package.
The hooks are a size 12 (western sizing, not Japanese sizing), which is probably the de facto standard for tenkara flies. They are barbless but the shape should prevent all but the littlest, squirmiest fish from wriggling free.
In addition to being a nice hook for Japanese Kebari, they have become my hook of choice for the Overhand Worm.  More info...

Wide-Eyed Hooks™
13 hooks per package - $4.00
---
The eyeless hooks are roughly equivalent to a wide gap size 10 or 12 fly hook. The shape is radically different so it is hard to make a precise comparison. Does size matter? If you are not matching the hatch it doesn't matter much. I've caught trout on tanago hooks and on size 2 sakasa kebari. Just about anything a fish can get in its mouth may be considered food - particularly if it is (A) moving and therefore alive, and (B) getting away!
---
Shipping
Domestic shipping is via USPS Ground Advantage. Rates are $4.00 for packages that weigh up to 4 ounces and $6.00 for packages that weigh over 4 ounces. The charge is added to your order automatically.
Please note: All packages are shipped via USPS. If you have a PO Box, please list ONLY the PO Box in your address, not the PO Box and your street address.
The charge for international shipping depends on the destination country, the weight of the package, the overall length of the package and the value of the package.
International shipments

International purchases may be subject to import duties and taxes. I cannot keep track of all import regulations in all countries written in all languages. Understanding and paying import duties and taxes is the responsibility of the buyer.
TenkaraBum.com no longer ships to the EU, the UK or Russia.

---
TenkaraBum Home > Basic Fly Tying > Tenkara Hooks
---
"The bitterness of poor quality remains long after the sweetness of low price is forgotten" - Benjamin Franklin
"Be sure in casting, that your fly fall first into the water, for if the line fall first, it scares or frightens the fish..." -
Col. Robert Venables 1662
As age slows my pace, I will become more like the heron.

---
Warning:
The hooks are sharp.
The coffee's hot.
The fish are slippery when wet.
Beware of the Dogma

---