Trip Report - 10-17-14
Go Long!
Last weekend I participated in the first Appalachian Tenkara Jam. (I'll do a report on the Jam soon but I wanted to do this trip report first.) The second day of the Jam was an outdoor session for trying different rods, getting some hands-on casting help or just fishing. One of my rods that generated a good deal of interest was a Suntech Kaname 2H 6.3m (20'5") keiryu rod. On the long drive home the next day, it struck me that I hadn't yet caught any trout with it.
I went out yesterday to try to correct that. The trout season for most streams in New York closes on October 15. Very few streams are open all year long, but fortunately, one that is happens to be fairly close. Unfortunately, I haven't yet gotten the stream figured out and rarely do very well there.
Friday was my best day ever on that stream. Rather than my normal 1-3 fish, I put ten in the net, had one that came THAT CLOSE to going in the net and another that was on just long enough for one good splash. Not bad for a few hours in the middle of a bright, nearly cloudless day.
I suppose part of my success was just the fish trying to pack on some calories before the lean times ahead. I've fished there in October before, though, and have never done as well. I think part of my success may have been because I used a slightly different technique than I've used before.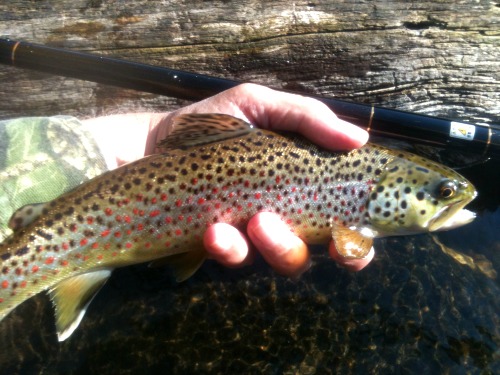 I'm a big proponent of the long rod - short line fishing style. How long? As long as the stream and overhead trees will allow. In a couple recent trip reports I extolled the virtues of the Suntech ZPRO 54, which I really like. At 5.4 meters, it isn't a short rod by any means, but relative to the keiryu rods used in Japan, it isn't particularly long, either. Six meter, seven meter, even 8 meter rods are used on the larger streams in Japan.
The ZPRO is a very soft rod designed for extremely light lines, and truth be told, for modest fish. The Kaname, on the other hand, is designed for 5x tippets and so should do quite well for the size fish that American tenkara anglers catch. Aside from it's length, the action would be pretty familiar to tenkara anglers. The rod casts a size 3 line beautifully. I'm sure it would also cast a size 4 but I've always used lighter lines. (In addition to the longest rod you can get away with, I still recommend the lightest line you can get away with.)
The Suntech Kaname is a two handed rod, but everyone always wonders what to do with your "other" hand anyway. Why not use it to cast a longer rod? A fixed line rod is definitely one of those things for which longer is better.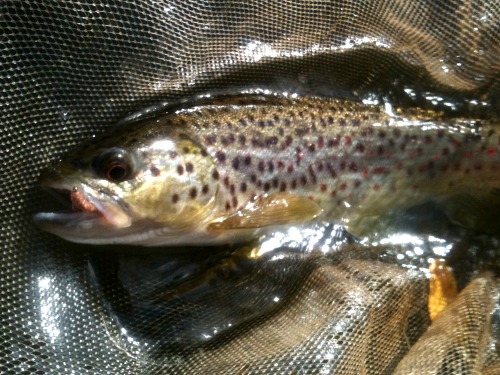 On Friday, I definitely appreciated the rod's length, but I think the line is what made the difference between the day's results and my showing on other days fishing long rods. For the 20'5" Kaname, this time I used a 13' line with about a meter of tippet. Thus, my line length from rod tip to fly was almost exactly 4' shorter than the rod. I've often fished my keiryu rods with lines shorter than the rod, but never that much shorter. Holy Cow! What a difference it makes.
With a line that short, keeping the end of your tenkara line above the water's surface is incredibly easy. A "fly first" cast (in which the fly hits the water before the line does) is just about the only cast you can make. During the drift, your line is closer to vertical so the tippet and the fly are pretty much always in the same current. Conflicting currents are very nearly irrelevant. You follow the drift with your rod tip, fishing across the stream much more than upstream. I had to worry more about drag from the autumn breeze blowing my line than drag from conflicting currents.
The breeze put a little upstream or downstream belly in the line. That belly turned out to be an incredibly sensitive strike indicator, though. When the line suddenly straightened, fish on!
That's actually quite similar to the indicator effect of a little memory in the line. I really don't understand why some people are so critical of level lines because the residual memory keeps the line from hanging completely straight. You absolutely will not find a more sensitive strike indicator. The Euro-nymphers' coiled nylon sighter may be as sensitive, I guess, but it has enough wind resistance to affect the cast, while a little bit of line memory doesn't.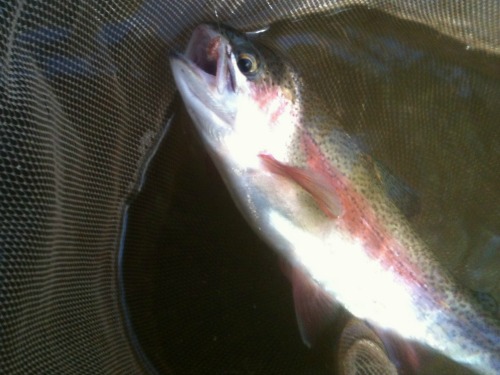 Fishing with a line (including tippet) 4' shorter than the rod worked extremely well with a 6.3m rod. It might not work as well with a 4.5m rod. I think the shortest line (including tippet) I've used with a 4.5m rod was 2' shorter than the rod. It worked very nicely, but I had to stay low and move slow.

That's the beauty of a longer rod. You can fish a very short line so you  get fantastic drag-free drifts - and you can do it far enough away that you don't have to worry nearly as much about spooking the fish.
You often hear of people fishing a line 3' longer than the rod. If you don't have overhead branches, you will absolutely catch more fish using a 17' rod and a 14' line than you will with a 14' rod and a 17' line. Your drifts will be much, much better. Better drifts = better fishing.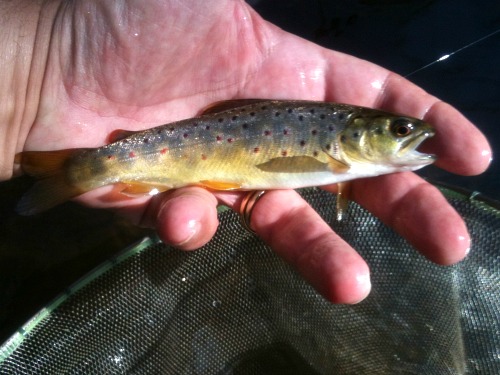 Most of the fish I caught Friday were 11 or 12 inches long - last spring's stockers. There is some natural reproduction in the stream, though. The little 6 incher above is wild. The state doesn't stock fish that small.

I spent most of the day fishing a Killer Bug tied with Killer Bug yarn on a Daiichi 1120 size 10 hook. Later in the day I switched to a bead head Killer Bug tied with the same yarn on the same hook, but with a 1/8" (3.2mm) gold tungsten bead. Most of my fish came on the Killer Bug, but enough came on the bead head to prove it's worth.

The bead head flies were for a few faster runs where I didn't think the standard Killer Bug would sink deep enough before the drift was over. For these deeper, faster runs, I fished more of a Czech nymphing style with a Suntech Genryuko 360. With the much shorter Genryuko (a bit under 12'), I used a line plus tippet just a little shorter than the rod.

The Genryuko is Suntech's Genryu (headwaters) keiryu rod. It is comparable to the Daiwa Kiyose SF, Shimano Kozuka NT or Nissin Sensui. It is more of a "tip action" rod than the others, but stiffens up quickly and is still quite effective at fishing heavy bead head nymphs in fast current. I don't currently carry the rod but can order one if you'd like the quality of a Suntech rod in a short backpack-friendly 15.5" collapsed length. The Genryuko 360 is more expensive than the others at $225, but it's the nicest of the bunch.
The Kaname 2H 63 also is a rod I don't currently stock. It's a $345 rod. In addition to the 6.3m length it comes in a 5.4m length ($305) and a 7.2m length ($395).
I can't stress strongly enough the advantages you can get with longer rods. With respect to the quality of the drift, the longer keiryu rods (with short lines) are about as much better than tenkara rods and long lines as tenkara rods are compared to 9' western fly rods and PVC lines (which require constant mending).

People who have been reading TenkaraBum.com for any length of time know that I have been a champion of short rods - for years before the big guy on the block finally came out with a 9' rod. However, for just as long I have stressed that you should use the longest rod you can get away with. It's just that I recognized early on that there are streams worth fishing that you just can't fish with an 11' rod. That said, if you can use a longer rod, you'll catch more fish with the long rod than with a short rod.
If you can use a 12' rod, do it. If you can use a 14.5' rod, do it. If you can use a 17' rod, do it. You will catch more fish.

The only long rod I have in stock now is the Daiwa Kiyose 53M, which is a nice rod. It is probably capable of handling quite a bit larger fish than the Kaname and it's considerably less expensive. I like the Kaname better, but for someone trying to decide if they want to "go long" the Daiwa's not a bad rod to start with.
If you fish a river that is wide enough to not have overhead tree branches, and wide enough to swing a 17-20' rod, I would highly recommend getting a long rod. How long? As long as you can get away with.

Beware the Keiryu Kops

I just read a forum post by a guy who said "Don't use a Tenkara line set up, use your Keiryu rod as it was designed." It was designed for a light keiryu line and split shot. In other words, don't experiment, don't innovate. Don't do anything the Japanese wouldn't do. I say nonsense.
I had my best day ever on the stream I fished in this report, using a 6.3m keiryu rod, a size 3 tenkara line and killer bugs. Could I have done better fishing a keiryu line and split shot with the killer bugs? Oops, the Japanese wouldn't fish a keiryu rod with killer bugs. Could I have done pure keiryu with light line, shot and bait? Not without risking arrest for poaching. That stream is artificials only.

If you want to fish with bait, yes, I think there are advantages to using a lighter line and shot compared to a heavier tenkara line (I've tried both). If you want to fish heavy artificial nymphs, ditto (I've tried both). However, what happens if you want the excellent drifts that a longer rod can provide but you want to fish an unweighted or lightly weighted fly higher in the water column? I think the answer is clear - use a size 3 tenkara line on your keiryu rods. You still get the great drifts and you can cast an unweighted fly with the weight of the line. That the Japanese don't fish that way isn't going to stop me. I'm sure the Japanese don't care how we fish. Only the Keiryu Kops do.

Update 8-19-15

Rod prices and rod availability vary. I still don't have the Kaname 2H 63 in stock but today it would be a $295 rod. I have sold out of the Daiwa Kiyose 53M but I have the Nissin 2-Way 540ZX medium and the Suntech Keiryu Sawanobori 63.

Update 9-29-15

I have now had several conversations, both in person and via email, with a customer who catches much larger fish than I do. He tells me, and I think he is right, that fishing with a line much shorter than the rod will reduce your chance of landing a really big fish. If your line is too short there is too great a chance that the fish on its first run will pull the rod down, take all the bend out of the rod and then break the tippet. You have to keep what Rob Worthing of the Tenkara Guides calls the "Power Curve" in the rod, and if your line is too short that just isn't possible with a large fish. My customer believes the line plus tippet equal to the rod length is about right. I think he has a point - after all, he speaks from experience (landing big fish with a rod length line and losing big fish with a shorter line). A rod-length line will still give you pretty good drifts - certainly better drifts than you can get with a longer line.

---
TenkaraBum Home > Trip Reports > Trip Report 10-17-14

---
"The bitterness of poor quality remains long after the sweetness of low price is forgotten" - Benjamin Franklin
"Be sure in casting, that your fly fall first into the water, for if the line fall first, it scares or frightens the fish..." -
Col. Robert Venables 1662
As age slows my pace, I will become more like the heron.

---
Warning:
The hooks are sharp.
The coffee's hot.
The fish are slippery when wet.
Beware of the Dogma

---