Suntech Keiryu Sawanobori
The Suntech Keiryu Sawanobori rods are excellent dual use (keiryu/tenkara) rods. They are available in three lengths: 5.3 meters, 6.3 meters and 7.2 meters.

The 5.3m rod is light enough to be fished one handed, which is really astounding for a 17' rod. I fish it one handed because my other hand is glued to my wading staff. I suspect many anglers will find it much more comfortable to fish as a two-handed rod, through. The 6.3m rod is a light two-hander. The 7.2m rod is a bit heavy (as you would expect for a rod of that length), but it gives you an unmatched ability to fish bank eddies on the other side of the river while keeping your line above the intervening current.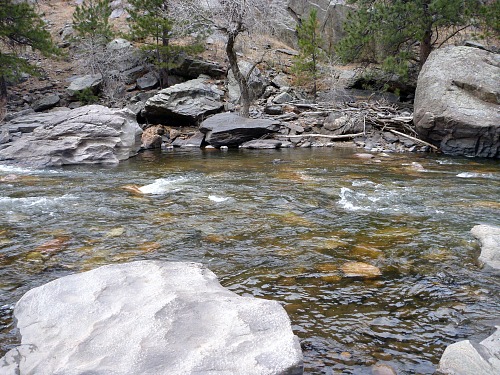 The first time I got a chance to fish with the Keiryu Sawanobori rods was when I was in Colorado for the Winter Series event a few years ago. I was on the Poudre River and happened to see a trout rise in the middle of the large eddy on the far bank in the photo above. The trout was pretty far back in the eddy, on the other side of that very small rock just barely visible dead center in the eddy. I was standing by the big rock in the foreground. With the Keiryu Sawanobori 72 I was able to make a cast completely over the intervening current, over the rock and drop a CDC & Elk into the center of the eddy - and hold the line off the water's surface so there was no drag.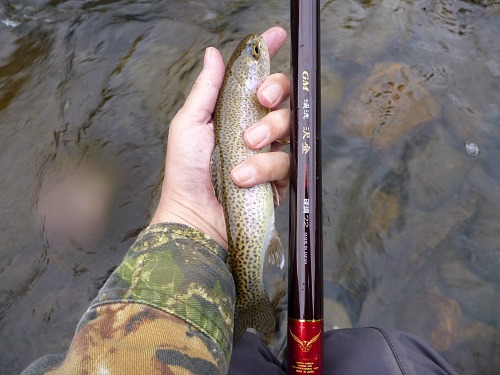 And here's the fish that rose in the middle of the eddy on the far bank just moments before.
It doesn't always work out quite so nicely, but sometimes it does. With a  shorter rod the only way to have caught that fish would have been to wade halfway across the river. In some rivers you can do that. In some you can't.
My presentation at the Winter Series - the day before - had been on Long Rod, Short Line Tenkara. The above setting, cast and fish would have perfectly illustrated a point that I had tried to make in my presentation. A number of anglers are well known for "long line tenkara," but with a shorter rod there is no way you could have held enough line off the water's surface to fish the center of that eddy without drag pulling your fly. With a longer rod and shorter line you'll have less line in the water and you can get much better drifts than you can with a shorter rod and longer line.

Despite the advantages of the extremely long reach, the Keiryu Sawanobori 72 is just heavy enough that I'd have to say I prefer the 63, which is a very nice compromise between light weight and long length.
The Keiryu Sawanobori 53 made short work of this rainbow.
All that said, I really think it is going to be the 53 that gets the most raves. It is just so light for its length and it has the capability of handling some very impressive fish. It carries a higher penny rating (32) than the Daiwa Kiyose 43M, with which people have caught braggin' size rainbows and even pretty fair sized carp. It's just a penny shy of the Daiwa Enshou LT44SF, which has been discontinued but which I think is the best big water / big fish tenkara rod there is. With the longer length and smoother casting, the Sawanobori 53 would be my choice over any tenkara rod when fishing a large stream or small river.
My best ever fish on a dry fly.
One thing that definitely surprised me about all of the Suntech Keiryu Sawanobori rods is that they will cast a light size 3 line quite effectively. These are rods that you can use for fishing dries and unweighted wets yet they have enough backbone to fish weighted nymphs well also.

Even modest fish are fun.
For keiryu fishing, they'll go about as delicate as you could want - all the way down to 9X tippets. They're rated up to 5X, though, and with their length and mid flex action, 5X tippet will handle surprisingly large fish. They're sensitive enough that they are still fun with more modest fish, though. I really, really like these rods.

As more people get these rods and put them to the test, I am confident they will do as well as the Daiwa Kiyose 53M and 62M, which are also rated to 5X, and better than the Nissin 540 and 620ZX medium rods, which are rated only to 6X.
The Suntech rods, though, are much lighter than the Daiwas or the Nissins. The Suntech Keiryu Sawanobori 63 is 4.3 ounces, compared to the Daiwa Kiyose 62M at 5.9 ounces and the Nissin 620ZX at 6.2 ounces. The 17' Sawanobori 53 is just 3.2 ounces, lighter than some 12' tenkara rods!
I took a Keiryu Sawanobori 63 to Maine with me a couple years ago for smallmouth fishing. I didn't hook any trophy size fish, but the rod handles a nice smallmouth very well indeed. I am getting more and more questions regarding rods for smallmouth bass. The Suntech Keiryu Sawanobori would be a good choice for smallies in lakes or streams.
And lest we forget, the Keiryu Sawanobori rods are actually keiryu rods. If you are a keiryu fisherman, you will have a hard time finding nicer all-around rods. They are not "zero" rods, but they are rated down to 9X, which is as light as anyone needs to fish. Also rated for 5X, they'll handle 18-20" trout without issue. They are very nice rods!

Suntech Keiryu Sawanobori Features

The Suntech Keiryu Sawanobori rods are a deep maroon color, with bright sparkles in the finish on the grip section. The sections above the grip have the same maroon color but without the sparkles.


The grip is a widened out section of the blank itself with smooth non-skid finish that is effective wet or dry. The grip has Sawanobori written on it but you need pretty good light to see it this clearly. It is subtle, not flashy. The grip is much wider than on some keiryu rods, so it is unlikely you will even think of putting tennis racquet grip wrap on it.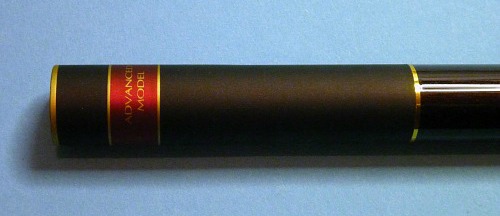 As with the Suntech Genryu Sawanobori, there is about 3" of the same non-skid finish on the front end of the grip section - just where you would put your forward hand when casting two handed. That is a wonderful idea that I had not seen on other keiryu rods.

As with other Suntech rods, the lillian is attached with a micro swivel that easily slides through the second section, allowing complete disassembly for drying and cleaning. The grip screw cap is knurled for easy removal and has a ventilation hole.
Unlike most Japanese tenkara rods, the Suntech Keiryu Sawanobori rods are covered by a one-year warranty (so keep the blue and white sheets that are in the back of the plastic retail display case).

All in all, this is a rod that I like a lot and that I am sure will please anyone looking for a 5+ or 6+ meter keiryu rod that will handle a wide range of tippet strengths (and a wide range of fish sizes). It seems to work equally well for tenkara and for keiryu fishing. If you've been looking for a longer rod, this is definitely one to consider.
Suntech Keiryu Sawanobori 53
Length extended – 16' 10"
Length collapsed – 22"
Weight with tip cap – 3.7 oz
Weight without cap – 3.2 oz
Sections - 11
Tip Diameter – .75mm
Grip Diameter – 24.8mm
Tippet rating – 9X-5X
% Carbon – 99
Pennies - 32

Keiryu Sawanobori 53 - $265
Suntech Keiryu Sawanobori 63
Length extended – 20' 3"
Length collapsed – 22"
Weight with tip cap – 4.9 oz
Weight without cap – 4.3 oz
Sections - 13
Tip Diameter – .75mm
Grip Diameter – 25mm
Tippet rating – 9X-5X
% Carbon – 99
Pennies - too long to measure

Keiryu Sawanobori 63 - $300
Suntech Keiryu Sawanobori 72 available by special order (if Suntech has any in stock).

---
Shipping
Domestic shipping is $10 via USPS Priority Mail (2-3 day delivery).
Please note: All packages are shipped via USPS. If you have a PO Box, please list ONLY the PO Box in your address, not the PO Box and your street address.
If you live in an apartment, please put the apartment number in the same box as the street address (as in 123 Main St. Apt 45).

The charge for international shipping depends on the destination country, the weight of the package, the overall length of the package and the value of the package. Packages under 24" long and under $400 in value will go via USPS First Class International. Packages over 24" or over $400 will go via USPS Priority Mail International. The international shipping charge will be calculated at checkout.
Import Duties and Taxes

International purchases may be subject to import duties and taxes. I cannot keep track of all import regulations in all countries written in all languages. Understanding and paying import duties and taxes is the responsibility of the buyer.
---
TenkaraBum Home > Tenkara Rods > Suntech Keiryu Sawanobori

---
"The bitterness of poor quality remains long after the sweetness of low price is forgotten" - Benjamin Franklin
"Be sure in casting, that your fly fall first into the water, for if the line fall first, it scares or frightens the fish..." -
Col. Robert Venables 1662
As age slows my pace, I will become more like the heron.

---
Warning:
The hooks are sharp.
The coffee's hot.
The fish are slippery when wet.
Beware of the Dogma

---