Trip Report - 12/1/12
December 1, 2012
Lou at Fly&Fin invited me to fish some very nice water that had the potential to offer up some very large fish. I wasn't able to connect with any monsters, but did manage to net a few that were quite a bit larger than the fish I usually catch.
I had taken one of the larger (30cm) Daiwa Keiryu Damo with me to see if it was substantially more capable with larger fish than the 25cm size. It is. Even though my largest fish of the day was only about 16", it slid into the larger net with absolutely no problems. I am confident it can handle fish larger than that, and certainly larger than the smaller net can. I don't often catch fish large enough to require the bigger net, but it is nice to know it is there when I need it. I do wish I'd taken a photo of the fish in the net, but I didn't get any photo of that fish at all.
The best photo of the day, even though it's not of the best fish, is this one, caught on a Suntech Fieldmaster Keiryu Special 39. I don't have a good photo of the rod, but I will later because it is being added to the line-up. The ultimate in versatility, it zooms from 3.2 to 3.6 to 3.9 meters.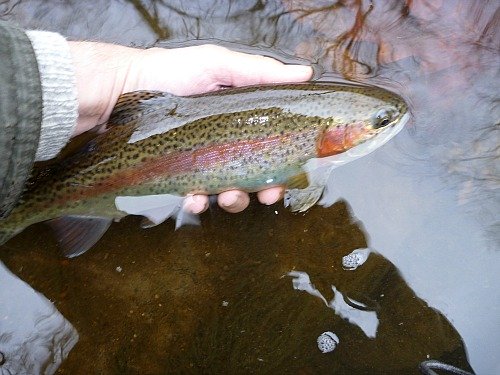 Paul A. suggested that the Sunglow Killer Bug in my previous report might work well in salt water (which he dubbed a Saline Killer Bug), and that with the addition of a marabou tail it could be called a Saline Killer Bugger. I thought his idea of adding a marabou tail to a Killer Bug would make a wonderful fly. I had previously written an essay about a Tenkara Woolly Bugger but this would be a much simpler fly to tie.
I posted a photo of a not quite black Killer Bugger on the FAOL Tenkara Forum thread, which I will repost here. It is tied with Jamieson's Shetland Spindrift yarn. The color is Oxford, which I call the Little Dark Kebari yarn.
I took some with me for this trip, and also tied some with the Jamieson's Shetland Spindrift "Granite" yarn, which has a slightly mottled look but still makes a much lighter colored fly. As you can see from the out-of-focus tail, the marabou is so mobile that with even the slightest hint of a breeze it won't stay still.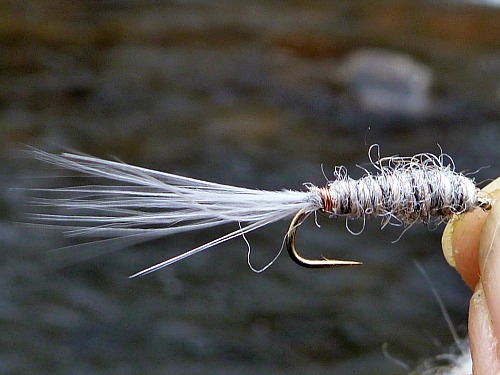 I tied on one of the granite Killer Buggers first, and almost immediately firmly hooked a tree. My only defense is that it was with a new rod that I had never cast before. I lost the fly. I lost another one to a snag moments later. Deciding that the gods might be telling me that this one fly was not the one for this day, I switched to a tungsten beadhead flashback pheasant tail nymph that Rick D, who joined us for the day, had just given me. Shortly thereafter, I hooked the fish pictured above.
The next fish of the day was the one that didn't get it's picture taken. It had been foul hooked and also had a gash on it's side that looked like a heron strike. I'm sure you know from experience that a foul hooked fish puts up a much harder fight than a fair hooked fish of the same size.
That this is so certainly lends credence to the argument that tiring a big fish is best done by applying rod presure to the side rather than upwards. With a fair hooked fish, you can turn it's head fairly easily by pulling to the side (and where the head goes the body follows). With a foul hooked fish, you can't turn it's head. A 10" fish fights like a 14 incher, and the 16" fish I foul hooked, well I don't know what it fought like, as it fought quite a bit harder than any fish I've ever actually landed. (The RodBreaker fish doesn't count, as it wasn't landed).
At the time, I was fishing with the Nissin 2-Way 450 ZX that I mentioned in my 11/25/12 trip report. I've got to say I'm really impressed with that rod. I can be fished at 4.0 and 4.5 meters, and to my mind is every bit as capable as the 3.9 meter "brand X" rod currently thought to be the "big fish" rod, plus the Nissin weighs less and zooms! I'll now send the rod out the Erik Ostrander for the Tenkara Guides Torture Trials. The rod comes in four different stiffnesses, and I'm pretty sure you'll see at least one of them available here next year.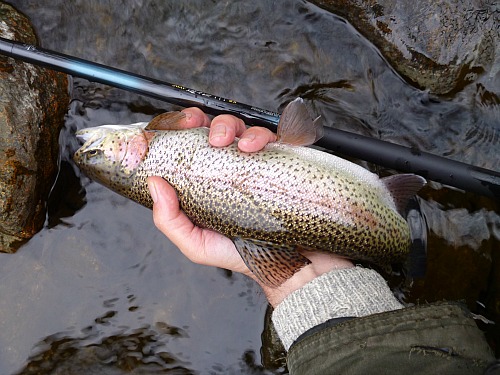 Fishing a sunglow Killer Bug, I finally was able to catch a fair-hooked fish with the rod, and even though it's not a bad fish in it's own right, coming on the heels of the previous ordeal it was almost like the cool down exercise after a strenuous workout.
The last fish of the day (photo below) was caught on the Daiwa Sekkei 36M I had borrowed from Tom Davis at Teton Tenkara and a tungsten bead egg fly I'd been given by my host. I'd have to say I don't really want to send the rod back.
Although I'd seen the rod previously in Daiwa's catalog, I'd been put off by the 8:2 rating. Let me tell you, for a short line (Czech or Polish) nymphing rod the 8:2 is just right. Casting one or more heavy flies is more a lob rather than a silky smooth cast. Thus you don't really lose anything from not having the softer 5:5 or 6:4 action. What you gain is an extremely sensitive connection to your flies and lightning quick hooksets.
With a soft-tipped rod, the "give" in the rod tip absorbs some of the tactile information transmitted up the line from the fly hitting rocks or a fish hitting the fly (as does a cork grip). With a stiffer rod tip, you feel it instantly; and you have enough rigidity in the rod to set the hook quickly. Much as I love soft rods, for short line nymphing they are not what you want.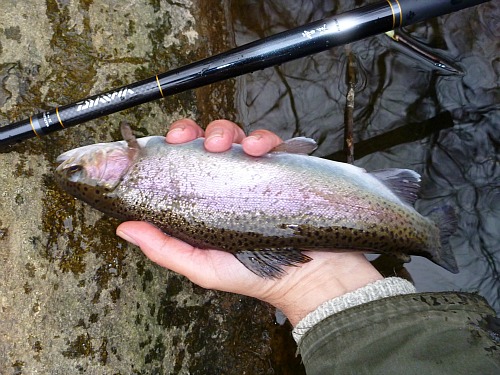 One thing I really like about the rod is that not only does it have the siffer tip sections and substantial backbone you'd want for short line nymping, it is a light rod. Without the tip cap it weighs just 2.4 ounces, which is not at all bad for a 3.6m rod (11'8" actual measurement). And I almost forgot, it zooms. The Daiwa Sekkei 36M can also be fished at 3.2 meters (10'7"), for those times you want heavier flies fished close. It also collapses to a fairly compact 16.5" length.
I see it as a special purpose rod, but if what you want a rod for is short-line-tied-to-the-rod-tip nymphing, this is the best rod I've seen. I don't stock them but I can order one for you. Send me an email for details.
It ended up being a cold day but a good day. Thank you Lou, Rick and Tom.
---
TenkaraBum Home > Trip Reports > Trip Report 12/1/12
---
"The bitterness of poor quality remains long after the sweetness of low price is forgotten" - Benjamin Franklin
"Be sure in casting, that your fly fall first into the water, for if the line fall first, it scares or frightens the fish..." -
Col. Robert Venables 1662
As age slows my pace, I will become more like the heron.

---
Warning:
The hooks are sharp.
The coffee's hot.
The fish are slippery when wet.
Beware of the Dogma

---