Trip Report - 6-28-15
Yes, that's June 28. It's been a busy month.

After the previous weekend's abortive first use of the new Blue ZPRO for stream fishing, I wanted to try it again (with a bit more care to keep the line out of the trees). I also wanted to do a bit more exploring on the stream.

Starting in the same pool as last time, I soon caught a fish holding along the far shore. Unlike all the fish from that pool the previous week, this one was a brown rather than a rainbow. Unfortunately, that was the only fish I was able to take from the pool, underscoring that it is nowhere near as good as Wisconsin's "miracle pool."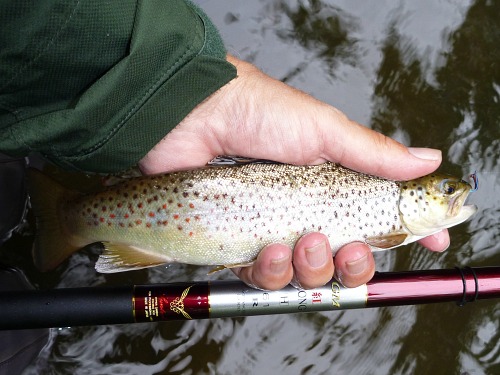 The rod was a Suntech Kurenai Long 61, which is a unique rod. It has a long collapsed length (45"), which does two things: it makes for a very smooth casting rod, similar to the Nissin Air Stage Honryu rods, and it makes a light rod for its length. The Suntech Kurenai Long 61 weighs 3.7 ounces without the KTC rod cap (but with a pair of EZ Keepers), which is quite a bit less than either the Keiryu Sawanobori 63 or the Kaname 2H63.
Here's the kicker, though. Despite being lighter in weight, the rod is rated for a stronger tippet - 4X as opposed to 5X for the other two rods. Having a light rod rated for a heavier tippet is very nice.


The collapsed rod is long, though. At arm's length I couldn't get the ends in the photo.
I then went to what appears to be an unpopular section of that very popular stream. There are a couple small (one car) pull outs that very often do not have cars in them.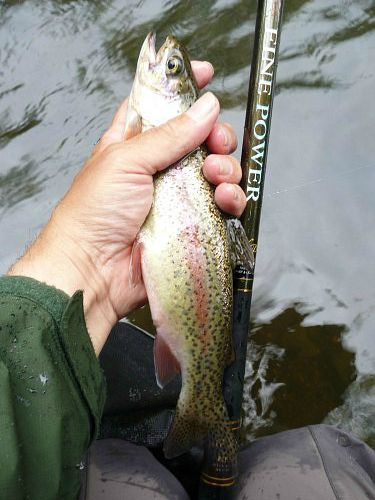 The stream is a bit narrow there, so I started with a shorter rod, the Suntech Fine Power NP56 (5.2-5.6m, 3.35oz, 10X-5X). I had ordered a couple for customers but hadn't had a chance to fish with one myself. Wow, what a great rod! It has an even wider tippet range than the new Blue ZPRO and at its shorter 5.2m length is an easy one-hander.


Two things I like quite a lot about the rod are that it has a wide grip, similar to the Suntech Sawanobori rods, and has the Suntech's  "nonpaint" finish, which is actually painted, but in a matte gray rather than glossy black. (The Suntech GMR Special II 36NP has the same matte gray finish.)

A 10" trout puts a nice bend in the rod, but you can tell there is some reserve power there, and I would not doubt that the rod could handle fish twice that size.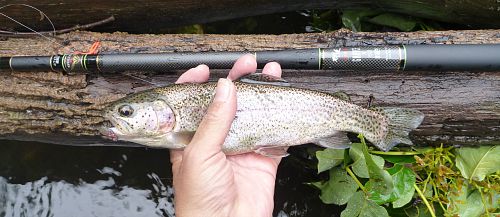 I then switched to a Suntech Grayce (4.7-5.2m, 3.17oz, 9X-5X). I really need to do pages on these rods. The Grayce is also quite a capable rod, accounting for a nice smallie in Maine last month and my first ever redhorse in Wisconsin in May.
That section of stream is a bit short, though. After a little while (and three fish) I went back to where I usually fish the East Branch, wanting to try the same single marker rig I first used in Wisconsin but this time with a bead head Killer Bugger.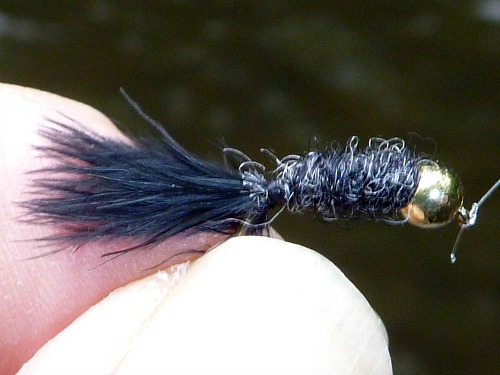 I caught fish in that stretch the previous week with a regular black Killer Bugger fished on a size 3 tenkara line. This time, though, I wanted to fish a bead head with a keiryu line instead of a tenkara line.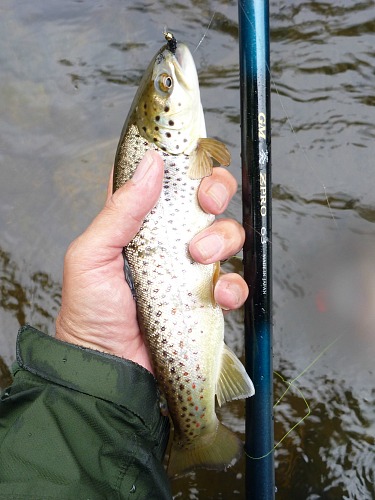 For this, I went back to the 6.3m Blue ZPRO and used a keiryu line constructed of 5X tippet for the upper line and 6X for the lower line. The lower line serves much the same function as the tippet in a tenkara rig, providing the weak link so that if you have to break off a snag or if a larger than expected fish breaks off, you don't lose the entire line (or the rod). I also used one marker with long tag ends, which had worked so well at the miracle pool in Wisconsin.
My black Killer Bugger was tied with a 5/32" gold tungsten bead, which is close to the same weight as a Dinsmore BB shot. The intent was to have as close to a pure keiryu rig as possible and still fish a fly.

One nice thing about the keiryu marker as opposed to using a fly fishing indicator or watching the end of a Hi-Vis tenkara line for strike detection is that the marker is extremely easy to adjust for depth. Just push it up or down the line to where you want it and it will stay there (assuming you have tied it on correctly).

It was pretty easy to adjust the marker so the Killer Bugger was just above the rocks. At that depth, it wasn't too high in the water column for fish to take, yet it didn't hit any rocks so there were no "false positives"  (indications of a strike that were actually rocks instead if fish). When the fish did hit the Killer Bugger, they evidently came up for it and then went back down, as each of the three fish I caught in that stretch of stream caused the marker to dip pretty sharply.
I'd say the experiment to use an almost pure keiryu rig but with a fly worked quite well. The 5/64" tungsten bead is very close in weight to a Dinsmore BB shot. In high water I've used two BB shot, and in low water have used a #6 shot, but I use a single BB shot by far the most. Having a fly that weighs and casts the same as a pure keiryu rig allows you to get the superb drifts and strike detection that a long keiryu rod and light keiryu line produce even when fishing streams that do not permit bait or for people who do not wish to use bait.
More and more anglers are recognizing that just as tenkara rods and lines produce better drifts and strike detection than can be achieved with a fly rod and line, keiryu rods and lines produce better drifts and strike detection than can be achieved with a tenkara rod and line. It doesn't get the press coverage, but people are starting to wake up to the advantages.

---
TenkaraBum Home > Trip Reports > Trip Report 6-28-15

---
"The bitterness of poor quality remains long after the sweetness of low price is forgotten" - Benjamin Franklin
"Be sure in casting, that your fly fall first into the water, for if the line fall first, it scares or frightens the fish..." -
Col. Robert Venables 1662
As age slows my pace, I will become more like the heron.

---
Warning:
The hooks are sharp.
The coffee's hot.
The fish are slippery when wet.
Beware of the Dogma

---