Simplifying Flies
Trip Report 9-6-15

Inspired by Morgan Lyle's new book simple flies, I wanted to see if I could make a couple simple flies even simpler and if they would still catch fish. They did.
I started out at a stream I fish a lot, and at the spot I almost always seem to start. When I got down to the stream I found a guy already there, just barely upstream of where I was going to step into the water. Since I always work my way upstream as I fish, I would be on top of him in no time. For that matter, if I stepped into the stream at all it would be a bit close for proper etiquette.
Moving further downstream to give him more room, I kept an eye on him as I fished, so that if he left I could move up into the spot I had wanted to begin with. I'm not sure what the opposite of stealthy is, but if you looked it up in a dictionary you would see his picture. Not only did he splash as he waded, his fly line splashed with almost every cast and most of the time when he picked up for a new cast. Yes, it would have to splash a lot to see it from that distance, and yes, it did. If that wasn't bad enough, when he got to the top of the run, he started fishing his way back down again.
When he got back to the bottom of the run he did leave - not having caught a single fish. Of course, when I then fished the run I didn't catch anything either. I truly don't know why I even bothered.
Other anglers have caught fish following me and I have caught fish following other anglers. There was no catching fish following that guy, though. I am sure in time he will become a better fisherman - just not in time to save that run that day.
Not far beyond where he stopped there is a constriction where the water runs deeper and faster. I used to do well there and have been a bit perplexed as to why I haven't the last few years. After just a few casts the answer became obvious. I used to do well there because I used to fish it with heavy bead head flies and I had gotten away from the heavy flies as I spent more time the last couple years fishing lightly weighted Killer Bugs and Killer Buggers.
Recently, though, I have tied a few flies with 5/32" tungsten beads, which weigh almost the same as the Dinsmore's lead free BB shot. Having a consistent weight for keiryu fishing with either red wigglers or artificial nymphs was the goal and it seems to work pretty well.

That stretch of stream yielded a banner day not long ago with black Killer Buggers tied with the 5/32" beads and fished with a Blue ZPRO 63. Today, though, as I got to the deeper, faster water I rigged up a 360cm tenkara rod rather than the long keiryu rod.
I have often written that the tips on tenkara rods are too soft to fish heavy flies effectively. I have gradually come to the belief that it isn't the soft tip sections that inhibit hook setting in deeper water, it is the soft midsection that is the problem.  After all, no one strikes so softly that only the tip sections bend. If the midsection bends too easily, though, the rod can't tighten the line enough for a positive hookset in deep, fast water.

Rods like the Suntech Field Master and TenkaraBum Traveler, designed for keiryu fishing, are soft enough in the top few sections to cast a tenkara line quite nicely yet still have enough stiffness in the middle sections to fish tungsten bead head nymphs effectively. More on that in coming weeks.

Dry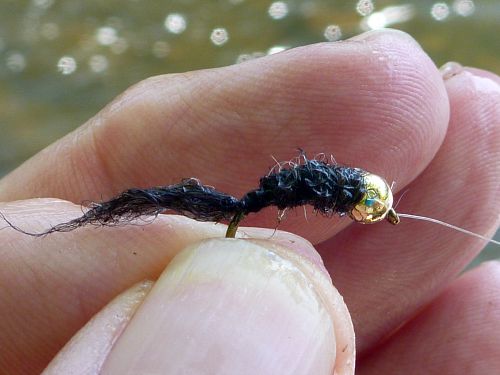 Wet

The standard Killer Bugger is tied with copper wire, marabou and yarn. On Sunday I fished a simpler version, tied with a 5/32" gold tungsten bead, black thread and yarn. In place of the marabou tail, I left a tag end of the yarn when I tied off the thread. I combed the yarn to remove the twist but I am not sure it is necessary.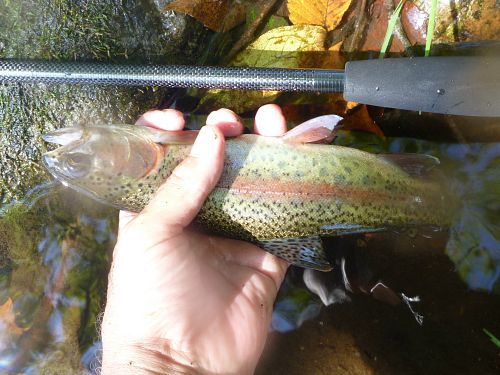 My first cast with the simplified Killer Bugger into the deeper, faster water yielded a feisty 10" rainbow.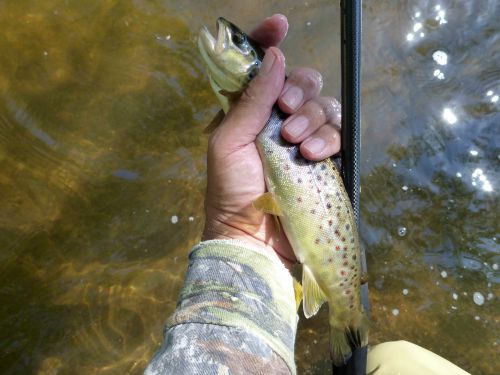 My third cast yielded an only slightly more subdued brown.
Truth be told, I like the idea of using marabou for the tail more than just a tag end of the yarn. However, I now know that if I want to knock out a few flies in a hurry, the marabou is optional. With a bead to provide a bit of weight, the copper wire is optional as well.

I then moved to a different stream, one much too shallow for a heavy bead head fly.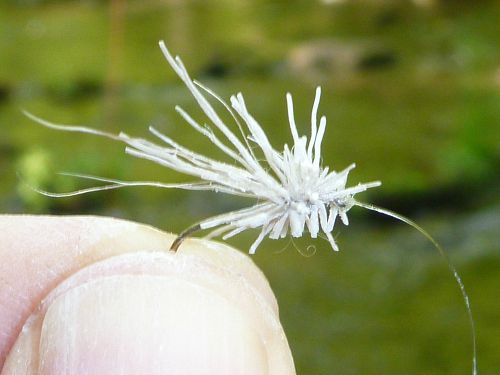 I can't take credit for this one ( "credit" may be a bit presumptuous). On one hand, the fly it is an extreme simplification of Hans Weilenmann's excellent CDC & Elk, (which graces the cover of Morgan's simple flies). On the other hand, it is a slight simplification of a fly called Hank O'Hair, a photo of which I recently saw on a Facebook post.
The Hank O'Hair fly I'd seen was just a brown thread base and few elk hairs tied on at the middle of the shank. They weren't spun, but they did pretty much splay out in all directions. I omitted the thread base (leaving off the thread base worked fine when I "simplified" the already dead-simple Pink Chenille Worm). I also tied the hair just a bit further forward and left the hairs that were pointing backwards a bit longer.
I don't know whether that made it look a bit more like a caddis or a bit more like a hopper or whether it made no difference at all. All I know is the fly worked. Had I tied it in a vise and used scissors, it would have been very easy to have trimmed it to look like a slender body with a few legs sticking out the sides and a wing out the back.
That degree of detail seemed out of keeping with a rough clamps and nippers tie. The roughly tied fly did fool the fish, though.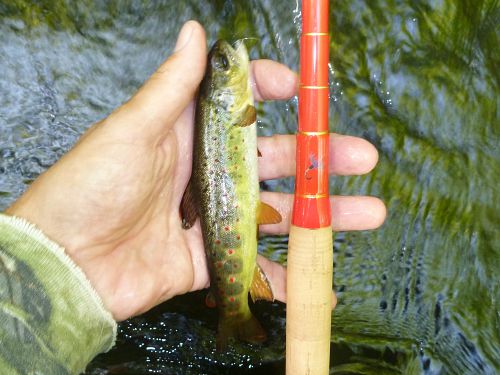 I had tied two of the Hank O'Hair type flies, one fairly sparse and shown above and one that was considerably bushier. The sparse one drew strikes, the bushier one didn't. I think a few bits of hair sticking out in several directions may mimic a real insect on the water's surface pretty well. A big bunch of hair probably doesn't. Even the sparser of my two flies wasn't as sparse as the photo of the actual Hank O'Hair fly, though. An even simpler, even rougher fly might work even better.
After an inauspicious start, the simplified flies yielded more than a few fish. A few more fish picked up on a regular Utah Killer Bug and small (size 20 and 26) black Killer Buggers turned it into a "many" day.
Simple works, and Morgan's book is a good place to start.
Update
Since originally publishing this report, I have seen several other images of the Hank O'Hair fly that look a lot more like a standard elk hair caddis without the body or hackle - Just a very neat and tidy elk hair wing. They are indeed simple flies, and not nearly as rough as the ones I tied. They undoubtedly work well but somehow I find the rough ones more attractive. Maybe it isn't actually "simple" that I'm looking for.
---
TenkaraBum Home > Trip Reports > Simplifying Flies

---
"The bitterness of poor quality remains long after the sweetness of low price is forgotten" - Benjamin Franklin
"Be sure in casting, that your fly fall first into the water, for if the line fall first, it scares or frightens the fish..." -
Col. Robert Venables 1662
As age slows my pace, I will become more like the heron.

---
Warning:
The hooks are sharp.
The coffee's hot.
The fish are slippery when wet.
Beware of the Dogma

---