Trip Report - 12-3-17
I am seriously behind on trip reports. It has been a very busy fall - really ever since the Oni School in early September. Also, I have been spending a fair amount of my too-little fishing time getting material for my second website, Finesse-Fishing.com. Lack of time doesn't mean lack of interest, though.
For some time I have wanted to get out with a keiryu rod again. There is something very simple and very satisfying in putting a worm on a hook and throwing it out hoping to catch a fish. That's probably how most of us started fishing, and there is absolutely no reason not to revisit those simpler times. If you feel like you have outgrown it, it is your loss. Truly.

December is perhaps not the most productive time for worm fishing, though. Surely the fish do not see many naturally at this time of year. Fishing with salmon eggs might be more productive in the winter, but I prefer worms to salmon eggs (I think trout swallow salmon eggs much more quickly than worms, so I find it harder to prevent deep hooking).
Another factor that makes worm fishing less productive in the winter, at least around here, is that nearly all streams in New York that even might hold trout are closed to fishing, and there is only one that I know of that is open to fishing and is not limited to artificials only.
Unfortunately, that one stream is perhaps my least favorite stream. Most of the stream is very shallow and featureless, with few spots that look like they even might hold fish. Plus it tends to get warm enough in the summer that there are very few holdover trout. If the fishing was good for smallmouth bass, or fallfish or even creek chubs that would be good enough - but it isn't.
Really, the only things going for that particular stream are: A) It is open to fishing, and B) It isn't a two and a half hour drive. When the days are both short and cold, five hours of round trip driving makes a stream seem less attractive even if the fishing is better. (Besides, the last time I was at this particular stream I did surprise myself and caught a couple fish.)
Well, that was a long intro to a short fishing session. As it turned out, I went directly to the spot where I had caught a couple fish the last time I was there - largely because another fisherman had gotten to the parking lot just before I did, and got suited up just before I did, and went to the nearest pool just before I did.
In any event, I learned long ago that if there are other fishermen in the area, and if there is one spot you particularly want to fish,  go there FIRST. Don't fish your way up to it. Too often, just as you are approaching it, someone else will walk right up to it and take the spot you have been thinking of all morning.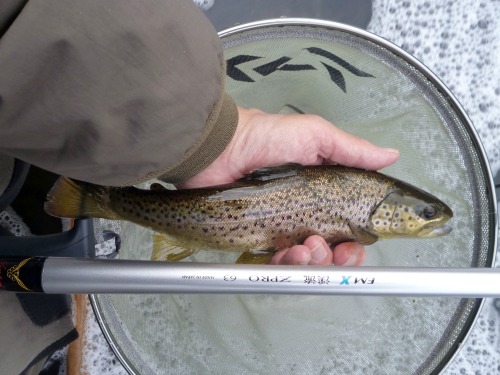 Suntech FMX Keiryu ZPRO 63 and brown trout.
So, as it turned out, I went straight to the most likely spot and caught a fish on the first cast. It proved to be the only fish of the day. I really do like fishing with a Suntech FMX Keiryu ZPRO, and I did enjoy seeing the yarn markers dip as the fish took the bait. The fight was good (a long soft rod does make even a modest fish fun) - but it was over all too soon. 
I fished the rest of the pool and got no hits. When I moved downstream to what I had thought would be the second most likely spot I saw the other fisherman, who had made his way all the way up to where I was. Actually, it wasn't much of a surprise to see him because there was very little interesting water between where he first entered the stream and where I had walked up to. There wasn't interesting water above me either, so after half-heartedly making a few more casts on the way back to the car, I packed up and left.
I went to another stream, which is artificials only so I left the worms in the car. I generally do not do well there in the winter, but it is the only other trout stream that is both open and nearby. I fished for a while but got no hits. Winter fishing generally isn't very productive for me.
At least the drive home wasn't two and half hours.

---
TenkaraBum Home > Keiryu Trip Reports > Trip Report 12-3-17

---
"The bitterness of poor quality remains long after the sweetness of low price is forgotten" - Benjamin Franklin
"Be sure in casting, that your fly fall first into the water, for if the line fall first, it scares or frightens the fish..." -
Col. Robert Venables 1662
As age slows my pace, I will become more like the heron.

---
Warning:
The hooks are sharp.
The coffee's hot.
The fish are slippery when wet.
Beware of the Dogma

---