Trip Report - 10-30-16
TenkaraBum 33 and 40 Prototypes

It's been a long time since Coach and I have fished together. The streams we usually fish have been so low that we didn't even bother going. They've gotten some rain recently, making a trip worthwhile (and got a lot more rain just after we called it quits for the day on Sunday).

Another factor prompting our trip was that I had a couple new rods to fish. I'd received two new prototype tenkara rods just in time to take them to the Tenkara Jam that was held a couple weeks ago in Cherokee, NC. I had code-named them Sample 33 and Sample 40 for the Jam, but after a little time on the water there and after a few people at the Jam gave pretty enthusiastic thumbs up, I can proudly say they will be the TenkaraBum 33 and TenkaraBum 40.

TenkaraBum 40 (top) and TenkaraBum 33 (bottom) prototypes
The TenkaraBum 33 is scheduled for release in December, but possibly not in time for Christmas. My experience is that promises for delivery in a certain month have usually meant the last few days of the month, meaning I might not be able to mail them out until early January. The TenkaraBum 40 will be released in the spring.
---
Update 11/7/16: It looks like I may get the TenkaraBum 33 in time to send it to buyers by Christmas, but it will be very, very tight and I may not know for sure until December 19 or 20.
---
Unlike most rods that are produced in various lengths, the TenkaraBum 33 is not just the TenkaraBum 36 with one less section. It has a slightly different design goal so it is made from a different blank. The goal for the TenkaraBum 36 was for an all-around rod for how American tenkara anglers fished - with weighted nymphs and with dry flies in addition to the unweighted wets used in Japan. Had it not been well received, it easily could have been a stand-alone offering. The TenkaraBum rod.
It has been well received, though, and thoughts quickly turned to other lengths. However, I didn't want too great an overlap with any of Suntech's existing rods. The wonderful (and wonderfully light) Kurenai HM33R is ideal for fish up to about 12" or so. The goal for the TenkaraBum 33, then, was for a rod that would start about where the Kurenai HM33R leaves off - for fish that are 10-12" and up.

It is always a bit surprising to see Tom Davis catching 13-14" fish in narrow, overgrown streams. That doesn't just happen in the west, though. I've taken 17" browns out of streams in the New York City suburbs for which a 330 length rod is just about ideal. 
---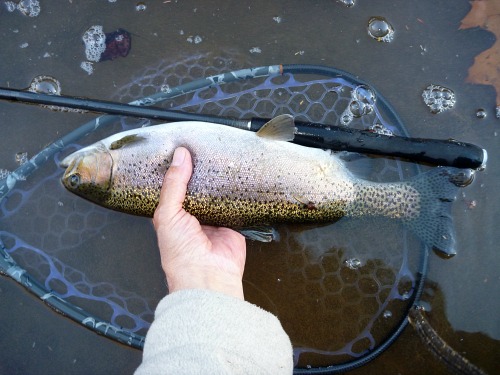 Update 11/12/16: This 17" rainbow, caught with a TenkaraBum 33 prototype and a Pink Chenille Worm, was taken in a section of stream that is relatively narrow, relatively swift and has low tree branches protecting some of the better lies. Thinking back, most of the fish of about this size that I have caught in relatively small streams were caught in lies where low tree branches made casting to them quite a challenge.

---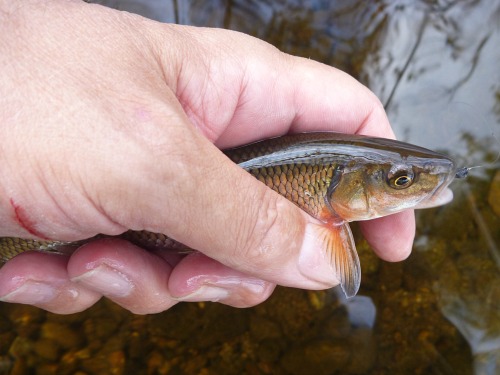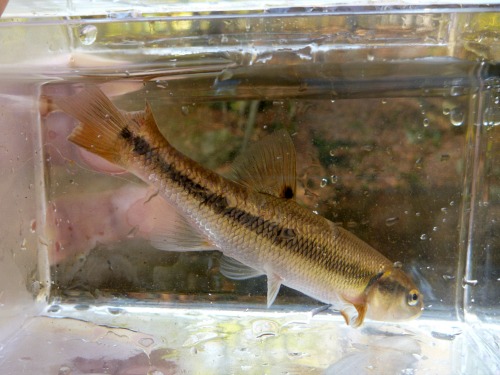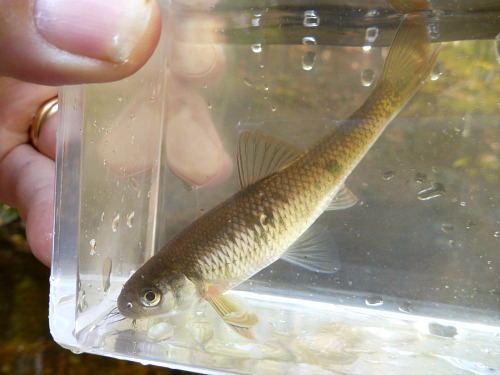 The TenkaraBum 33 was intended to be a rod for smaller streams that might hold larger fish, not a rod 6" eastern brookies. However, Suntech has done it again. I haven't caught any brookies with it yet, but the small fallfish, creek chub and common shiner above proved that with the TenkaraBum 33 prototype you can feel every headshake from a 5" fish.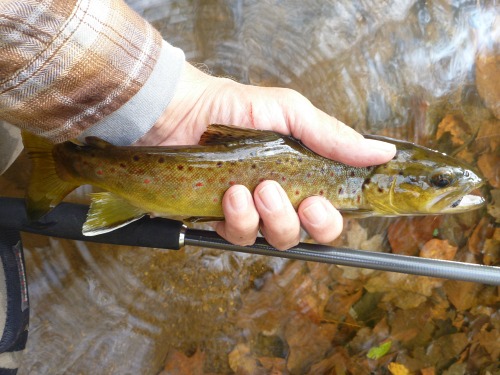 When you do hook a nice trout in a smaller stream, though, you do want to be able to keep it out of the snags. And if it gets below you in a high gradient stream, you do want the rod to have enough moxie to get it back. The TenkaraBum 33 will do both without issue.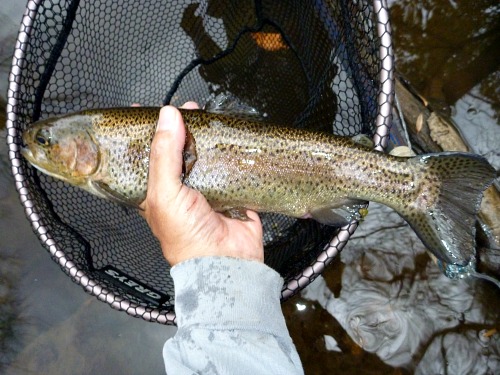 Although I did not intend it to work out this way, I was able to give the TenkaraBum 33 prototype quite a test. Anyone who has ever foul hooked a fish knows how much harder the fight is than if you had hooked it in the mouth. You cannot turn a foul hooked fish if it is hooked halfway or further back. So how hard does a foul hooked 14" fish fight? What is it equivalent to with a fair hooked fish? I don't know, but I do know of a rod that was broken when a foul hooked fish about this size got sideways in heavy current. Luckily there was little current where I foul hooked the one shown above. I do know that my arm got tired - more so than with the largest fair hooked fish I have ever caught. The TenkaraBum 33 prototype didn't complain. Surprisingly, it also protected the 7x tippet I was using all day.

The rod is stiffer than the TenkaraBum 36, at 23 pennies compared to 18.5. While you could fish a heavier line, perhaps a Nissin PALS SP Pro 3.3 or the PALS Orange 3.3 line, I found that I preferred a lighter line, either a size 3 level line or the 3 meter Fujino White line. To use one of the lighter lines, you do need a bit snappier forward cast, but it actually works quite nicely and it is easier to hold the lighter line off the surface.
Similarly, the TenkaraBum 40 is not just the TenkaraBum 36 with one more section. It, too, is built on a different blank, optimized to give performance very similar to the TenkaraBum 36 while minimizing any tendency for tip heaviness. The 40 has a slightly longer collapsed length, allowing Suntech to make a longer rod with the same number of sections. That improves the bend profile and also keeps down the weight. It measures just a half penny stiffer than the TenkaraBum 36.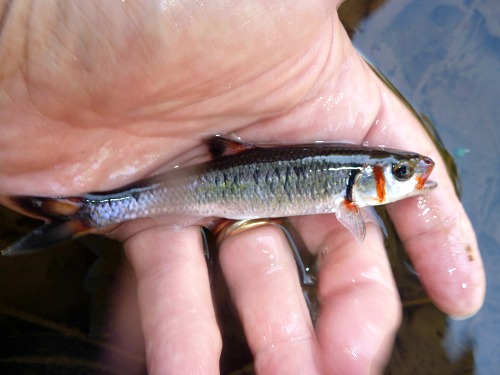 Warpaint Shiner
The TenkaraBum 40 prototype also transmits every wiggle of even pretty modest fish, like this warpaint shiner, caught in North Carolina...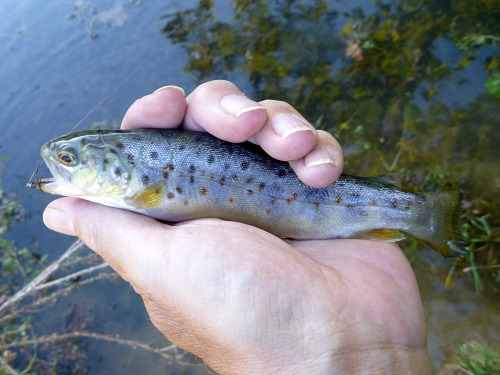 Mossy Creek Brown Trout
...or this surprisingly blue trout caught in Virginia on my way down to the Tenkara Jam.
Like the TenkaraBum 33 prototype, I found the rod quite capable of landing good sized fish.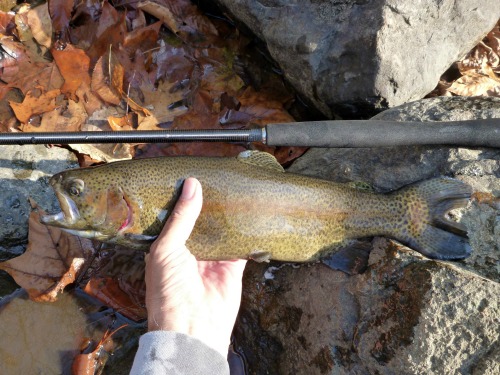 I haven't caught any truly large fish with the TenkaraBum 40 prototype, but it handles 15-16" fish easily and it feels very much like the TenkaraBum 36.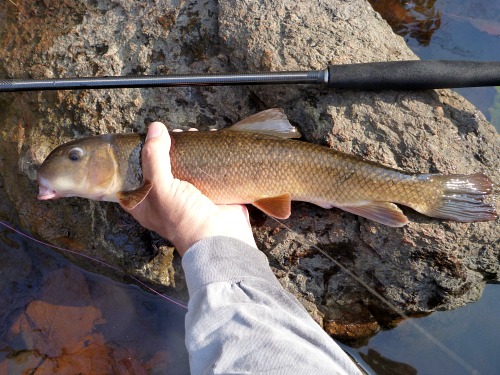 The largest fish of the day was a white sucker. A white sucker doesn't fight as well as a shorthead redhorse, but it's first run was stronger than any of the 14-16" trout I caught that day.
I don't care what fish I catch. I just like to catch fish. It was a good day!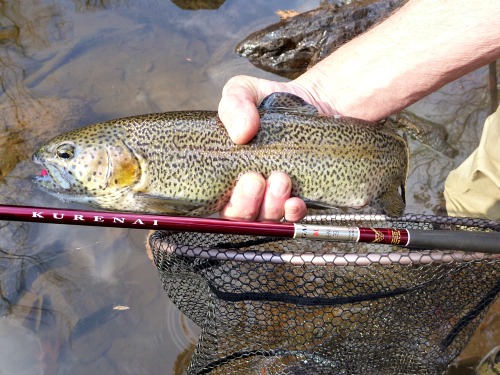 I should mention that I wasn't the only one to have a good day. Coach continues to prove that I underestimate the capability of the rods I carry. He insists that the Kurenai is NOT a micro fishing rod!

---
TenkaraBum Home > Trip Reports > Trip Report 10-30-16

---
"The bitterness of poor quality remains long after the sweetness of low price is forgotten" - Benjamin Franklin
"Be sure in casting, that your fly fall first into the water, for if the line fall first, it scares or frightens the fish..." -
Col. Robert Venables 1662
As age slows my pace, I will become more like the heron.

---
Warning:
The hooks are sharp.
The coffee's hot.
The fish are slippery when wet.
Beware of the Dogma

---