Trip Report - 10-25-20
I had decided to go to "The Best Looking Stream in which I Never Catch Fish." I don't really know why. I almost never catch fish there. It just looks so fishy, but it gets absolutely pounded (probably because it just looks so fishy).
I have been told, by a guy who used to be a regular and has caught a lot of fish there, that the way to fish it is exactly the way everyone I saw on Sunday was fishing it - a tiny nymph under a Thingamabobber. I don't know if any of them caught any fish. I saw quite a few people fishing and I never saw anyone catch anything.
I went there because I wanted to try the Nissin Zerosum Tenkara 450 6:4 and 7:3 rods for Honryu Tenkara. Last year I tried Honryu Tenkara with a few rods, and had intended to take the Zerosum 450 7:3 but forgot it. The stream I had gone to last year was just a bit too wide, and in most spots I could not reach the bank eddies on the far side, which had been my intention.
The Best Looking Stream in which I Never Catch Fish is a bit narrower, and on Sunday I was able to reach the bank eddies on the far side. Not that it did me any good, mind you, I still didn't catch any fish. I did get in some good casting practice though.
I didn't bring the full range of lines I had used last year, deciding instead that the 7m Fujino Soft Tenkara Long Type, which I liked a lot last year, plus a 7m size 3.5 level line would be sufficient. The level line worked reasonably well, but the Soft Tenkara Long Type worked very well. It was much easier to get full extension with the Fujino line even though it is nylon and thus less dense than the  level fluorocarbon. The Fujino line is tapered and the taper does indeed help with turnover.
Of the two rods, I felt the 7:3 did noticeably better than the 6:4 with the 7m line. The 6:4 rod worked, and if you prefer rods that are more full flex it would be a reasonable choice, particularly if you will fish with a slightly shorter line. The Fujino Soft Tenkara 5m line with a meter of hand tied leader for a transition between the end of the line and your tippet would be a good choice.
After a fishless morning, I decided a cast that was perfect other than being about 6" too long, together with a tree root that would not give up the fly, was an omen. Time to move to a stream that is not the best looking but is one where I usually catch a few fish.
True to form, I caught a few fish. I caught fewer than normal, but I usually start my day there rather than arriving around noon. No way to know if I was the first person to fish the stream that day. The guy I know who catches the most fish is adamant that if you are not the first person on the stream that day, go to a different stream.
The day yielded a mixed bag, a 4" trout, a largemouth bass that was maybe 5", a fallfish that was might have gone 6", and one nice trout.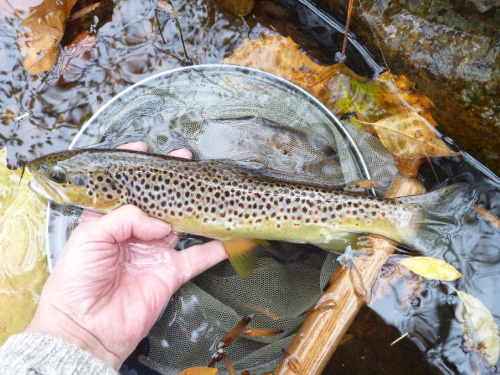 That one nice trout may be the nicest I have ever caught in that stream. Measuring it against the net hoop, it looks to be a bit over 14 inches. Just after the above photo was taken, it started to rain. I took that as an omen, too.

Say what you will about your Futsu Kebari.  After a mostly fishless day, sometimes it pays to tie on a bead head black Killer Bugger!
---
TenkaraBum Home > Trip Reports > Trip Report 10-25-20

---
"The bitterness of poor quality remains long after the sweetness of low price is forgotten" - Benjamin Franklin
"Be sure in casting, that your fly fall first into the water, for if the line fall first, it scares or frightens the fish..." -
Col. Robert Venables 1662
As age slows my pace, I will become more like the heron.

---
Warning:
The hooks are sharp.
The coffee's hot.
The fish are slippery when wet.
Beware of the Dogma

---