Trip Report - 12-14-18
Where have all the fallfish gone? Are they called fallfish because after the fall they disappear?
I played hooky last Friday to go fishing ahead of what was forecast to be a rained-out weekend. A number of Nissin Air Stage Hakubai medium rods had been delivered earlier in the week and I wanted to get out and try to catch some fish with them, try some different lines with them and do a back-to-back comparison of the Air Stage Hakubai 340 medium and the Nagare 330.
For a venue, I chose a stream where Coach and I almost always catch fallfish - most of which are about the size of the Japanese Dace and Pale Chubs for which the rods were designed. We have also caught common shiners and blacknose dace there. It is a wild trout stream, and in addition to the fallfish, we almost always catch some trout.
Wouldn't you know that on the only day I have ever fished that stream when I specifically wanted to catch fallfish or common shiners rather than trout, I caught only trout. Please understand that I have nothing against trout, it's just that I imported those rods primarily for micros and I wanted to get some good micro photos.

Well, I have to say they're not bad trout rods. Deja vu all over again. The same thing happened when I first fished a Daiwa Soyokaze.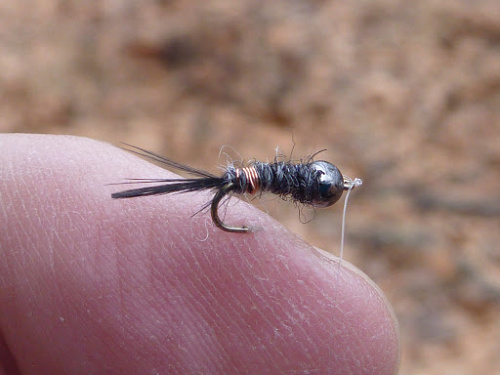 Fly of the day: bead head black Killer Bugger.
The fly of the day was a size 18 bead head black Killer Bugger. I could have used a smaller bead than the one shown but I had run out of the next smaller size. I did manage to hook one fish with a Tenryu Kebari but almost all the action was on the black Killer Bugger shown above.
Winter fishing is never very productive for me, and Friday was no exception. Actually, it was better than most winter outings, with five fish in the net, one long distance release and two missed hits.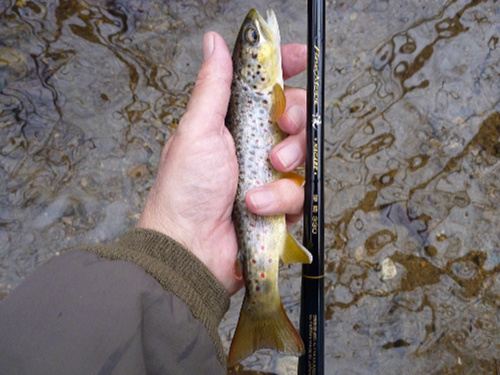 Definitely big enough to bend the rod.
The "control" for the day was the Nissin Fine Mode Nagare 330, which I had fished before and which I truly like for its slow, smooth casting and the fact that it is soft enough to bend with even very small fish. The trout in the photo is more than enough to bring out the best in the rod.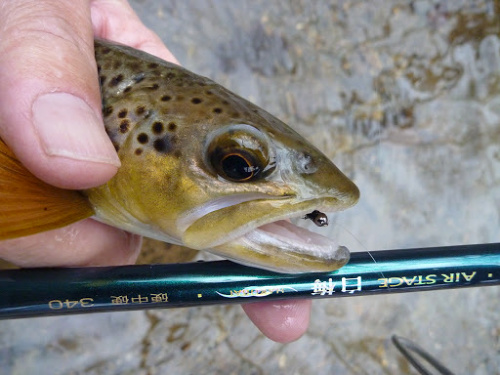 Small bead heads are not a problem
The Nissin Air Stage 340 medium is firmer than the Nagare 330, particularly in the midsection. It's only a penny and a half firmer at 9 pennies, but going from 7.5 pennies and 9 pennies is a 20% jump and definitely is noticeable.

I had expected the Air Stage medium rods to be softer overall than the comparable length Suntech Kurenai rods. The penny measurements turned out to be the same or very nearly the same, but the bend profiles are indeed different. Just as the Air Stage rods are more tip flex and have firmer midsections than the Nagare, the Kurenai rods are more tip flex and have firmer midsections than the Air Stage. Essentially, the Nagare is full flex, the Air Stage medium is mid flex and the Kurenai is tip flex.
Although I had the Air Stage 240 and 290 rods with me also, I was not able to fool any fish when using them. With low, clear water and no big rocks to hide behind, the conditions required more stealth than I had.
Not surprisingly, I did better with even longer rods. Just for evaluation, I had ordered one each of a Fine Mode Nagare 2-Way 390 (340-390 zoom), a 2-Way 440 (400-440 zoom) and 2-Way 540 (500-540 zoom).
The 2-Way 390 is somewhat similar to the Daiwa Sagiri 39 but it is much softer and is full flex rather than mid flex. The Fine Mode Nagare 2-Way 390 measures 7 and 8 pennies at 3.4m and 3.9m, respectively. The Sagiri 39 measures 13 and 15. That is a huge difference.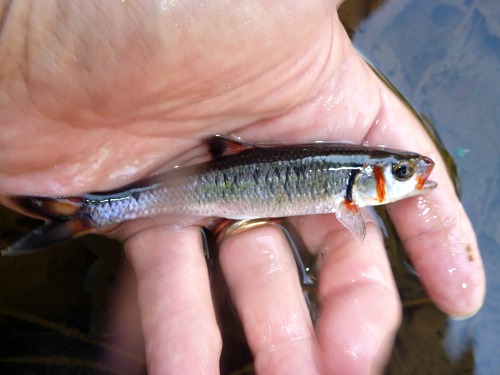 North Carolina Warpaint Shiner
The 2-Way 440 is almost as soft as the 390 (8 and 8.5 pennies). A rod for bigger water but still for smaller fish? Really? Really! When the Tenkara Jam was held in Cherokee, NC a couple years ago, I fished the Oconoluftee River, which flows through town and which is much too wide to cast across with a 440 rod. I caught lots of river chubs and warpaint shiners. The Nagare 2-Way 440 would have been an ideal choice.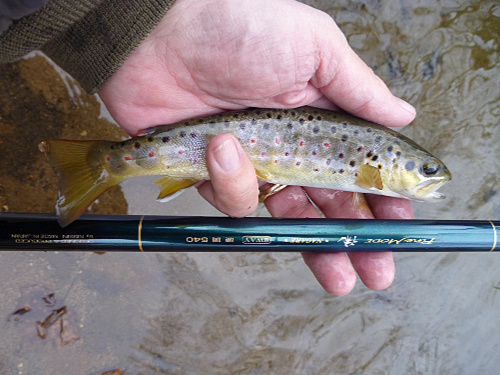 Fine Mode Nagare 540.
The 2-Way 540 reminds me a bit of the Suntech Suikei ZPRO 54, which was discontinued several years ago. The Suntech had a higher penny rating  - 12 at its shortest length compared to 10 for the 2-Way 540 Nagare.  The max tippet recommendation for the ZPRO was only 8X, though, compared to 6X for the Nagare. I need to fish this one some more. I really liked the Suikei ZPRO but I sold mine when Suntech discontinued them. I do like the Suntech FMX Keiryu ZPRO that replaced it, but the FMX Keiryu ZPRO is a 16 penny rod. The 10-penny Nagare 2-Way 540 is a nicer rod if you are fishing for smaller fish.
The 6X tippet limitation for the Nagare rods does not make them suitable for big fish. They were designed for fish that probably don't get over about 8 inches long. Can you catch a 12 incher with the 2-way 54? Sure. An 18 incher? for that you'd be much better off with a keiryu rod.
I spent most of the day fishing with size 3 nylon (TenkaraBum Tactical Nymphing Sighter .011) although I did fish a little with size 2.5 nylon (.010 sighter) and a little with a size 2.5 fluorocarbon (Nissin Oni Line). The fluorocarbon was clearly the easiest to cast, while the nylon was marginally easier to hold off the water's surface. Since I didn't hook any micros, I couldn't tell if the nylon was more sensitive for micro strike detection - although I'm pretty sure it would be.
I have not decided whether to import more of the longer rods, the 390, 440 and 540. I really like soft full flex rods but in the past they have not sold well. If you would like one, though, let me know.

---
TenkaraBum Home > Trip Reports > Trip Report 12-14-18

---
"The bitterness of poor quality remains long after the sweetness of low price is forgotten" - Benjamin Franklin
"Be sure in casting, that your fly fall first into the water, for if the line fall first, it scares or frightens the fish..." -
Col. Robert Venables 1662
As age slows my pace, I will become more like the heron.

---
Warning:
The hooks are sharp.
The coffee's hot.
The fish are slippery when wet.
Beware of the Dogma

---