Nissin Air Stage Hakubai

The Nissin Air Stage Hakubai are wonderfully light, extremely sensitive rods very well suited for tenkara fishing in smaller streams for smaller fish. Seiryu is generally translated as "clear stream" and these rods are about as nice as you'll find for fishing the crystal clear headwaters in the Catskills, the Smokies or the Sierras.
For years now, US anglers have known that light sensitive rods like the Suntech Kurenai HM30R are just ideal for modest trout in smaller streams. The only problem with the Kurenai rods is that there are lots and lots of streams that have trout but are too small, brushy and overgrown to fish with the 9'8" HM30R.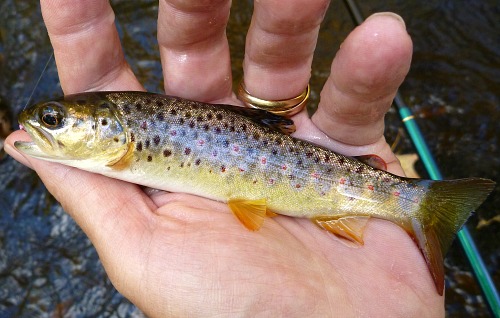 Small trout are perfect quarry.
For most anglers, the 8' Nissin Air Stage Hakubai 240 硬調 is about as short a rod as they can use without spooking the fish they are trying to catch. The first thing you'll notice when you pick it up is that it is almost unbelievably light. The rod weighs just .6 ounce!

Vermont Outdoor Journal - Tenkara Fishing

The Vermont PBS station had a nice program on tenkara not long ago. Although the host kept referring to the rod used in the show as a tenkara rod, it was actually a Nissin Air Stage Hakubai 240 硬調. The fishing was pure tenkara but the rod is actually a seiryu rod. Nonetheless, if you are fishing for little wild brookies, it would be hard to find a better rod.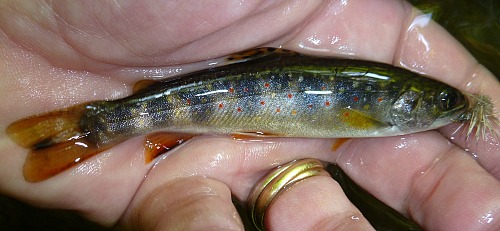 Got Brookies?
Although these are wonderful headwaters rods, they're really not backpacking rods. The collapsed length on all of them is a relatively long 23 5/8". (Of course, generations of fly fishermen backpacked with three piece fly rods, which when broken down are quite a bit longer than that!). The longer sections mean fewer joints, and fewer joints make a smoother casting rod.
Still, for smaller trout in smaller streams, the Air Stage Hakubai 240 硬調 is just a wonderful rod.

Air Stage Hakubai 硬中硬 (medium)
For streams that are too small for even the Hakubai 240, Nissin makes an Air Stage Hakubai 190. For that length I carry only the softer 硬中硬 (medium) rod. I see it primarily as a micro fishing rod, although you can use it to fish tiny streams for tiny trout.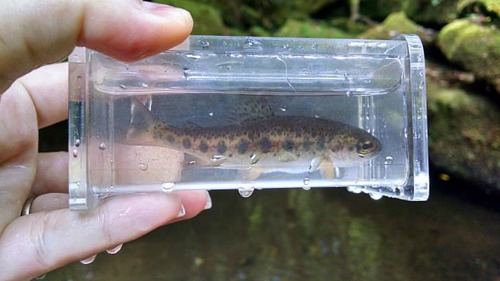 Rainbow caught with Air Stage Hakubai 190. Photo courtesy Ryan Q
However, the rod is indeed for tiny trout. I don't think I'd want to tangle with an 8 or 9 inch fish!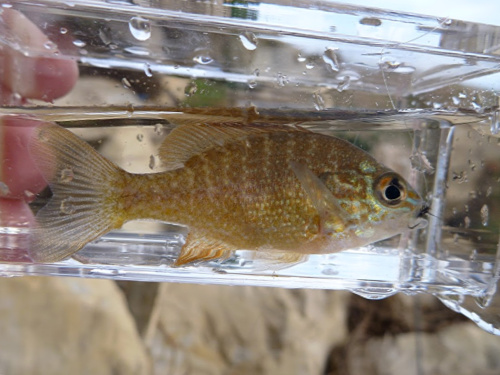 A sunfish this size will put a bend in the Hakubai 190 硬中硬!
And if you happen to live too far away from little streams teaming with hungry trout, you'll find that the Nissin Air Stage Hakubai are also wonderful rods for little streams teaming with hungry sunfish. They're not big fish rods (to be perfectly honest, tenkara is not a big fish pursuit and seiryu fishing is very definitely not a big fish pursuit) but for smaller fish these are just delightful little rods. 
John E's "micro" bass.
The Nissin Air Stage Hakubai rods are superb for micro fishing.

It seems like little fish are the new big thing. A recent NPR segment on micro fishing has generated a lot of interest. Perhaps the best thing about it is that it is so accessible. You don't have to travel far to go micro fishing. Many town parks have a lake or stream, and they all have fish. Most won't be wall hangers, but if you fish with equipment that is actually designed for catching small fish, it can be a lot of fun.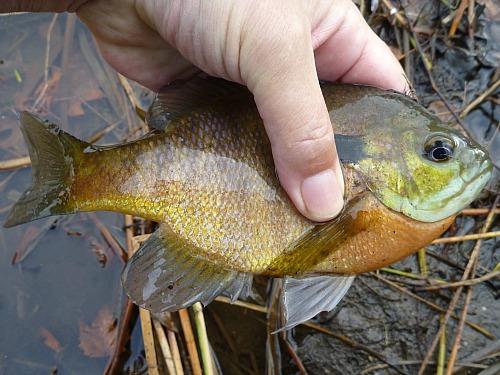 Sunfish are the just the start of an increasingly challenging pursuit.
Gotta catch 'em all!
Micro fishing can also get very interesting and challenging if you take it to the next level - seeking out and fishing for species in your area that you have not yet caught. It starts with sunfish and gets progressively more challenging.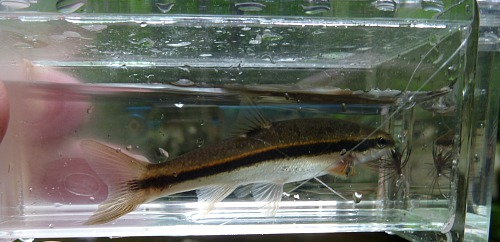 Years ago, I carried the Air Stage Hakubai 硬調 in multiple lengths. I dropped all but the 190 and 240, lengths for which Suntech did not make the Kurenai. A couple years ago I switched the 190 from the firmer 硬調 to the softer 硬中硬. It turned out to be nicer rod for micros, in that a smaller fish could still put a bend in it.
Fly Fishing for Micros
In recent years, fly fishing for micros has become more popular. Seiryu fishing in Japan is micro fishing, and is done with either flies or bait, but what we mean by micro fishing in the US is much broader than seiryu fishing in Japan. Also, the common method of Japanese seiryu fishing with flies is not at all like what we do here. At least for now, I'll just continue to call it fly fishing for micros.
Given the increased popularity, and given that the Air Stage Hakubai 硬中硬 rods are softer and have considerably less backbone than the Kurenai rods, I thought these rods might be a better choice for micros, while the Kurenai would be a better choice for trout.
One thing that Coach and I have found when fly fishing for micros is that the shortest rods are often too short. Unlike tanago in Japan, most micros in the US are pretty skittish, and a longer rod is generally beneficial. For that reason, I decided to stock the Nissin Air Stage Hakubai 硬中硬 rods in 240, 290 and 340 lengths in addition to the 190.

In comparison to the Nissin Fine Mode Nagare 330, Air Stage Hakubai 硬中硬 is a soft mid flex, while the Nagare is a soft full flex. Both would be great for micros. It just depends on which bend profile you prefer.
The rods are soft enough to cast a line that will twitch when a micro takes your fly. I would use size 2.5 line (and I have some even lighter line in mind that I haven't yet received). The tippet rating for the
Air Stage Hakubai 硬中硬 is 9X to 7X. I absolutely would not exceed 7X, and would suggest 8X for the 190.

Nissin Air Stage Hakubai Features

In addition to being light and responsive, the Nissin Air Stage Seiryu rods are really pretty. The finish is a clear coat over blue speckles and is unlike any other rod I've seen. In the sunlight, the rod changes from blue to green depending on the angle of the sun.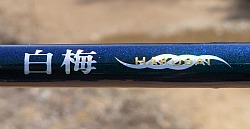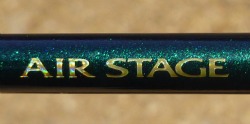 The color is carried into the grip section, which, as on all the other seiryu rods I've seen, is just a widened section of the rod blank, to which has been applied a very effective nonskid finish. The lack of cork between you and the blank gives you tremendous feel for what the fly is doing (and what the fish is doing).
I truly do not understand why some of the Japanese anglers, who do use seiryu rods like the Nissin Air Stage for tenkara fishing, cover the wonderfully sensitive grip with the rubber wrapping used on tennis racquets. You need it in tennis to cushion the shock from hitting line drive serves. In tenkara? I don't think so.

The tip plug is plastic and has minute ridges machined into the part that goes into the rod tip. It is a very snug fit - much more so than on the perhaps more common wood / rubber plugs. It is definitely not going to slip out by itself. However, they are small and easy to misplace. Do not lose the tip plug! Replacements are available, but they are expensive.

The grip screw is also plastic and seats securely in an aluminum insert in the end of the grip. The knurling on the screw cap allows you to tighten it securely or remove it easily.
I would recommend size 2.5 or 3 line and 7X tippet except for the 190 硬中硬, for which I would recommend 8X tippet. Nissin recommends tippet up to 6.5 for the 240 硬調, but I'd still use 7X.

Like a set of fine china, replacement pieces are available but there is no warranty. Handle with care and you'll be able to pass it on to your grandkids.
The Nissin Air Stage rods are made in Japan.

---
---
Air Stage
Weight
Length
Collapsed
Sections
Tip Dia.
Butt Dia.
Tippet
Pennies

240 硬調
.6 oz
8' 0"
23 5/8"
5
.6mm
13.3mm
9X-6.5X
7
Nissin Air Stage 240 - $155
---
Air Stage
Weight
Length
Collapsed
Sections
Tip Dia.
Butt Dia.
Tippet
Pennies

190 硬中硬
.4 oz
6' 3"
23 5/8"
4
.55mm
13.3mm
9X-7X
6*


240 硬中硬
.6 oz
7' 11 1/2"
23 5/8"
5
.55mm
13.3mm
9X-7X
5*


290 硬中硬
.8 oz
9' 8"
23 5/8"
5
.55mm
15.6mm
9X-7X
7


340 硬中硬
1.0 oz
11' 3 1/2"
23 5/8"
5
.55mm
16.7mm
9X-7X
9

The penny numbers for the 190 and 240 are correct. The 240 is softer.

---
Nissin Air Stage Hakubai 190 medium - $145
---
Nissin Air Stage Hakubai 240 medium - $155
---
Nissin Air Stage Hakubai 290 medium - $165
---
Nissin Air Stage Hakubai 340 medium - $175
---
Shipping
Domestic shipping is $10 via USPS Priority Mail (2-3 day delivery).
The charge for international shipping depends on the destination country, the weight of the package, the overall length of the package and the value of the package. Packages under 24" long and under $400 in value will go via USPS First Class International. Packages over 24" or over $400 will go via USPS Priority Mail International.

The Air Stage rods present a problem for international shipments. International first class packages cannot be longer than 24" but the rod cases that the Air Stage rods come in are longer than that. The plastic display case will be cut to fit.

---
TenkaraBum Home > Tenkara Rods > Nissin Air Stage Seiryu Rods
---
"The bitterness of poor quality remains long after the sweetness of low price is forgotten" – Benjamin Franklin
"Study to be quiet." - Izaak Walton 1653

"Be sure in casting, that your fly fall first into the water, for if the line fall first, it scares or frightens the fish..." Col. Robert Venables 1662
As age slows my pace, I will become more like the heron.

---
Warning:
The hooks are sharp.
The coffee's hot.
The fish are slippery when wet.
Beware of the Dogma

---