Daiwa Sagiri

I believe the Sagiri rods have been discontinued. The rods are no longer available, but replacement parts will be for years to come.

---
The Daiwa Sagiri is a wonderfully light, delightfully soft, smooth casting sieryu rod. In Japan it would be used primarily to catch Japanese Dace and Pale Chubs (Oikawa) in gentle streams. In the US most people use the Sagiri 39 to catch trout in mountain streams (mostly in California and the Southeast). A fair percentage of Sagiri 45 buyers live in the Midwest, possibly fishing either the Driftless region of southern Wisconsin or warmwater streams and ponds.
That dichotomy illustrates the versatility of a rod like the Daiwa Sagiri. In the first place, seiryu rods are great rods for tenkara fishing. They cast light lines beautifully. When I first imported the Sagiri 39 in 2012, my favorite line for it was nylon, not fluorocabon.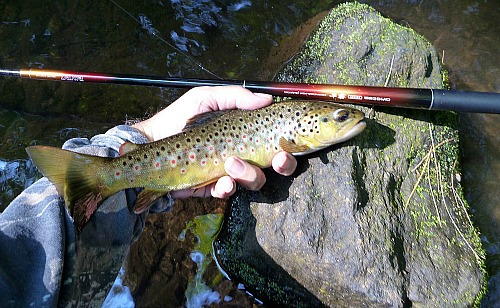 In the second place, having a Sagiri is like having a second rod - the Daiwa Sagiri is a zoom rod. The Sagiri 39 can be fished at 3.4m or 3.9m - very useful lengths for a mountain stream rod. The Sagiri 45 can be fished at 4.0m or 4.5m - pretty useful lengths when fishing meadow streams or bluegill ponds.
The Sagiri was not the first zoom rod sold in the US but it was the first one that isn't tip heavy! Back in July of 2012, when I first introduced the Daiwa Sagiri 39MC to American tenkara anglers, people were shocked by how light it was. The Sagiri 39 is a 3.9 meter rod - a full 13 feet long - and it weighs just 2 ounces.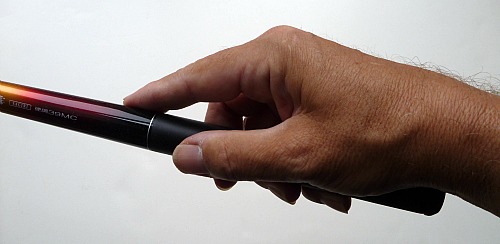 Super sensitive non-skid grip
Seiryu rods do not have "grips" in the sense of a cork or wood or foam grip. The grip is just a nonskid coating on a widened out section of the blank. The nonskid coating is quite effective, wet or dry. The grip on the Sagiri is much wider than on most other seiryu rods. The wider grip, plus the very low rod weight, makes the Sagiri comfortable to fish with all day long.

A cork grip, even if it is not high quality cork, adds a surprising amount to the cost of the rod. I am convinced that the lack of a cork grip is the primary reason Daiwa can sell such a nice rod for such a low price.
I know that people are drawn to the Daiwa Sagiri by the low price compared to the tenkara rods made by Japanese companies. What draws me to the Sagiri, even more than the low price, is the soft midflex action that is very similar to the Daiwa Expert level line tenkara rods, (the penny ratings are almost identical) but in a rod that weighs just 2 ounces. It almost seems like the Sagiri should cost MORE than the tenkara rods, not less!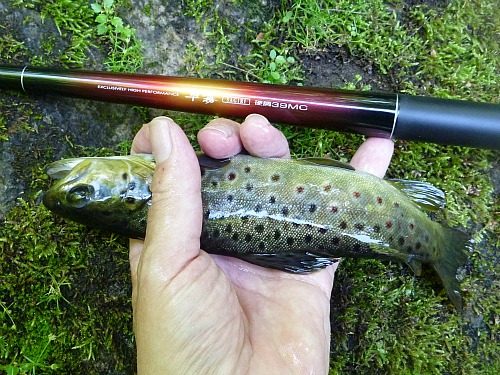 I think when most people shop for tenkara rods, they look for "tenkara rods" not "rods that are very well suited for tenkara fishing."  They tend to not think about seiryu rods, or the fact that the Daiwa Sagiri will cast a light tenkara line so well you'd think that's what it was designed for. Thus, most people shopping for a tenkara rod don't even think of it, and thus miss out on a great rod at a great price.
If you are looking for a rod for tenkara fishing, casting a light line, keeping it off the surface, gently manipulating your flies you should definitely consider a Daiwa Sagiri. If you want a light rod capable of casting a light line, you need look no further.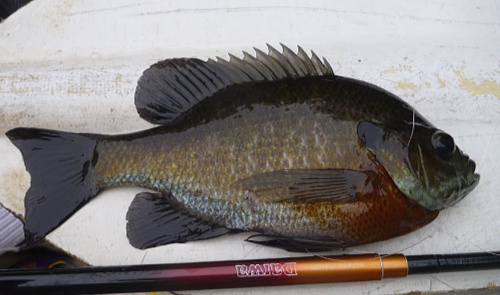 The Daiwa Sagiri is also a truly superb panfish rod. A good sized bluegill will give you a tremendous fight, but isn't going to break your tippet, let alone your rod. The Sagiri is soft enough that even the small ones will put a bend in the rod. Actually, they're great rods for small fish in general, whether sunfish or creek chubs or fallfish or common shiners.

In Japan, some seiryu anglers use flies and some use bait. Most of their bait fishing is with a small float. Iif you wanted to use the Daiwa Sagiri for bait fishing, you could use one of the Owner Top Floats or Acorn Floats or do keiryu-style bait fishing with a light line, keiryu yarn markers and tippet as light as 9X for "zero" fishing (small baits, small light wire hooks and very light split shot so the bait has almost nothing - zero - to prevent it from achieving a perfectly natural drift). The Sagiri 45 would be better than the 39 for keiryu fishing, but the 39 would be fine for small streams and would be just ideal for ultralight worm fishing.
In Japan, some tenkara anglers fish with a Daiwa Sagiri. Additionally, if you have seen the DiscoverTenkara video of Takahashi san fishing in the Itoshiro river with a bead head nymph, you might have noticed that he was fishing with a Daiwa Sagiri. He routinely caught so many fish there that they changed the rules, from just "catch and release" to "catch and release ten fish" at which point you have to stop fishing! The light sensitive rod, size 2 line and a bead head nymph was literally a game changer! It probably will be for you, too.
The two longer rods, the 54 and 63 are not ideal "big water" tenkara rods. They are just a little too soft with a bit too much inertia for pleasant casting. If you are fishing your flies with a dead drift, you can use these rods for more reach. The line will bounce too much if you try any manipulations, though.
What the longer rods are very good for, though, is keiryu fishing for modest fish (under about 16").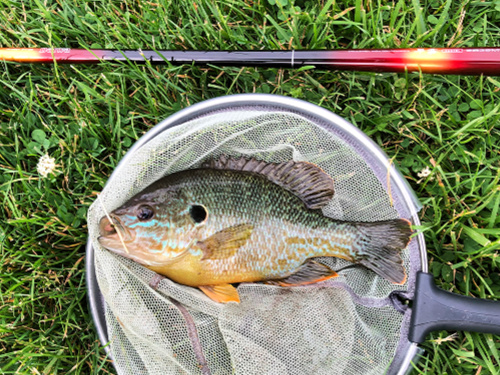 "Love my Daiwa Sagiri!" - Michael S
Daiwa Sagiri Features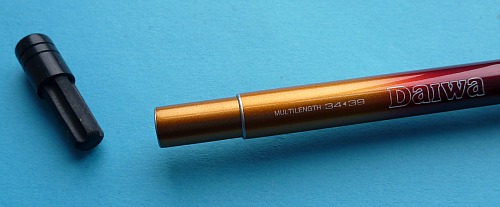 The tip plug is wooden, as it is on the high end Daiwa tenkara rods, and like them it is fluted so you can insert the tip plug with the line still attached. The grip screw cap is plastic, and is cushioned on the inside so the collapsed rod doesn't click as you walk to and from the stream. There is also a ventilation hole.

The "zooming" section is held very securely in both the 11'5" position and the 13' position for the Sagiri 39, and in both the 13' and 14'7" position for the Sagiri 45.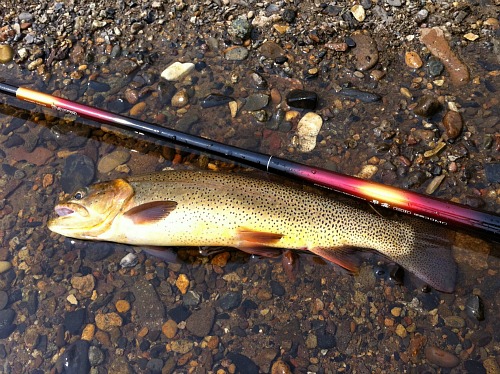 ---
*Sagiri rods are used in Japan to catch fish that don't get much bigger than 6". Japanese anglers do not break rods on 6" fish, so I am convinced that tippet ratings are no more than a rough guide, explaining what anglers generally use with the rod. I do not believe they are meant to state the strength of tippet that will break before the rod does.
That said, it does not mean the rod cannot handle larger fish. I have received numerous reports and photos of 12-14" trout caught with the rod. Just be aware the Daiwa Sagiri is not a big fish rod.

---
TenkaraBum Home > Rods > Daiwa Sagiri

---
"The bitterness of poor quality remains long after the sweetness of low price is forgotten" - Benjamin Franklin
"Be sure in casting, that your fly fall first into the water, for if the line fall first, it scares or frightens the fish..." -
Col. Robert Venables 1662
As age slows my pace, I will become more like the heron.

---
Warning:
The hooks are sharp.
The coffee's hot.
The fish are slippery when wet.
Beware of the Dogma

---