Trip Report - 12-21-14
Recently, I've had conversations with a couple friends about fishing the Squirmy Wormy or San Ron Worm, which are essentially San Juan Worms tied with a silicone worm rather than a chenille worm. Both of them said the worms were very effective. One conversation was via email, and as you know, email cannot convey nuance, inflection or body language.
The other conversation was over a couple beers, and the nuance, inflection and body language said a lot more than the words. The overall impression was that the worms are not just good, but very, very good - ought to be illegal good - speak in hushed tones so no one overhears good (and that's hard to pull off in a noisy bar). 

With that conversation fresh in my mind, I was primed to tear them up on the stream on Sunday.

As a prologue, last week I tried a San Juan worm tied on a Tiemco 518 size 32 hook, and although I did catch some fish with it, I felt the hook was perhaps a bit small for the chenille. On Sunday, I tried a couple worms tied with a squirmy wormy I had found while fishing last month. I though it was tied with the worm too long, so I cut it in half and tied two worms with it. Instead of the Tiemco 518 I used the more reasonable Daiichi 1120 size 12 hooks.
My thought in tying two shorter worms rather than one long one stems from when I used to fish an Infamous Pink Worm (basically, a San Juan Worm tied with hot pink Ultra Chenille). I used to get a lot of hits but also missed a lot of them. I think the fish often hit a part of the worm that didn't have a hook in it. If you fish a very long worm, it just increases the chance that a fish hitting the worm will miss the hook.
One of the friends, who had fished that same section of stream last month said he'd hooked five fish but was only able to land one of them. My results Sunday were almost identical to his. I hooked four fish and only got one in the net.
"Hooked" might not be quite accurate. I had three fish on the line, but none of them for very long. Two were just for an instant, as if they weren't actually hooked but didn't want to let go of the worm until the pressure on the line got too strong and they let go. Was that really the case? Probably not, but that's what it felt like. One was on long enough to put up a fight, but after maybe 10 seconds it too was gone.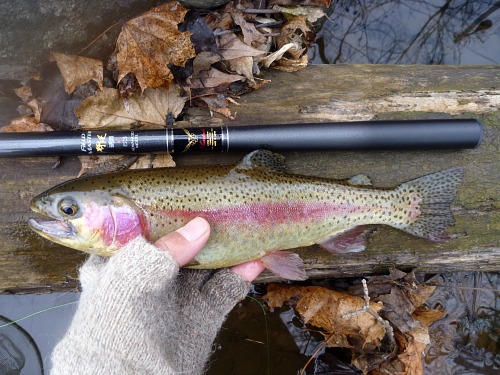 I did manage to put one fish in the net, a fat 12.5" rainbow.

It's not supposed to happen this way. Small hooks are supposed to be harder to land fish with, but the three fish that got off were (not) hooked with size 12 hooks. The one I actually landed was the one that took the size 30 hook.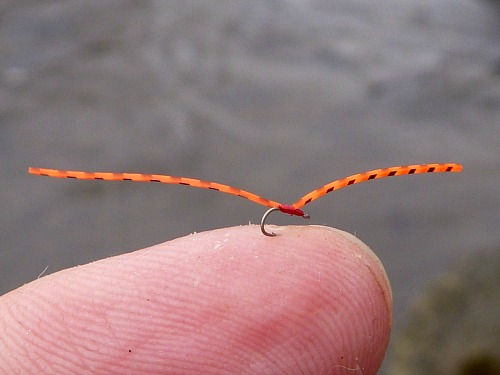 The worm was not really a Squirmy Wormy or a San Ron Worm. It was much, much smaller, tied with a size 30 Varivas 2300 hook, Gordon Griffiths 14/0 red thread and used a rubber leg intended for panfish poppers as the worm. I know there are lots of different aquatic worms, but I don't know if any are this small.

And it is small! In the above photo, you can just barely see it.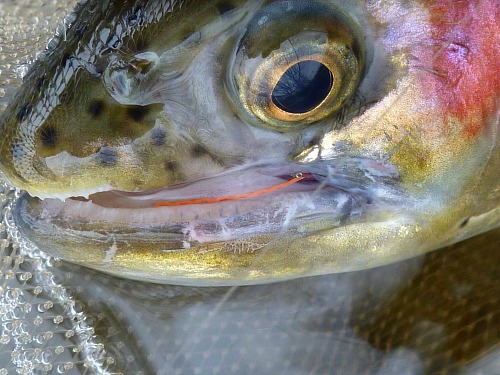 In an extreme closeup, you can just see the hook eye. You can also see that a portion of the upper jaw (premaxila) has been ripped off. I suspect that was done by a spin fisherman, as I don't think a fly rod (of the weight people would actually use on that stream) could generate sufficient force to do that. I hate to see this, although I've seen it before and will almost certainly see it again. I do wish that people wouldn't strike so hard. It just isn't necessary. The whole idea of "lip rippers" or "rippin' lips" is frankly a bit disgusting.
That was the last fish of the day.
Although it was nice to catch the fish, and on a size 30 fly at that, the best part was doing it with a Suntech Field Master 53. I'd fished with a Field Master 53 only once before but didn't catch anything with it. On that trip I had a number of other 5.3 or 5.4 meter rods to fish with and didn't get much time with the Field Master. I had a lot of time to fish with it today.
Nice rod. It is a bit more mid flex than a Daiwa Kiyose 53M and not quite as mid flex as the Nissin 2-Way 540ZX stiff. It is noticeably lighter than the Nissin, though. Even though the Field Master has three different lengths, I liked it much better at full extension.
Given the size of the fish people have caught with a Field Master 39, I suspect the Field Master 53 is going to prove to be one very capable rod.

---
TenkaraBum Home > Trip Reports > Trip Report 12-21-14

---
"The bitterness of poor quality remains long after the sweetness of low price is forgotten" - Benjamin Franklin
"Be sure in casting, that your fly fall first into the water, for if the line fall first, it scares or frightens the fish..." -
Col. Robert Venables 1662
As age slows my pace, I will become more like the heron.

---
Warning:
The hooks are sharp.
The coffee's hot.
The fish are slippery when wet.
Beware of the Dogma

---