Covid-19 Announcement
INTERNATIONAL: Shipments to Europe and Canada are still slightly delayed but are getting back closer to normal. Shipments to Australia are still much slower than normal.

DOMESTIC: Many deliveries are taking about a day longer than normal. A few deliveries are taking a lot longer than normal. If you are planning a trip, please order well in advance.

---
Trip Report - 7-14-19
Sunday was supposed to be a micro day. Coach and I went to the stream we usually fish for micros. I had expected to catch at least 7 species. Coach expected 10. We each caught 4, and only one was a legitimate micro, the others were various sunfish and a smallmouth bass. The lone real micro was a creek chub.

The stream was high and discolored, which made sight fishing for micros absolutely impossible. Our size 20 bead head black Killer Buggers would have been invisible and were left in the fly box. I had brought a Nissin Fine Mode Nagare 330 for the micros, but when I saw how high and off color the water was, I pulled out an ultralight spinning rod and fished micro spoons instead. Coach fished poppers. After catching a few fish we left and went to a couple ponds in an industrial complex. The ponds have a good population of bluegills, pumpkinseeds and largemouth bass.
They weren't micros, but they'd at least save the day.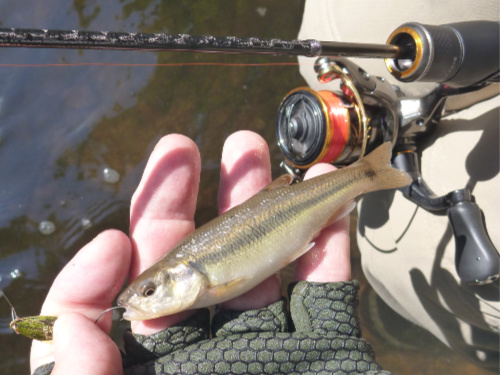 The lone micro, a creek chub.
Although I had brought the Fine Mode Nagarre for the micros, on a whim I decided to see how it would do with a Daiwa Vega .4g spoon. To date, I had only fished them with the TenkaraBum Traveler 39, TenkaraBum 36 and TenkaraBum 40, rods with a relatively firm midsection and well suited for fishing weighted flies. I was a little concerned that the .4g spoons might be much too heavy for the Fine Mode Nagarre, which at 7.5 pennies is close to the softest rod I carry.
They're not! The rod had absolutely no problem casting them. I used a size 3 fluorocarbon line, which is a bit heavier than I would normally use with the Fine Mode Nagarre, but a heavier line smooths out the cast when fishing a weighted fly or a micro spoon.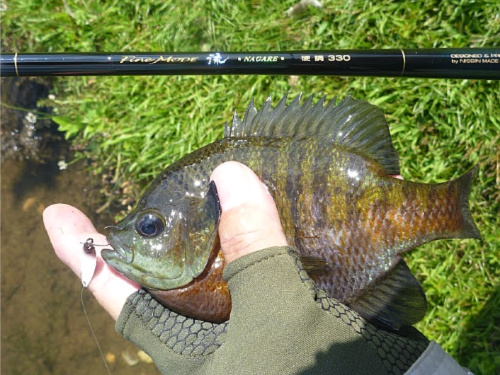 The White Bug spoons were easy to see, making it easy to see hits.
I already knew that the sunfish in the ponds would attack the Vega spoons. They seem to be a lot more aggressive when hitting the spoons than they are when hitting flies. With flies, they will often just slowly come up and barely overtake a moving fly. There was nothing slow about how they took the spoons.
I missed more hits with the micro spoons than I do with flies. You almost never miss sunfish when they take a wet fly, unless you are way too slow or way too fast and pull it away before the fish actually takes it. I think the wobbling action of  the spoon sometimes results in the hook being a bit off to one side when the fish hits, so they hit the spoon but miss the hook entirely. Some also hit the middle or front of the spoon rather than coming from behind and taking the hook as well as the spoon. Still, the spoons are effective enough that even with the missed hits, I'm sure I caught at least as many fish as I would have caught with flies.
It doesn't take a very big fish to put up a fight on a Fine Mode Nagare.
As always, the Fine Mode Nagare 330 turned out to be a fun rod for the sunfish. They do make the line sing! I should have taken a few photos of the really small fish. Fish much smaller than the ones shown above can and will take the Vega spoons - and they can and will put a bend in the Fine Mode Nagare 330.
Fun day!

---
TenkaraBum Home > Trip Reports > Trip Report 7-14-19

---
"The bitterness of poor quality remains long after the sweetness of low price is forgotten" – Benjamin Franklin
"Be sure in casting, that your fly fall first into the water, for if the line fall first, it scares or frightens the fish..." Col. Robert Venables 1662
As age slows my pace, I will become more like the heron.

---
Warning:
The hooks are sharp.
The coffee's hot.
The fish are slippery when wet.
Beware of the Dogma

---