Trip Report - 7-28-19
Seiryu Sunday

On Sunday I fished with a friend who wanted to know if the Suntech Kurenai HM30R is really as magical as he'd heard. He had read my comment that it comes with a curse - if you even touch one you will want one.
He was willing to take that risk.
The reason he wanted to try it rather than just buy it is because he tends to like slow, full flex rods and the Kurenai are very definitely tip flex rods. He'd recently purchased a Nissin Fine Mode Nagare 330 and was very happy with it. The length is ideal for many of the streams he fishes, but some of the streams are small enough that a shorter rod would be better.
He offered to show me around the area where he lives if I would bring a Kurenai HM30R for him to try. The area where he lives is really nice! By nice, I don't mean a ritzy community. I mean he has brookies in his back yard! Of course, I agreed immediately. To be precise, the brookies are in his back yard only when the stream is out of its banks, but you can stand in his back yard and fish the stream. It really doesn't get much better than that. (I have no idea how he gets any work done!)

We started with a quick tour of the area. He was surprised to learn that I'd even been there before, and was very surprised to learn that I had actually fished his "secret spot." I didn't know it was secret! I mean, if I knew about it, how secret could it be? Well, it turns out I had stumbled on it by accident, looking for a well known area that was actually somewhere else. On Sunday, he showed it to me in strict confidence, though, so what to me hadn't been secret Saturday afternoon became secret Sunday morning. My lips are sealed.

The Kurenai HM33R makes a great brookie rod.
We started out fishing in his back yard and gradually worked our way upstream. I mostly fished with a Kurenai HM33R while he compared a Kurenai HM30R and the similar but more full flex Nissin Air Stage Hakubai 290 medium. Although he does like full flex rods, I think the curse got him. Time will tell.

As does the Nissin Air Stage Hakubai 340 medum.
I also fished for a while with a Nissin Air Stage Hakubai 340 medium. The Air Stage Hakubai 340 and the Kurenai HM33R were both designed for the same fish (Japanese chubs and dace that are a bit smaller than the brookie shown above). There aren't many people here in the US who specifically fish for creek chubs, but both rods are perfect for little wild brookies in streams that are wide enough for an 11' rod. The biggest difference between the rods is that the Kurenai is very definitely a tip flex rod and the Air Stage is a mid to full flex rod. I like 'em both. They're different, but they're both nice.

He had to leave in the afternoon, but insisted that I keep fishing. I couldn't disappoint my host so of course I obeyed. The fishing was good and I caught enough to make it a "many" day.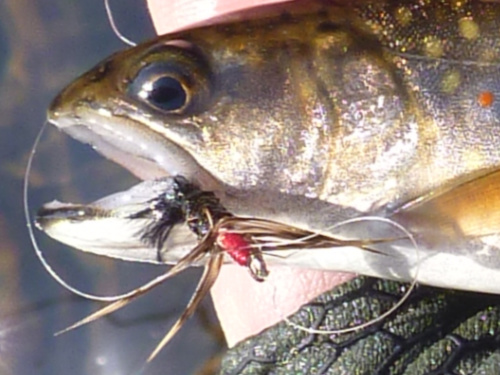 Tenryu Kebari
That morning, all my fish were caught with the fly I call the Tenryu Kebari, given to me by Chairman Shiozawa of Tenryu. I was finally able to confirm with Tenryu that the fly doesn't have a name, so I will continue to call it the Tenryu Kebari. The fly is tied on a fairly heavy hook, probably about a size 10. It has a large bright red head, hen pheasant hackle, a peacock thorax and either a black or green body of thread or floss. The body on this one is getting torn up from the teeth of many trout. I have found the fly to be very effective.

Later in the afternoon I moved to the secret spot and started fishing a Daiwa .4g Vega spoon with the Kurenai HM33R. After having done well fishing a .4g Vega spoon with a Nissin Fine Mode Nagare 330 (Trip Report 7-14-19) I was very curious to see how it would do with a Kurenai. Because the Kurenai tip is so insanely thin, I was concerned that the .4g spoon might be too much for it.
I needn't have worried. Casting with the spoon is not as smooth and effortless as it is with an unweighted fly, but the the rod handled it just fine. The hook on a Vega spoons is scary sharp, so there was no problem with hook sets, even with the very light rod. The fish were mostly pretty small and the Kurenai handled them just fine, too.

I continue to be impressed with the Suntech Kurenai rods. They really are unique. They are not big fish rods, but realistically, most places that have fish don't have big fish. These rods really will maximize your fun with modest fish.
Seiryu rods in general, and the Suntech Kurenai rods in particular, take the pleasure of tenkara fishing to a whole new level. If you haven't tried one, you owe it to yourself. Truly.

---
TenkaraBum Home > Seiryu Trip Reports > Trip Report 7-28-19

---
"The bitterness of poor quality remains long after the sweetness of low price is forgotten" - Benjamin Franklin
"Be sure in casting, that your fly fall first into the water, for if the line fall first, it scares or frightens the fish..." -
Col. Robert Venables 1662
As age slows my pace, I will become more like the heron.

---
Warning:
The hooks are sharp.
The coffee's hot.
The fish are slippery when wet.
Beware of the Dogma

---