Trip Report 12-9-12
Today was not a "many" day. "A few" would be a much better description. It was also cold and rainy - but then that is not unexpected for a December day in New Jersey. Coach and I each caught a few fish of a few different species. (I call him "Coach" because under his tutelage and watchful eye, his granddaughter won the prize for both largest fish and smallest fish in the same fishing derby.)
We spent most of the day on a little wild trout stream in New Jersey. I caught little wild trout. He caught a little larger wild trout. We also caught some fallfish and I caught a common shiner. I've caught common shiners before, but never before on a size 14 tungsten beadhead hare's ear!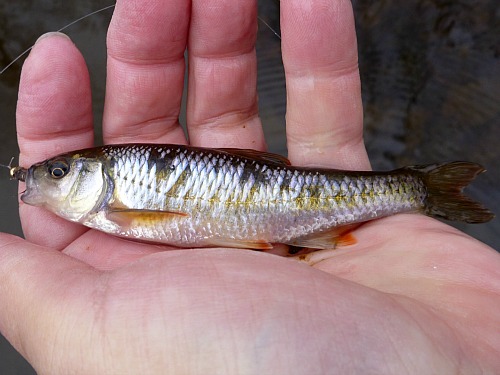 You might be wondering about the tungsten beadhead nymph, as I have written several times in several places that I no longer fish tungsten bead heads. Well, I didn't for a while, but I do again. I stopped fishing them when I decided I really liked the soft, silky smooth casts of a 5:5 tenkara rod with a light line. On a rig like that, the tungsten beadhead nymphs I had at the time just killed the smooth rhythm of the cast.
Two things happened that changed my mind. First, I realized that a size 18 hook with small tungsten bead weighs about as much as a size 10 or 12 hook without the bead. If the weight at the end of the line is about the same, the casting characteristics are about the same. The sinking characteristics aren't though. Like the fluorocarbon line vs. nylon line thing, it's all about density. The same weight in a smaller nymph, particularly if it has a thin profile without much dubbing, will sink faster.
The second thing that happened was the discovery that there are rods, designed for fixed line fishing, that are stiff enough to give you good contact with your flies - and more importantly - good hooksets, even if you are fishing deep with heavy flies. They aren't tenkara rods, but by then I had stopped drinking the kool-aid and I didn't care if they were tenkara rods or not. They did the job. I like fixed line fly fishing. Whether or not it is tenkara as practiced in Japan no longer matters to me.

I still like the silky smooth casts of an ultralight rod (and some of my rods are now much lighter than any tenkara rods), but I also enjoy fishing a stiffer rod with heavier flies and getting down to the bottom, where no sakasa kebari has gone before.
Oops. Sorry for the digression.
I wish I'd brought my Micro Fishing Photo Tank for the shiner, but I really hadn't expected to catch any micros. I figured I'd probably catch a few fallfish, as the stream we were fishing has loads of them. They didn't disappoint. (I am always perplexed at fly fishermen who are disappointed when the fish they'd hooked, which had certainly excited them at first, turned out to be a fallfish or mountain whitefish. They're fish. They fight. They're fun. Seems to me that troutcentric fisher folk are missing out on a whole lot of the enjoyment that they actually had, for a while, until they saw what kind of fish it was.
After the shiner and a couple fallfish, I did actually get into some trout. I must admit that did please me, as one of my hopes for the day was to get a nice picture of a fish with the Tenkara 3.3 rod.
It may not actually be necessary. None of the other tenkara rod companies seem to have fish photos with their rods. I'm sure all the rod buyers out there know that the rods will catch fish without having to actually SEE a fish with the rod. I kind of like it, though, so I'll keep trying to get at least one fish photo with each rod.
That done, it wasn't much longer before the light was fading and the fish had quit for the day. We hit a pond on the way back to the train station, and each caught a few bluegills, but by then it was too dark for photos. Just as well because my train was pulling into the station as we drove up. Three or four photos might have cost me an hour until the next train.

TenkaraBum Home > Tenkara Trip Reports > Trip Report 12-9-12

---
"The bitterness of poor quality remains long after the sweetness of low price is forgotten" - Benjamin Franklin
"Be sure in casting, that your fly fall first into the water, for if the line fall first, it scares or frightens the fish..." -
Col. Robert Venables 1662
As age slows my pace, I will become more like the heron.

---
Warning:
The hooks are sharp.
The coffee's hot.
The fish are slippery when wet.
Beware of the Dogma

---